After a delayed start to the season for round one of the Scottish Championship due to the lockdown restrictions, the date was set for 15 & 16 May and Duns was to be the track where the series would finally get underway.
Unfortunately, the weather kicked in with torrential downpours during a meeting at Duns last week and resulted in that being cancelled after one day, and cast doubt the track would be able to recover in time. The hard decision to change the venue was made and the obvious choice was Tain. The track is a Mecca for Motocross as many riders from all over the UK regularly make the pilgrimage north to ride, mostly for winter training, but its ability to be ridden all year round meant it would be a safe bet.
With riders coming from the four corners of the UK, the decision was not taken lightly but would turn out the right one. The sun shone all weekend and the track conditions were perfect, credit to owner Peter MacKenzie who pulled out all the stops to get it prepped with a few days' notice. Stuart Flockhart and his ScotMX team, with the support of his growing list of sponsors pulled off an amazing weekend.
Traditionally heading into saturday, this day is all about the kids with an Adult support class making up the days race schedule. Some of the adults racing chose to ride the support race to bed themselves in for the Sunday and time would tell if that was to their advantage.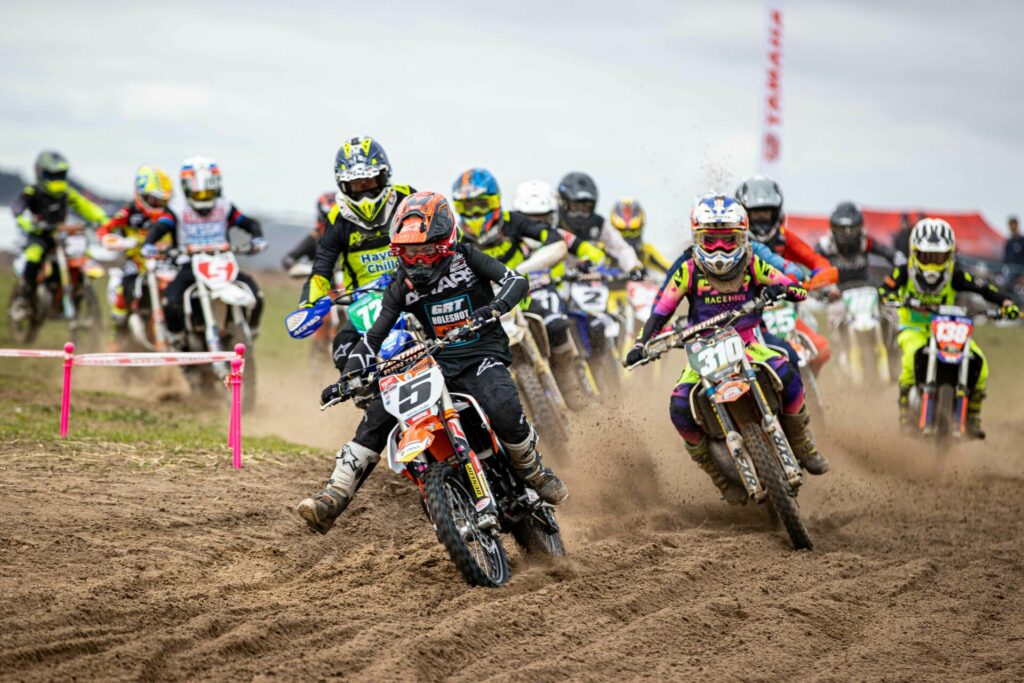 The racing dominance continued into the next class with Cole McCulloch, not only winning the SW85 overall but beating his bigger counterparts on the BW. Jack Fletcher on the BW85 would finally bag the overall race win between the two classes in the final race, but it was an action packed race as Lennox Dickenson got in the mix to grab a couple overall race seconds.
While Cole was doing his best to stay ahead of the BW bikes, Hayden Statt and Lewis Spratt swapped positions through the day and ended up on 82 points with count back going to Hayden as he was ahead of Lewis in the last race. Jaden Anderson proved he could repeat his form from racing south of the border recently and easily finished fourth ahead of Samuel Logan and Alfie Stott who were one point apart. The next five riders were within a few points of each other proving this to be a tough class to compete.
Jack Fletcher continued where he left off from last season. He had Brett Kelly chasing him down all weekend as Lennox Dickson also pushed hard and got the better of Jack in two races. Brett would grab the second place on the podium ahead of Lennox as he had the more consistent finish. Troy Flockhart had to ride hard due to a couple poor starts and gained ten places in two races to finish a distant fourth. Ryan McKinney and Reilly McKenzie would finish fifth and sixth respectively with the latter making the top three in race four.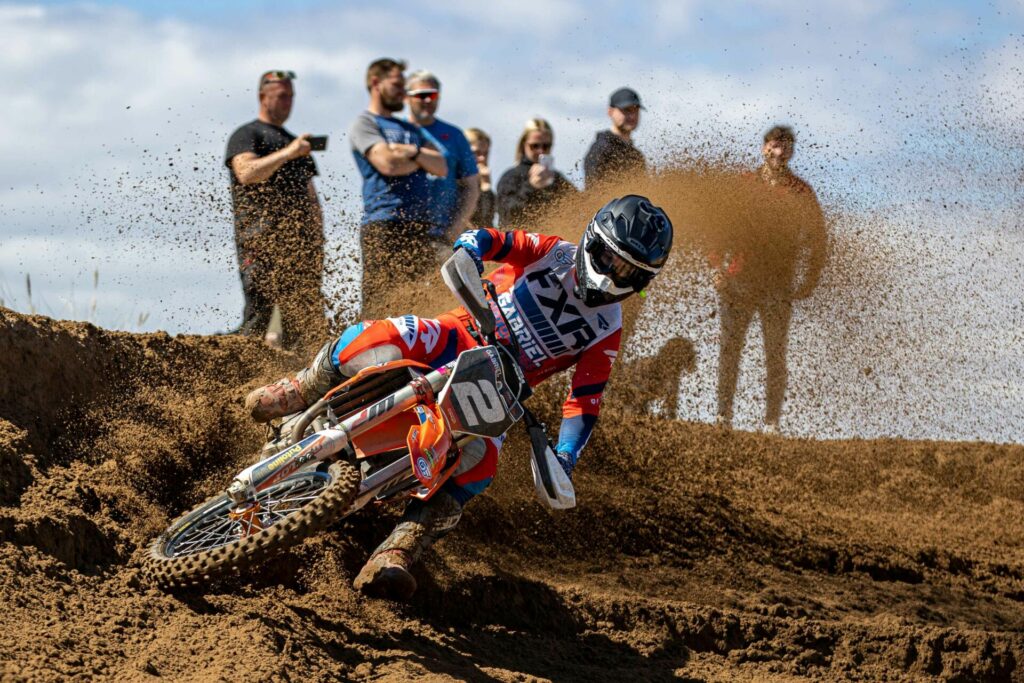 With the increased entries in the MX1 and MX2 classes, this meant the classes were split into separate races. Mouth watering as it may have been to see all the MX1 MX2 on the same start gate, it meant the riders could pit themselves against their peers without interference. It was a great line up on paper and even better in real life as John Adamson relished the chance to race on home soil again. Adamson rode in determined fashion in all three races but was kept on his toes by Jay Hague, Nathan Dixon, and Jamie Law as they pushed hard to keep him honest.
It was Dixon that would beat Law by two points. After chasing down Adamson for the whole race, Hague's bike would pack up on the last lap, cruel fate yet again for the talented rider who was trying to build on his results this year. Carlton Husband and Kyle McNicol did their best to match the top three and they both beat Lewis Hall who definitely had the lap times to finish higher but costly crashes meant he had to fight back through the field in two races to secure points.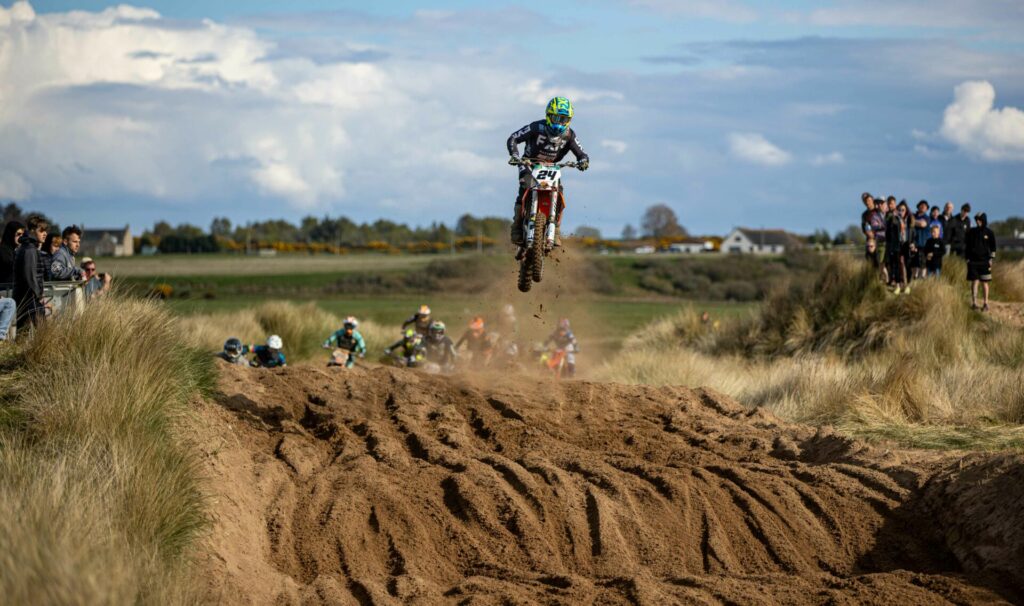 The much anticipated MX1 race had everyone track side waiting for the gates to drop. Qualifying had wet the appetite and Shaun Simpson's times had shown he was dialled in and geared up to get results. Martin Barr looked smooth and fast and Brad Todd would always be a threat. There was some real depth in the rest of the field with Scottish riders Ross Rutherford, Tony Craig and Ryan McLean. The potential podium places would also be threatened by Gavin Stevenson and Stuart Edmonds as well as the recognised talents of Gary Gibson, Ben Edwards, Richard McKeown, and Josh Bentley.
As the gate dropped, it was Todd who grabbed the first hole shot just ahead of Gary Gibson, but it wasn't long before Simpson blasted past and maintained a strong lead. He would post lap times of two seconds quicker than Barr and Todd who had their own race before Barr would ease ahead of Todd to round out the top three in race one.
Simpson would repeat his race win and push ahead even further in the next two races and his sand mastery would show he still has what it takes to win championships. As well as Shaun using this series to bed in his bike, Martin Barr, new to his Kawasaki KXF450, found the weekend an ideal preparation to his season. Stuart Edmonds enjoyed his first visit to Tain by securing a hard fought third place in race two but a couple of crashes put paid to any potential podium and he would run out overall fifth. Brad Todd's consistent riding was enough to finish on the podium ahead of Gavin Stevenson who recovered well from a heavy crash in the deep sand where he almost buried his bike early in the first race. Ben Edwards hard work was rewarded with a top six as he improved in every race. We still saw flashes of greatness from Ross Rutherford as he ran top four in the last race before dropping a few positions. Tony Craig and Ryan MacLean both had their work cut out but will no doubt be back to show there's more to come.
Round 2 of the ScotMX Scottish Championship, Powered by Milwaukee will be held at Lochgilphead June 26 & 27.
Words and Pictures by Raymond Thompson.