Times, they are a changing, folks. So said old Bob Dylan back in 1964 and he's definitely got a point, even now, nearly 60 years on. Life comes at ya pretty fast these days, some of it good, some of it definitely shit. And some of it we're not quite sure about yet.
Electric bikes is definitely one of the last ones. Our sister site at BSN had a look at electric road racing last month, and it seems like there's the chance of some fairly interesting stuff on the way there.
On the dirt, things are less clear-cut. Alta Racing in the US looked like it had cracked the job a few years back, with its range of competition electric MX Enduro and Supermoto machines. But the firm went under back in 2019,  and has left a bit of a gap in the world of adult off-roading.
The kids' sector has been booming for years of course, thanks in part to one big advantage: you can sneak an electric mini-MX or trials bike onto almost any local park without causing a scene.
If you took a Honda XR50 or Yamaha PW to the town common, you'd have the feds on you before you'd warmed the thing up. It's fair to say most normal folk hate petrol dirt bikes, thanks to the antics of various knobheads down the years.
But turn up on a near-silent Oset – or one of these KTM Freerides – and as long as your kids don't start doing nack-nacks over the swings or ride up the see-saw, you can get away with so much more.
The grey area of E-bike mountain bikes and electric micro-scooters means most folk seem to accept an electric bike is probably kinda legal to use (though the real position is a bit more, er, nuanced. Essentially, unless you have pedals and the motor is just for 'assistance' up to 15mph, an electric bike needs the same insurance/MOT/number plate/registration as anything else.)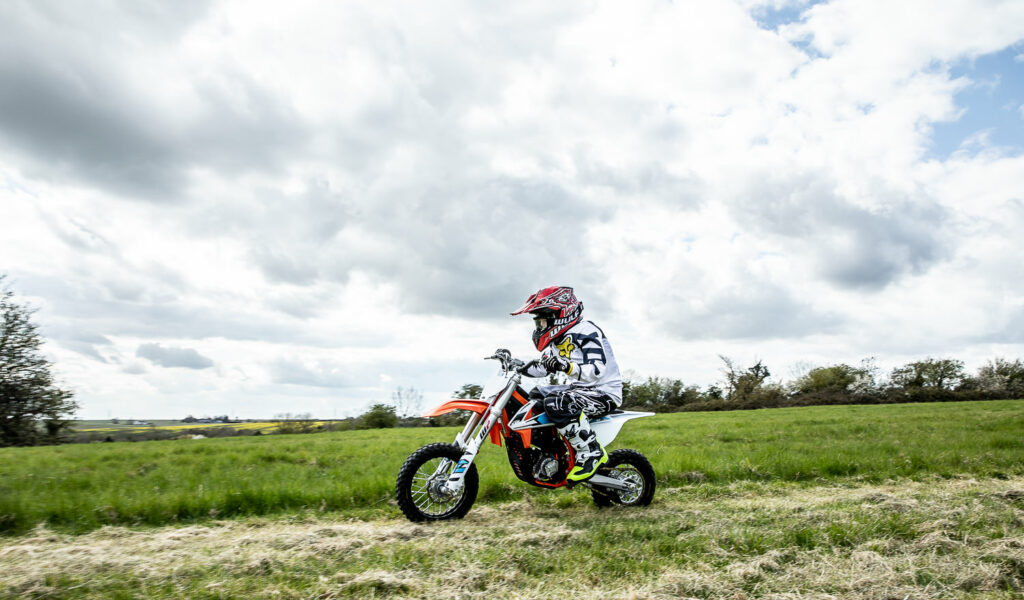 We're fortunate at DBR Towers that we live out in the sticks – so we don't need to worry about arsehole townies calling the cops on us. There's plenty of space round here for a blatt – no matter how legal or otherwise the bike is. But I was still keen to give this new KTM Freeride a try-out – if only to get my little treasures out of lockdown madness for a few hours.
The new SX-E5 looks the business. At first glance, you'd take it for a proper mini-crosser, with steel tube frame, disc brakes all round, fully-adjustable WP-branded USD air-assisted forks, cast alloy swingarm with fully adjustable WP shock, and KTM's trademark orange/white bodywork. The electric motor and battery pack even look a little like a normal 50cc 2-stroke motor with a black expansion chamber sweeping up and over.
Checking out the spec sheet backs up that 'proper' impression – it weighs just 40.5kg, the 48 volt permanent-magnet air-cooled motor has a peak power output of around 7bhp, and the lithium-ion battery pack charges to 100 per cent in 70 minutes, or 80 per cent in 45 minutes. There's an external charger unit which plugs into any normal 110/230 volt mains plug, so no messing about with special fast chargers or the like.
Obviously, before I let the bin lids loose on these sweet wheels, I've got to check it all out, right? It's a bit of a squeeze getting meself on there – there are two seat heights, 615 and 665mm, and even on the high setting, I look like an elephant on a rollerskate.
The poor 35mm USD forks are groaning a little under the load, but once I've folded my knees up round my ears, I'm all set and ready to go. The neat little display panel is showing full battery charge, and I'm on the highest of the six power modes, of course.
Boom! I've only ridden a couple of electric bikes over the years (and crashed one, sorry Zero), and it's still a bit of a shock the way the torque explodes in from a standstill. I've been bored to death by the tech nerds about how an electric motor produces its maximum torque from zero revs, just about, but the best way to learn is to experience it.
The front end heaves up against my weight, I feather the throttle back again, and it comes back down. Throttle open again, and it all happens again. It's like a proper 'crosser experience, just at 5mph.
I hear peals of mirth behind me – of course, my charming offspring have got wind of what's going on, and are laughing out the window at me. They'll pay for this of course, but for the moment, I'm off and whistling round the old field, chuckling under my Airoh.
The chassis is exactly like any other high-end mini-dirt-bike: too soft for my nearly-47-year-old frame obviously, but the brakes are sharp, and the Maxxis knobblies dig nicely into the softer muddy patches up the top of the field. The noise is weird of course, and is pretty shit compared with a proper screaming two-stroke – or even a thumping old four-stroke. Like it or not, we're going to have to get used to this rubbish high-pitched sort-of-Star-Wars-spaceship soundtrack. Boo.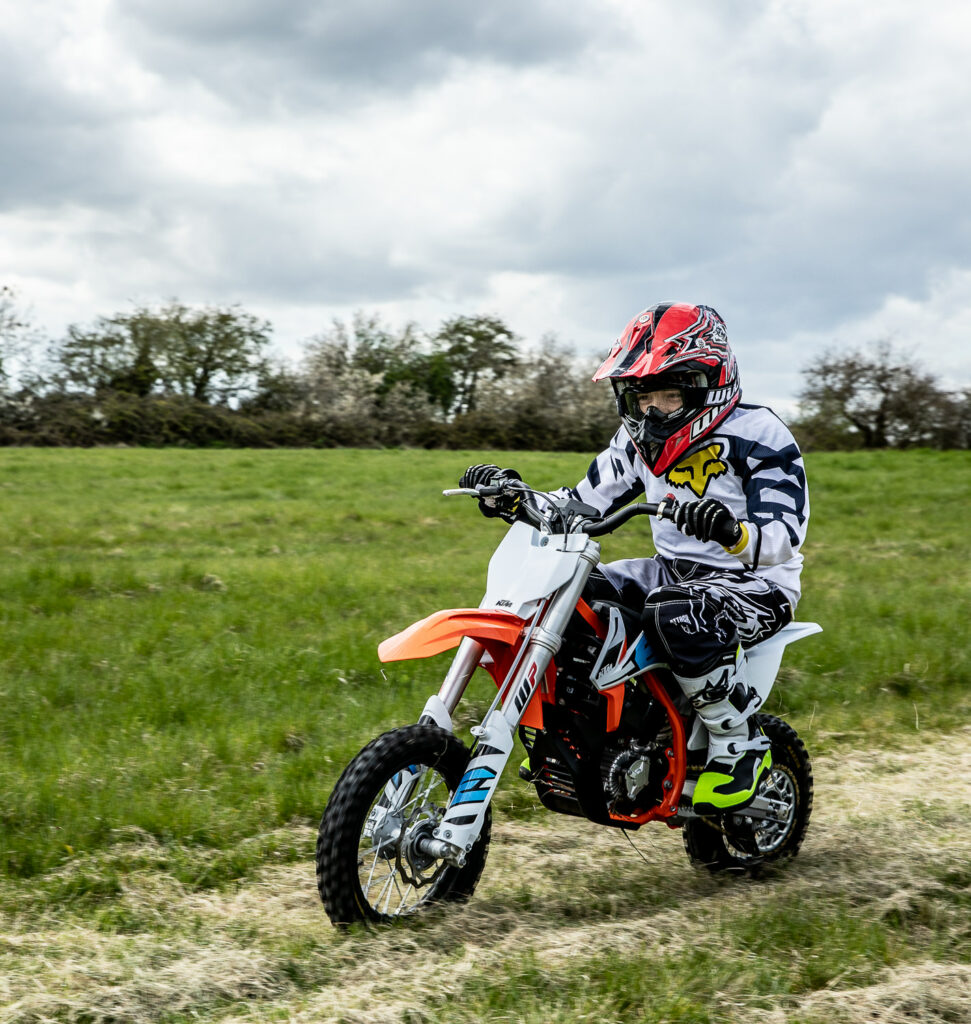 After I've done what feels like a hundred laps of the field on the highest power setting, and used up almost all the battery charge on the KTM. So the baying hordes of children are screwed for an hour till it charges up again, hahaha. Laugh at me will you?
The tears have just about receded as the battery finishes charging, and we draw lots to see who gets first go.
As it turns out, Fornite is a stronger pull for the 10 year old but Bear (not his real name) is three years younger and has no fear.
After three laps it goes something like: "ThisisbrillcanwekeepitIwantonepleaseit'snearlyChristmasormybirthday."
Calm down boy.
"I really like it as it doesn't make any noise so I can hear what is going on," he blethers between breaths. "I tried it on power four but it's too fast so I will stick to three. It's so fast but better than my bike and less bouncy too."
From a child of few words, this is high praise indeed.
So – the KTM SX-E5 is a right old bundle of laughs. It's a proper piece of kit, with excellent chassis setup, decent battery life and the great backup of a 'proper' firm. You do pay for that though: the RRP is £4,699, which is a grand more than the 50cc two-stroke equivalent.
There's really no getting away from that price – for most people, it will be very hard indeed to justify. But the times are changing – and the SX-E5 definitely won't be the last electric dirt bike you'll be reading about.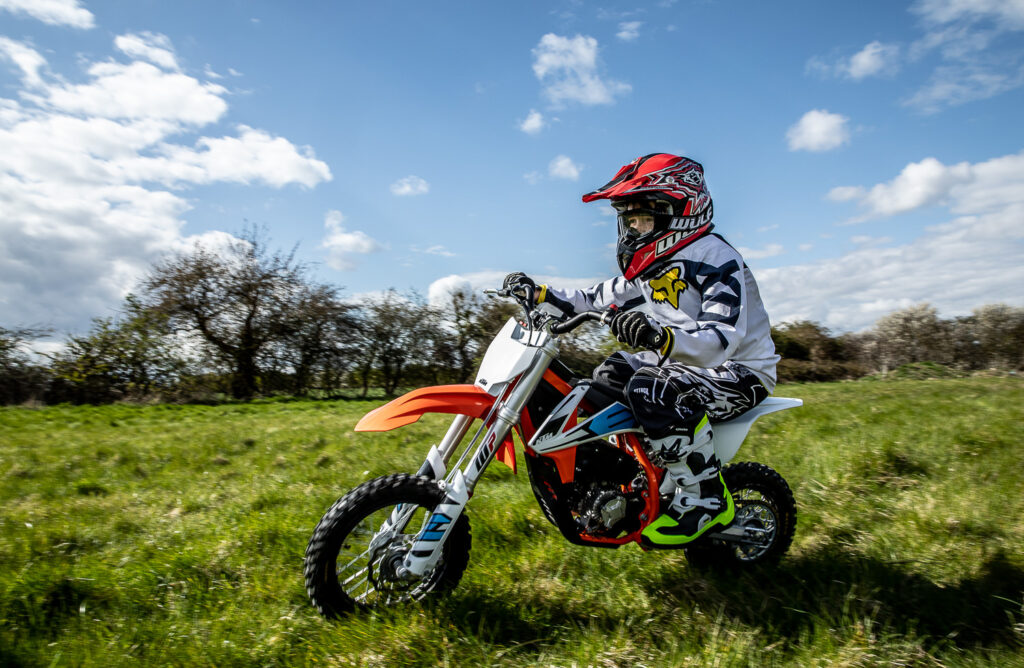 Many thankings of you:

KTM UK
CI Sport/Alpinestars
Lorna Newman Photography