We go to the four-wheeled dark side and check out some new high-octane side-by-side and quad weaponry…
In George Orwell's allegorical fairy tale Animal Farm, the livestock is led astray by some rabble-rousing pigs, with the cry of 'four legs good, two legs bad'. But it's generally the opposite round here.
We love two wheels – especially on the dirt – and four wheels are reserved for dull practicalities – a van to take the bike to the track, or a school run car.
So I was a bit unsure about the invite to a Buckinghamshire country estate to try out the range of Polaris four-wheeled machinery. A quick look around the car park when I arrive shows a wild variety of mental kit, from massive 55"-wide quads with the firm's own Prostar 1000 twin motors, to six-seater utility trucks designed to get workers across the wildest animal farm.
Then there's the 'side by side' RZR beasties, which my old dad would have described as Dune Buggies. But these monsters don't come with wheezy 40bhp VW Beetle flat fours: under the two-seater chassis and massive roll cage is a deranged choice of motors, including a turbocharged 925cc parallel twin which makes 180bhp, and a full-bore inline-four two-litre unit putting out 225bhp. It's all pretty intriguing – but they all come with four wheels…
I get kitted up, and grab an outrageous-looking quad to get started. It's an enormous bright blue and yellow Scrambler XP 1000 S, which comes with the 952cc parallel twin Prostar engine that makes a healthy 89bhp. The chassis is extra wide and long for stability, it runs 27" tyres on 12" rims, has more than a foot of suspension travel on the adjustable Walkers Evans shocks and uses dual A-arm arched suspension linkages at both ends. There's 14.5" of ground clearance, an LCD dash, selectable 2×4 or 4×4 drive, auto hill descent, engine brake control and electronic power steering – impressive stuff.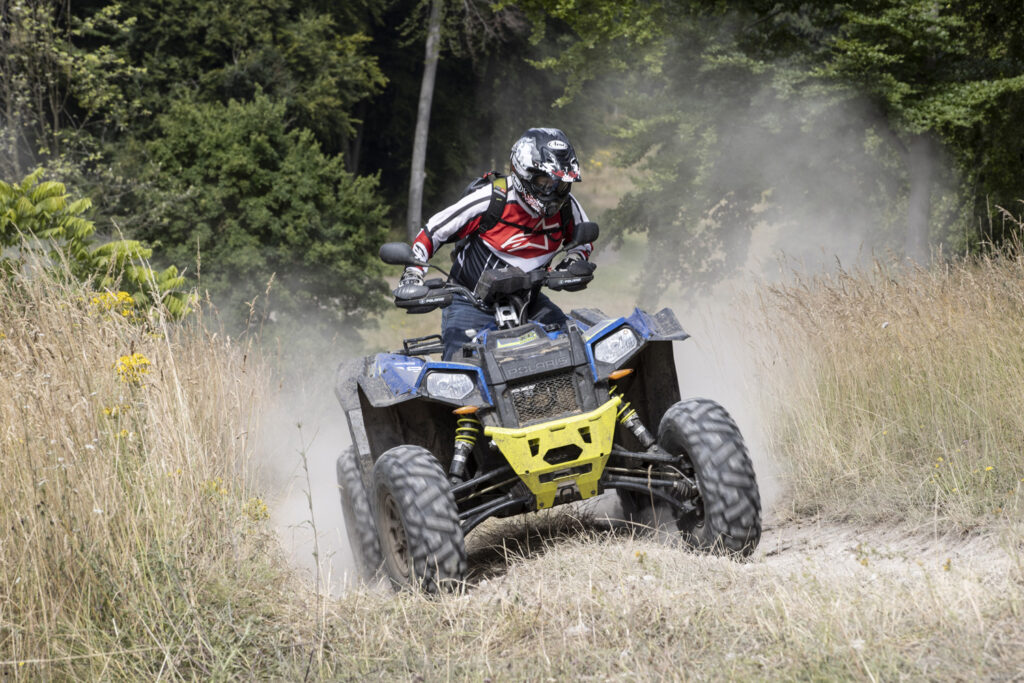 We start out with a lead driver taking us round the enormous Churchill shooting estate. It's been a while since I've ridden a quad, and the last Honda four-wheeler I had a spin on was much smaller and lighter than the Polaris. The first mile or so takes a bit of adjustment – but the big Scrambler is actually fairly easy to get on with.
The engine is stonking of course, but I'm going steady with the thumb throttle for now. That massive footprint gives loads of stability, and once I remember that I'm not on two wheels and start shifting my weight about in the quad style, it starts to get a lot of fun. It's fully automatic, with a giant gear lever to select Park, Reverse, Low and High ratios on the CVT transmission, so there's no worries about gears or clutch. You just twist and go – fast.
The lead driver stops up for some pictures, and I use the time to head into a wide open field next door and just spend ten minutes doing big, wide figures of eight, up and down the hillside, gradually picking up speed, kicking out the back end (I'm on two wheel drive for now) and working out how far you can push this beastie. Quite far is the answer: I'm nowhere near the limits of the wide, flat chassis, and with the masses of grip, super-grunty engine and easy power-assisted steering, the Scrambler charges round the field like an angry bull.
But even with that power steering, I can feel the effort through my shoulders needed to muscle the 417kg of beefy American quad round here. The one I'm riding is a road-legal version homologated as a 'tractor', meaning it's limited to 60km/h or around 40mph. So on long straights you can hit the limiter – but it's plenty fast enough for where we're riding today. You can also have it in so-called 'MD' homologation, with no speed limiter, for off-road use only.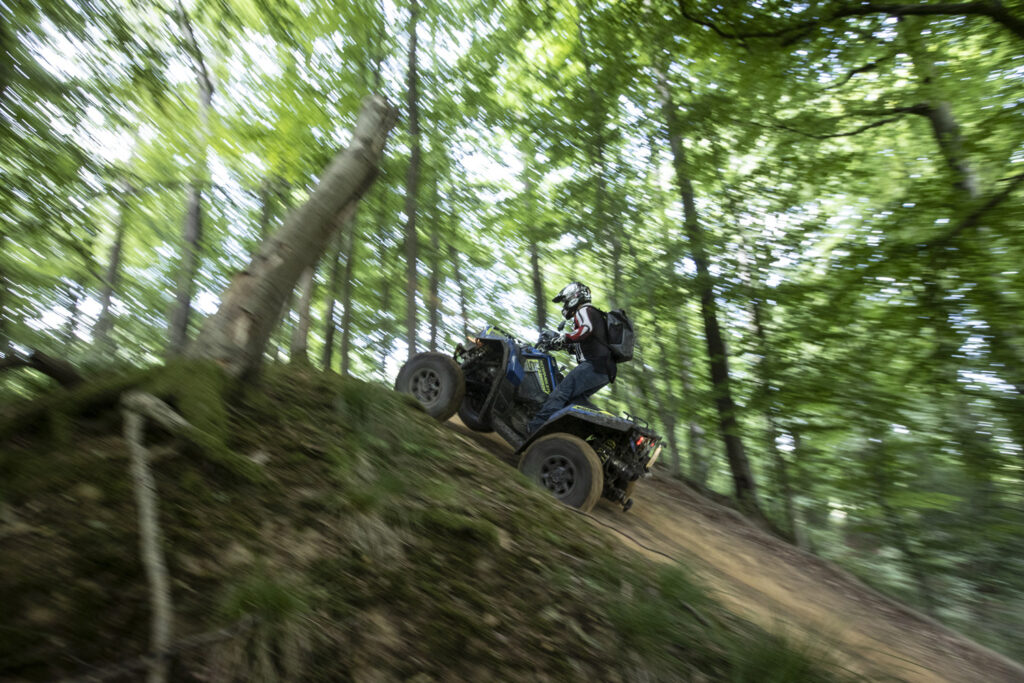 Our next stop is even more interesting – the estate has a little 'technical' track laid out in a wooded area. It's not enormous, but the short lap has a super-swampy patch of deep mud, a tricky angled ditch lined with tree roots and a massively steep hill climb. They've had a load of people through here already this week, so the mud is well churned up, with deep ruts all round. The nice PR man waves me off, and I head out for a first lap.
Now, the mud is fairly straightforward, but I nearly become an entry in the Churchill Estate accident book at the angled ditch run. The seriously off-camber approach catches me out, I lean the wrong way, add too much thumb throttle, and shoot down into the ditch and straight up the other side, heading for an enormous tree. An involuntary yelp escapes from under my Arai, as I hit the anchors, ending up perched unceremoniously on the lip of the ditch, inches from the tree trunk…
I engage reverse, back down into the ditch and have another go, eventually getting past the chuckling snapper and back on track. The massive 55" width of the Scrambler is a big benefit in terms of stability, but you need to put a lot of bodyweight into the right place to manhandle it through tighter and trickier spots than you would on a smaller machine.
We're at the final hurdle on the tech track now though: the hill climb. It's pretty imposing from the bottom, but working on the principle that the Scrambler must be more than up to the job (they wouldn't have brought us here otherwise…) I just give it a big old thumbful of gas, lean right over the front end, and charge up the slope. Bosh, the gigantic blue and yellow nonsense machine sails up to the top with no drama at all.
We've got plenty of time on the tech track, so I put in a load of laps, managing to get the approach to the ditch right more often than not, having a hoot hauling up the hill, and schlepping through the ever-deepening porridge-like mud without any grief. I definitely get the feeling that even with my modest skills, there's not much which would stop the Polaris quad from getting through.
My day of dirty four-wheeled fun is over then, and I'm back on my Yamaha Fazer 600 for the ride home to London. And just like the end of Animal Farm, I'm now prepared to admit that four wheels can be good – but two wheels are definitely better…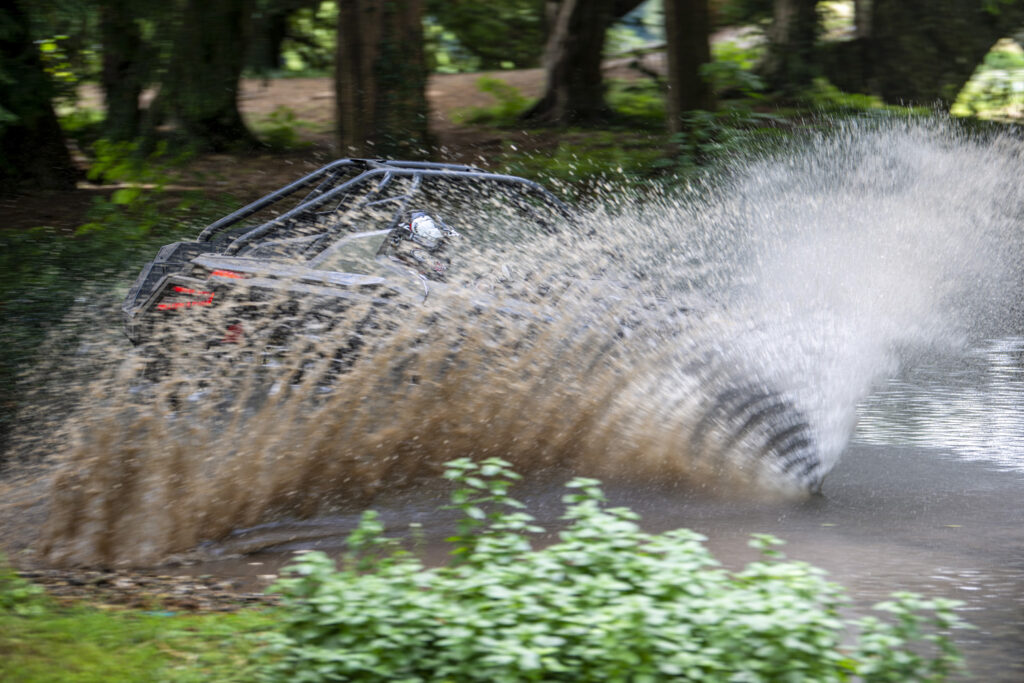 Side-by-side
RZR Pro XP
The off-road side-by-side sector has grown massively around the world in the last decade or so, and they're a huge seller in the United States in particular, where there's the space to use them and plenty of well-heeled customers who can afford them. And as an American firm, Polaris has invested heavily in developing these Mad Max-style weapons.
I spent some time in the RZR Pro XP machine on the test day, and had a real hoot. It's like a little open-wheel race car inside, complete with a four-point harness, roll cage, tiny steering wheel and firm race seat. It's powered by a turbocharged 925cc parallel twin engine making 181 bhp, and weighs in around 800kg dry. There's switchable four-wheel drive and CVT automatic transmission, and on this top-end model you also get electronically-controlled semi-active suspension controlled via steering wheel buttons and a colour LCD dash. It even has a Bluetooth link to your phone and a banging sound system complete with subwoofer.
The results of all this are predictably hilarious. I link up my iPhone and am soon distressing the wildlife with my old punk rock playlist. Dead Kennedys, Killing Joke and The Clash provide the perfect soundtrack for charging along the fire roads, river crossings, ditches and woodland sections around the Churchill estate. The RZR accelerates like hell on the gravel roads up to around 60mph and brakes incredibly hard. It's really planted when cornering, and the four huge Maxxis Carnivore dirt tyres deliver masses of grip.
As with the quads, the RZRs can be homologated for road use, but the power is limited to 15kW or around 20bhp, which would render it totally pointless. The US and British military also supply them to their special forces outfits: modified to suit with diesel engines, they can be carried on Osprey tilt-rotor craft and Chinook heavy helicopters, and give great mobility in a light weight package for scouting and other operations.
The real home of the RZR, though, is probably in the special race classes designed for side-by-sides, which Polaris sponsors and organises in the UK. Fancy taking part in a slightly slower, slightly safer form of MX racing? Head to https://sxsracing.co.uk for more details.