MX Nationals Championship powered by Milwaukee had two action-packed days of racing at the Doncaster circuit, with the Estonian rider Harri Kullas making a clean sweep across Saturday and Sunday's moto's.
Heading into Saturday, the new schedule seemed pretty intense especially with the heat at the sandy circuit, as riders were suffering with heat stroke and passing out even at midday, so the decision was made to shorten Sunday's races to twenty mins plus two laps, for the Fastest 40 riders.
The first Moto of the day saw the Cab Screens Crescent Yamaha rider Harri Kullas completely check out in the MX1 class by eighteen seconds, as he continued to follow suit for the rest of the weekend. Shortly followed by SS24's Shaun Simpson, who is usually very very confident in the sand, seemed to not look his usual self on board his KTM. Revo's Dylan Walsh and Verde's Jake millward placed just behind, with Gabriel KTM's Liam Knight rounding up the top five.
Saturday's second moto saw Kullas fly out the gate to grab an eight second win, ahead again of Simpson, Walsh, and Brad Todd pushed through the pack to grab fourth position in the MX1 Class.
Moving onto Sunday, this is where things spiced up for the Fastest 40 pro class, with the MX1 and MX2 now being combined on the start gate, it was all to play for in both classes. This did not alter Kullas's determination and skill as he grabbed the win again this time ahead of Hitachi KTM's Conrad Mewse, who again won his class respectively. The race was unfortunately cut short after 16 minutes due to Dylan Walsh having a huge off over the bars coming past the mechanics area, which caused a red flag, and the race result to be called.
In Moto 2, Shaun simpson shot through to grab the holeshot and puts in a decent lead in the first couple of laps, ahead of Kullas and Mewse, as the rest of the pack fell in formation in the next few laps. The Gabriel Motocross KTM team riders Liam Knight (MX1) and John Adamson (MX2) both had pretty decent starts also throughout the weekend, coming through together in the final Fastest 40 race of the weekend.
Meanwhile Kullas made the pass on Simpson, as did Conrad Mewse, and the three of them continued to battle on until the last few laps in the heat, ultimately with Kullas claiming his fourth victory of the weekend.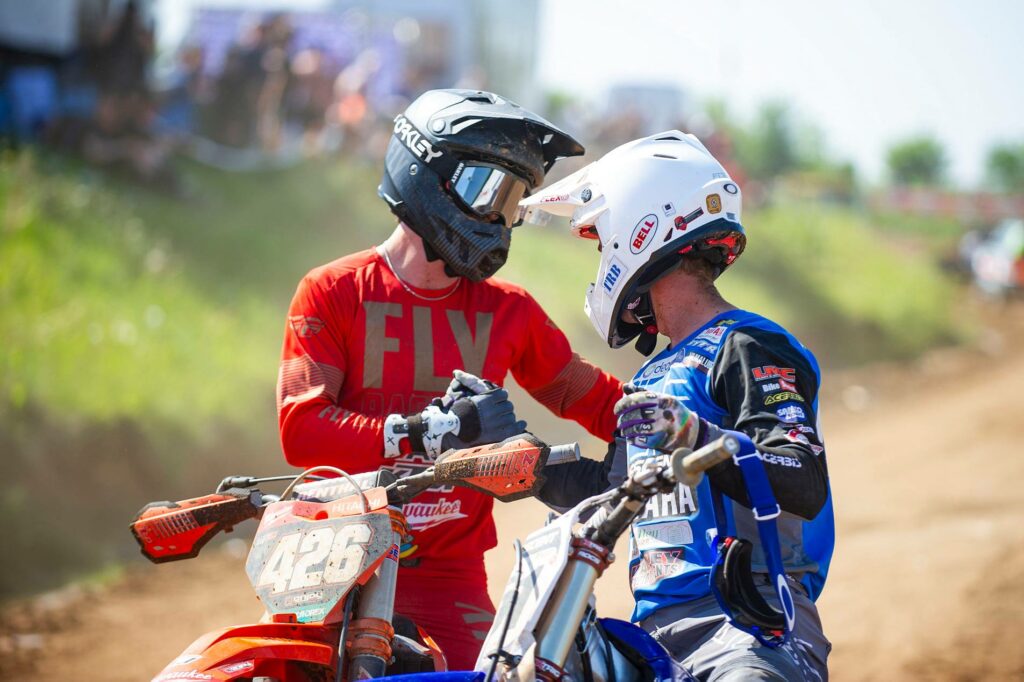 PC – MX Nationals