HRC's Ken Roczen took his first Lucas Oil Pro Motocross win of the 2022 at Thunder Valley with Eli Tomac and Chase Sexton completing the podium.
The first gate drop of the afternoon got underway with Red Bull KTM Factory Racing's Antonio Cairoli leading the way with the holeshot, with Roczen in close pursuit. The two former World Champions duked it out throughout the opening lap where Roczen was able to make the pass and open a gap. Behind them, Troy Lee Designs/Red Bull/GASGAS Factory Racing's Justin Barcia settled into third, just ahead of Monster Energy Kawasaki's Jason Anderson and Team Honda HRC's Chase Sexton, the season's two overall winners.
A torrid pace in the early stages of the moto allowed Roczen to establish a lead of nearly three seconds, while the remaining front runners engaged in a multi-rider battle that saw Barcia move into second and drop Cairoli to third. Anderson followed through into third soon after. Cairoli continued to lose positions and soon fell outside the top five. Back out front, the battle for second intensified between Barcia, Anderson and Monster Energy Star Yamaha Racing's Eli Tomac, a Colorado native. Anderson made an impressive pass to take control of second just before the halfway point and Tomac eventually got around Barcia for third several laps later.
As the moto entered its final 10 minutes, the battle for second heated up between Anderson and Tomac. The Yamaha rider pounced at the first opportunity and stormed past, which put Tomac just over five seconds behind Roczen with eight minutes to go. With the support of the home crowd Tomac went on the attack and erased the deficit in a matter of a couple laps. Once he closed onto Roczen's rear fender Tomac pulled the trigger on a pass and got by the Honda with ease, to the delight of the fans in attendance.
Roczen kept Tomac honest for a couple laps after losing the lead, but the Yamaha rider was too consistent and pulled away in the closing stages. Tomac took his second consecutive moto win by 3.1 seconds over Roczen, followed by Anderson in third. Sexton finished in fourth, while Cairoli finished strong to claim fifth.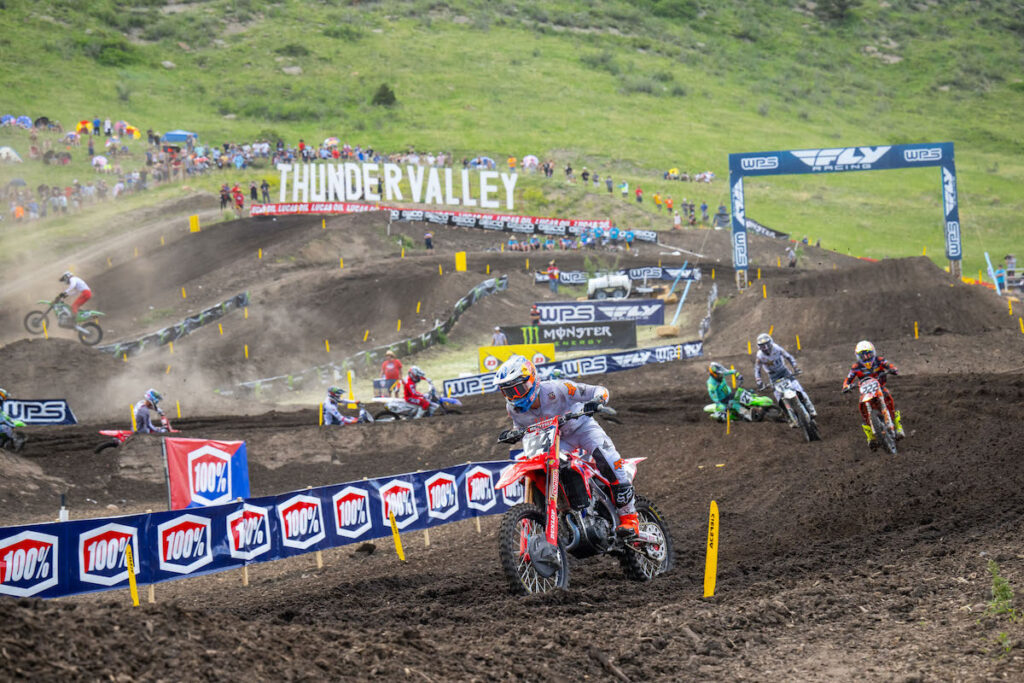 The second premier class moto began with another holeshot for Cairoli, his third in a row, but he was immediately overtaken by Roczen, who put the hammer down and sprinted away to establish an initial lead of 3.5 seconds on the opening lap. Cairoli was forced to fend off heavy pressure by Anderson, while Tomac battled his way into fourth, just ahead of Sexton.
In his pursuit of Cairoli, Anderson went down after his rear tire popped out of a rut. He was able to remount, but dropped to just outside the top 10. Anderson's misfortune played into Tomac's favor, as he moved up to third, but Sexton made the pass on the Moto 1 winner to take control of the position. Both Sexton and Tomac kept pushing the pace, which allowed the duo to close in on Cairoli in second and successfully make their respective passes to drop the Italian off the moto podium.
As the moto reached its halfway point Roczen managed a lead of nearly four seconds, but Sexton was on a charge and was able to get his teammate within his sights. With 13 minutes to go Sexton was able to make the pass for the lead look easy and quickly put some distance over Roczen, as Tomac followed several seconds behind in third.
As time continued to tick away the momentum appeared to shift into Tomac's favor as he began to run his fastest laps of the moto in the waning minutes. Less than three seconds separated the top three with five minutes to go as Tomac remained the fastest rider on the track. Despite the better pace, Tomac was unable to make any pass attempts stick as Roczen's defensive prowess kept the Yamaha at bay. The longtime rivals put on a show as they continued to duke it out, which allowed Sexton to sprint away.
Sexton had the win in hand, with a lead of more than five seconds, but went down on the final lap with just a few turns to go. That handed the lead to Roczen, whose fight to fend off Tomac paid off with his first moto win of the season. The German crossed the line 5.1 seconds ahead of Sexton, who remounted quickly enough to lose just one spot, with Tomac third.
Overall
By virtue of his unexpected moto win, Roczen vaulted to the top of the overall classification, where his 2-1 moto finishes were enough to give him the 21st win of his career and his fifth victory at Thunder Valley, where he also emerged triumphant one year ago. Tomac earned a runner-up finish at his home race (1-3), while Sexton's result in the final moto moved him into third overall (4-2).
With his third overall podium finish in as many races this season, Sexton maintained his hold of the championship lead. He currently holds a five-point advantage over Roczen, who gained seven points, while Tomac moved into third, 14 points behind Sexton.
"It's about being relentless. We (Tomac and I) had the greatest battle going on. I just didn't want to give up. I just want to get better every weekend and that's what we did. It's unfortunate Chase went down like that, but I'll take it. I'm so stoked right now," said Roczen.
450 Class Overall Results
Ken Roczen, Germany, Honda (2-1)
Eli Tomac, Cortez, Colo., Yamaha (1-3)
Chase Sexton, La Moille, Ill., Honda (4-2)
Jason Anderson, Edgewood, N.M., Kawasaki (3-6)
Antonio Cairoli, Italy, KTM (5-4)
Ryan Dungey, Belle Plaine, Minn., KTM (7-7)
Justin Barcia, Monroe, N.Y., GASGAS (6-8)
Shane McElrath, Canton, N.C., Husqvarna (12-5)
Joey Savatgy, Thomasville, Ga., Kawasaki (8-9)
Garrett Marchbanks, Coalville, Utah, Yamaha (9-11)
450 Class Championship Standings (Round 3 of 12)
Chase Sexton, La Moille, Ill., Honda – 134
Ken Roczen, Germany, Honda – 129
Eli Tomac, Cortez, Colo., Yamaha – 120
Jason Anderson, Edgewood, N.M., Kawasaki – 111
Christian Craig, El Cajon, Calif., Yamaha – 92
Antonio Cairoli, Italy, KTM – 89
Ryan Dungey, Belle Plaine, Minn., KTM – 89
Justin Barcia, Monroe, N.Y., GASGAS – 74
Aaron Plessinger, Hamilton, Ohio, KTM – 72
Shane McElrath, Canton, N.C., Husqvarna – 65