The SmarTop | Bullfrog Spas | MotoConcepts | Honda team pushed to Petco Park for 2020 San Diego Supercross, the sixth round of the 2020 Monster Energy Supercross Series. The San Diego race was an important point in the season, as it was the final race of the schedule to run in California and the last round on the West Coast before a long run to the other side of the country.
A busy track in a small space proved to be a challenge for all, which forced riders to be cunning and creative as they made passes during the night's Heat Races and 20-minute plus one lap Main Event.
Since San Diego has many branches of America's armed forces close by, the race was deemed the Military Appreciation event and all three of the Honda CRF450R race bikes were complete with a patriotic design by graphic designer Lee Albrecht of MotoGraphics.
Malcolm Stewart's objective at the start of the year was to get through the first six rounds without serious issue and he accomplished that with an eighth-place finish in San Diego. It didn't take long for Stewart to get up to speed in San Diego and a 50.072 lap in qualifying put him ninth overall in the order.
The Heat Race was a bit mixed, as Stewart started in seventh place on the opening lap and worked up to fifth place by the mid-point of the short moto but was shuffled back to sixth before the chequered flag.
Starts have been somewhat of a struggle for Stewart this season and his recent work with the team paid off when he was scored in fourth place on the opening lap of the Main Event. Unfortunately, Stewart struggled with arm pump around the five-minute mark and this allowed other competitors to pass by him on the track. He eventually settled into a rhythm and a steady pace in the last half of the race allowed him to cross the finish line in eighth place.
"I had a decent start and got through the little bit of carnage, but then a couple of guys got around me," Stewart said. "It wasn't my best night and dealt with a little arm pump, but I was happy to get through it. I know we're close to getting in the top-five.
"I'm excited for Tampa and for the things that we can work on because we are getting the ball rolling. I'm happy with where I am at and things will start to click off. Florida is home and I will see all of my friends and family, so that should be a good race."
Stewart was one of only five riders to finish in top-10 through the first six races and as a result, he is ranked eighth in the championship.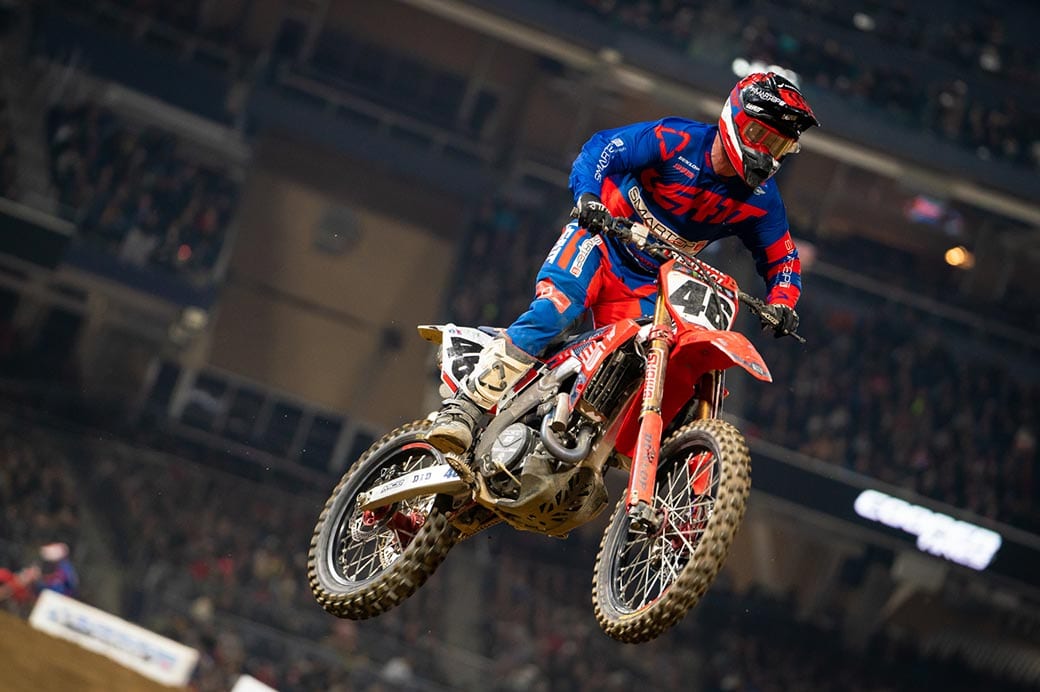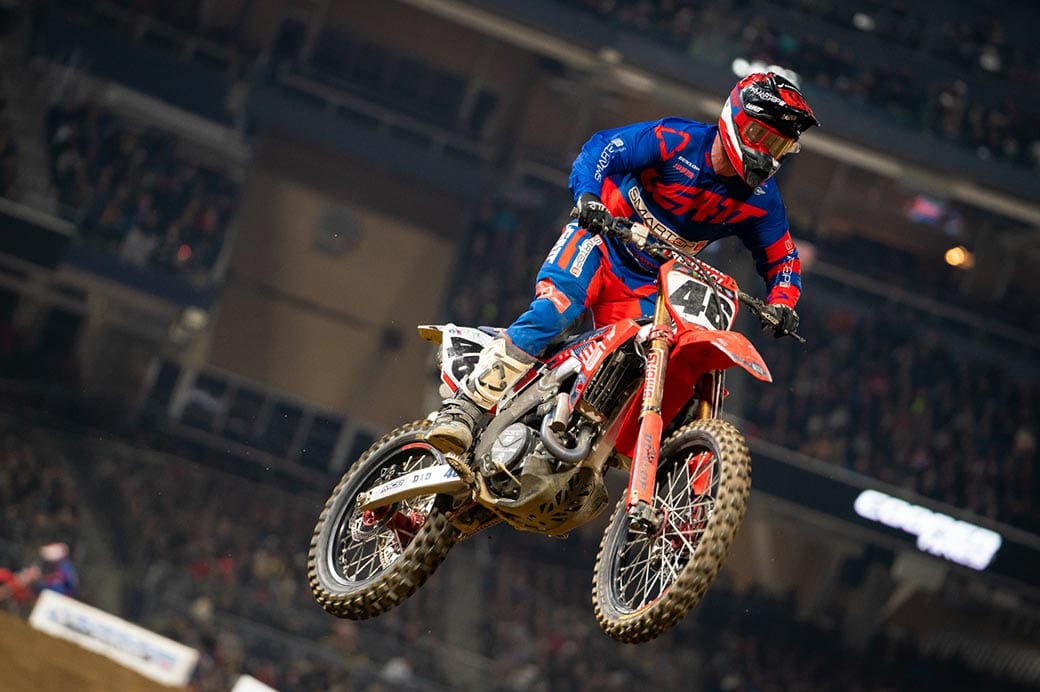 Justin Hill came into the weekend with momentum from his season-best result at Oakland, but a hard crash in the whoops during the first round of timed qualifying would have an impact on his final result. After some work with his on-site therapist, Hill bounced back for the second qualifying session and posted a 49.953 time, the eighth-fastest lap of the class.
That speed carried into the Heat Race, as Hill was near the front early and finished the short race in fourth place. Sore, but determined to get a good result, Hill started the Main Event in the lead group and laboured through the long race to a respectable ninth-place finish. "I had good speed in the free practice and really felt like it was going to be an awesome day, but then I hit the ground hard in the first qualifying session and jacked some stuff up. I had a lot of confidence coming into the night and thought it was going to be a good time to press forward, but it is what it is," Hill noted of his crash.
"I fought hard every step of the way and tried the best that I could, which was ninth place. That's better than the first four races and I can't complain because I have two good legs and one and a half good arms that I'll rehab and get ready for Tampa. I have a lot to look forward to right now, so this is a minor setback that will fuel the fire.
"I have a taste for things and I'm ready to back it up by taking the early risks to make things happen. I put it in the top-10 and am walking away. If I heal up perfectly and feel good by Tampa, we can flip it around and pick up the feeling I left off."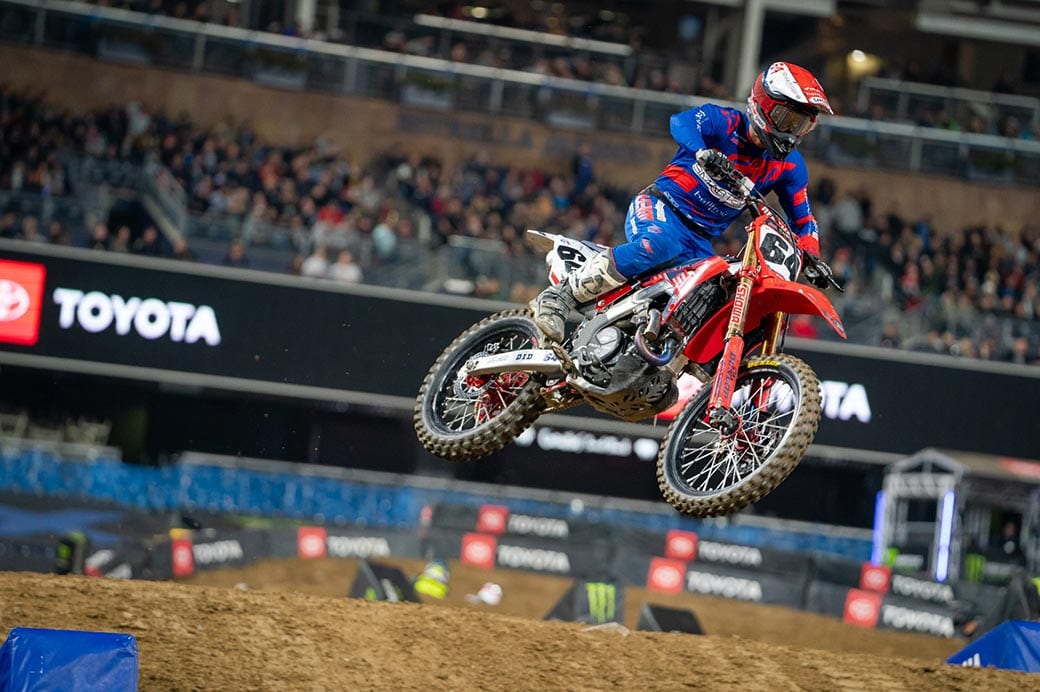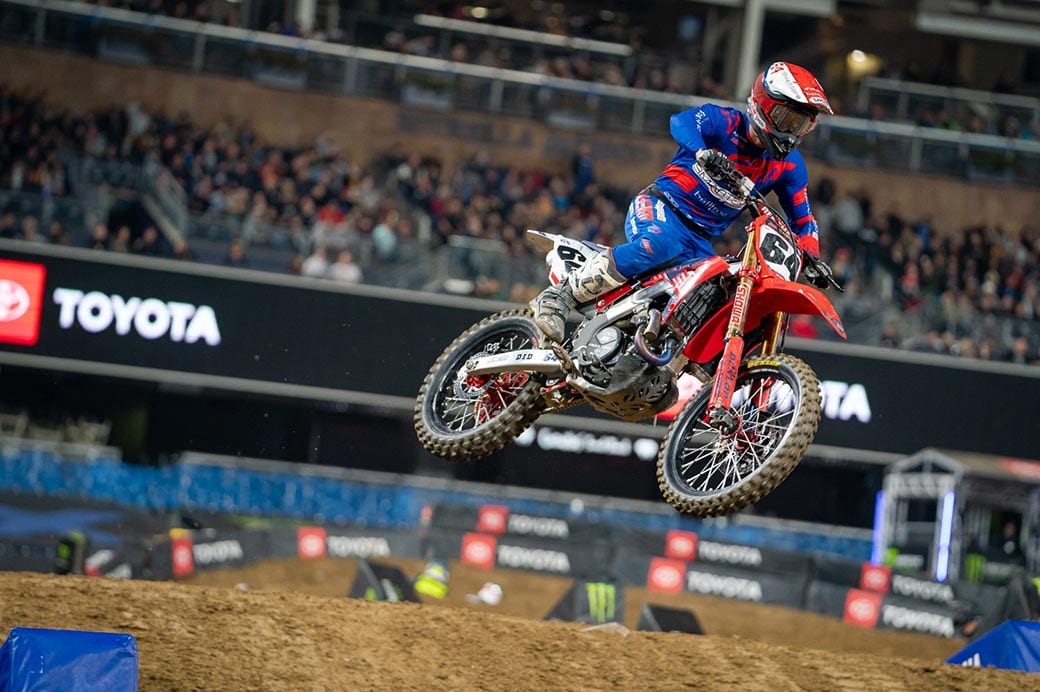 Vince Friese had a frustrating, but still overall successful day, as he was comfortable and felt that he was able to push himself without worry on the track. Unfortunately, the pace of the 450 class made the qualifying times very close and Friese's fastest lap, a 51.271, was the 16th fastest of the field. A fair start put him in sixth place on the opening lap of a very stacked Heat Race and an eighth-place result put Friese directly into the Main Event.
Friese was in the top-10 on the opening lap of the feature until a run-in with another rider pushed him off the track and down the running order – he eventually regrouped and raced back to a 15th place finish. "Today didn't really go my way. I felt good in qualifying and all of that. I would do a lap that felt like it was enough to get on the board, but I'd come around to the mechanic area and see that I was in 15th place. Everyone is going so fast and it's all within a half-second of each other," Friese explained of the close pace.
"In the Main Event, I started in the top-10, but got pushed off the track at one point, went down to 14th or 15th, and just stayed there. Everyone is going very fast and not making many mistakes, so it's going to take a lot to put myself in top-10 or the top-five, which is where I want to be. It's back to work this week and I'm excited for the East Coast. I need to get a little more of everything this week, more speed and starts, and carry that to Tampa."
"It was a pretty good night and we had two guys in the top-10," noted Team Manager Tony Alessi. "Malcolm had a little better start tonight and rode solid to get an eighth-place finish. Justin had a crash in practice and was riding wounded for most of the day, so I'm proud of him for his riding in the Main Event and making a last-ditch pass to get ninth. Vince struggled with the whoops all day and he did the best that he could."
The 2020 Monster Energy Supercross Series continues with the seventh round of the season, the 2020 Tampa Supercross, this coming weekend at Raymond James Stadium in Tampa, Florida.
[more-from heading="More AMA Supercross" heading_url="/news/supercross/ama-supercross/" category="ama-supercross"]