One week after his emotional St. Louis win, Team Honda HRC's Ken Roczen turned in another impressive performance aboard his CRF450R.
During Round Three of the AMA Supercross series, in its second and final stop to Anaheim's Angel Stadium, he scored a strong second-place result and assumed an early lead in the title chase.
Once again, Roczen started the night on a strong note, battling to a win in his Heat Race. When the gate fell on the Main Event, the German impressed everyone, rocketing down the start straight with the holeshot and early lead. He opened a small gap on the rest of the field but as the race progressed his struggles in the whoops caused him to come under fire from Eli Tomac.
At the 13-minute mark, Roczen relinquished the lead, but he continued to lay down solid laps and took the chequered flag in second.
"My night was pretty good," said Roczen. "I had a good battle with Adam [Cianciarulo] in the heat race, which was fun and good to come away with the win. That put me in a good position for the Main Event and to be able to pick a decent gate.
"Tonight though, pretty much every gate on the start was super rough and there were a lot of holes, so it was hard to decide which one to pick. But I hooked up really good and got my first holeshot of the year, so that was nice.
"We've been putting in a lot of work on my starts, so it's been paying off.
"For me to be able to win tonight, I had to be a lot better in the whoops. I was just struggling there the entire race, so that didn't help me out – I feel like I lost all my time there. I was trying to skim them, then went to jumping them, which was horrible too – I lost a lot of ground so went back to skimming and just was all over the place and that was where Eli [Tomac] made up a lot of time and closed in on me.
"We definitely have some work to do but don't want to get too crazy. We just need to keep doing what we're doing. We're in a good spot right now and we just have to keep it up. First last weekend and second this weekend, plus the red plate is really great. I'm really happy."
Team-mate Justin Brayton once again showed notable speed, finishing seventh. Brayton got off to a less-than-desirable start, sitting 11thafter the completion of the opening lap. He swiftly began working his way forward, progressing to eighth on lap three. He struggled to get around another rider for much of the race, but finally made a move on lap 11 to take over seventh, which is where he finished.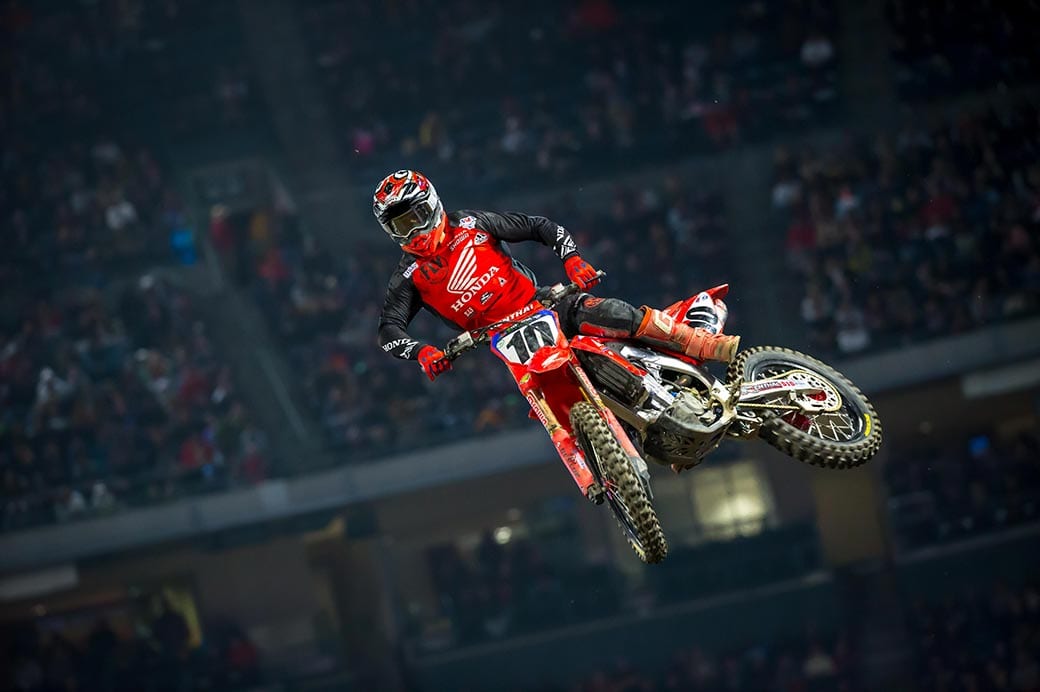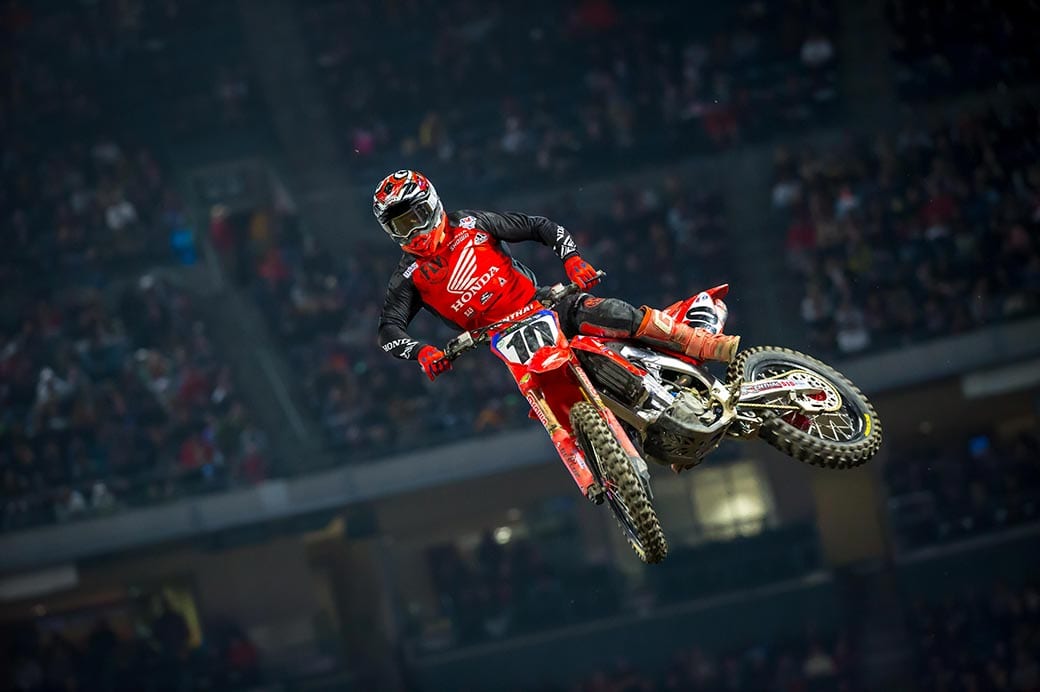 "I'm pretty happy with how the race went tonight," said Brayton. "A little bummed after the heat race after getting the holeshot but crashing in the first turn, which set me up for a bad gate pick for the Main.
"That's pretty crucial now with how bad the ruts get outside the gate, but I was able to start around 11th or 12th and pass my way up to seventh.
"At the middle of the race, I was actually one of the fastest guys on the track. With a better track position, I definitely think I could end up on the podium.
"Overall a really good night, and although the first three rounds have gone well, I'm looking forward to improving and getting into the top five."
Notes
On Friday evening, Del Amo Motorsports of Orange County hosted an open house, where fans spent time meeting and getting autographs from their favourite riders. The Red Riders were out in full force, with 13 athletes on hand including Team Honda HRC's Ken Roczen and Justin Brayton, GEICO Honda's Christian Craig and Jett Lawrence and Smartop/MotoConcepts/Bullfrog Spas Honda's Malcolm Stewart, Vince Friese and Justin Hill.
Also in attendance were Team BWR Honda's Carlen Gardner, Penrite Honda's Luke Clout and Mitchell Oldenburg and Honda Talon Off-Road Racing drivers Eliott Watson and Christopher Polvoorde.
As the evening progressed, the track conditions became more challenging, as the dirt deteriorated and became very slick. Riders had to manage their races and work hard to minimise mistakes. "The track was really tough tonight," Brayton said.
"Honestly, the first three rounds have all been challenging during our races because the track deteriorates so much you really have to be willing to mix up your lines. These last two weeks, I didn't really do that so that was kind of a goal going into tonight's Main, to really just have an open mind and search for new lines if one of mine isn't working.
I think that's what really helped me in the second half of the race, was getting out of my comfort zone and mixing it up."
During Saturday's daytime qualifying sessions, Roczen pushed himself to the third-quickest lap of the day with a 52.217" time, secured in the second session. Fellow Red Riders Malcolm Stewart and Justin Hill were seventh- and eighth-fastest aboard their Smartop/MotoConcepts/Bullfrog Spas Honda CRF450R race machines, with 52.627" and 52.700" times, respectively. Brayton was 12that 53.285".
Slotted in 450SX Heat 1, Brayton tried to sneak through the inside in turn one but lost traction, low-sided and went down. He remounted and quickly began advancing, moving into ninth on lap two. He continued his charge forward, gaining two more positions before taking the chequers in seventh and transferring directly to the Main.
In Heat Two, Roczen scored a fourth-place start but made quick work of two riders in front of him to take over second. He set his sights on the leader, clicking off strong laps before closing in and making the pass into the lead on lap five. He continued to ride strong, taking his second Heat win of the season.
The night was filled with highs and lows for GEICO Honda, as glory turned to tragedy for both riders in the 250SX West Main Event.
Both Christian Craig and Jett Lawrence showed incredible speed all day, qualifying well and finishing 1-2 in their Heat Race.
As the gate fell for the Main Event, the duo launched their CRF250R machines to a 1-2 start, with Craig leading the way.
Lawrence quickly began applying pressure on his team-mate, making a pass and taking over the lead on lap two. With a clear track ahead of him, the Australian rookie began laying down incredible laps, exciting the crowd as he opened an 11-second gap on the field.
Meanwhile, Craig was riding strong in second until lap nine when another rider took him down while trying to make a pass, bending up his bike and sidelining him for the race. In the closing laps of the race, Lawrence made a mistake and went down, but with such a large lead, he was able to remount and retain the top spot.
Dylan Ferrandis closed in, and it came down to the final lap, with both riders pushing hard in a heated battle. Sadly, Lawrence made a disastrous error going through the final whoop section, going over the bars and crashing into the face of the next jump. Unable to finish the race, he was transported off the track by the Alpinestars Mobile Medical Unit and was subsequently diagnosed with a broken collarbone.
It was a strong showing for the Penrite Honda team, as riders Luke Clout and Mitchell Oldenburg put together impressive 250SX West rides aboard their CRF250Rs, finishing 6-7, respectively.
This Saturday, Team Honda HRC will campaign Round Four of the AMA Supercross series in Glendale, Arizona, which will also host the first Triple Crown race of the season.
"I'm really looking forward to the triple crown race next weekend," Brayton said. "These are some of my favourite events. It's going to be fast-paced and more like sprints, which I'm normally strong at.
"Phoenix in general has also been really good for me. I really enjoy the track layout because the stadium floor is so big. They get to build some really long whoop and rhythm sections, so I'm excited for that."
[more-from heading="More AMA Supercross" heading_url="/news/supercross/ama-supercross/" category="ama-supercross"]