Round 10 of the AMA Supercross series in Daytona Beach, Florida, saw Team Honda HRC's Ken Roczen put together an impressive ride, leading 14 of 18 laps before engaging in a heated battle and ultimately relinquishing the front spot to take the chequered flag in second.
Roczen was aggressive right out of the gate, rocketing his CRF450R down the start straight and rounding the unique 360-degree first turn in second. He wasted no time, quickly making a pass into the lead on the opening lap. From there, the German looked poised to score his fourth victory of the season, as he opened an eight-second margin on the field.
Midway through the race, Roczen lost some of his initial aggression, allowing Eli Tomac to close the gap on him. The duo battled hard, with Roczen eventually making a mistake in an off-camber turn and briefly tipping over, allowing Tomac to take the lead. Roczen didn't quit though, fighting hard in the final laps to try and mount a counter-attack. He was close, finishing a mere .707" behind the leader.
Meanwhile, team-mate Justin Brayton had a hard night, fighting back from a less-than-desirable start and a big crash on the last lap to finish 10th.
Honda Notes
Honda Red Riders participated in Friday's press-day activities, taking the opportunity to ride the track and speak with media. In a nod to both the 50th running of the Daytona Supercross and Justin Brayton's historic 2018 victory, the Team Honda HRC rider was presented with a special ring.
With this weekend marking the 50th anniversary of the Daytona Supercross, Team Honda HRC and Throttle Jockey decided to commemorate the event with special throwback graphics inspired by Honda's 1973 Elsinore bike. These graphics will be available this week at Throttle Jockey's website.
On race day, Team Honda HRC was pleased to host military serviceman Joshua Kissinger and his family for a special VIP experience. Kissinger, who is an Army medic, will be deployed later this month, and since he's a loyal Honda customer and Supercross fan, the factory Honda team decided to provide him with a special experience to thank him for his service. They were given the opportunity to participate in promoter track walk, then received tours of the team garage and tech truck before enjoying dinner with the crew.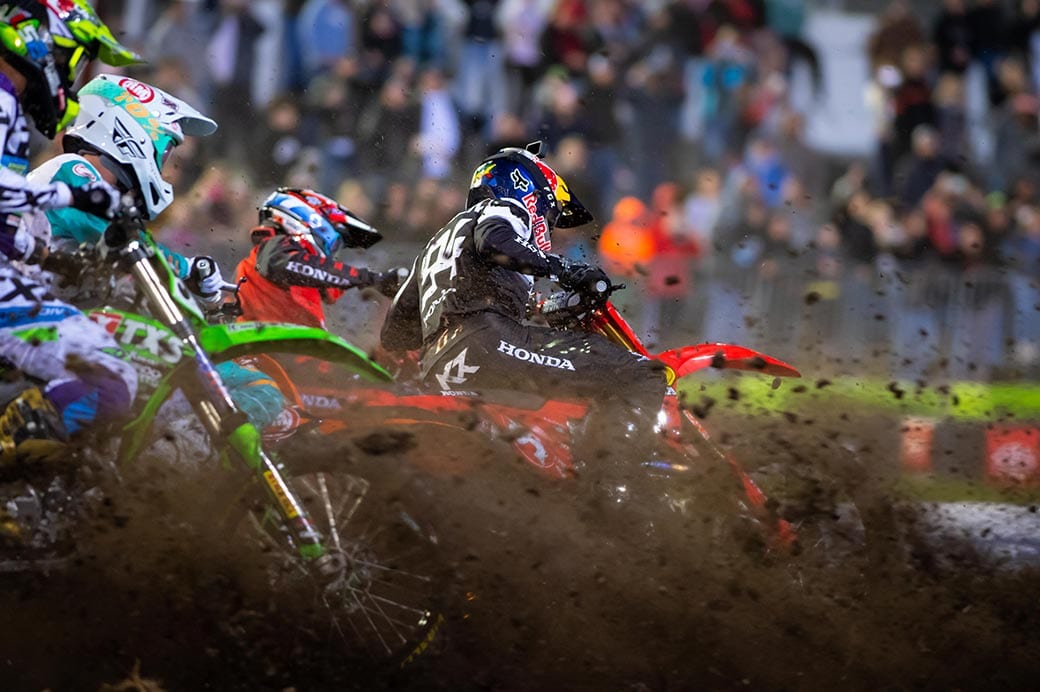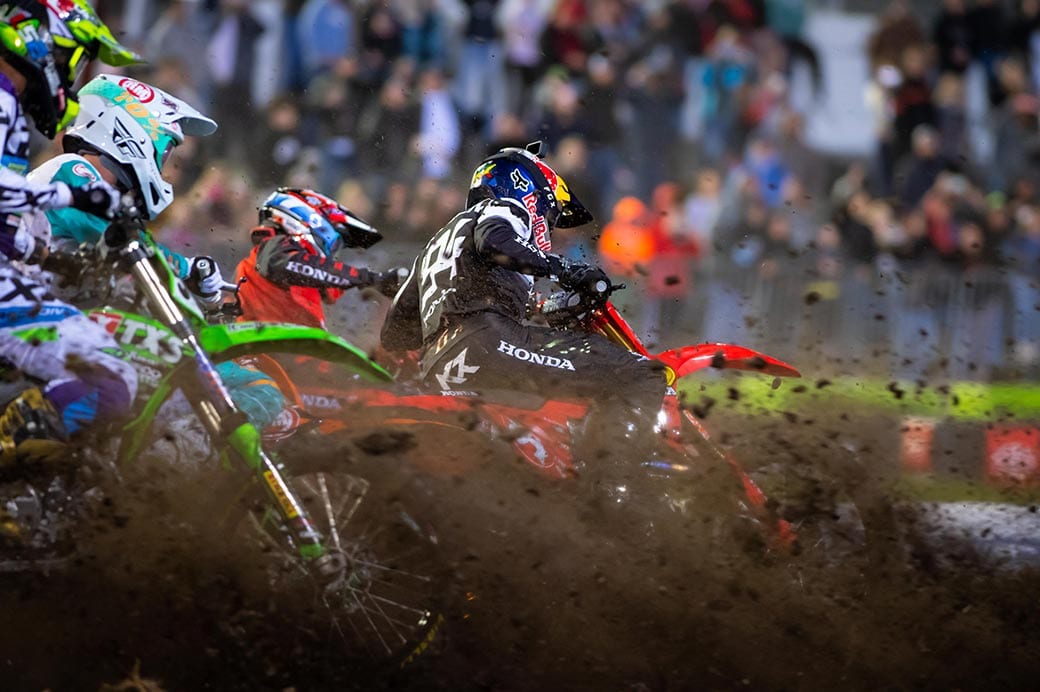 Roczen was fast all day, laying down the quickest lap in the day's first qualifying practice before barely being edged out of the top spot in the second session, giving him the second-fastest time with a 1'10.003" lap. Smartop/MotoConcepts/Bullfrog Spas Honda's Malcolm Stewart was the next-fastest Red Rider, landing fourth with a 1'10.712" time, while team-mate Justin Hill was 11th at 1'12.197". Vince Friese was 13th with a 1'12.464" lap and Justin Brayton was 14th with 1'12.557" time.
Slotted in 450SX heat 1, Roczen rode strong from start to finish, securing his seventh heat-race win of the season. With only one exception, Roczen has won every heat race he started.
Brayton was involved in a run-in with Vince Friese on the final lap of the main event, hurting his left hand. On Monday following the race, he was evaluated by his physician, and it was determined that he had fractured the metacarpal in his pinky finger. Brayton's recovery will take three to six weeks, and he will be re-evaluated at the three-week mark (following the Seattle Supercross).
It was another impressive day for the GEICO Honda team, as Chase Sexton and Jeremy Martin rode their CRF250R race machines to second- and third-place finishes, respectively, in the 250SX East main event. Sexton got off the line in second and spent the entire race playing cat-and-mouse with the leader. He was unable to get close enough to make a pass attempt, crossing the line in the runner-up position and extending his championship points lead.
Meanwhile, Martin came around the first lap in sixth, but quickly made his way into fourth in the early portions of the race. He continued to ride well, gaining one more position and taking the checkers in third. Rookie Jo Shimoda had another strong performance, securing seventh at his first Daytona Supercross.
Ken Roczen: "Tonight went well and I'm happy to come away with a second. My starts have been really good lately, and that continued today in both the heat and the main. When I got out front, I knew I needed to try and lay down some good laps to get a cushion. In the middle of the race I kind of switched up my lines a little, and it didn't work too well.
Eli [Tomac] was coming quick and closed in on me. I made a mistake and tipped over in a turn, which cost me the lead. Even after that happened, it was important for me not to give up and stay right behind him. We were putting down a good pace at the end there, and I think if I had another lap, I could've tried to battle back for the lead. I tried my hardest though, and in the end, it wasn't good enough for a win. I'm really happy with the consistency that we're bringing every weekend, and with my starts and overall riding. We're still in a good position for the rest of the season."
Justin Brayton: "I'm pretty disappointed; it doesn't seem like I can catch a break, honestly. I got an okay start but was shuffled around on the first lap and came around in about 10th. I wasn't able to make the moves I needed to and was back in the chaos. On the final lap, I was completely taken down by Vince [Friese]."
This weekend, Team Honda HRC heads to Indianapolis to take on Round 11 of the AMA Supercross Series at Lucas Oil Stadium.
[more-from heading="Latest News" category="news"]