The highly anticipated 2020 AMA Supercross season kicked off at Anaheim's Angel Stadium, where Team Honda HRC's Ken Roczen rode his factory CRF450R to a sixth-place finish, while team-mate Justin Brayton overcame a mid-race crash to secure eighth.
When the gate dropped for the main event, Brayton came around the first turn in fourth place and quickly made his way into third in the first rhythm section. Meanwhile, Roczen was shuffled around in turn one, emerging ninth.
While the German began making his way forward, Brayton made an impressive pass into second on lap two. It was short-lived however, as he relinquished the position on the following lap. Meanwhile, Roczen had advanced to fifth, where he stayed for the first half of the race
With less than eight minutes remaining, Brayton surrendered one more position, dropping to fourth, right in front of his team-mate.
Roczen began applying pressure and eventually took over the spot. On the same lap, Brayton was taken down by another rider, causing him to lose positions and ultimately take the checkered flag in eighth. As the track deteriorated, Roczen struggled to find his groove, making several mistakes that caused him to lose two spots and finish sixth.
Notes
Red Riders did well in 450SX qualifying, with five landing in the top 10. Smartop/MotoConcepts/Bullfrog Spas Honda's Malcolm Stewart was fourth-quickest with a 57.039" lap, followed by team-mate Justin Hill in fifth with a 57.106" time. Team Honda HRC's Ken Roczen scored the sixth-fastest time with a 57.131", while Justin Brayton was eighth with 57.629". Vince Friese rounded it out in 10thwith a 57.969" time. No fewer than 13 Honda riders made it into the 450SX night program, by far the most of any manufacturer. Honda also had the most riders in the 250SX West night program, at 10.
Brayton started the night program on the right foot, riding impressively to earn the win in the first heat race, with Roczen finishing just behind him in second. Also notable was Friese, who finished third. In all, there were five Red Riders among the nine riders advancing directly from the first heat.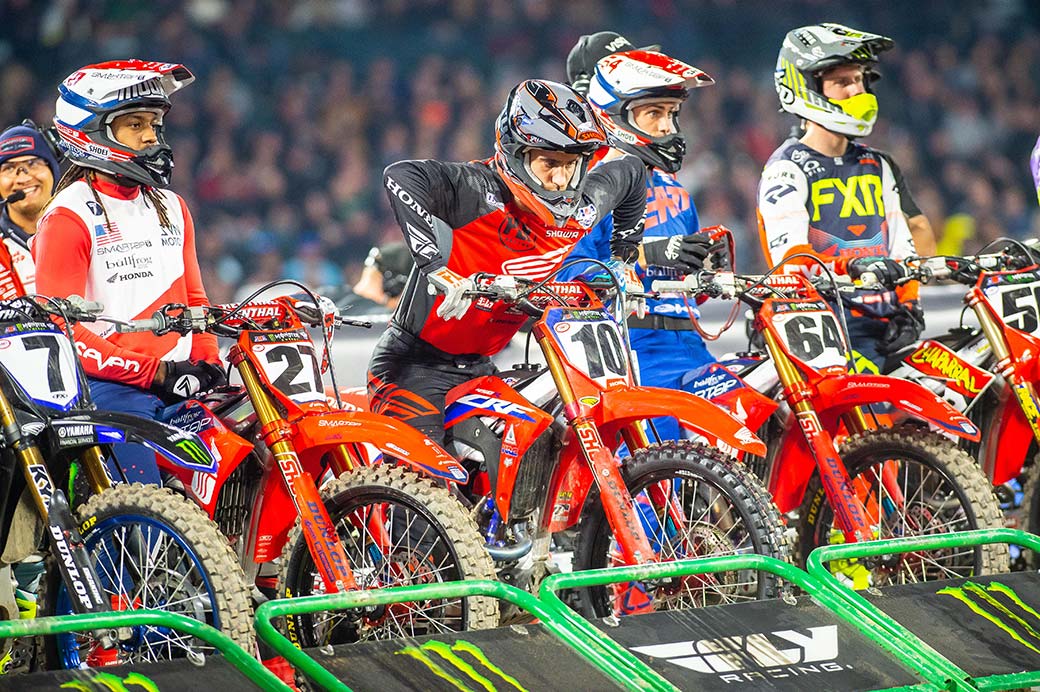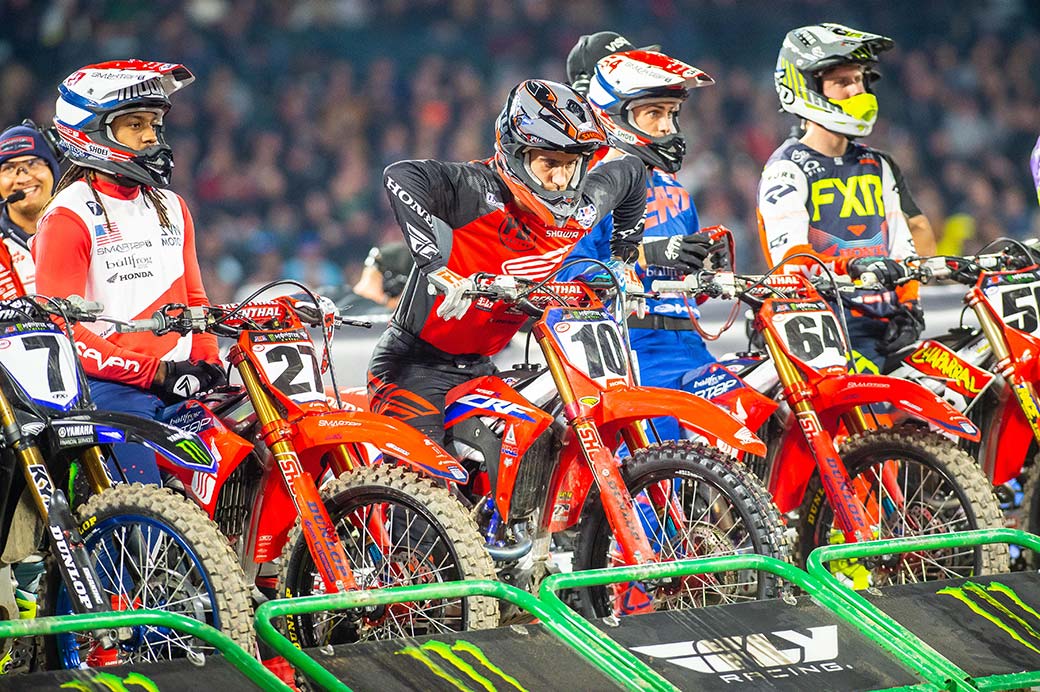 For most riders and mechanics on the start line, Anaheim marked their first gate drop since Monster Energy Cup, but for Justin Brayton and Brent Duffe, this could be considered their eighth, as the duo recently wrapped up a fourth Australian Supercross Championship and raced a number of European off-season races. "I've been on the same bike for several months now and have raced in several different conditions, whether in Australia or Europe, so to come back here and be on basically the same motorcycle was nice because I knew exactly what it was going to do," Brayton said. "I still had some pre-race jitters only because I haven't raced these guys at this pace in a long time, but overall it was a super-smooth day and we were just doing the same things as normal."
After being cleared to race by the FIM in mid-December, GEICO Honda's Christian Craig returned to the 250SX West start gate in Anaheim and had a strong showing all day aboard his CRF250R. He qualified third-quickest in practice, then finished runner-up in heat two.
In the main, Craig rode solid, taking the checkered flag in fourth. However, he was later awarded third after another rider receiving a two-position penalty for cutting the track. Young team-mate and rookie Jett Lawrence suffered from food poisoning, but still had a respectable debut race, finishing ninth.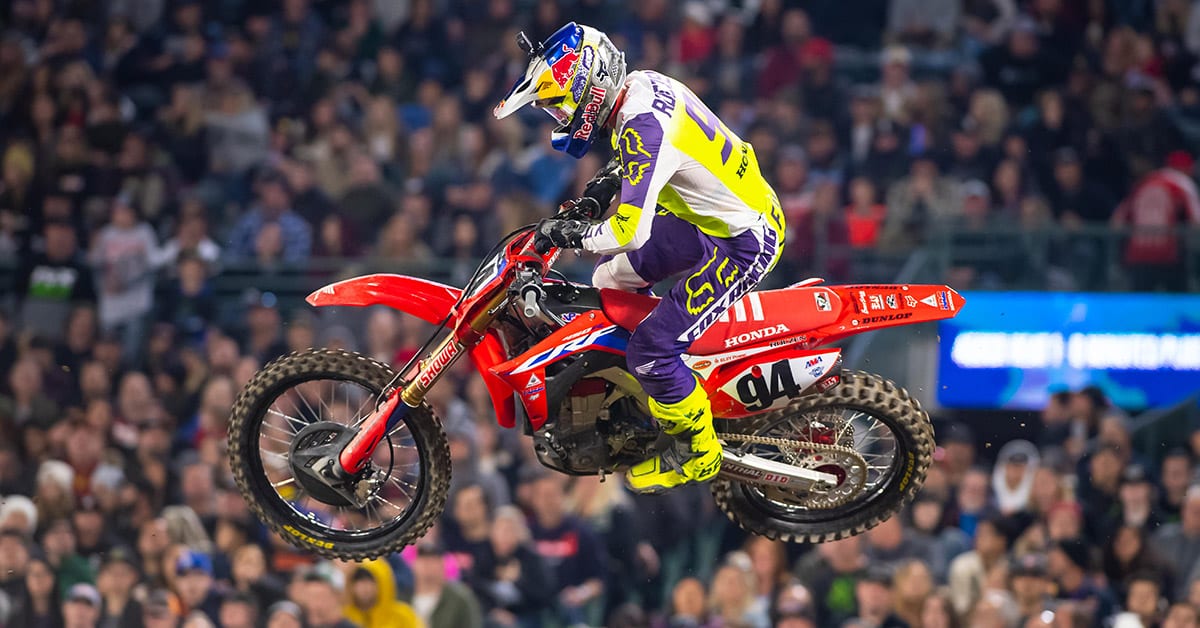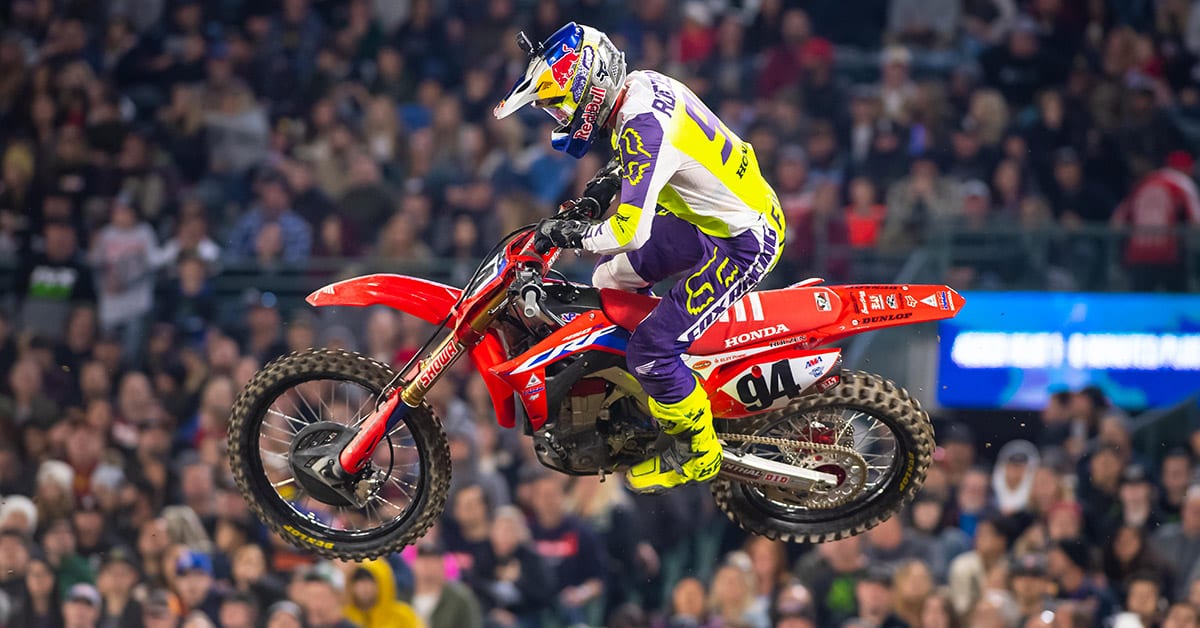 Ken Roczen: "Anaheim 1 started pretty good but the main event was definitely not the greatest. We were a little off on our bike setup, with it being way too stiff. That really showed in the main because of the way the track deteriorated so much. I didn't feel like I was able to keep a good flow or attack the track the way I needed to.
"For sure this is not the position we wanted for the night, but it's good to get the first race out of the way and leave healthy. We know what we need to work on for the upcoming race and have a plan in mind moving forward to implement those changes. Overall we're not going to let this first race get us down, and I'm looking forward to St. Louis."
Jordan Troxell, Roczen's Mechanic: "Tonight did not go as we wanted. The bike was pretty stiff all day, but with how the track shaped up throughout the night it really amplified it. Ken was just uncomfortable and couldn't get into a rhythm. We're going to readdress things this week and hopefully have a better setup for St. Louis."
Erik Kehoe, Team Manager: "We have some positives and negatives to take away from today. The heat race went really well, with both guys getting good starts and riding strong to finish 1-2.
"The main event didn't go as we had hoped though. It could have been worse, so sixth and eighth is definitely something we can build on.
"Justin was riding very strong but went down with [Jason] Anderson. That hindered him, but he's okay which is good. Ken felt his suspension was a little stiff, so we need to work on that to get him a little more comfortable. It's always a challenge because we do so much testing before the season and the guys put in so many laps, but it's really hard to tell until you're in a race situation on a tough track like tonight. We've got some work to do."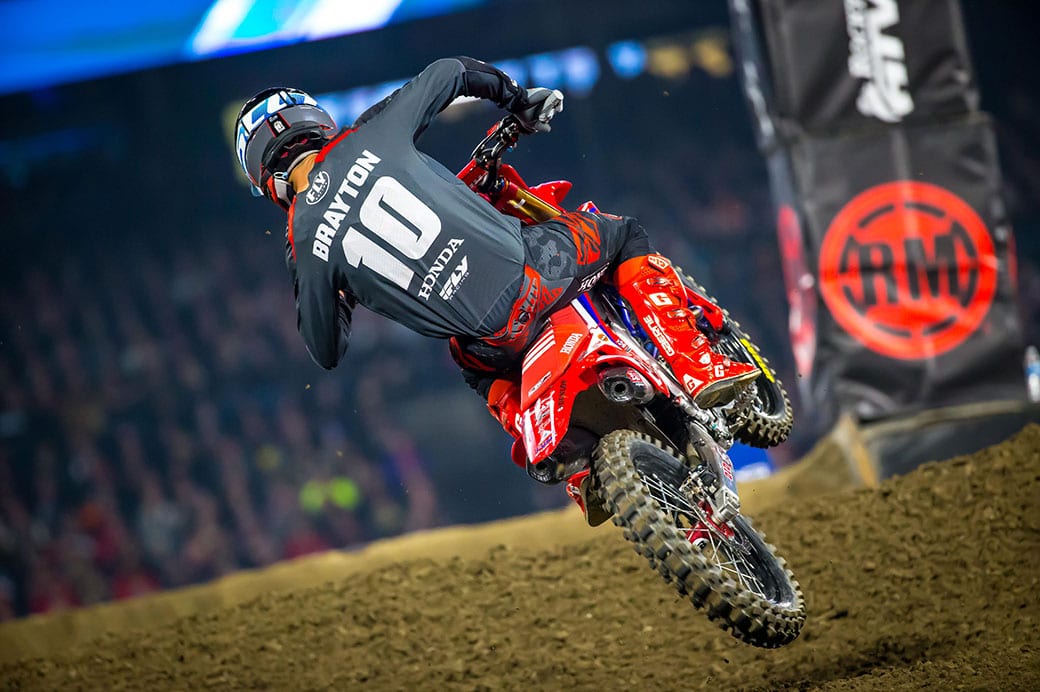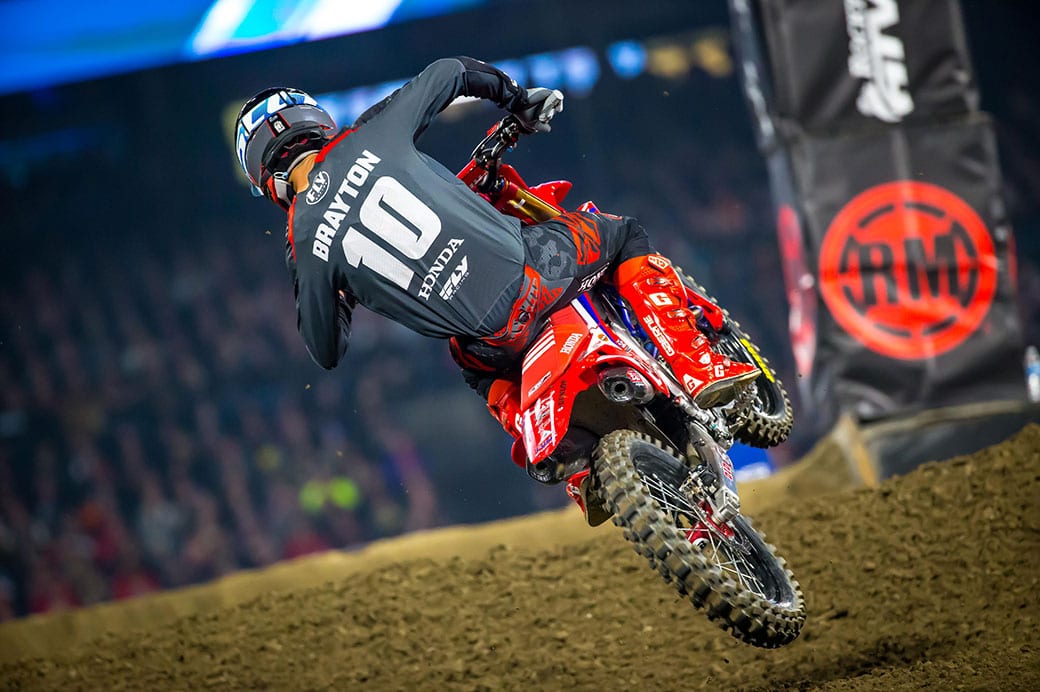 Justin Brayton: "I'm pretty happy with how tonight went overall. To start the night with that heat win and Kenny and I going 1-2 was super cool. The biggest thing I'm really stoked about is my starts. All off-season, that was my main focus. I told myself that if we can start up front, we can win some of these races, and I think I really put a stamp on that tonight.
"Running top-three for over half the race was great too – unfortunately, I got taken out, but it is what it is. I was still able to get up and get eighth. So a heat win, two good starts and an eighth with a crash — I'd say I'm pretty happy. The bike was awesome too, so it's only up from here."
Brent Duffe, Brayton's Mechanic: "Overall, today and tonight were great. I don't think either of us had any pre-race jitters because for most this is their first race, but for us it was really round eight.
"We've been racing since September, so all the nerves were gone. We just showed up and did business like usual, and I think that showed in his heat race.
"Justin was able nail a good start and get a good win. He got another good start in the main event and had a solid first half of the race. Obviously, he went down in the middle of the race, which limits a good result, but eighth is still not bad with a crash. Bike-wise, we didn't really change much at all. We've been running the same general setup for months, so we kind of knew how the bike would handle; instead of making big changes, we just made small adjustments just for track conditions."
What's next for Red Riders?
On January 11, the riders head East to take on round two of the AMA Supercross series in St. Louis, Missouri. On Friday, the riders will take part in a dealer appearance at Big St. Charles Motorsports from 6 to 7:30 p.m.
[more-from heading="More AMA Supercross" heading_url="/news/supercross/ama-supercross/" category="ama-supercross"]