Round Four of Monster Energy AMA Supercross, an FIM World Championship returned to the desert in Glendale, Arizona for its first of three Monster Energy Supercross Triple Crown events of the 2020 season.
Monster Energy/Pro Circuit/Kawasaki rider Austin Forkner raced for redemption as he returned to the top step of the 250SX class podium with a 1-1-3 score, while Monster Energy Kawasaki rider Eli Tomac rode consistently all night for a 2-2-3 score, earning second overall in the 450SX class and placing his KX450 on the podium once again.
Adam Cianciarulo kept his streak alive by qualifying with the fastest lap time (1:02.5) for the fourth time in a row this season with his team-mate Tomac once more followed closely in second.
The Triple Crown race format proved to be a test of endurance as the 450SX class was challenged with three 12-minute plus one lap main events while the 250SX class competed in three 10-minute plus one lap main events.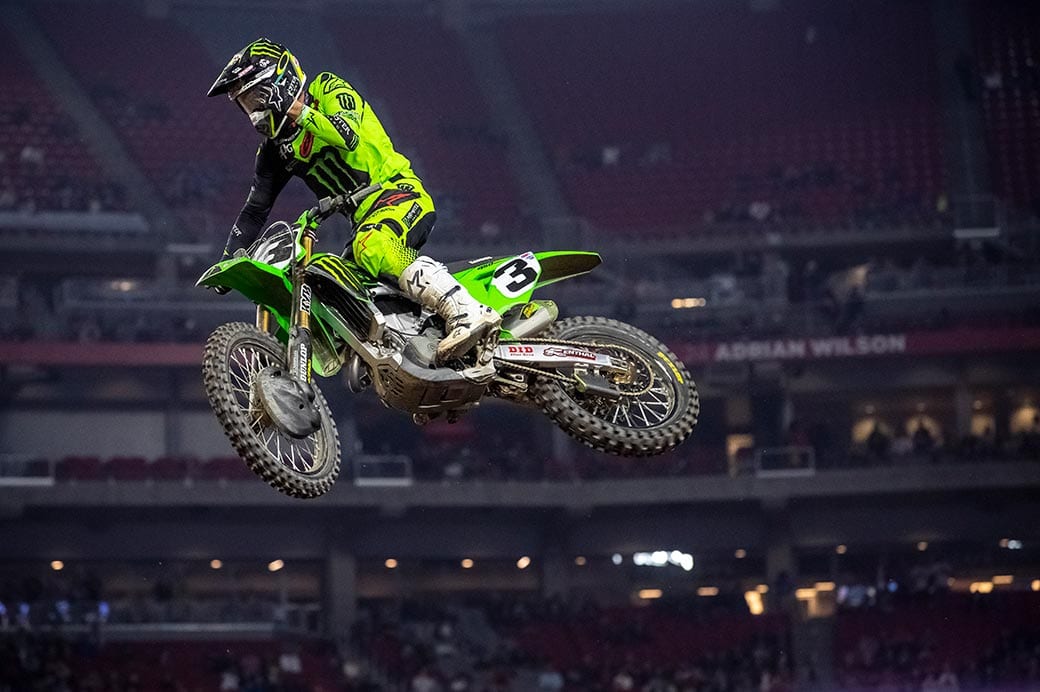 The dynamic duo of Tomac and Cianciarulo lined up for the first of three gate drops of the night knowing the importance of a good start in the shorter races, and without hesitation, the Kawasaki team-mates shot out front as 450SX Main Event 1 began with Tomac in second and Cianciarulo in fourth. Cianciarulo quickly made his way into third, trailing Tomac in second for the entirety of the first race.
As the gate dropped on 450SX Main Event 2, it was the #3 Kawasaki machine of Tomac who quickly took the lead just before another rider went down on the first turn, forcing a red flag and the race to restart.
Once again, the now 21-rider field would line up for the second main event but this time presenting Tomac with more work to get to the front as he started from fifth, while Cianciarulo was able to position himself in third.
[inline-teaser article="video-phoenix-450sx-extended-highlights-2020″ class="watch" align="left"]
Just as Cianciarulo made his way into second, he made a minor error causing him to tip over and remount in eighth. Before the chequers flew, both Kawasaki riders were able to advance a few positions with Tomac crossing the finish line with another second-place finish and Cianciarulo in sixth.
Eerily identical, 450SX Main Event 3 saw another red flag at the start of the race forcing the riders to once again line up, making this their fifth gate drop of the night.
As the gate dropped for the final race of the night, the Kawasaki team-mates found themselves buried mid-pack in 11th and 12th positions. Acknowledging they had their work cut out for them, they began charging the field as Cianciarulo made his way into fifth by Lap 3 and Tomac trailing right behind him.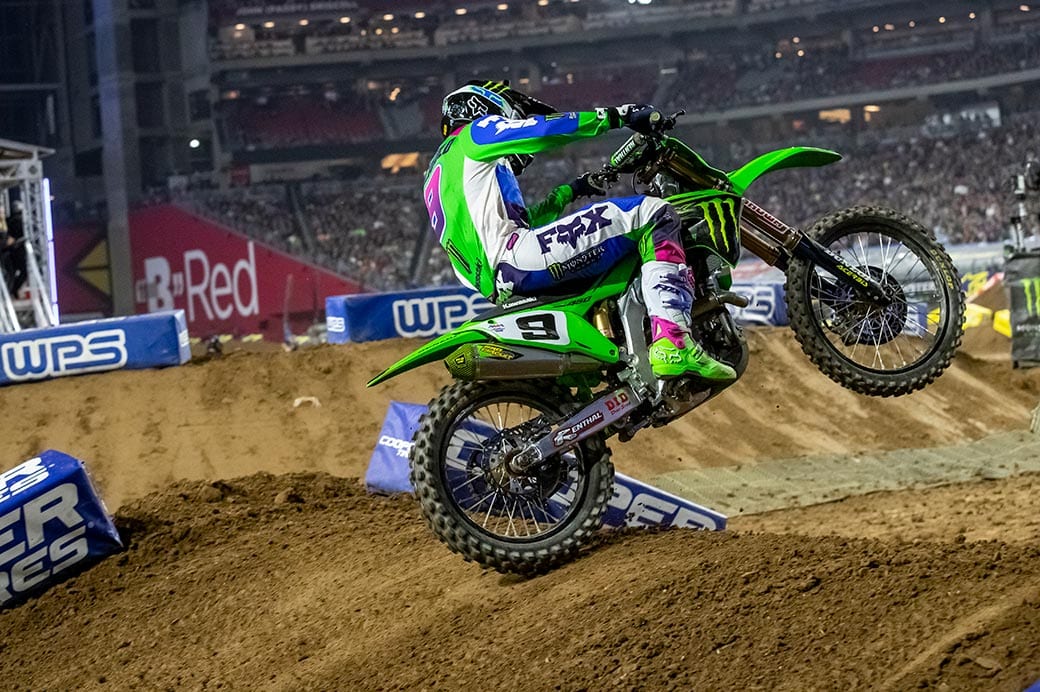 With only a few laps remaining, Cianciarulo reached third before suffering a hard crash in the whoops and only managed to finish 17th, ultimately giving him eighth overall with 3-6-17 scores. However, Tomac was able to continue his consistency and take over third place, where he would finish for second overall with 2-2-3 scores. Tomac has now advanced to second in the 450SX Point Standings, merely eight points behind the leader.
"These Triple Crown races are already crazy and then to add the two red flags, there was just a lot going on," said Tomac. "We technically had five starts tonight and I didn't exactly help myself on those, but I was able to make my way to the front and remain consistent with my finishes.
"Consistency really was the key tonight and the team worked their tails off to help me finish up on the podium. We still have some work to do but overall, we had a successful night and I'm glad we're close in the point standings."
"That was definitely not how we wanted to finish the night and although this is part of racing, it's always a tough pill to swallow," said Cianciarulo. "We kicked off the day qualifying fastest again and honestly, I was feeling good all day.
"I made some mistakes out there and that last one cost me. I'm sore and a bit frustrated but I have a great team behind me, who continue to remind me there are a lot more races left to go in this premier class. We'll take the week to recuperate and look to come out strong in Oakland."
[more-from heading="More AMA Supercross" heading_url="/news/supercross/ama-supercross/" category="ama-supercross"]