It's always been a little bit weird when an American motocross racer heads to Europe to race the GPs. Brad Lackey did it, but he was just that kind of guy. It's always been very rare.
But European racers have been coming to the US for quite some time, even if it was just for one-off series like the Trans-AMAs in the 1970s.
That's part of what makes Zach Osborne so extraordinary. I was at his now-famous race at the Budds Creek MX National in 2006, where, as a chubby rookie, Osborne ran away with the first-moto lead and was still leading a the halfway point, but "snack attack" faded so bad that he ended up finishing a lap down in 18th place in the moto without even falling down.
He was shunned in the US because of this, went to Europe for a handful of years, honed his craft, and you know the rest of the story. Now he's the 450cc National Motocross Champion.
But that's how Americans usually end up going to Europe nowadays: First, they get rejected here in the US. Why does it take rejection for an American to go race in Europe? There are a few factors:
1: Supercross. In the USA, supercross isn't the only thing that matters, but if motocross went away at the professional level, most of the factories would be okay with it. If an American prospect sucks at supercross, like Thomas Covington, that's one way for them to end up in Europe. But if they're better indoors than outdoors, going to Europe is shooting themselves in the foot.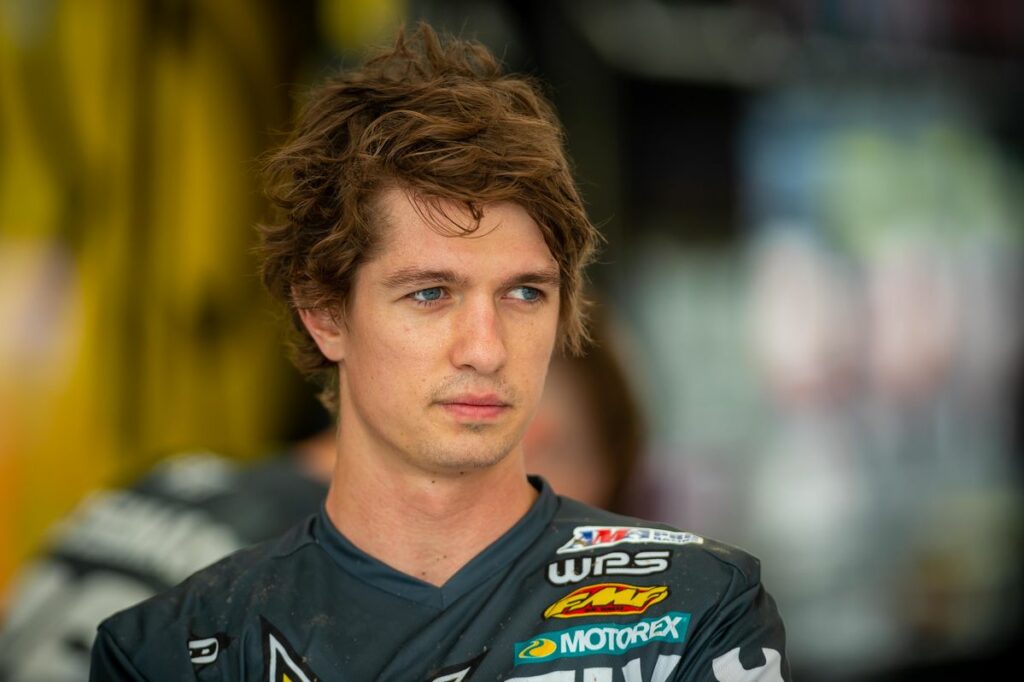 2: Culture/Coddling. In their teens, as most racers are when they hit the pros, Americans are generally ill-equipped for living abroad. Most don't even have passports. And since most of them have parents with some amount of money (thus the background of racing motocross), the prospect of racing in some foreign land where people don't even talk right isn't appealing at all. They'd rather quit and live at home with their parents.
3: Cheats. Some of the more prominent American racers to have gone and raced in Europe over the last couple of decades have come back home without their promised pay. In most cases, they rode for Italian teams, but Mike Brown, Jimmy Albertson, and more, have gone to Europe promised a certain amount of money, then were left stranded to barely survive while their team didn't pay them, and ironically, if they said anything, they'd be in breach of contract and would legally forfeit the money they were owed. This got around in the US pits and a lot of people are unwilling to add the risk of destitution to the risks of world travel with no experience and racing on tracks they're not used to.
4: Talent pool. It used to be that America had the fastest racers around—at least the deepest field of fast guys—because we had a thriving middle class and strong local racing along with a much lower population density in the US than most of Europe, or the rest of the world, can boast. But that is mostly a thing of the past now. Local racing is almost entirely dead. Factory-level racers come from private facilities—farms, essentially—and there's only so much room at each of these places. The talent pool is waning.
Most motorcycle sales are to grown men who used to race in their youth. In 10 years, we may not have 40-man starting gates. Back when the talent pool was deeper, it was more likely that Americans might get bounced to Europe. But now, there are starting to be more and more gaps here, which are bringing people from Europe, Australia, etc., to the US to race instead of sloughing off Americans to the GPs.
The one major exception to all of these rules in recent years was Ryan Villopoto, and it turns out a big part of him going to Europe the way he did was to provide coaching/team structure to Thomas Covington, whose father Mitch was an executive at Monster Energy.
But Villopoto's main motivation for going was reportedly to get out from under his toxic mechanic stateside, believe it or not. That, plus being burnt out from the pressure of being 'the guy' in the US for as long as he was.
In short: the best way for the GPs to get more Americans on the starting line is to just let the US economy fall into itself and allow both of the US racing series to fold. That might not happen. Or it might happen soon. In the meantime, you don't need us when you have Herlings and company…