Romain Febvre, the newest member of the Monster Energy Kawasaki Racing Team, will open a new chapter of his already highly-successful career this year when he mounts the #3 plate on his KX450-SR.
Back on a bike for just four weeks after a three-month pause due to injury, the Frenchman has hardly had a day off his Kawasaki since his return and, after a few days back home to celebrate Christmas, he's now back on Sardinia where he has regularly spent several weeks each winter preparing in the best conditions for the new season.
"Some riders like going to Spain but I prefer Sardinia – I enjoy the island and know all the practice tracks where we can ride," explained Febvre. "The weather is usually pretty good and you don't need to spend hours on the road to go from one location to another."
Febvre was already on Sardinia in December to start working with his new crew and ride his Kawasaki following a brief session in Belgium after he was given the green light from his doctor to resume riding.
"I just did a few laps on a production bike in Belgium to check if everything was okay with my leg and then I joined the mechanics who were already on Sardinia. It was a real pleasure to ride again, even though I had some slight discomfort in my leg for a couple of days.
"I already enjoyed the production bike but of course the feeling was even better with the factory bike and as soon as I jumped on it I felt very comfortable. The engine characteristics suit my riding style perfectly and it's so good to have this feeling even before we start testing different options and settings.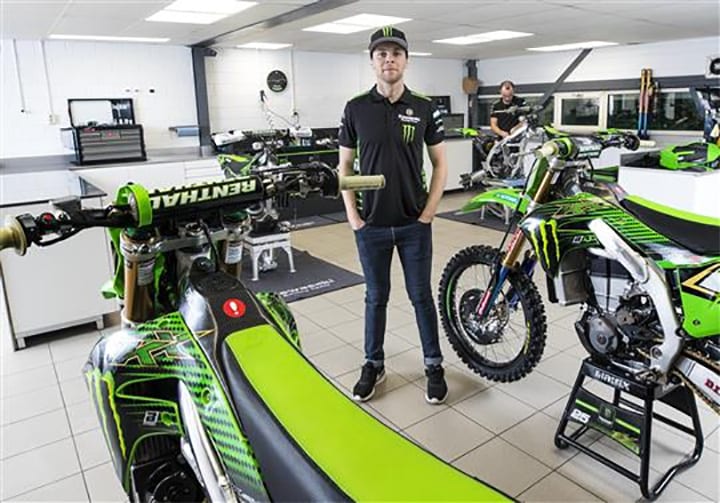 "Until now the main goal was to find my marks after such a long break and we'll start testing mid-January to prepare for my racing comeback. It's too early to say when and where I will have my first race on the Kawasaki but I am already looking forward to it with enthusiasm," he added.
For this new stage of his career, changing team and bike for the 2020 season, Romain will have the #3 plate on his Monster Energy Kawasaki – incidentally, this is the same number which Monster Energy Kawasaki US leader Eli Tomac races in the States.
"It's just a coincidence that we will have the same number," the French ace explained. "When I was in hospital I didn't have so many things to do, and one day I had the idea to change my racing number. I wanted a short number and this one was available for MXGP.
"I have always raced with #461 during my professional motocross career but the number was not really significant for me. I had #61 when I was a kid but when I moved from supermoto to motocross that number was not available for the French series – the only possibility to keep 61 was to add a 4 so that's how the 461 came about.
"So for this new decade I have changed team, bike and also number, and I really appreciate working with different people – I had a great relationship with my previous team but it's also great to have a fresh feeling around me in my new environment."
[more-from heading="Also In MXGP" category="mxgp"]