Martin Racing technology rider Filippo Zonta claimed the first EMX win of the day at Maggiora, with a six second winning gap.
Grabbing the opening holeshot, Nicolas De court pushed through in the opening few laps, just as Micha De Waal grabbed the lead for the first few corners before tucking the front. Brit RFX KTM rider Nathan Dixon had a decent start, which ultimately lead him to finish in ninth position for the first Moto of the day.
Meanwhile Gabriel KTM rider John Adamson struggled with a bad start but still managed to push back through to finish in 28th position just ahead of the final Brit rider Kelton Gwyther. Further up the pack De Bortoli was all over the back of De court, and pushed to make the pass down the one of the steep Maggiora hills.
The track was a lot greasier than this mornings timed practice, which started catching riders out with one of them being De Bortoli, dropping the bike and losing a few places allowing De Court to fly through to lead. Da waal then crashed hard out of fourth place after coming together with another rider.
Filippo Zonta then moved up into the lead, as De Court sets the fastest lap of the race, with Zonta claiming the first win of the day in Italy.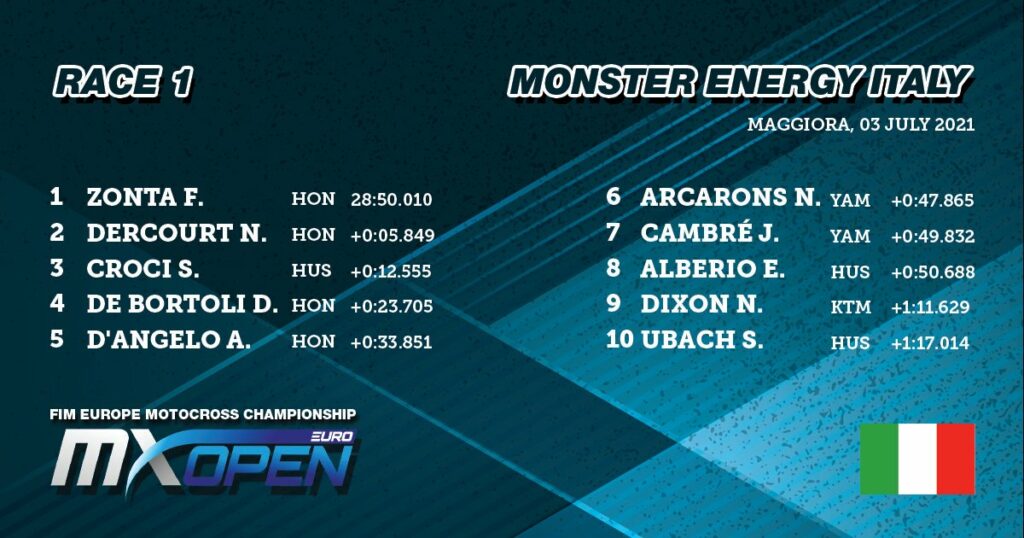 PC – MXGP