This weekend (yes it's February 29/March 1 already) the FIM Motocross World Championship kicks off.
And unlike in recent years when an exotic location such as Neuquen in Argentina or Losail in Qatar has hosted the first MX GP of the year, this decade's season-opener is being hosted right here in the UK – or Matterley Basin to be more precise.
The purpose-built GP facility on the outskirts of Winchester has hosted the British round of the world series nine times previously and has also hosted a couple of MXoNs too.
Now firmly established as the home of the British GP, Matterley Basin was built back in 2006 and despite its hardpack soil surface is the perfect circuit to get the season underway as the surrounding area drains well, meaning it can handle a deluge or two.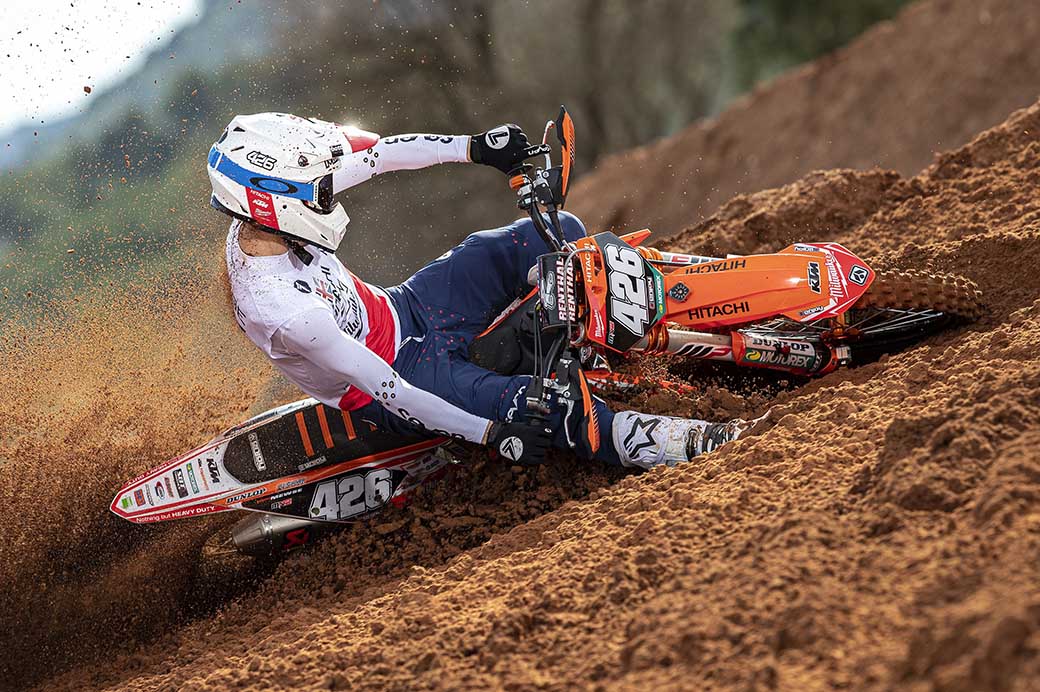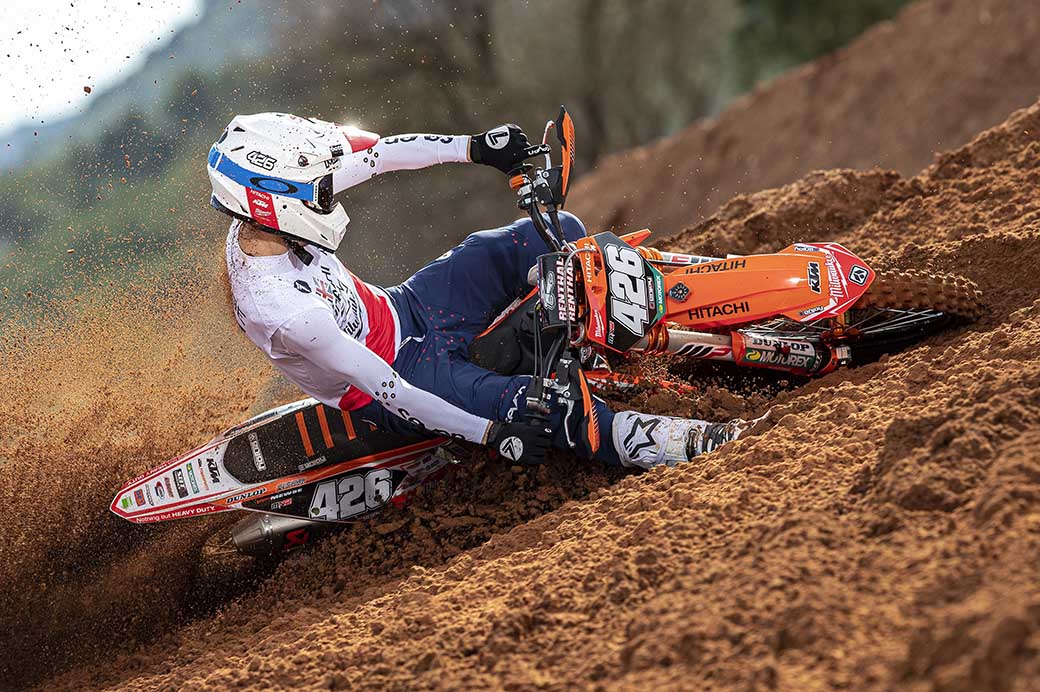 If you think back to the year of its creation and that season's Motocross of Nations, in particular, some of the greatest racing in the history of our sport took place as the Matterley Basin circuit rutted up into a highly-technical battlefield with Stefan Everts, James Stewart, Ryan Villopoto, Tony Cairoli, Billy MacKenzie and all, putting on one hell of a show.
And even if the weather forecast is wrong and conditions are perfect – as we've consistently seen in recent years – the racing at Matterley is top-notch and it's easy to think back and pluck some real motocross magic from the memory banks.
Herlings' perfectly timed charges to topple Red Bull KTM team-mate Tony Cairoli from the top spot instantly spring to mind there…
If we're talking names then the 2020 MXGP series ought to be a classic as there are more GP winners in the line-up than there are point-paying positions. Yep, to score points in MXGP you're gonna have to beat at least one GP winner. How do you like that depth of field?
MX2 isn't anywhere near as full with prolific winners and that only means it's equally – if not more – wide open.
As well as the established stars in this division, there's also an influx of up n' coming EMX competitors plus a handful of Aussies which seem to be this season's must-have accessory.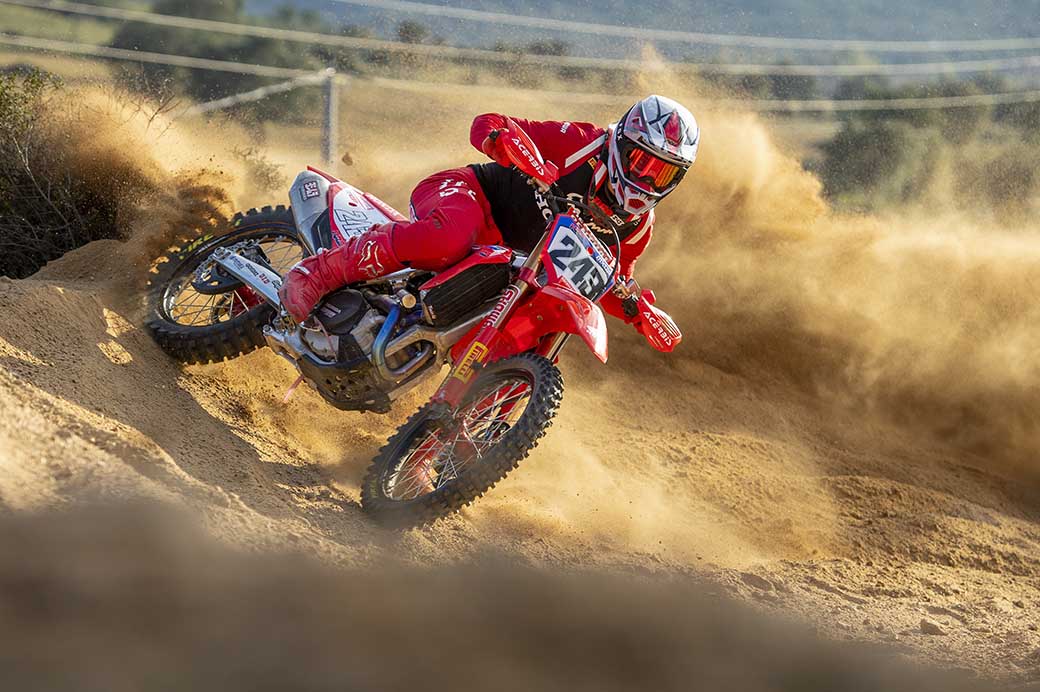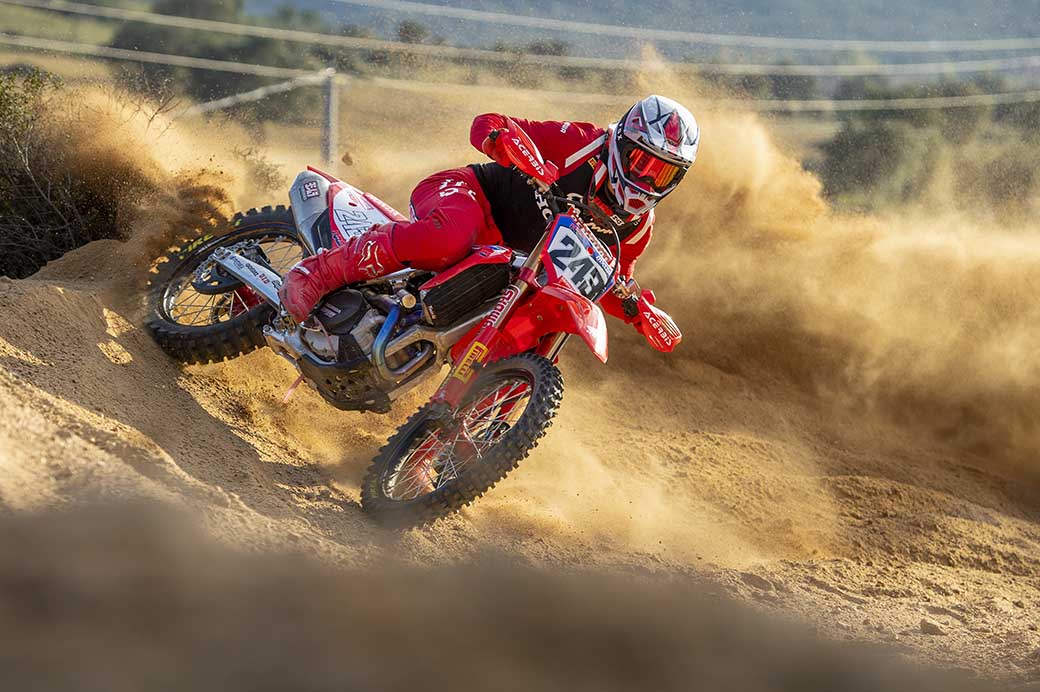 How will they get on? Only time will tell but at least there's not too long to wait…
Let's take a look at some of the leading contenders in each of the two world championship classes…
[inline-teaser article="mxgp-of-great-britain-entry-list-2020-matterley-basin" class="read-more" align="right"]
It's hard to believe that the defending MXGP champion Tim Gajser is still only 23. On the hunt for a fourth world title, Gajser is armed with a full-on HRC CRF450RWs and the pair are proven winners.
The Slovenian has already picked up the Internazionali d'Italia title and starts the season as one of the favourites to take the title.
Although operating under the same umbrella, Red Bull KTM Factory Racing is two camps with Jeffrey Herlings operating out of one truck while Antonio Cairoli and Jorge Prado run out of another.
With Prado's spot on the line confirmed for Matterley Basin after a remarkable recovery from his femur injury – we thought a return would be a no-go but the current MX2 world champ has returned to his bike in the last two weeks and is said to look fast – the MXGP contingent for the KTM Factory squad is brimming with quality. Although, it's more likely that all expectancy will be placed on Cairoli and Herlings in these early rounds.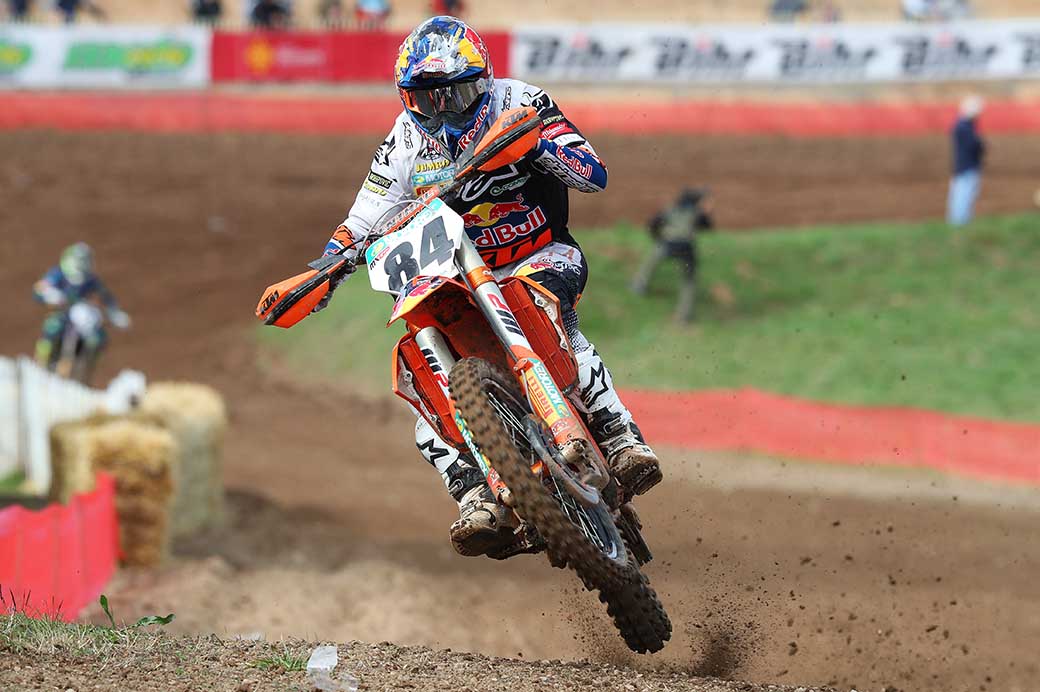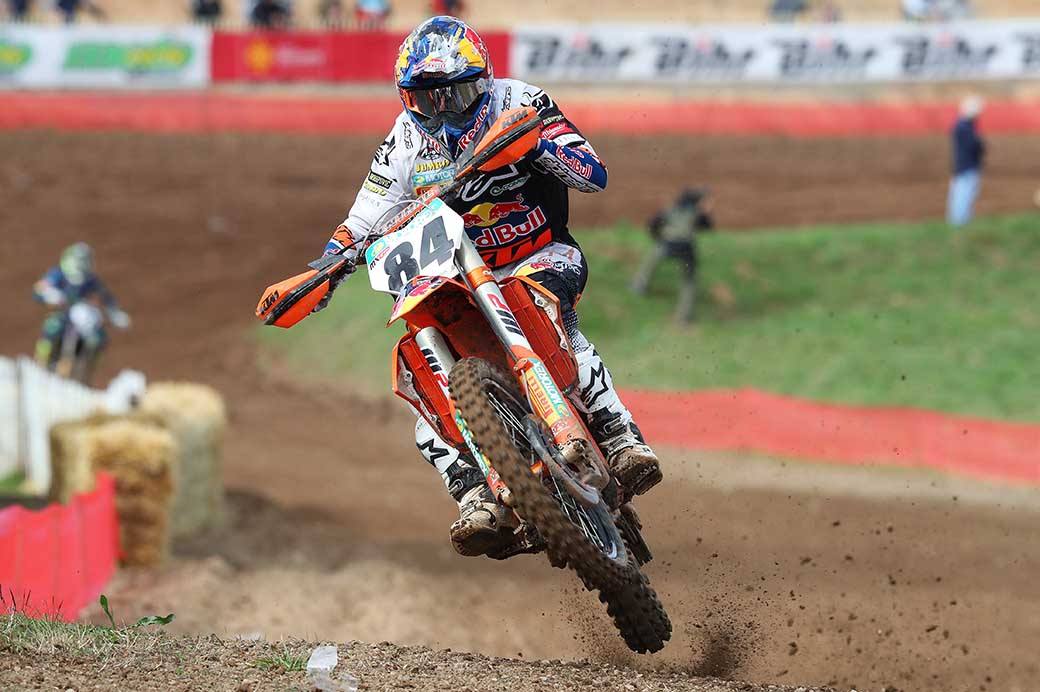 You'd have to say that in recent years the Dutchman – when fit – has held the upper hand but it's a long old season and anything can happen.
Standing Construct run GasGas' factory effort in 2020 with Glenn Coldenhoff and Ivo Monticelli riding the scarlet Austro/Spanish missiles that will only be unveiled to the world on Friday. Take a look if you haven't seen the 2020 GasGas motocross bikes yet.
That's quite exciting in itself and makes us wonder which national anthem will be played for the manufacturer if The Hoff wins on Sunday. Hmmm…
The Monster Energy Kawasaki Racing Team gets an injection of new life for 2020 as 2015 MXGP world champion Romain Febvre lines up alongside Clement Desalle on full factory-spec KRT machinery.
As well as switching teams, Febvre will run #3 and looks a whole lot like Eli Tomac on the bike but is much less pouty than the AMA star off it.
With all three of its 2020 members finishing in the top five of the 2019 MXGP series you'd have to rate Monster Energy Yamaha's chances quite highly moving into the new season.
However, the bulk of that success came from consistency and despite Jeremy Seewer finishing second, Gautier Paulin, fourth and Arnaud Tonus fifth on the brand's YZ450FMs not one of them managed to pull off a moto win.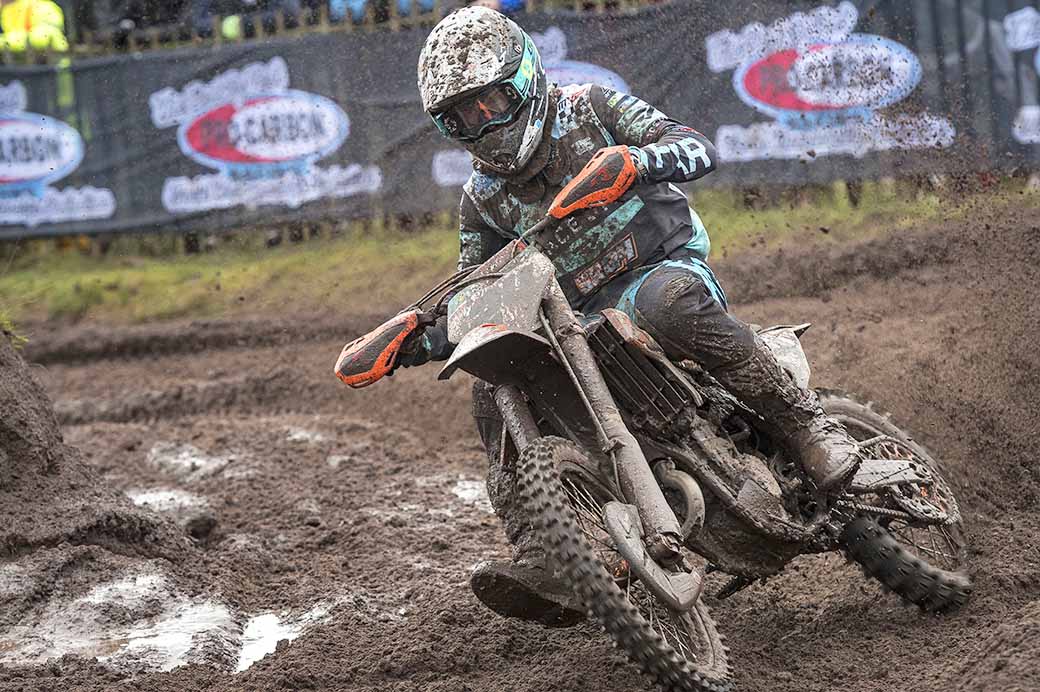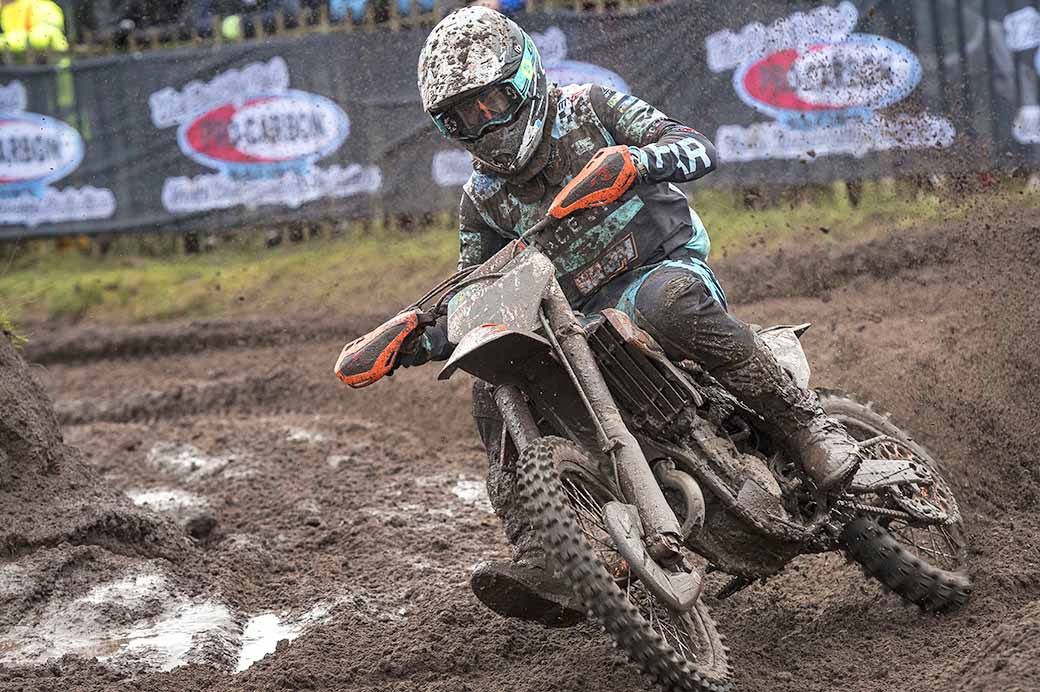 Rockstar Energy Husqvarna runs an all-Baltic state line-up with Latvia's former MX2 world champion Pauls Jonass and lengthy Lithuanian Arminas Jasikonis taking care of business.
The Honda SR Motobluez team run Valentin Guillod and Jeremy van Horebeek. Guillod beat Herlings straight-up here in MX2 a few years back. Can he do it again? Most likely not but it won't be through a lack of trying.
Moving onto the Brits now and wildcard Tommy Searle is out but SS24 KTM's Shaun Simpson, Chambers Racing Husqvarna's Jake Millward and JD Gunnex KTM's Adam Sterry are all very much in.
All three have good pace and the ability to run near the front. Starts will be vital to their success with Millward, in particular, having previous form when it comes to getting off the unique gate set-up at Matterley.
Starting with the Brits in MX2, and Monster Energy Yamaha's Ben Watson is very much a title candidate in his swansong season in the 250F division.
Last year's British GP didn't go so swimmingly for Ben who later admitted that the pressure that he put on himself to perform hindered him severely in the early part of the season.
Let's get right behind him and watch what he's capable of…
Conrad Mewse came so close to a first-race third at Matterley Basin last year until a mechanical gremlin halted his attack on the front three with a lap to go.
He'll be out to prove that he and his Hitachi KTM Fuelled by Milwaukee have got the pace to win in 2020.
Also in the line-up are TMX columnist Tom Grimshaw (Chambers Husqvarna), Par Homes RFX Husqvarna's Josh Gilbert and wildcard Taylor Hammal who gets the call-up on the RHR Yamaha.
The front runners in the MX2 class are likely to be Rockstar Energy Husqvarna's Thomas Kjer Olsen, Red Bull KTM's Tom Vialle and Rene Hofer and Monster Energy Yamaha's Jago Geerts.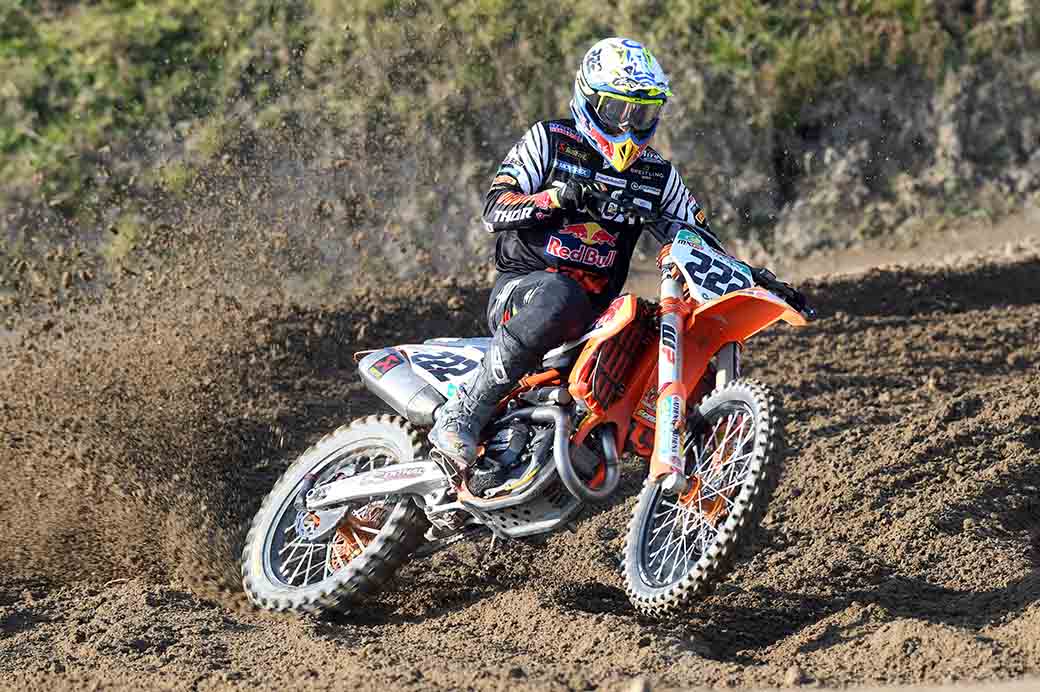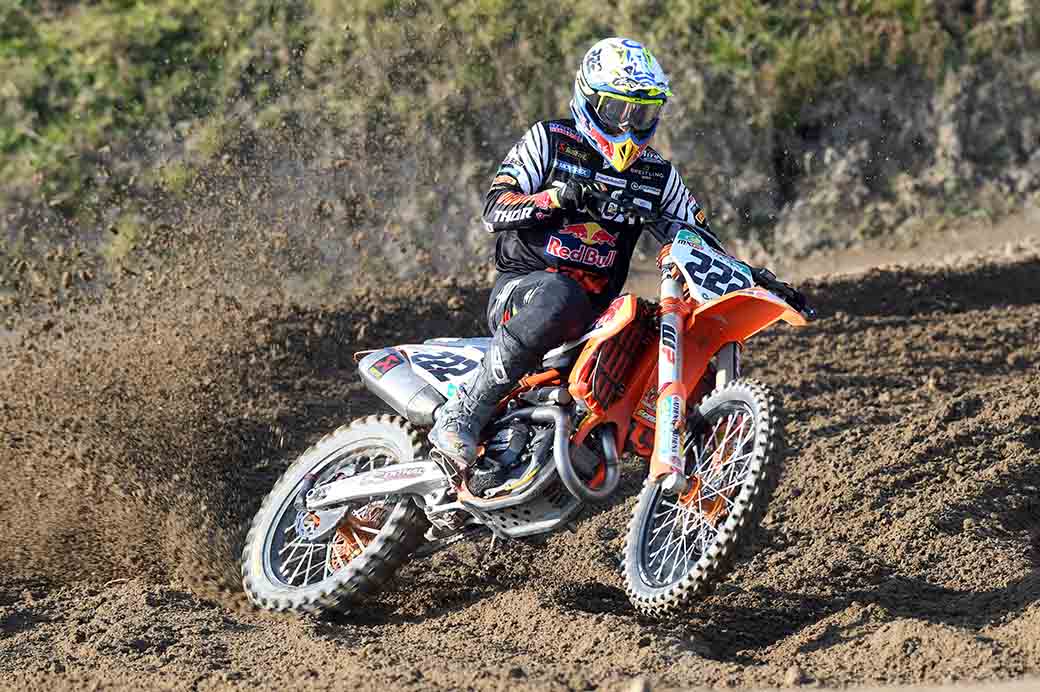 Of the three Vialle has been top dog when they've raced so far this year but TKO was flawless at Matterley Basin 12 months ago and is the most experienced of the title hunters.
Aussie MX2 champion Wilson Todd joins the Steve Dixon-owned DRT Kawasaki team for an all-out attack on the 2020 MX2 world championship.
As well as being a champion Down Under, the Aussie has AMA Nationals experience and was a top-10 runner in the few rounds he raced in the States during 2019.
How will he fare on Sunday? Get to Matterley and find out firsthand…
The Livia Lancelot-owned 114 Motorsports team is another MX2 outfit that's looked towards Australia to find suitable athletes. Having had some early season success with Mitch Evans last year,
Livi has signed Nathan Crawford and former 125cc Youth World Champion Bailey Malkiewicz up for a run at the 2020 series.
So that's the bulk of the big hitters in the premier two classes covered – just watch some other upstart come and upset the applecart now. Of course, that's why they run the races in the first place and as the warning signs say – you should always expect the unexpected…
The biggest class of the weekend in term of entries is the EMX125 division that features a shedload on young up and coming talent including some sons of former GP racers – Max Vohland and Liam Everts.
As things stand no fewer than 85 riders will scrap it out for the 40 spots in the points-paying races which means timed qualification for everyone.
[inline-teaser article="matterley-basin-timetable-2020-mxgp-of-great-britain" class="read-more" align="left"]
There are currently 14 Brits in the line-up – Jack Grayshon, Harvey Cashmore, Ethan Lane, Jude Morris, Alfie Jones, Sam Atkinson, Charlie Palmer, Eddie Jay Wade, Preston Williams, Vinnie Guthrie, Luke Hull, Bobby Bruce, Louie Kessell and Joel Rizzi – and they all need your support!
Picking a winner in a class so stacked is impossible so we won't embarrass ourselves. We'd like to see all 14 of the locals in the top-10 though which although mathematically impossible would be one hell of a thing! Come on boys – you can do it!
The weekend's fourth class is the WMX division. DRT Kawasaki's Courtney Duncan is the reigning world champion and will be looking to top the podium at the team's home GP.
She'll have some stiff competition in the form of Kiara Fontanesi, Larissa Papenmeier and Nancy van de Ven. Just four Brits go in this one – Ria Truman, Catherine King, Kathryn Booth and Nadiya Jones…
Let's hope they're early risers as their second moto leaves the line at 8.45 on Sunday morning!  Set your alarms nice and early folks because you won't want to miss any of the action.
How to get there
From the North, East or West…
Unless you're the kind of fella who's a south coast dweller the chances are you're gonna be hitting Matterley Basin up from the north. The good news is with excellent road links in the south of the country getting to the track is simple.
You need to find your way to junction nine of the M3 whether that's by hitting it up from the A34 (the A303 is the best bet to reach that particular road for West Country folk) or coming down the motorway itself.
From there head towards Alresford and Alton using the A31. The event will be signposted from the motorway junction anyway but as a back up you can always slap SO21 1HW in your SatNav and get guided right there.
From the South East…
If you're within 10 minutes of the M3, M20, M23 or M25, following the directions above is the easy way in but failing that the A272 is as good a route to Matterley as any.
Keep on trucking past Langrish towards Winchester and the A31 and then swing a right when you get there. Follow the signs for the MXGP and Bob's yer uncle.
Ticket Info
It's now too late to pre-purchase tickets so unless you've already got yours online then you're gonna have to pay on the day. To make sure you take enough folding currency along with you here's a full rundown of ticket prices…
Weekend
Adult (16+): £65
Junior (10-15): £20
Saturday
Adult (16+): £35
Junior (10-15): £15
Sunday
Adult (16+): £50
Junior (10-15): £20
Paddock Pass
Adult (16+): £15
Junior (10-15): £5
Camping
From 2pm Friday:  £50 per pitch
[more-from heading="Also In MXGP" category="mxgp"]