In 2019, Team HRC's Tim Gajser became a three-time world champion after winning the MXGP class by over 200 points. His season included a record-breaking seven overall GPs in a row, and also a momentous victory in the deep sands of Lommel, as well as the thrilling battle in Trentino which sparked his 2019 campaign. He then rounded off the year with one-two moto results at the Motocross of Nations in Assen, making him the first Slovenian to win his class at the historic event.
In the meantime, Mitch Evans was competing in his first season in the FIM world motocross championship in the MX2 class, getting off to a good start at the MXGP of Patagonia, before settling into a year that was filled with some ups and downs, as he got used to life in the series.
Now though, with just a few weeks to go until the start of the 2020 FIM World Motocross Championship, Gajser's focus is fully on defending that title and putting the all-new Honda CRF450RW on the top step of the podium while Evans hopes to continue his excellent Internazionali d'Italia form into the MXGP championship and prove to everyone he has what it takes to run up front in the toughest motocross series in the world. We caught up with the duo to find out their thoughts heading into this new season…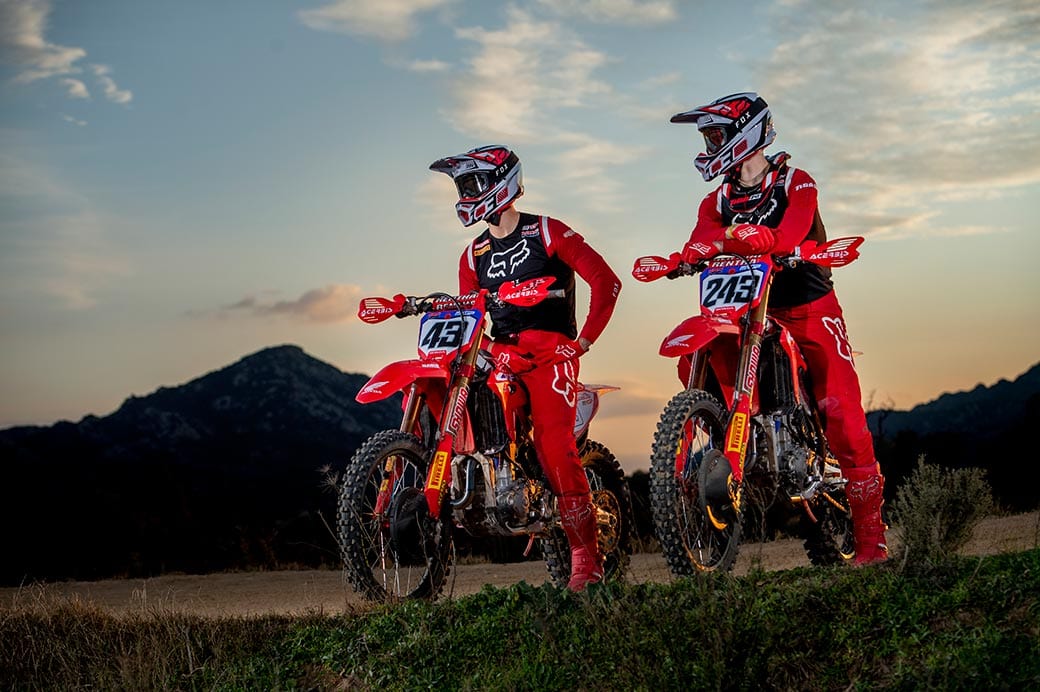 Just talk briefly about what that 2019 season was like for you?
Tim Gajser: 2019 was an amazing season. Already coming into the season, I was already feeling good, the bike was really great. I was hoping for a great season, and I was struggling a bit early in the season, making too many mistakes in the first races, but then after Valkenswaard we went to Arco and then everything started going in the right direction and I started winning races, Grand Prix's and eventually the title.
Mitch Evans: I got off to a great start by getting on the podium in Argentina, but things didn't quite go to plan from then on. I struggled a little bit just with everything being new and perhaps trying to push myself too much in order to over-compensate for the results. It was a learning curve though and I'm glad I was able to come over here and do it. Obviously after that I got the call to join Team HRC, it was a dream come true for me, I've always grown up looking at the scene over here and HRC is one of the best rides you can have. I was a little bit speechless when it happened but I knew it was going to be a big challenge and I couldn't wait to get started.
What has this off-season been like and what can you tell us about the new bike?
TG: It was very busy, I didn't have a lot of time off, and had a lot to do. I am thankful I could spend a couple of days at home in my own bed, and then beginning of December I started preparation for 2020. Obviously I had Monster Cup right after Assen and then we had a few days with the new bike. I've ridden it a lot more this year of course but as soon as I sat on the bike, I felt really good and comfortable. Everything goes in a good way and we can have great races with that bike and a great season. I never try to stop progressing and Honda are the same, they always come with new things and together we can do big things.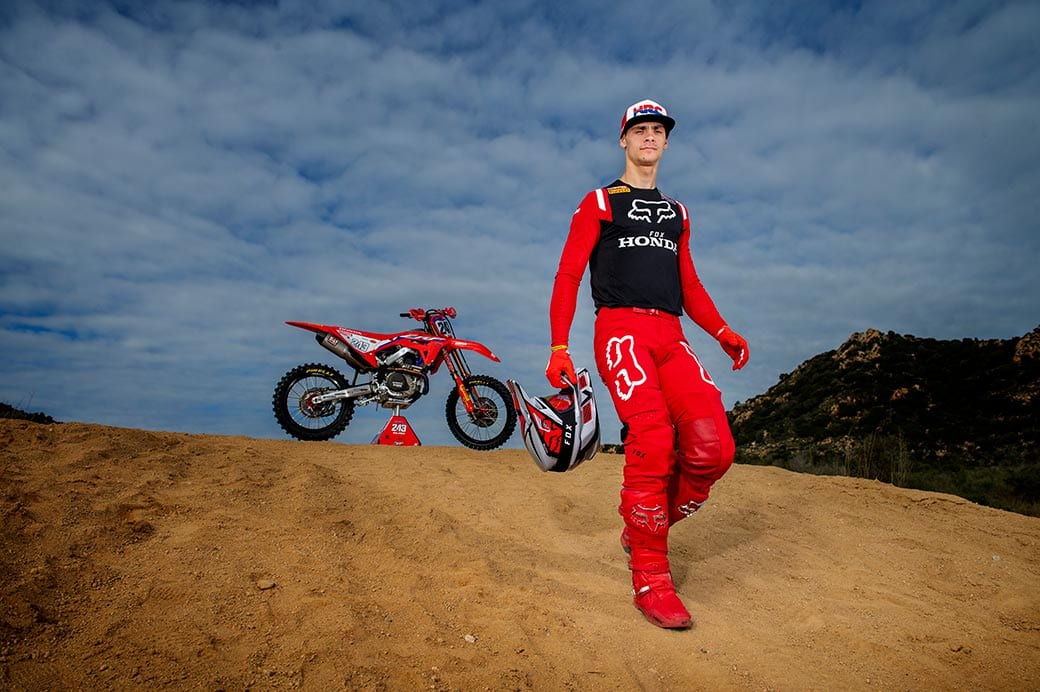 ME: I went over to Japan just for one race at the end of last year and that was a really cool experience. It was great to see what HRC is all about and I thoroughly enjoyed my experience there. Then I went back to Australia for a little bit over the holidays before coming back to Europe this year to ride the new bike and to just work with the team in preparation for the MXGPs. The first time I rode it was in Sardinia and right away I was impressed with what they had done. I was coming from a different place than Tim but I knew that it was a machine capable of winning races and that they'd put in a lot of time and effort to getting it ready for this year.
What about your preparations for this coming season and how you plan to approach it?
TG: Last year I changed many things and I was super happy with that, so basically we try and stay with the same program, but you can always improve and I tried to improve some things and we try and do that every year, that is the goal. Every year, some riders from MX2 come to MXGP and it makes it bigger and there are more good riders. Already we have the great names, but this year even more good guys and the motivation is that you need to improve, and I always say it could be better. Even winning the races and the titles, I always feel I can do better.
ME: I've done a lot of gym work to make sure I'm ready for the extra size and power of the 450 machine. I started a little bit earlier, which meant that I could go to Australia and I think that was important as it refreshed me a bit. Last year I wasn't able to go home and I felt a bit homesick so just those couple of weeks I think have made a big difference mentally and physically. I've tried to work smarter and not just harder, but now I'm back working with the team to get everything ready for this season and it's all going well.
Things went very well in Italy, with the pair of you going one-two in the Internazionali d'Italia and winning all the races. Talk about that championship.
TG: It was a great way to start off the season. Of course it isn't the MXGPs but it was important to see where the new bike was and straight away we can tell it doing very well. We got almost all the holeshots and led all the laps and I felt comfortable right from the beginning. I am very happy with how those three races went and it sets us up nicely for Matterley Basin.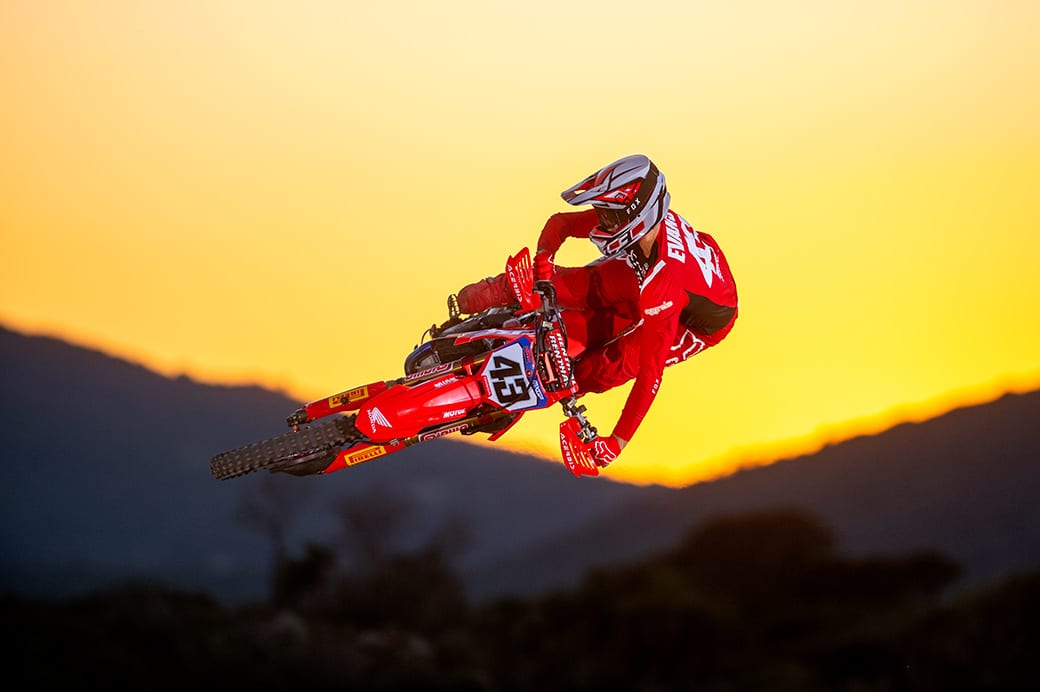 ME: Like Tim said, those three races went very well. I was very happy with my results and my racing, and my fitness was good too. Winning the last race was also a great feeling for me as it had been a little while since my last victory and it was just a great way to head into the world championships. Things will definitely be tougher there but I'm feeling strong and the Honda CRF450RW is riding well and is fast out of the gate and that is going to be very important when the season begins.
What are you hoping to achieve in the MXGP class this year?
TG: Defending my title is definitely the goal, but of course, I want to have fun, enjoy the races and stay healthy. I just want to enjoy and if I am having fun riding my dirt bike, I can go really fast. A happy Tim is a fast Tim, so I hope we have good races this year.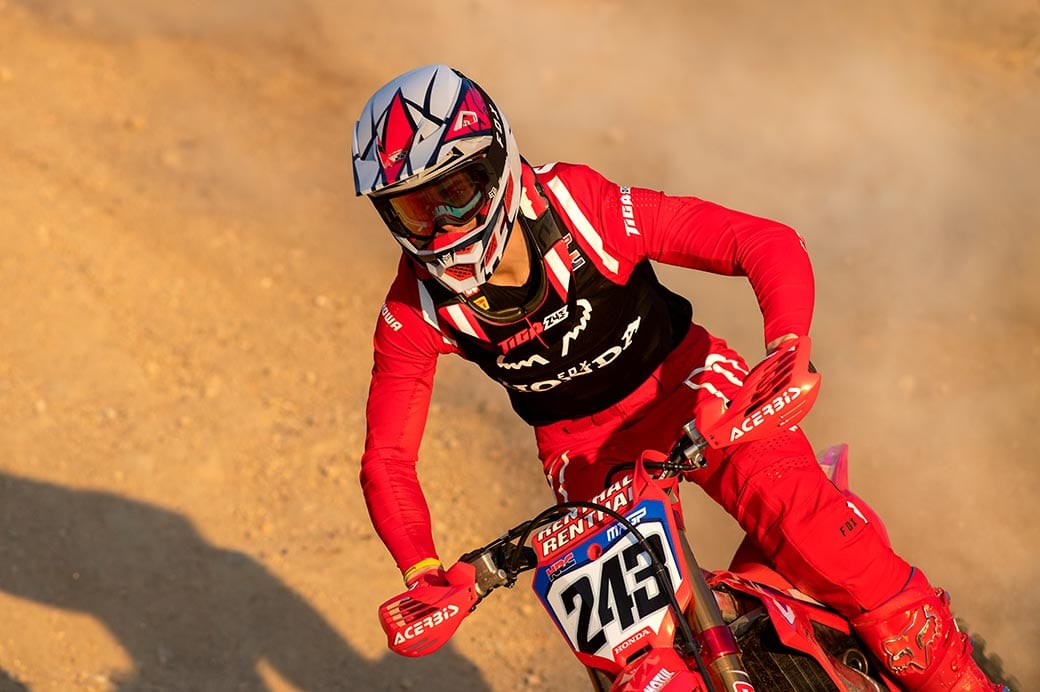 ME: I would like to be one of the three or four guys at the front of the field by the end of the season. I know it will be a massive challenge, and I know that the class is extremely competitive with a lot of fast guys in it but I believe that is what I am capable of eventually. To start with, I just want to be consistent and make sure I am in the top 10 each weekend. I want to build my fitness and just work from there towards the front of the field. I'd love to get a couple of podiums and perhaps even a win before the year is out but I'd be happy with a couple of podiums.
What's it like having Tim/Mitch as your team-mate?
TG: Mitch is a funny guy and he is a good team-mate. We spent a couple of days in November together and we stayed a couple of weeks in Sardinia and riding and having some meals together. He is a good guy, fast, young. I am getting older, but it is nice having Mitch beside me and he is younger and hungry, and he wants to show he is fast. He already proved in Mantova that he can win races so I think he has a chance to have a very good season this year.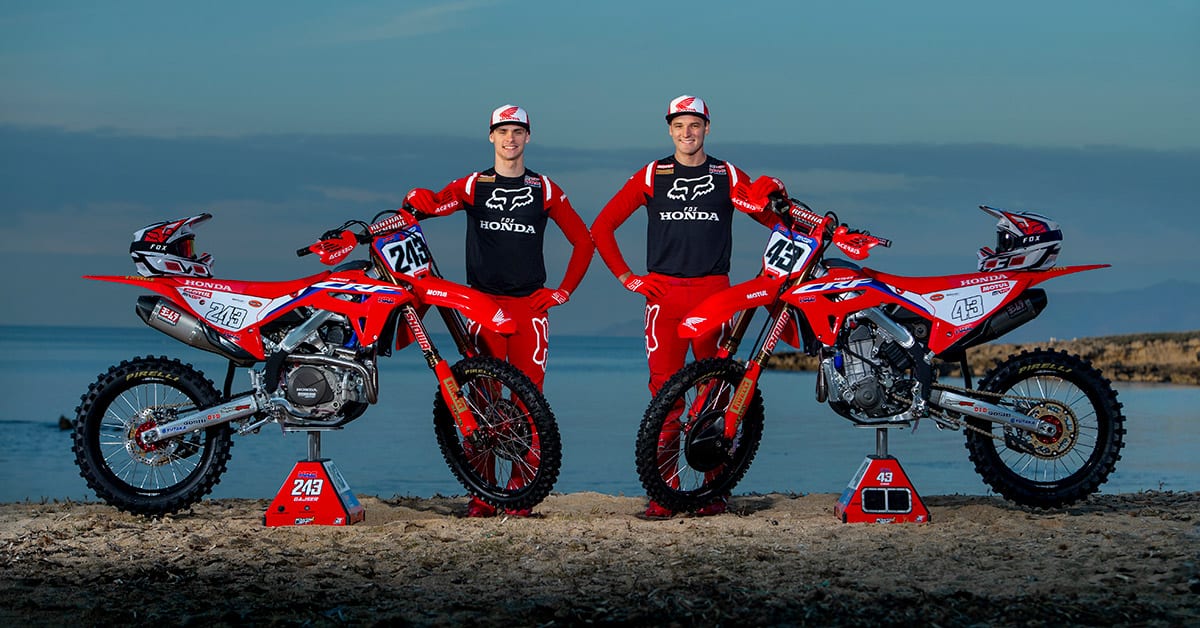 ME: Having Tim as three-time world champion as my team-mate is pretty cool. To be on the same team that he did it on is awesome because they know how to win as well. I couldn't have anyone better to learn from, so I'm looking forward to improving from him and he's a great guy, we get along really well so I've really enjoyed my time riding with him. We have a bit of banter when we can but when we need to be serious, we are, and its just a good dynamic between us both.
So with three highly successful Italian races under their belts, the Team HRC duo of Tim Gajser and Mitch Evans will head to Matterley Basin, Great Britain for the opening round of the 2020 MXGP series full of confidence and ready to show that both the brand new Honda CRF450RW and themselves are ready to take on world motocross championship.
[more-from heading="Latest News" category="news"]