Team Netherlands went into the 73rd Monster Energy Motocross of Nations as heavy favourites and came out with their first-ever victory in history as riders Glenn Coldenhoff, Jeffrey Herlings and Calvin Vlaanderen dominated the rest of the world.
Joining Team Netherlands for this special occasion was not only thousands of Dutch fans but also the King of the Netherlands. His Majesty King of The Netherlands Willem-Alexander took the opportunity to meet Youthstream President Mr Giuseppe Luongo, Youthstream CEO David Luongo, FIM Vice President Jacques Bolle and Organizer of the 2019 Monster Energy FIM MXoN Lee van Dam as well as take a picture with the Dutch team to mark this historic occasion.
Despite a rainstorm that lashed the white sand of Assen, thousands were in attendance with the stands of the TT-circuit filled with loud cheers and colours of the national flags. The atmosphere was incredible as 20 nations battled it out for pride and glory for their home country as well as the highly sought after Chamberlain trophy.
Team Netherlands' Coldenhoff with a 1-1 score for the second year running, Herlings with 2-4 and Vlaanderen with 10-10 that saw them cruise to their win with 18 points (taking out the worst score of 10th).
Second overall was Team Belgium as Jeremy Van Horebeek, Kevin Strijbos and Jago Geerts were consistent enough for yet another podium with 47 points, and third overall was Team Great Britain with Shaun Simpson, Nathan Watson and Adam Sterry on 58 points.
Overall class winners were Team Slovenian's Tim Gajser in the MXGP class with 1-2, Team Denmark's Thomas Kjer Olsen in the MX2 class with 8-8 and Team Netherlands' Glenn Coldenhoff in the Open class with his 1-1.
MXGP + MX2
Team Spain's Jorge Prado led the MXGP/MX2 race from Team Slovenian's Tim Gajser, Team Italy's Ivo Monticelli, Team German's Tom Koch, and in fifth place Team Switzerland's Jeremy Seewer. Team Netherlands' Jeffrey Herlings was in 13th, and Team USA's Jason Anderson in 38th, the other Team USA rider Justin Cooper was back in last place after the two crashed into each other.
After four laps Prado held a two-second lead over Gajser, then came Team Belgium's Jeremy Van Horebeek, Seewer, Monticelli, Herlings, Team Australia's Dean Ferris, Team France's Gautier Paulin, Team Great Britain's Nathan Watson and Team Australia's Kyle Webster 10th. Anderson moved into 20th while Team Great Britain's Adam Sterry found himself in trouble and back in 33rd place.
Webster's bike got stuck in the mud and dropped well back in the field to 16th place as Cooper was still riding, but dead last.
Ferris went down and dropped to ninth place while after eight laps it was Prado leading with more than three seconds over Gajser. At lap 10 Gajser passed Prado for the lead while Seewer was third, followed by Van Horebeek in fourth and Monticelli in fifth. Herlings moved into fifth place and then passed Van Horebeek to move into fourth closing up on the leaders.
Herlings was on fire, two seconds a lap quicker than the leaders. After 14 laps it was Gasjer with six seconds over Herlings, then came Seewer, Van Horebeek, Paulin, Prado, Monticelli, Olsen, Fredriksen, and Vlaanderen into the top ten. Anderson was up to 14th place and Ferris 17th.
Herlings was right up on Gajser with two laps to go, as he moves to take the lead. As Geerts found himself in 20th place and then out of the race with a broken bike, Belgium suddenly dropped from second to fifth in the standings. Anderson moved up to 13thas Gajser took the win from Herlings and Seewer. The Netherlands going 2-10 for a big lead with Switzerland on 23 points and third were France also with 23 points.
Open + MX2
In the Open/MX2 race Team Finland's Harri Kullas led from Team Netherlands' Glenn Coldenhoff, Team Great Britain's Shaun Simpson, and Team Italy's Alessandro Lupino. Team Netherlands' Calvin Vlaanderen was 11th, Team USA's Zach Osborne was 13thand his teammate Justin Cooper was 32nd. Coldenhoff quickly moved into the lead as Simpson also moved past Kullas, then came Jonass and Ullrich.
Jonass moved into third place and Vlaanderen did fly into eighth place as he closed up on Osborne. Olsen also was on the move as he passed Vlaanderen and then passed Osborne. After four laps it was Coldenhoff with a 10-second lead, then Jonass, Simpson, Kullas and Ullrich.
Seven laps in and the top ten was Coldenhoff, Jonass, Simpson, Kullas, Ullrich, Olsen, Osborne, Campano, Geerts, and Tixier. Coldenhoff held a four-second lead over Jonass, then came Simpson, Kullas, Ullrich, Osborne, Tixier, Olsen, Campano and Geerts.
Coldenhoff continued to lead with more than five seconds over Jonass, then Simpson with a further 33 seconds back while Kullas was still fifth. Then came Osborne, Ullrich, Tixier, Olsen, Geerts and Vlaanderen. Coldenhoff won the second heat from Jonass and Simpson.
MXGP + Open
The MXGP/Open race started with Gajser taking the FOX Holeshot and leading from Van Horebeek, Monticelli, Jonass, Seewer, Coldenhoff, Watson, Simpson, Kullas and Anderson 10th. Herlings crashed and dropped back to 23rdplace while Osborne was in 15thplace, Tixier 34thand Strijbos 36th.
After a lap Gajser held a one-second lead over Van Horebeek, Coldenhoff, Jonass, Monticelli, Seewer, Watson, Anderson, Simpson, and Bengtsson in 10th. Paulin 11th, Ferris 12th, Prado 13thand Herlings 14th.
Gajser rode really well in front with more than a two-second lead over Van Horebeek while Herlings was on the move as he passed Prado and Paulin. Gajser crashed and Van Horebeek took the lead and Coldenhoff was into second place.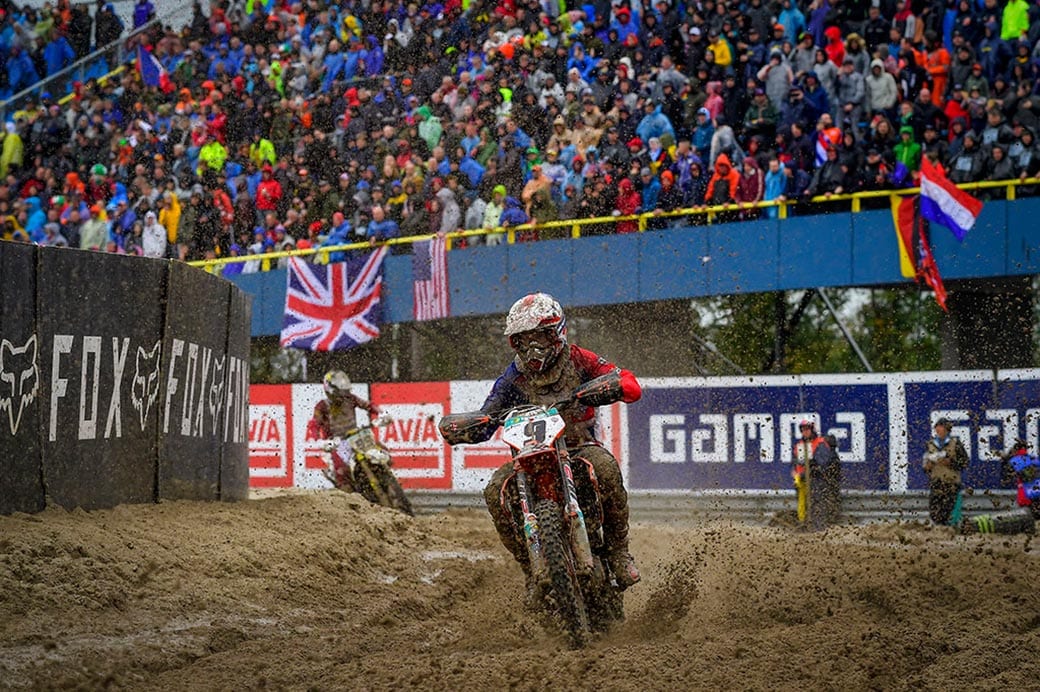 Coldenhoff took the lead and the Dutch were on their way to the top of the podium. Herlings moved into 10thplace as the top ten was Coldenhoff, Van Horebeek, Gajser, Jonass, Seewer, Watson, Anderson, Simpson, Monticelli, and Herlings. Herlings then made the move into ninth as he passed Simpson and Anderson passed Watson for sixth position.
After six laps it was Coldenhoff with a six-second lead over Van Horebeek, with Gajser third. Herlings crashed and dropped back to 11thplace. While Herlings moved back into the top 10 in ninth position, his team-mate Coldenhoff continued to lead over Gajser and Van Horebeek. Prado was up to eighth place just behind Anderson and Watson.
Jonass moved past Van Horebeek for third place while Osborne continued to struggle in 16th position. Gajser started closing up on Coldenhoff for the lead, and Herlings moved into seventh place, with Prado eight, Watson ninth and Paulin 10th.
Coldenhoff continued to control the race up front, leading by four seconds with Gajser second and Jonass third. Herlings moved into sixth place, dropping Anderson to seventh and Prado was also closing up on the American. Paulin dropped out of the race with machine problems and put Team Great Britain on the podium for the third year in a row. Coldenhoff won the race for The Netherlands ahead of Gajser and Jonass ensuring the first-ever victory of Team Netherlands in history.
As usual, the Monster Energy FIM Motocross of Nations can be very unpredictable, and nothing can be confirmed until the final race is finished. This year was no exception. By race two, The Netherlands had a comfortable lead, but it was all to play for, for second and third position. In the beginning of the third and final race, Great Britain were second in the standings, but as Jordi Tixier and Gautier Paulin of team France started making their way through the field, this saw Britain drop from the podium, allowing last year's defending champions, to move up. But nothing was final until the end of the race and with just a lap to go, disaster struck team France as their leading man, Gautier Paulin, was forced to retire from the race with a technical issue, allowing Great Britain back onto the podium, making in their third consecutive podium finish in the last three years.
Also receiving an award this weekend, was Austria's René Hofer who was the recipient of the Ricky Carmichael MXoN youngest talent Award. Hofer had a good ride and despite the tough track conditions and the disadvantage of riding a 250cc bike, the Austrian finished 12-26 in the races. Next season, Hofer will be making the move to the Red Bull Factory KTM squad to compete in the MX2 World Championship.
Nations Classification: 1. Team Netherlands 18 points, 2. Team Belgium 47 points, 3. Team Great Britain 58 points, 4. Team Estonia 64 points, 5. Team France 68 points, 6. Team USA 68 points, 7. Team Germany 72 points, 8. Team Latvia 73 points, 9. Team Spain 73 points, 10. Team Denmark 77 points.
Jeffrey Herlings: "It was a tough race but Glenn was great again and also Calvin and to win this, never done it in my life. It's fantastic to win the first-ever Monster Energy FIM MXoN."
Calvin Vlaanderen: "The pressure was on us and we controlled that well and we rode excellent, both Glenn and Jeffrey had great performances."
Glenn Coldenhoff: "Definitely, double gold with Team Netherlands in front of our king and the crowd was amazing, I heard them every lap and this is something we will never forget."
[more-from heading="Also In MXoN" tag="mxon"]