Harri Kullas (Cab Screens Deos Group Racing Honda) put on a masterclass of motocross at last weekend's second round of the Michelin MX Nationals on a blisteringly-hot day at Hawkstone Park.
The Estonian qualified fastest and won the first race by over 40 seconds, then backed that up with a 25-second win in race two for a clean sweep in the MX1 Pro division. In the Pro MX2 class Martin Barr (Crescent Yamaha) spent all day mixing it with the 450s and won both of his races after setting the fastest qualifying time in his class.
His main rival Josh Gilbert (Buildbase Honda) pushed him all the way but crashes in the closing stages of both races while leading let Barr off the hook and cost him the chance of the overall win.
Kullas holeshot the first combined MX1 and MX2 race and that was the last any of the other riders saw of him, unless they were getting lapped – and quite a lot of them did.
The on-form Jake Millward (Chambers Husqvarna) chased Kullas around the opening lap but had a nasty crash on the step-down next to the first turn. He was slow getting up and looked to be in some pain. He did a couple of laps after re-starting his machine but pulled off the track to recover.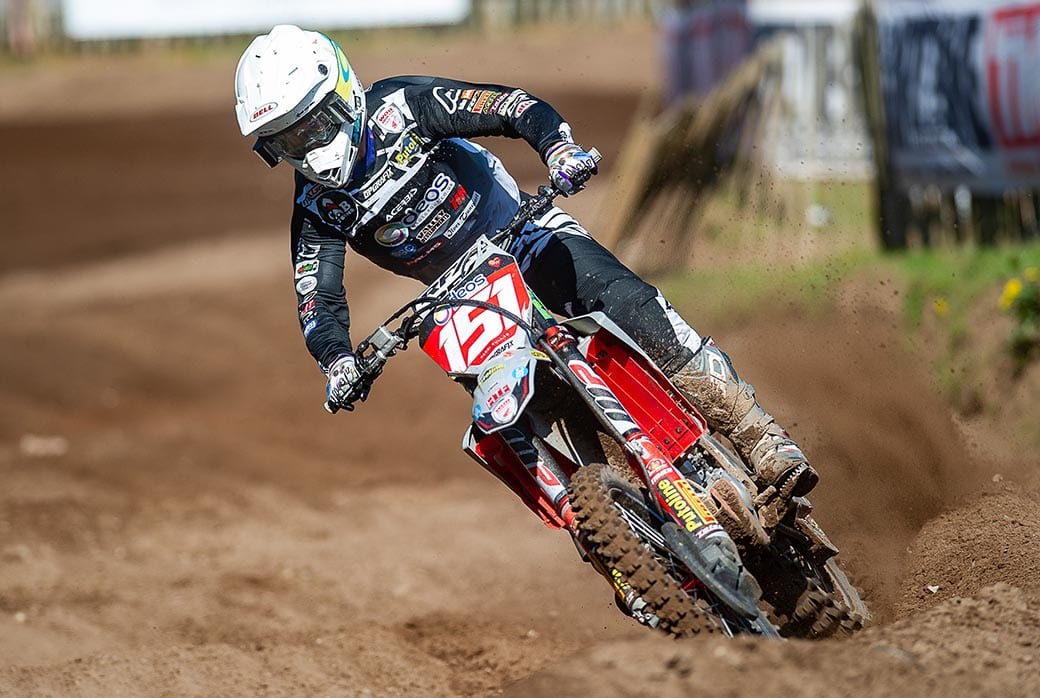 Millward's trouble left Nathan Dixon (RFX KTM powered by PAR Homes) in second from Mel Pocock (ASA United KTM), Lewis Tombs (Buildbase Honda), Josh Gilbert (Buildbase Honda) – the first of the MX2s – and Jake Shipton (Crescent Yamaha). Barr was well down in 12th and worse still was Le Touquet winner Nathan Watson (Red Bull KTM) who had missed the start completely and got boxed in going into turn one.
With five laps gone, Pocock was showing great pace in second with Tombs keeping him honest and both Gilbert and Barr were riding the socks off their 250Fs and moving to the front fast shadowed by Gert Krestinov (Phoenix Tools Apico Kawasaki) who started the race in 13th place.
With four laps to go Barr was second on the track and first MX2 as Krestinov passed Pocock and Gilbert slipped his bike over the top of a berm. Kullas took his first win by just under 41 seconds from Krestinov who had found a way past Barr going up Hawkstone's famous hill. Pocock hung onto fourth from Tombs who had a tiring Watson on his tail followed by Gilbert, Shipton and Brad Todd (Gabriel Insulation Yamaha).
Race two was the same as the first for Kullas as he got the holeshot and pulled away from the rest of the riders. Pocock had also gated well again from Millward, Shipton, Tombs, Ryan Houghton (RHR Yamaha) and Krestinov. Barr was the first of the MX2s in eighth place with Gilbert two places further back.
With the race a couple of laps old Millward started to slip back as Tombs powered his way up to second place.  Krestinov slipped off on lap four and dropped back to 10th place as Barr moved into fourth but he had a flying Watson on his tail.
Gilbert had shadowed Barr as the pair moved towards the front but at the halfway stage he had a big crash which whipped off his helmet peak and dropped him back to eighth.
With a lap to go Pocock re-grouped, closed down Tombs and passed him to snatch second for his first MX1 podium. Watson was fourth just behind Tombs with Barr fifth on the track and the first MX2 rider home.
Gilbert was second MX2 with Todd Kellett (St Blazey Yamaha) third and overall it was Kullas form Pocock and Tombs in MX1 and Barr from Gilbert and Kellett in MX2. "Good starts are important on a day like today," said Kullas.
"I got two and then just put down two or three fast laps and pulled away by about 10 seconds then continued riding at that pace. However, that's my speed and pace and that's where I should always be.
"I think in the British perhaps Tommy [Searle] and Shaun [Simpson] can be faster but I think with the starts I had today I can beat them." Barr has struggled with illness for the last couple of weeks so was pleased with his overall MX2 win.
"It's no secret I love this Hawkstone track," he said, "but today it's not been the usual Hawkstone – deep and gnarly.  "It's been unusually hard out there but it has some decent lines. I have had a perfect day. First in qualifying and two race wins. You can't get better than that."
Gavin Stevenson (Manchester Husqvarna) was unbeaten in the Expert MX1 class while Jason Meara (Kawasaki) lost a load of championship points in the first race of the weekend when he crashed on the opening lap.
He remounted and charged through the pack from 36th to 12th place and then didn't finish out of the top three for the rest of the weekend. Richard Bird (KTM) had four consistent finishes for third on the podium with Ryan McLean (Husqvarna) just missing out.
Things couldn't have been tighter at the top of the Expert MX2 class with five points separating the top four. Charlie Putnam (RFX KTM powered by PAR Homes) didn't win any of the four races but did enough to take the overall.
Ben Clark (FTR/RFX KTM) was on fire as he stormed to three wins out of four but a DNF in race three dropped him to second overall. Aaron-Lee Hanson (KTM) scored the same points as Clark but had to settle for third overall as Clark had the higher race four finish.
Daniel Ashmore (KTM) was in control of the Clubman MX1 class and won all four of his races while Stephen Kelly (Kelly Construction KTM) chased him over the finish line in three out of the four races for second overall. Luke Oldfield (SR75 Suzuki) was third overall while Aiden Christie (LAAW KTM) just missed out on the podium by three points.
Only four points separated clubman MX2 winner Harry Fletcher (KTM) from Brad Thornhill (LMC KTM) in second. Three-race winner Fabio Rizzi (KTM) had a DNF after a bad start in race four but still had enough points for the last step on the podium.
Ike Carter (GL12 Husqvarna) was unstoppable in the 250F side of the combined Youth MXY2 and MXY125 class by taking four wins from four starts. Kyle McNicol (Manchester Husqvarna) chased Carter over the finish line in each race with Kacey Hird (Team Green Kawasaki) and Ryan Thompson (Central Forestry Husqvarna) third and fourth separated by just two points.
In the 125 two-strokes Ryan Mawhinney (JRG/REVO Husqvarna UK) with three wins and a second place was the overall winner from Louie Kessell (KTM) with James Smith (KJS Kawaskai) filling the final step on the podium. Race one winner Bobby Bruce (Crescent Yamaha) crashed out of race two and suffered a technical problem in race three that kept him out of Sunday's final race.
Sam Atkinson (KTM) was another 100 per cent man over the weekend after winning all four of his BW85 races. Arai Elcock (Manchester Husqvarna) and Bailey Johnston (KTM) had a weekend-long battle for the runner-up spot on the podium and ended up separated by a single point.
There were three different winners in the SW85s. McKenzie Marshall (KTM) with two wins took the overall with race one winner Tyla Hooley (Vans KTM) second and race two winner Harrison Greenough (Team Green Kawasaki) third on the podium.
[more-from heading="More MX Nationals" category="mx-nationals"]