REVO Husqvarna have a three-year plan. Now in year two, with a new workshop in Lommel, a new race truck and three riders committed to a full season in the EMX250 championship they got off to a dream start at the first round in Redsand, winning qualifying and both races between their riders.
We sat around the table with Mel Pocock, Martin Barr and team owner Mark Yates to talk about their wins and future plans.
Dirt Bike Rider: Mel, what a great way to start the season with a race win and a podium, tell us about your weekend.
Mel Pocock: Qualifying wasn't my strongest point to be honest, I was 14th in my group so I went to the gate in 28th place. Because of the crashes in the first corner and where I was on the gate, I managed to scoot around the outside and came out fifth. I settled down for a few laps then started hunting down the front four riders, picked them off one by one and took the lead with about eight minutes to go. I didn't really pull away, I had to take a breather, I haven't led a race for a long time.
DBR: When I spoke to you on Saturday you said you'd broken a rib a few weeks ago and hadn't been able to ride much. Did you get tired or feel any pain in the race?
MP: I rode two afternoons this week. My legs were a bit fatigued and I certainly felt a bit rusty in practice yesterday, but it comes back quick and it's definitely behind me now. I can get some good training in and carry on.
DBR: Not such a good start in race two.
MP: No, I made it hard for myself. Sam counted me 28th over the first jump. I looked across the track and thought 'what have I done here?' but I just sliced through the pack until I got to a group that was a similar speed, then the passes came a lot slower. I got up to ninth and knicked a podium [smiling at team-mate Martin Barr who he beat by one point].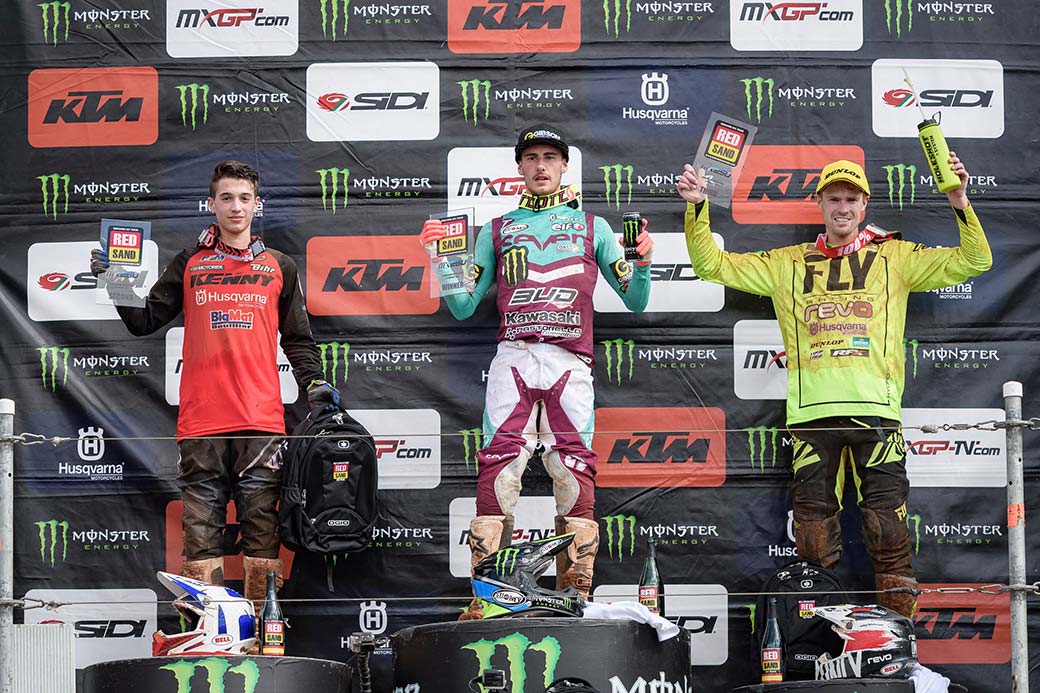 DBR: I want to ask you about social media. You were interviewed on MXGP TV after the race that was shared, and you put a post on Facebook about the win. When I looked last night, there were already hundreds of comments and 'likes'. It must feel good to be on the podium but also to have so much public support.
MP: Definitely. I've got a lot of people that follow me on Facebook and Instagram and it's nice to feed them with a result and a proper win. It's a bit overwhelming. I tried not to look at it too much last night because I've been in the sport so long and its so up and down. You win one day and then the next day you're almost last around the first corner, but the support is really nice.
DBR: I think most motocross fans will know about your injury in 2016 and how hard you've worked to get back. I think we all respect that and we all like an underdog. I don't mean to be rude saying underdog but you've battled back against the odds.
Mark Yates: I think a lot of people wrote you off.
MP: Yeah they did, I was written off, and this is why I'm so thankful to Mark and Sam. And Steve [Dixon, DRT owner and Mel's sponsor at the time of the crash] for giving me a bike after the injury. He said he would, and he came through with a bike and did what he could. Then we picked up with Mark and Sam. The snowball started rolling again so hopefully I can keep building and have a good season.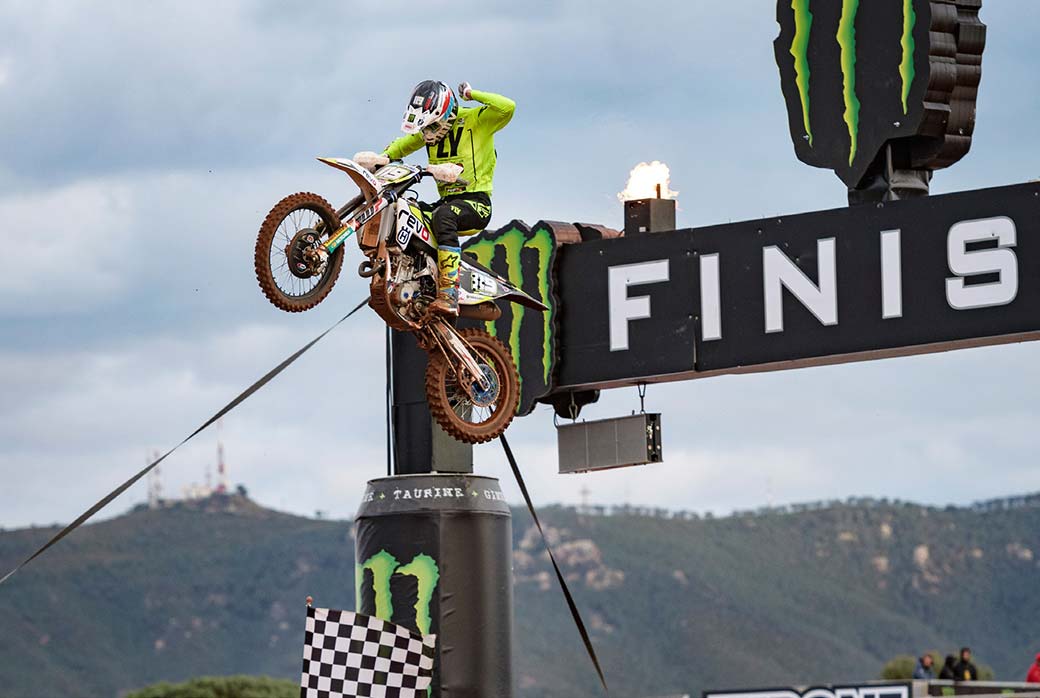 DBR: Martin, your weekend was a little bit different to Mel's. Fastest in your qualifying group but crashed at the start in race one.
Martin Barr: Yeah, a guy to my left came across us and the KTM next to me locked bars with me. I went down, over the bars and was basically last away although there was another big crash on the first corner.
I was about 29th on the first lap but I'm not one to give up and kept pushing. It's a long season and every point counts – I kept charging and getting my pit board from my mechanic Dan and ended up 10th.
We had a small problem towards the end, but I brought it home.
Always look at the bigger picture, it's a long season and you need these kind of rides when you're fighting for a championship, which hopefully I'll be in a position to do.
I still managed to get the fastest lap even though I was in traffic so that gave me a lot of confidence coming into today [Sunday]. My start in race two wasn't great, I still had work to do but I didn't panic. I knew where I was faster and once I got into second I would have a clear track and could use my own lines. I got the lead with two laps to go but I didn't panic, my fitness is good, and the bike was awesome, so I got the job done and my first European win.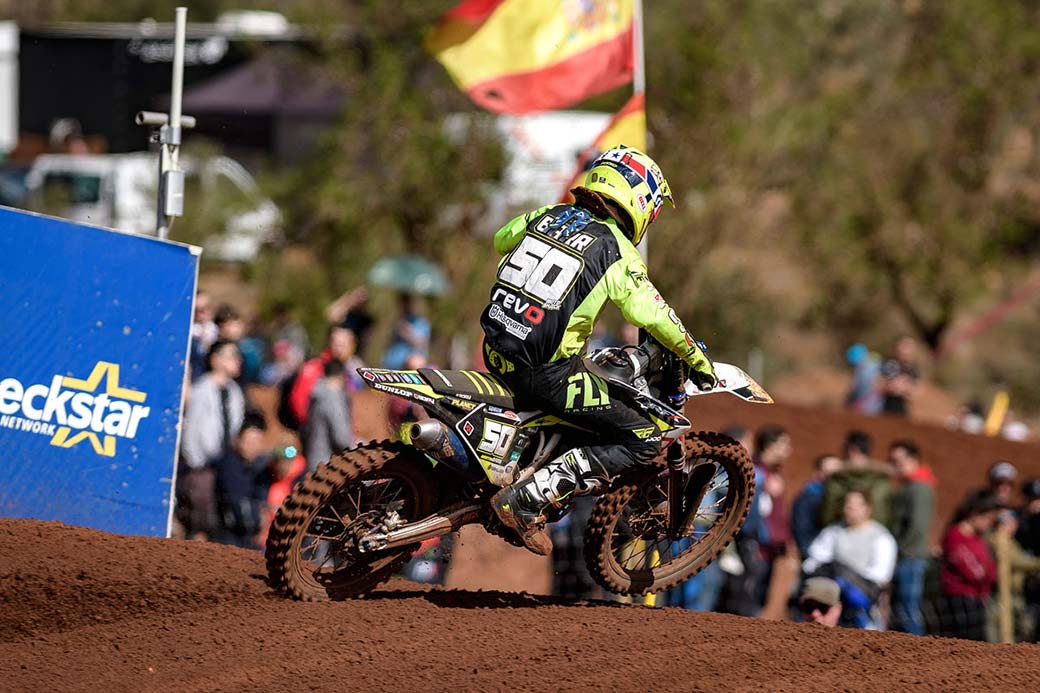 DBR: You looked comfortable and when you got into the lead you still pulled away.
MB: Yeah, I just kept my momentum going and didn't think about anything else in the race, I just kept my lines. 10-1 gave me fourth overall, one point behind Mel which was awesome for the team.
We won both races and got Mel on the podium.
It just shows all the hard work put in by Mark, Sam and Dan through the winter. Hopefully we can repay the opportunities they've given us with championships at the end of the year.
DBR: Mark, your riders have just won both races, finished third and fourth overall. What a great start to the season.
MY: Yeah, its good, very good. It's a shame that you win both motos but you're not on the top step of the podium, even though your riders have a win apiece. I came here with good expectations but to have your riders take a win each is the next best thing to winning overall with one of them.
We've worked hard through the winter, we haven't skimped on anything and we continue to try and evolve the bike so a result like this gives everyone a buzz and makes all the late nights worth it.
DBR: You've got a new workshop and a new truck this year, the team seems really ambitious.
MY: REVO as a technical resource and sponsor has been here for a while. We had three years with Roger Magee at Hitachi KTM, we joined forces in 2014 and looked after Mel and the 250 side. We pretty much ran the 250 side and invested a lot but in 2016 we decided to go back on our own.
We worked with Mel in '14 and had a good relationship, and we wanted to help Mel prove everybody wrong. When I'm the boss I can do things how I want, when I was with Roger it's difficult. But it was always a three-year plan.
First year, come in with Mel in the British, MX Nationals and a handful of Europeans. That was very successful, Mel won the MX Nationals and finished fourth in the Maxxis, so we had a title as a team.
For the second year, Martin had already spoken to me two seasons ago but at that time I couldn't afford two professional riders. This year we planned to step our game up and do the whole European series with Mel and Martin.
Dylan Woodcock is a supported rider, he buys his bikes and we support him with engines. It wasn't originally going to be a three-man team, but it just panned out that way. Some people think we may have taken too much on, but we've invested more. We've got full-time mechanics, a full-time truck driver and then next year, year three, we want to go back into Grand Prix.
DBR: Will that be with Mel and Martin?
MY: Both riders are on two-year deals. So whatever we do will include them.
DBR: That will mean both riders in the MXGP class because of their age.
MY: Well that will be up to Mel, we're hoping to see the 23-year-old age rule lifted from MX2.
DBR. I wouldn't count on that happening.
MY: They should do. If they did, they would fill the gate up. We would do MX2. But this year we've had good support from Husqvarna as their official UK team and as we have more results I think they'll look to us to continue that and continue their support, which will enable us to go to the next level.
It's early days, but last year all the deals were done by July. It was always a three-year plan, and fortunately, REVO as a company can afford to do this on our own but if we're going to do GPs then ideally, we need a sponsor to assist. I think if we can prove ourselves this year then we can get the prospectus out and work with people.
DBR: REVO isn't a motocross company, what do they actually do?
MY: REVO Automotive is a small to medium-sized company doing engine calibration for cars, performance aftermarket and hard parts, like turbo kits. We're a trade supplier, not a retail business. We've got three sites and one in America. The business runs well which enables me to do this.