A new season, a new venue, a new bike and new colours but it was the same old Danny McCanney who continued his dominance of the British Timecard Enduro Championship with victory at the opening round at Bovington in Dorset.
After two years of preparation the Dorset Enduro club provided a 28-mile figure-of-eight route taking advantage of the varied terrain and two special tests for the 180 riders – the Tough Plant motocross test in the tank training area on Ministry of Defence land and the second Huskysport test in Hethfelton Forest on Forestry Commission land.
As the morning mist cleared, in perfect weather riders set off at minute intervals for a 40-minute loop before the first check. McCanney – wearing the No.1 plate on his new TM and decked in blue and white with pristine blue boots – let Jack Edmondson on his Sherco sneak a few metres away from the start gate but this advantage was not to last too long.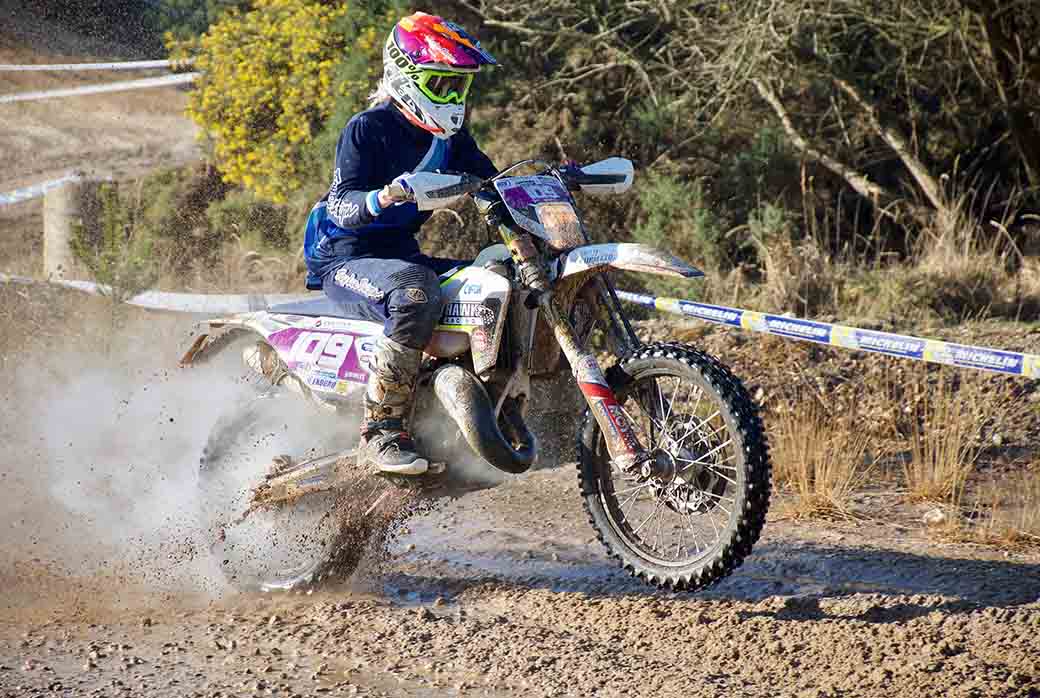 After the check the first special test was very fast, taking advantage of the quick sandy terrain with flat-out climbs and drops, sandy turns, multiple jumps and some small technical obstacles including a woodland loop. McCanney admitted that he thought times would be close on the MX test but he used his head and looked forward to the enduro test each lap.
Even so, he was quick out of the blocks and posted the quickest time by almost two seconds from Gas Gas new boy and former British championship motocrosser Alex Snow who was a further two seconds ahead of Tom Sagar, Jack Edmondson and Dan Mundell.
A further loop with some roadwork took the riders from Bovington Camp to Hethfelton for the enduro test that had been meticulously prepared by Rob Sartin and his team. The slalom through the trees dodging hundreds of stumps was broken up with a deep ditch and several large logs for the Championship and Expert class to navigate.
A double log covered with morning dew followed by a sharp right turn into a ditch towards the end of the test proved pivotal on lap one, McCanney showed great confidence on this test to pull out another nine seconds over Snow but both Sagar and Edmondson went down over the double log.
Sagar recovered quickly to maintain third but Edmondson went over the bars and was only 14th fastest. McCanney was so dominant he took the fastest times on all of the special tests and Snow was second on all but one.
Snow got closest to McCanney on the MX test on lap two where he was only 0.8 behind. Sherco-mounted Mundell and Sagar on his Beta traded times for third place overall. Sagar said he was losing his rhythm through small mistakes on this very quick test but was lying third before the last three tests when Mundell managed to pull back enough time to grab third overall at the death.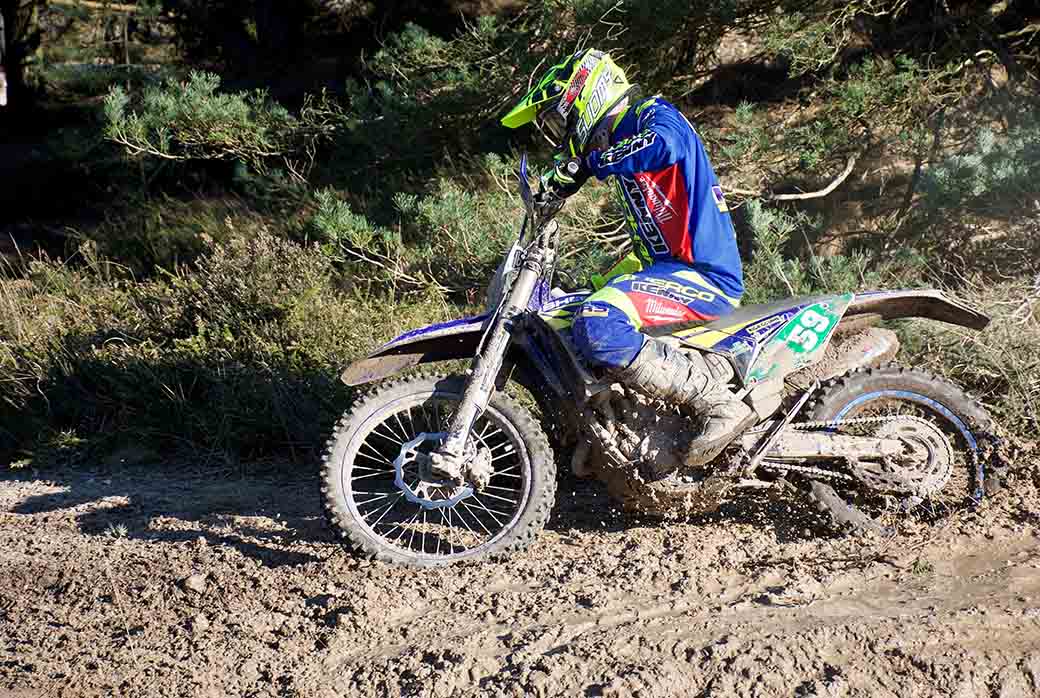 Salisbury-based Daryl Bolter put in a really strong performance but lost out by just one-and-a-half seconds to Edmondson who took the E2 class despite falling off over the double log at Hethfelton twice.
In the Experts Aaron Gordon carried his strong form through from last year and was the quickest Expert on all tests apart from one. Riding with great determination, he has 20 points more than after last year's first round when he didn't score.
Henry Yardley looked particularly quick riding economically with a great rhythm and he finished 0.7 in front and four to three on special tests ahead of his sparring partner Harry Edmondson, suggesting there is going to be a tight battle in the class this season. KTMs came out on top in all the Clubman classes with James Palmer finishing a minute-and-a-half ahead of his nearest rival Josh Kirby who was the quickest in E1/4.
With a change this year, there is no separate Ladies competition but there is a Ladies prize in each class. Husqvarna-mounted Rosie Rowett – who won the Ladies only class in 2018 – took a strong second overall in the clubman E2 class, finishing just half-a-minute behind Ryan Borthwick.
Superbike and TT rider Martin Jessop showed his versatility with a win in the Clubman E3 class on his 250 KTM – despite his best efforts he couldn't quite get the first 100mph lap on the MX special test.
In the Over 40s 2018 champ Andrew Edwards was the class act on his Beta, finishing almost a minute ahead of Vince Harker who claimed second on the final test, pulling back 15 seconds on Andrew Reeves.
Richard Hay made the journey all the way from Aberdeen to Dorset worthwhile by taking the Over 50s on his 150 KTM by just 13 seconds from Russell Millward on the bigger 250 Yamaha. They traded test times and were only separated by a second going into the last test where Hay managed to take it. Craig Redmond and the Dorset Enduro team gave 180 riders a fantastic day's sport but the day belonged to Danny McCanney.
Deservedly grinning as he took off his helmet, two friends asked him how it had gone on his new machine. "Very, very, very fast," he replied. "In fact almost too fast at times but it's good to get that one under my belt. "The rollercoaster has now started all over again – one meeting after another with next weekend the first round of the Italian championship."
British Enduro Championship – BEC Dorset Results
Championship: 1 Daniel McCanney (300 TM) 62.10 First E3, 2 Alex Snow (300 Gas Gas) 63.30, 3 Danny Mundell (250 Sherco) 64.10 First E1/4, 4 Tom Sagar (300 Beta) 64.30, 5 Jack Edmondson (300 Sherco) 64.54 First E2, 6 Daryl Bolter (350 Husqvarna) 64.56,7 Thomas Ellwood (250 Sherco) 65.51, 8 James Dent (250 Sherco) 66.02, (450 Yamaha), 9 Alex Walton (250 Yamaha) 66.24, 10 Fraser Flockhart (450 Yamaha) 66.49.
Expert: 1 Aaron Gordon (300 Sherco) 47.38 First E2, 2 Henry Yardley (125 KTM) 47.54 First E1/2, 3 Harry Edmondson (125 Beta) 48.01, 4 Richard Tucker (300 Sherco) 48.10, 5 Ben Murphy (350 KTM) 48.16, 6 Max Ditchfield (125 KTM) 48.30, 7 Harry Hillier-Rees (250 Sherco) 49.31 First E1/4, 8 Roger Holland (250 KTM) 49.32, 9 Thomas Knight (250 GasGas) 49.49, 10 Ricky Wiggins 49.55.
Best Ladies: Jane Daniels (250 Husqvarna) 54.44
Clubman: 1 James Palmer (125 KTM) 44.30 First E1/2, 2 Josh Kirby (250 KTM) 46.17 First E1/4, 3 Ross Kerr (250 KTM) 46.42, 4 Jacob James (Beta 125) 46.58, 5 Martin Jessopp (250 KTM) First E3, 6 Lewis Gigg (300 KTM) 47.12, 7 Gareth Jones (300 Husqvarna) 47.36, 8 Nathan Baggott (250 Husqvarna) 47.43, 9 Ryan Borthwick (250 KTM) First E3, 10 Daniel Cooper (125 KTM) 48.14.
Best Ladies: Rosie Rowett (150 Husqvarna) 48.21 First E2, Kate Smith (125 KTM) 56.04 First E1/2, Meghan Wilson (250 KTM) 79.30 First E1/4
Over 40: 1 Andrew Edwards (250 Beta) 44.58, 2 Vincent Harker (350 Husqvarna) 45.53, 3 Andrew Reeves (300 Beta) 46.07, 4 Jonathon Tarr (300 KTM) 47.29, 5 Mark Kirby (300 KTM) 48.06, 6 Stanley Watt (250 Yamaha) 48.15, 7 Simon Beken(350 KTM) 48.17, 8 Robert Carey (300 KTM) 48.22, 9 Adam Burt(250 KTM) 51.23, 10 Geoff Brigden (300 Husqvarna) 51.48.
Over 50: 1 Richard Hay (150 KTM) 46.10, 2 Russell Millward (250 Yamaha) 46.23,3 Gary McCoy (300 KTM) 47.23, 4 Karl Greenall (250 KTM) 47.51, 5 Paul Davies (250 Yamaha) 48.50, 6 Julian Oakes (350 KTM 49.03, 7 Lawrence Catt 300 KTM) 49.46, 8 Jack Twentyman (300 Husqvarna) 50.07, 9 Al Ranger (350 Husqvarna) 50.24, 10 Darren Osborne (250 Yamaha) 50.56.