Arenacross, Europe's leading indoor motocross show, will return to the UK next year with a three-nation, six-round tour.
It opens in Belfast in January at The SSE Arena, before heading to Aberdeen – the northernmost major city in the country – and a new-to-Arenacross venue, the P&J Live Arena.
The action continues with a trip to the West Midlands and The Resorts World Arena at Birmingham's NEC, then it travels south to London for the Tour's climax at The OVO Arena Wembley.
"Now that we've set our dates and venues, the next challenge is how we select our teams and riders. And one thing that we're all keen to see change is how we can develop the young talent and nurture them through into the Pro Class," said promoter Matt Bates.
"I'm more keen than ever to see a majority British rider start line in every class, as I believe Arenacross will play a huge part in the development of young riders that aspire to move on to Supercross."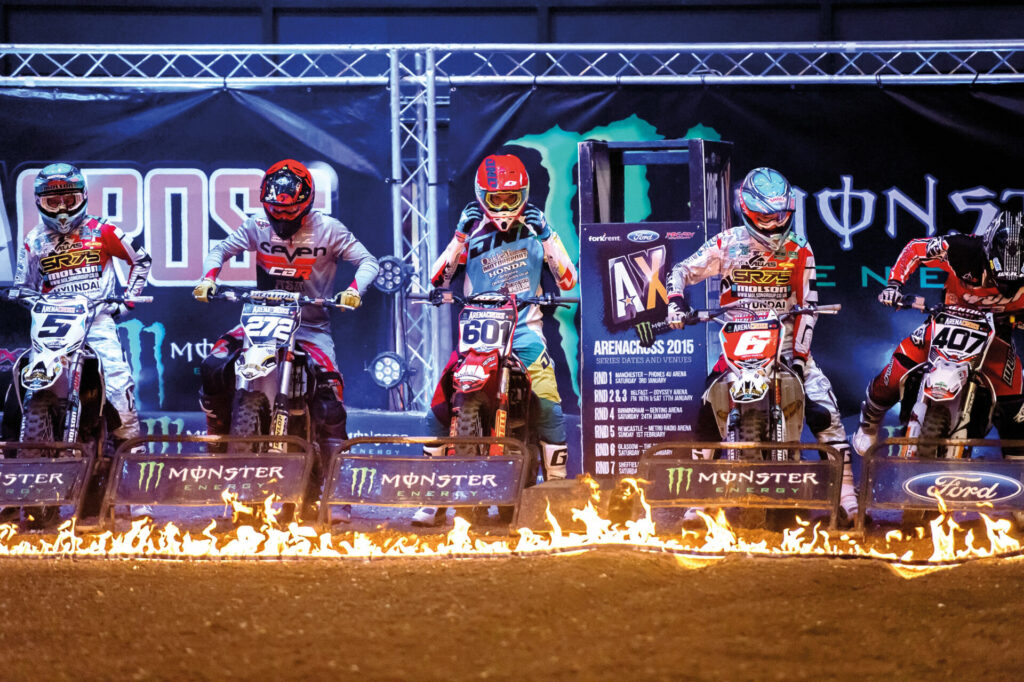 The Tour originally included The AO Arena in Manchester on the calendar, but when problems arose with the city centre venue, Bates quickly selected Birmingham and added the iconic arena at Wembley for the tour finale.
"We received the upsetting news that, just a few hours after announcing our new Arenacross tour, The AO Arena in Manchester had been forced to reschedule the event to a much later date in the year – a date that couldn't work for the tour," said Bates.
"We worked over the weekend to find a solution and can't thank the Resorts World Arena and OVO Wembley Arena teams enough for their round-the-clock efforts to move their busy entertainment schedule and make way for two incredible and popular opportunities for Arenacross to come back with a bang."
The 2023 series is set to up the ante and get creative with significantly restyled race classes covering a breadth of age groups and machine capacities. An all-new format will mean that Pro riders will be restricted to riding 250cc machines only.
A hugely-important 'Future' class will pave the way for up-coming youth stars on 125s to gain experience and finetune their race skills as they progress through their racing careers. For the younger riders who just love being part of the whole Arenacross scene, there'll be an 85cc class and an All-electric category, replacing the AX65s.
An exclusive Pre-sale ticket offer, with a 20% discount, will go live on Wednesday the 5th of October and close at midnight on Sunday the 9th of October.
To take advantage of the discount, you need to register now at www.arenacrossuk.com for advanced notification and discount codes.
The 2023 Arenacross Tour:
Round 1: Friday 20th January – SSE Arena, Belfast, Northern Ireland
Round 2: Saturday 21st January – SSE Arena, Belfast, Northern Ireland
Round 3: Saturday 28th January – P&J Live, Aberdeen, Scotland
Round 4: Sunday 29th January – P&J Live, Aberdeen, Scotland
Round 5: Saturday 4th February – The Resorts World Arena, Birmingham NEC, England
Round 6: Saturday 18th February – The OVO Arena, Wembley, England