The Red Bull KTM Factory Racing Team on Sunday wrapped up the 2016 MXGP season on a high note with Jeffrey Herlings taking a 1-1 in MX2 to draw a line under a championship winning season and his career in the class.
'The Bullet' #84 leaves MX2 with three world titles and in excess of 60 GP wins and is already on his way to his career goal of more than 100 overall wins. At Glen Helen, with its speed and daunting hills, he answered the challenge from his MX2 rivals and the participating top US riders.
The Dutch rider was 10.16 seconds ahead of the competition on his KTM 250 SX-F when he took the flag in the first race and 7.51 seconds ahead in the following moto for a clear overall victory. American racers Jeremy Martin and Mitchell Harrison took the other podium spots. Herlings had already wrapped up the title last week in Charlotte but the Glen Helen race secured second in the championship for Swiss rider Jeremy Seewer. Benoit Paturel of France was third.
"To finish off the season with a win is pretty amazing," said Herlings. "Now I start to ride the KTM 450 SX-F and we'll work from there. I think we had a very successful career so far and now its time to step up to the big boys. There's not going to be much change. You stay with the same team and keep working with the same people."
Speaking about the MXGP of The USA he commented: "I think I had the strongest Americans here, except Cooper Webb. Jeremy Martin and Austin Forkner are the number two and three in my eyes. I beat those guys three times – on Saturday in the qualifying and twice in today's motos. I also beat Cooper fair and square in the first moto in Charlotte then he beat me in the second race. I think I showed some great speed and good form, even though I was off the bike for 5-6 weeks and have only been back 3-4 weeks. I think I can say we had it under control."
Herlings admitted it wasn't easy to draw a line under MX2 and move up a class. "It's tough to close a chapter in your life where you have had so much success, so many race wins, emotions and injuries. But, hey, it's done and hopefully now that I'm halfway through the career I will step it up to the big boys and get some championships going there."
Herlings team-mate, Pauls Jonass, throughout the season did not ride in the US because he is still recovering from a race injury, but the Latvian can be satisfied finishing overall fifth in the championship after missing the last five rounds. Also out injured and unable to ride in the US rounds was KTM factory rider Davy Pootjes.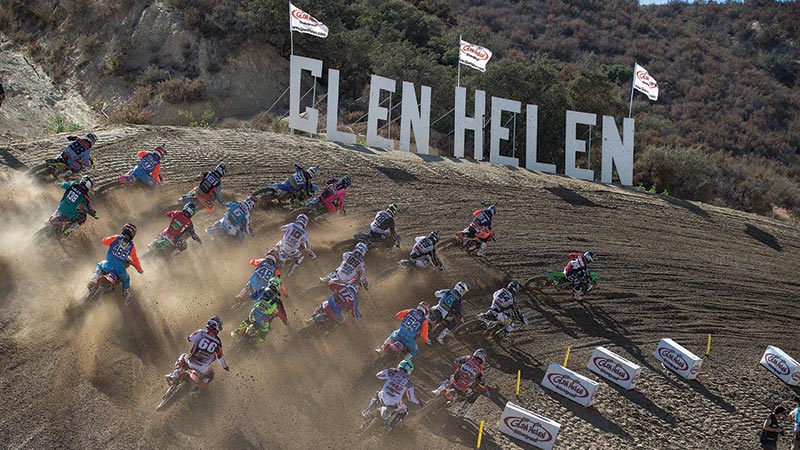 Glen Helen was also an opportunity for the 15-year-old Spaniard, Jorge Prado, to show the skills that have given him a permanent berth in the Red Bull KTM Factory Racing Team MX2 squad. Already on the podium in Assen at the last European venue, Prado, a rider much less experienced and still growing physically, put in two good rides against a very strong field. He wrapped up his day 16th overall but also showed the sport's insiders why he has won a place in the factory team at such a young age.
"I'm really happy about the experience but today I'm a bit disappointed because I expected to be better," Prado reflected. "I wasn't riding like I normally do, so we need to keep working. I was also a bit tired in my shoulders. I got the holeshot in the second moto but it was difficult to keep the speed until the end. We have to work much harder this winter to get ready for next year. I need to get stronger and then for sure the speed with be there."