On Saturday night 28-year-old Justin Barcia became the first man in 25 years to secure three consecutive victories at the Monster Energy Supercross season opener.
Coming into the event, the hype surrounding Barcia and his new Troy Lee Designs Red Bull Gas Gas team was intense. The intensity of this hype was compounded with the release of the 'Barcia wins A1' video that was unveiled last week.
"I wanted to keep the pressure off as much as I could and keep my head down and do my work' said Barcia, speaking at the track. 'But Troy hit me up about this video and Red Bull were all about it, so you know I couldn't say no.
"It was really fun and really exciting; I loved every moment of it and I think it was great. But from my side it was definitely more pressure. Once it was released, I just stayed off social media. I'm glad today went the way it did so I could shut the haters up as they say."
Barcia looked great on the bike all day long and a holeshot and heat race win did a lot to settle his nerves and confirm to him that he had made the right decision to switch to the new Gas Gas outfit.
"At a point I lost a little bit of belief, after all the years of struggling. But this season I know that I've done all my off-season training, I know what I need to do now. I'm 28 years old so it's time to do it or not. The offseason went really smooth and easy. I won that heat and I just felt really good. That relieved some pressure."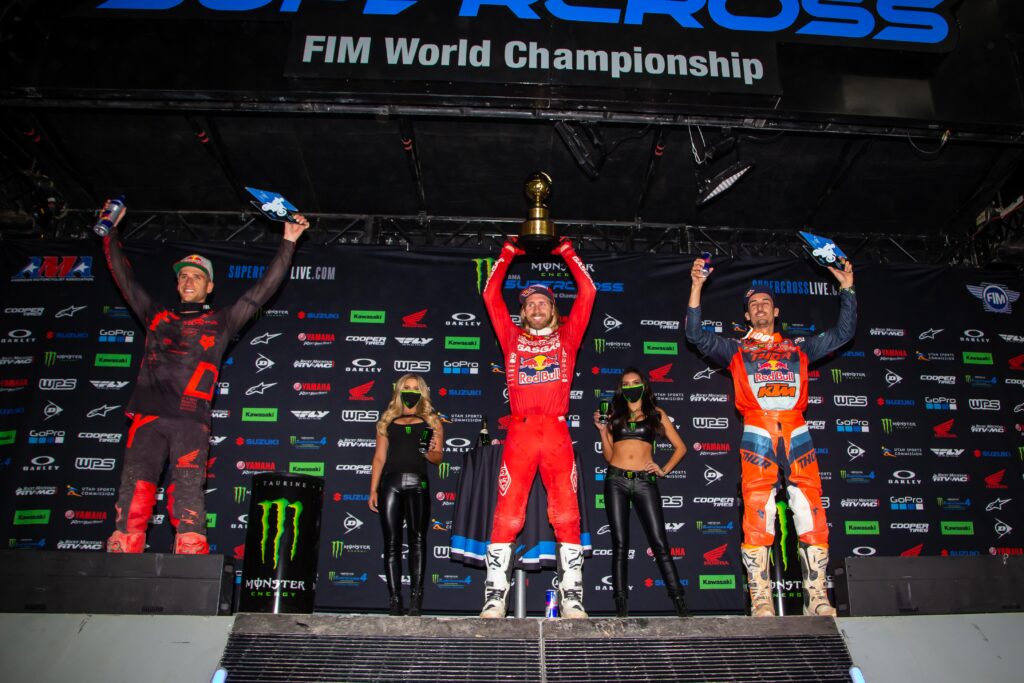 Barcia has shown signs of brilliance over the past few seasons, but he seemingly struggled with bike setup when he was onboard Yamaha. After his dominant performance in Houston it seems apparent that he is gelling nicely with his new machine.
"I'm stoked on the result. If I would have got third tonight on the new bike that would've been great as well. If I would have finished in the top five tonight, that would've also been great for me. But to win it was just awesome. I'm really stoked on my starts. I've always been a good starter but the past five years have been difficult. To rip starts on this bike was cool. I felt really good riding it, I felt like I could throw the bike around and do whatever I wanted."
When asked about his struggles out of the gate over the past few seasons Barcia simply said, "It was a bike thing for sure. The new bike is really good, the steel frame is sick and the power from the engine is incredible."
In the main event Barcia stole the early race lead away from KTM's Marvin Musquin and he never looked back. However, his old sparring partner Ken Roczen didn't allow him to have a relaxed ride. The pair stretched away at the front of the field and Roczen piled on the pressure throughout the moto.
"It was cool that Kenny pushed me the whole way, it was a rad first race," said Barcia. "Kenny could've maybe made a pass, but we could've also maybe both gone down. It's the first race and we've grown up a lot and we have a long season ahead of us. We need to be smart, but he definitely kept me on my toes."
In past years Barcia has struggled to back up his early season prowess. However, he seems determined and focused to change that record in 2021, "It was an insane race, I'm glad to do the 'three-peat'. That wasn't the goal, but this is the first one of hopefully many more. I want to be in the fight all year and not just be a one hit wonder."
If Barcia can keep this momentum going we may be seeing hit after hit from the revitalised New York kid.