Every Supercross season opener is an annual event of celebration for the motocross world. The race marks the reawakening of the dirt bike beast from a winter of hibernation.
Each year we excitedly strap ourselves in for an 18-week long rollercoaster ride, with the best in the business proving why they get paid the big bucks.

 Now, 2021 may be a little different, with only limited fans being permitted to attend and multiple races being held in the same city within just a few days. But nevertheless, the anticipation was high coming into Houston 1 and the excitement was just as palpable in the post-race chatter. With great racing in both classes and several feel-good stories to put smiles on our face's, things are looking bright in the moto world. 

If your name is Barcia or Craig things are looking even more sweet as you wake up on Sunday morning. Although championships can't be won on the opening night it sure as hell helps to start things off in the right way.

At the other end of the spectrum however there's inevitably always a handful of riders who might be wishing for a do-over. In this feature we are going to take a look at some of the guys that didn't get off to the best of starts in 2021. This is, Houston we have a problem…  
Heavy is the head – Eli Tomac
Reigning champ Eli Tomac is certainly going to be frustrated with how his night panned out on Saturday. The Monster Energy Kawasaki rider has never won the season opener, but even so he was surely aiming for a podium ride to get his title defence kickstarted in a healthy way.

However, a typical Tomac mediocre start in the main event saw him embroiled in mid-pack shenanigans as the race got underway. We've seen Tomac battle to the front of the pack from this position countless times in the past, but he was unable to work the same magic in Houston. In a frustrated attempt to move through the field as quickly as possible the number one machine got mixed up with Vince Friese (who never fails to find some drama) whilst trying to make a pass.
Both riders hit the deck and dropped down the leader board. Tomac was also involved in a second altercation with Friese later in the race. Tomac failed to recover well from these issues and actually only just managed to avoid being lapped by Justin Barcia and Ken Roczen. Tomac crossed the line in 13th  place.
There have only been two title defences to have started off worse than that in the past 10 years. Jason Anderson came 14th in 2019 and Ryan Villopoto finished 16th in 2013. Only one of those two guys went on to retain his crown…
Hype Train – Jett Lawrence
I think it's safe to say that Jett Lawrence may be one of the most hyped riders to have emerged in several years. And rightly so, the Australian teenager is a breath of fresh air for the sport and he is obviously insanely talented. Lawrence may be the only guy to have walked away from the unfortunate GIECO closure with a massive win.
He was able to sign – what we imagine are – lucrative deals with Red Bull and Honda during the off-season, earning him major buzz heading into the races this year. A lot of people expected Jett to come in and smoke the field, but those same people probably discounted the race craft and experience of his veteran rivals.
The likes of Austin Forkner, RJ Hampshire and Christian Craig have multiple seasons under their belts, and they know how to race supercross. Jett on the other hand may still be suffering from his teenage exuberance. Lawrence started off the main strong in a leading position before getting passed by Forkner and Colt Nichols.
The Australian was about to bring home a respectable fourth place before a crash on the very last lap of racing knocked him down to sixth. I guess some may consider that somewhat rookie behaviour. The wind may have been knocked from Lawrence's sails after this, but let's see whether the wonderkid can regroup and bounce back strong without that massive weight of expectation that was thrust upon him coming into H-Town.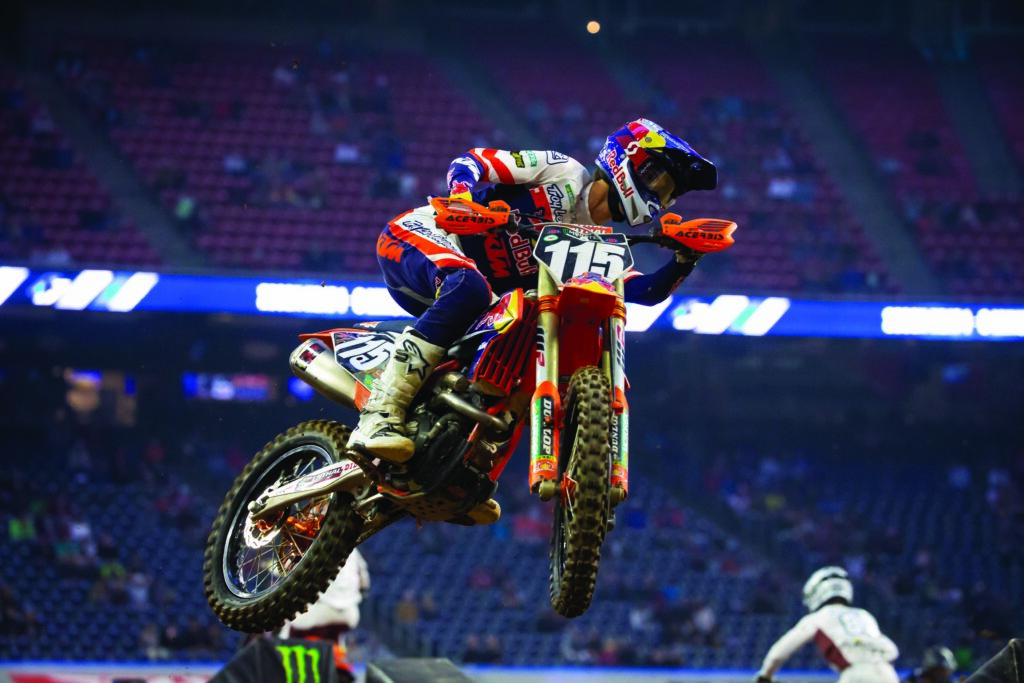 Rookie Nerves – Max Vohland and Chase Sexton
You only get one debut ride. Max Vohland made his first professional appearance on Saturday for the Red Bull KTM Factory Racing team. The young rider was hand-picked to be KTM's sole 250 pilot after their main 250 squad switched to Gas Gas last year. Vohland –  who was only racing amateurs a few months ago – actually did score a decent performance in his debut ride, with ninth place in the main event.
The goal set by his team manager Ian Harrison was a top ten result, so Vohland can walk away happy with that. However, he might want to forget about the little tumble he took on the sighting lap…lets put it down to rookie nerves!
Not to be outdone by Vohland, 450 class Rookie – and multiple time 250 SX champ – Chase Sexton actually crashed twice on his sighing lap! Rookie nerves indeed.

Other than that mishap Sexton showed great promise in his first 450 appearance, setting the fastest lap in qualifying. But he wasn't able to transfer that speed into the races. Sexton got caught up with Martin Davalos' crashed machine in the main event and was only able to recover to 14th place when all was said and done.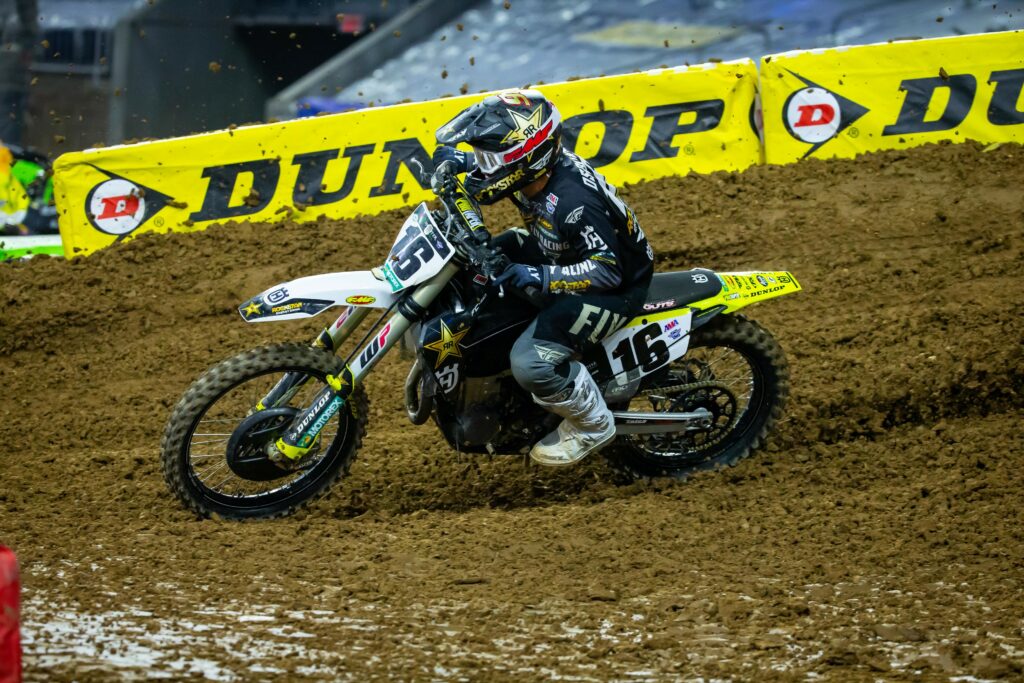 Damage control – Zach Osborne
A big crash for Zach Osborne during press activities on Friday saw him coming into the weekend battered and bruised. But in typical Zacho fashion the reigning outdoor nationals champion came out swinging once the gates dropped. He took a well-earned victory in his heat race to prove that he was ready to fight despite his battered body.

Unfortunately, Osborne found himself on the floor once again as the main event got underway. The Husqvarna ace was caught out in the first turn melee and was on full damage control from there on out. He actually put in a courageous ride to bring it home in tenth position. Not ideal, but it could've been a lot worse for Osborne. I'm sure he's one of the guys wishing that he now had a full week to recover, unfortunately that's not the case. He'll have to rest up as best he can in preparation for the gate drop on Tuesday.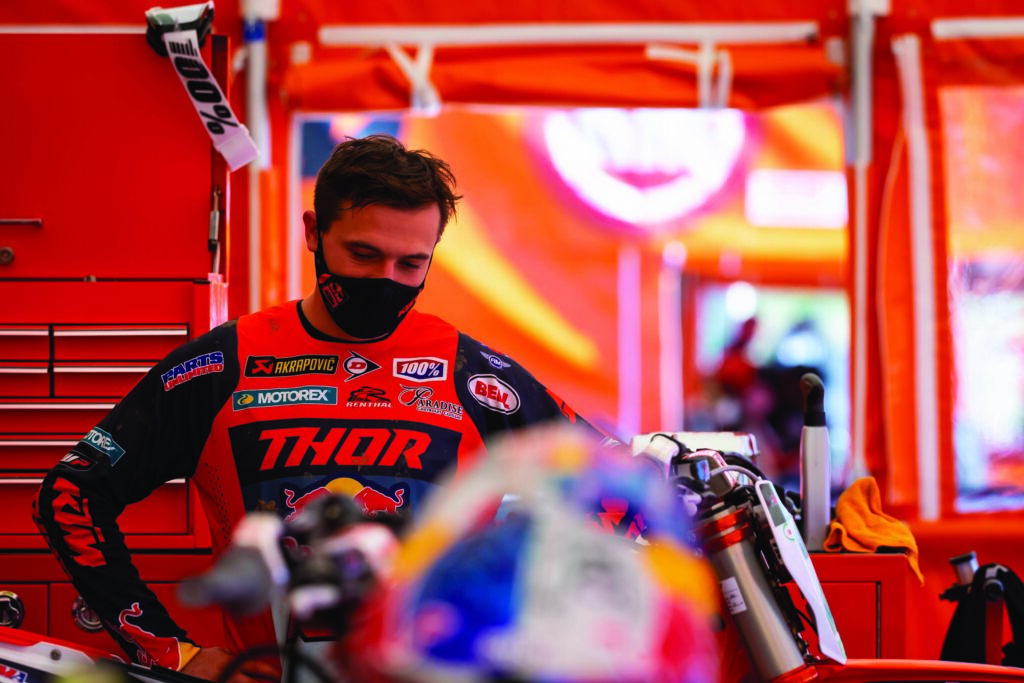 What's the deal? – Cooper Webb and Jason Anderson
Both Jason Anderson and Cooper Webb have proven to the world that they are world class supercross racers. Anderson – the 2018 450 SX champion – is as exciting to watch as they come. And Webb – the 2019 450 SX champion – is one of the toughest racers in the sport. But neither of these two former champs got off to the flying starts they were hoping for in Houston.
It's fair to say that neither of them are known for flashy performances at round one, but a 15th place ride for Jason Anderson seems particularly out of character. Webb was able to scrape into the top ten with a ninth place, but he too will be looking for a lot more on Tuesday. These two former champions will be desperately searching for something a little extra once round two gets underway.