Round fourteen of the Monster Energy Supercross is ready to go at the Atlanta Motor Speedway this evening, with this being the second part of the triple crown in Georgia.
450SX Class Recap
Eli Tomac scored his 37th career 450SX Class win in his Atlanta one comeback, this means he has landed on the podium for three straight times for the first time this season. Chase Sexton earned his first career 450SX Class podium with a runner-up finish in Atlanta. In his first seven 450SX Class starts Sexton has three top-5's, four top-10's, and one podium.
Cooper Webb rode to his eighth consecutive podium finish, tying his career best, with a third place finish. His 38th 450SX Class finish moves him into 18th tied with Jean-Michel Bayle on the all-time list. If Webb holds on to the title, he will have the fourth worst opening round finish for a 450SX Champion (9th Houston 1 Season Opener).
Kyle Chisholm moved into 15th on the all-time 450SX Class starts list with his 129th start in Atlanta. His 15th place finish was his fourth straight, which is the first time any rider has ever finished 15th place four consecutive rounds. Chisholm also holds two other streaks as he is the only rider with four consecutive 12th's (2012) and four consecutive 13ths' (2018). Chisholm is now approaching Tim Ferry for 14th on the list with 131 starts.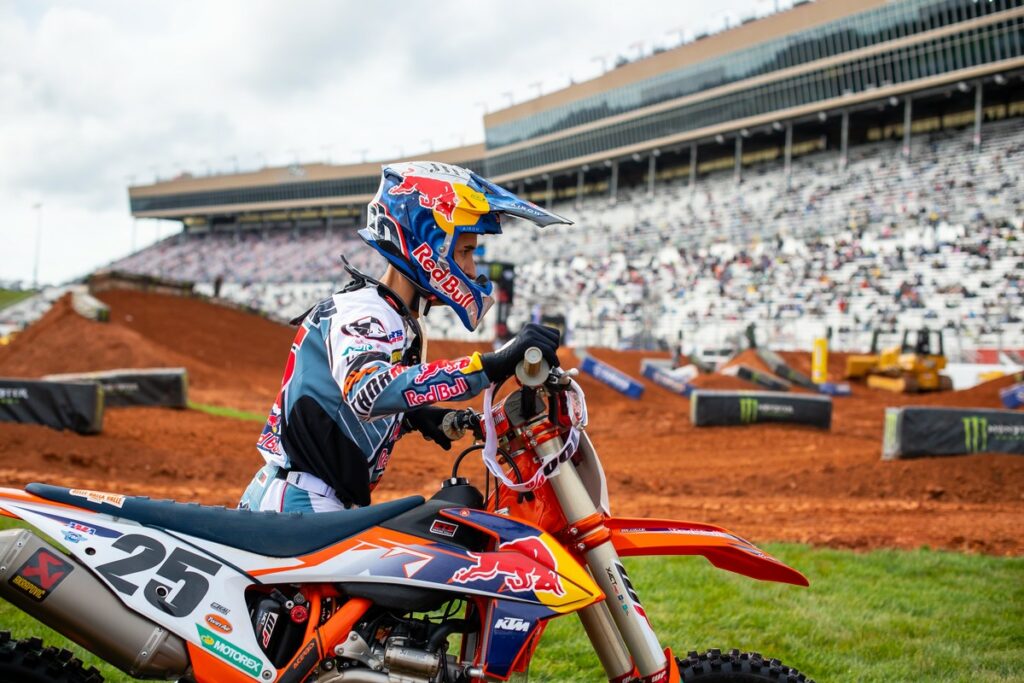 250SX Class Recap
Nate Thrasher became the 116th different rider to win a 250SX Class race and fifth different rider to win in the Western Regional 250SX Class this year, Thrasher qualified by the way of the Last Chance Qualifier (LCQ) and had never finished better than ninth in his rookie season.
Four different Monster Energy Star Racing Yamaha riders have won a 250SX Class Main Event this year: Colt Nichols, Christian Craig, Justin Cooper, and Nate Thrasher. Justin Cooper was able to stretch his thin lead to four over Cameron McAdoo with his runner up finish in Atlanta. Cooper now has 13 podiums, 19 top-5's, and 24 top-10's in his 24 career
starts.
He is looking to add a 250SX Class title to that list but is facing heat from McAdoo (-4) and Hunter Lawrence (-13) with four rounds still left. McAdoo is looking to make his 30th career 250SX Class start at Round 14 in Atlanta while
trimming his deficit to Cooper. He had one podium coming in to the 2021 season and has snagged five now after his third-place finish.
Hunter Lawrence also rode from dead last to salvage a seventh-place finish, keeping himself just on the inside of the Championship hunt. He has six top-10's in seven career 250SX Class starts.