The Italian video game developers, Milestone, are back again with their latest moto release – Monster Energy Supercross 2: The Official Video Game.
The people behind the popular MXGP franchise have this week released their second foray into the glitz and glam of the American Supercross scene.
Supercross 2 (to give it it's abbreviated name) is the official video game for the Monster Energy AMA Supercross series, with all the licensing material to go with it.
Meaning that we've got all the stadiums, tracks, bikes, teams, liveries, gear and (most of) the riders from the 2018 season. Which, as always, is a dream come true for the hard-core moto gamers out there.
The detail that Milestone put into their games to make them as lifelike and realistic as possible is just nuts. Supercross 2 adds to these details with the addition of; Jeff Emig joining Ralph Sheheen as the introduction voices, the flag marshals actually waving the yellows after you inevitably wreck trying that quad-quad combo that shouldn't be attempted, and there's even a race announcer in the background yelling about your race exploits to the digital crowds.
These are just some of details that, in my opinion, make the Milestone games so great. It's so cool for us moto gamers to finally have our own 'FIFA' so to speak (and we've been getting them twice a year with the MXGP and Supercross franchises, lucky us!).
Customisation is a big part of the new game. With approximately 3,000 customisation options for your gear, bike, parts, accessories and even the look of your personal avatar the possibilities here are quite literally limitless.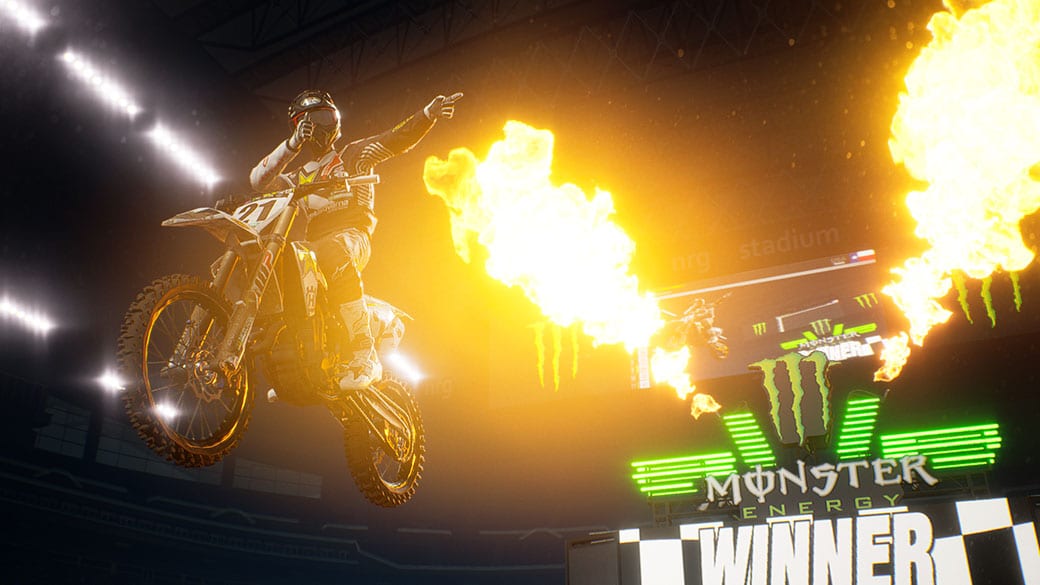 You'll be able to make your pixel powered bikes look and perform exactly how you've always dreamed.
Once again, the career mode is an awesome experience.
You can race through the 250 East and West championships, picking up sponsors along the way and making sure you achieve the goals set by them.
Once in the 450 leagues you can keep track of your on-going rivalries to ensure that you're always one step ahead of your arch nemesis – it's like Stewart/Reed '09 every time you play!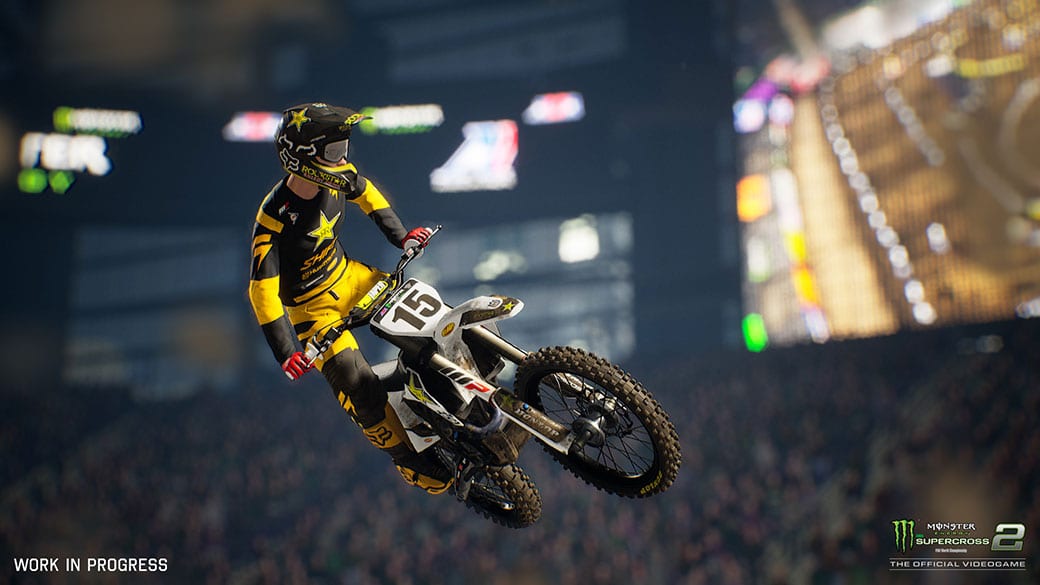 Milestone have tried to freshen up the career mode with a couple of new features, including the option to participate in press and media days to earn extra experience points to spend on new gear and parts. Some doubters may moan and complain about not having a completely fresh and new career mode (this version is pretty much the same as Milestone games gone by), but this moto gamer remembers the day when a career mode only meant racing one track to unlock the next, with no championship points in sight. I just thank our lucky stars that we are sat in another golden age of MX games and we have the luxury of being so demanding…and often times being answered.
I think Milestone are quite good at listening to their players.
The music in the last Supercross game was fairly repetitive and annoying. This time around we've got a rocking teen-punk soundtrack in homage to the much-beloved motocross games of the early 2000s.
The online track editor in the previous addition was an awesome feature, but with limited capabilities. For Supercross 2 Milestone have given us way more options in the track builder, meaning that we can far more creative. I reckon there's going to be some awesome circuits to be found online!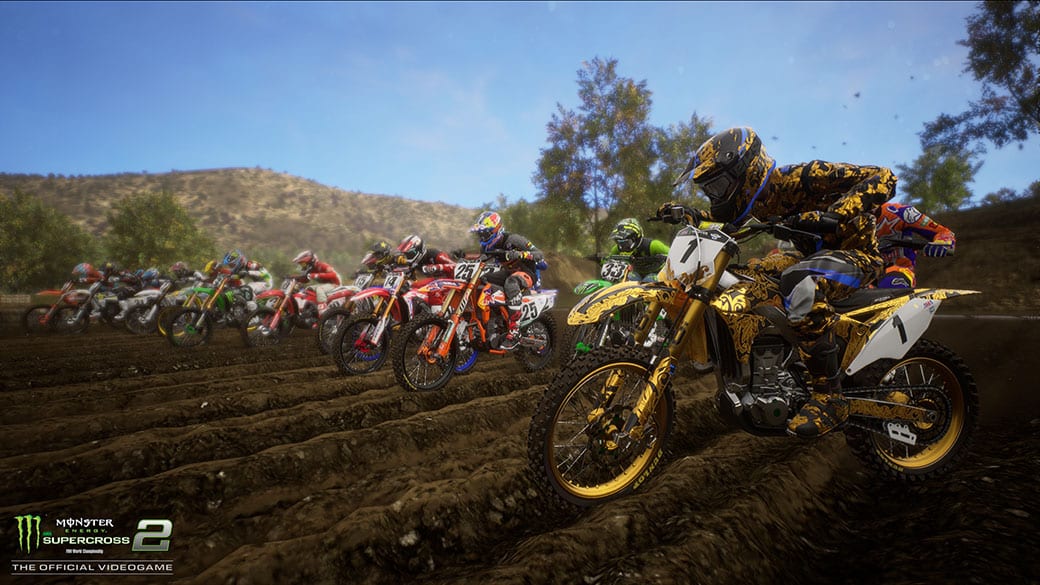 If you're inclined for a bit of messing about and love some play riding, Supercross 2 features a pretty massive compound area for freeriding, freestyle and Supercross/motocross practice.
I found the game play to be a lot different to the last version. Which is a positive in my eyes.
It's obvious that Milestone are working at developing and improving the gameplay system of their moto games.
This time around I think that you have to be a bit more precise and less balls to the wall in order to get the timings right and really get in the flow. Which, I guess, is how you would ride an SX track in real life.
It takes some getting used to, but in time I have no doubt we'll be ripping and having as much fun as ever before.
In terms of negatives there's only a couple of annoying little things that are bugging me slightly.
These are mainly online features that could easily be fixed with future updates/patches.
In the last Supercross game me and my buddies made extensive use of the 'championship' game mode. We'd battle it out in four, nine or even sometimes (when we had a lot of time on our hands) 20-round championships.
With the game taking count of ours (and the AI's) points scores. It gave a really fun and competitive vibe to the online play. So far, I'm failing to work out whether this is an option in the new game. The online races I've had so far have had to be single event races, which obviously isn't a disaster. We can still have fun racing our buddies online, it would just be really nice to have the championship mode back as an option.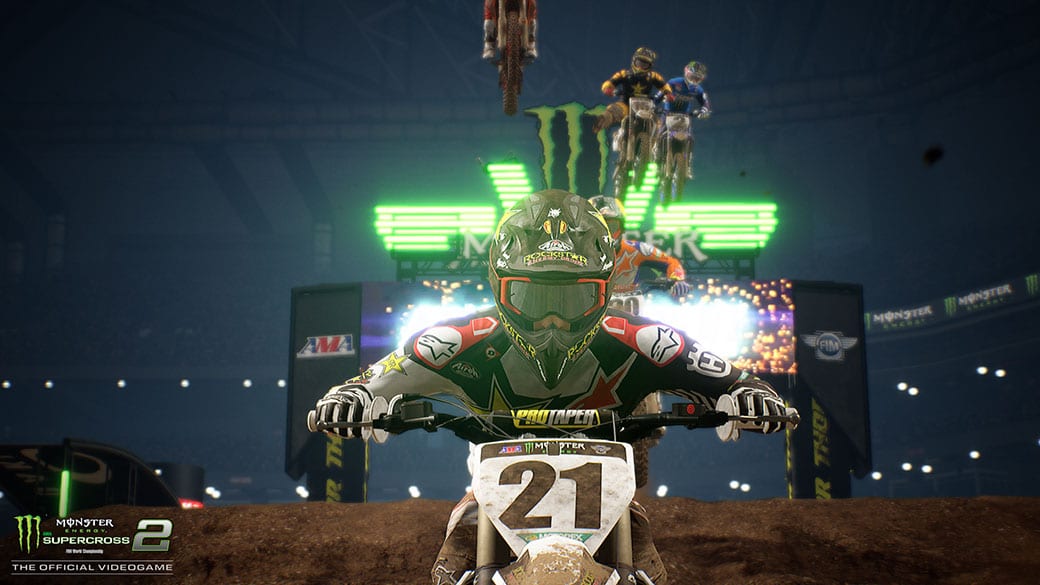 The only other gripe is that, when online, the game doesn't display your own personal best lap time, only the races overall best lap (which might not be yours). This makes it difficult to counter your mates insults when they are beating you with the classic, 'Yeah, but what's your best lap?'. Like I said this one is only a little gripe.
One other thing that some might be a bit gutted about is the exclusion of Ken Roczen from the 450 line up. I haven't found a particular reason for this, but I can only imagine that it must have something to do with contracts and money rather than the injuries he sustained meaning he missed a lot of the SX season.
Notably, Eli Tomac was missing from the last release, but he graces the cover and all of the loading screens in this game. Maybe that speaks volumes…
Conclusion
Overall, I think Milestone has done it again. We've got another solid game to enjoy.
The gameplay is different, but is different good? Only time will tell. As I put more and more hours in, I think I'll only enjoy the game more and more. If you were a fan of the previous instalment, I've no doubt you'll be a fan of this one. And if you're a newbie to the world of moto gaming, then there's no better way to get started – this game even has a 'flow assistant' to help those uninitiated in SX to get the rhythms down… so even Grandma will be able to get the hang of it in no time!
Monster Energy Supercross 2 is available from today, Friday, February 8.
[more-from heading="More In Video Games" tag="video-game"]