Monster Energy Yamaha Factory Racing Team's Justin Barcia ended the night sixth overall in an all-new three-race format that presented challenges at the 2019 Monster Energy Cup (MEC) Saturday night at Sam Boyd Stadium in Las Vegas, Nevada. His rookie team-mate Aaron Plessinger rebounded from a crash in the first Main Event to end the night 15th.
This year's MEC really put racers to the test with three different starts, two different directions and the usual one-lap ride down the mandatory Joker Lane in the three Main Events.
Barcia got a decent start in the first race and was able to work his way from seventh to fifth by the halfway mark and hold onto that position until the checkers.
[inline-teaser article="monster-cup-2019-results" class="read-more" align="left"]
When the direction was reversed for the second Main, the 27-year-old was unable to find his comfort zone, but was able to manage an eighth-place finish. Barcia and the team made some adjustments to bike for the third and final Main and was able to improve to sixth to end the night sixth overall.
Unfortunately for his team-mate Plessinger, an error in the sand section while racing in seventh had him on the ground and out of the first Main.
The rookie regrouped for the second race and kept his cool to finish 17th. He was able to get off to a good start in ninth from the 17th starting position and was able to cross the line eighth to finish 15th overall.
Although hoping for more, positive gains were made in preparation for the 2020 Monster Energy AMA Supercross season which kicks off January 4, at Angel Stadium of Anaheim.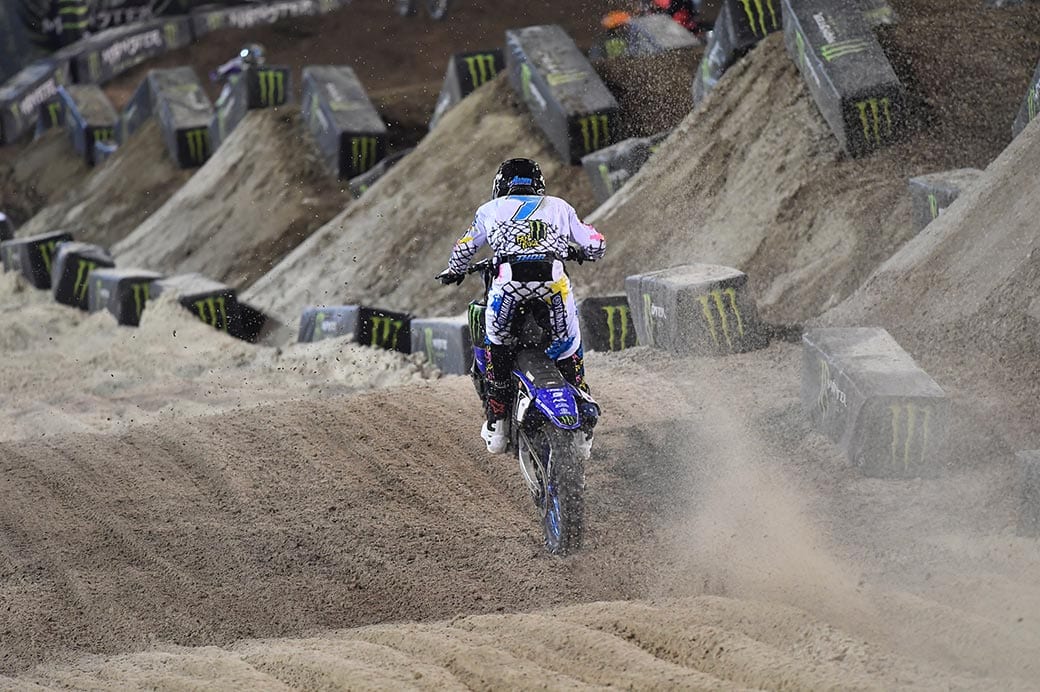 Team manager Jim Perry: "We have been working on some things in the past month and a half and we thought we had what it took to be competitive and challenge for a podium finish, however today did not go as planned. Our target was to come here and test a few new items and see what our progress was, but we just never got on pace. The track was difficult with two different directions, three different starts and three different first corners. Justin put in some solid rides, finishing sixth overall with one top-five finish. Aaron had a big crash, which kind of set the tone for the rest of the Mains. We'll regroup and work towards the 2020 season."
[inline-teaser article="video-monster-cup-extended-highlights-2019″ class="watch" align="right"]
Justin Barcia: "My bike felt really good, we just needed a few things. Any race we go to we want to win, that's always the goal, but there were some positives to take from today. We learned a few things about the new bike, and for me there are a few things I need to work on as well.
"The first race I was kind of near the front, in the top five, but took the Joker Lane early and made a few little mistakes and wasn't able to move forward on that. In the second race, I just didn't feel comfortable right from the start on that track. The track backwards for me was difficult, so I struggled with that all day a bit and just wasn't able to find the speed I needed to. In the last race, I made a few changes with the bike, there were a few positives and a couple negatives, but the nice thing is we were able to feel that. We didn't lose any points today and we're out of here healthy. So just back to work."
Aaron Plessinger: "The Monster Energy Cup did me dirty. I qualified well and got a good gate pick. I got a pretty good start and was running behind [Tim] Gasjer and [Jeremy] Martin and went into the sand section about halfway through and came out on my head. I went out in the second main, kind of just rode around a little bit and got back into it. In the third Main, I got a pretty good start, then Justin and Benny Bloss got by me. I got back by Bloss, and then Justin but when I took the Joker Lane, I made a couple of mistakes and Bloss got out before I did. Overall, I'm happy with the bike and happy with the way I'm riding. I just need to stay off the ground next time. I'm ready to get back to work for Anaheim 1."
[more-from heading="More Monster Cup" tag="monster-energy-cup"]