The Rockstar Energy Husqvarna Factory Racing Team lined up at Angel Stadium in Anaheim on Saturday for the second time this year for the Anaheim 2 Supercross, the third round in the AMA Supercross series.
This race was the first of three unique Triple Crown format events, featuring three Main Events for both the 250SX West and the 450 classes and an olympic-style scoring system. Riders final scores were determined after all three Main Events in their respective classes were completed. After all was said and done, 250SX West rider Michael Mosiman averaged an eighth-place finish, while 450 rider Jason Anderson ended the night in ninth.
Jason Anderson was mid-pack at the start of 450 Main Event 1 and stayed on the gas to work his way to up to a sixth-place finish. He was top-10 at the start of Main Event 2 then stayed strong to work his way through the field to another sixth-place finish. He got a great start in Main Event 3 but was forced to the back of the pack after an incident caused him to finish 17th. He went 6-6-17 for ninth on the night and is currently seventh in 450 rider point standings.
"I was able to get a top-10 overall," said Anderson. "It wasn't a horrible weekend, but I'm going to keep pushing and I'll try to be better next weekend."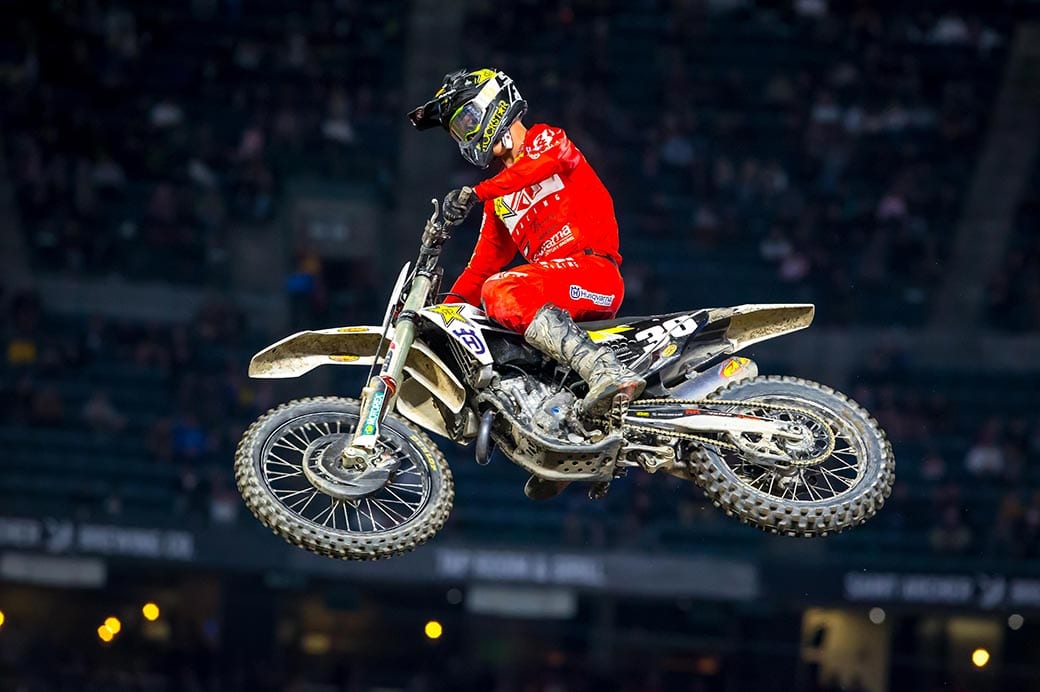 Michael Mosiman mid-pack at the start of the first 250SX West Main Event. He put in a strong ride to earn a top-10 finish. He was mid-pack again in the second Main but put on a hard charge to move through the pack and finish sixth. He got a decent start in Main Event 3 and quickly navigated his way into the top-10, then held strong to finish seventh.
The 10-6-7 result gave him eighth on the night, and he is currently ninth in 250SX West rider point standings.
"I was looking to flip the switch this week," said Mosiman. "I haven't been myself the past two weeks. I was feeling really good after practice. I ripped the start in the first moto but got pushed wide and didn't ride aggressively enough. I think I have the speed, so it's just a matter of putting it together. It's insane how fast these guys go, but I'm able to do it."
Factory supported rider Dean Wilson had a great night and finished 9-8-7 for fifth overall on the night.
[more-from heading="More Supercross" category="ama-supercross"]