With team-mate Ken Roczen sidelined following his crash in San Diego, Team Honda HRC's Cole Seely carried the torch for the factory squad at round seven in Arlington, Texas, and although he had hoped for a podium result, he was nonetheless pleased with his fifth-place performance.
Seely emerged from the first turn in seventh and made solid early passes aboard his CRF450R, moving into fourth by lap five. Past the halfway point of the 25-lap main event, the Californian engaged in a heated battle with Jason Anderson but unfortunately was unable to hold off the points leader and fell back one spot. Seely continued to fight hard until taking the checkered flag in fifth, and he advanced to second place in the points standings.
"I'm obviously frustrated because I want to be further up there and on the podium, but tonight was the hardest-fought fifth I've ever had to work for. I think I rode a lot better than the result shows," explained Seely.
"I was also happy with how I managed the race, my energy, and effort. I came from seventh and had to battle with riders on the way up, then [Jason] Anderson was charging and we battled back and forth a bit until he got by. Then I went straight back to being pressured by [Cooper] Webb until the end.
"I laid it all out there, especially on that last lap because I knew Cooper was behind me and was going to try and stick a wheel in anywhere he could – I was just trying to ride defensive but still be fast. It was a hectic night of racing so I'm happy to get out of here uninjured.
"We did a lot of work to the bike this week, even though it's risky because things are pretty different when you show up to the race versus the test track, but I was pretty confident in what we had found. I'm happy to take a step in the right direction. It feels validating that we made a good change, and I have a good direction to work in and fine-tune."
Team Manager, Erik Kehoe, commented: "Considering Cole's start, I think he had a really solid ride. The first lap was a little hairy and there was a lot going on, so for him to avoid any mishaps during that was good.
"I know he wants to be up there on the podium, so we came up a little short this week. Still, we made some progress with settings and getting him comfortable so that's positive. I think tonight was an improvement, especially with him under pressure the entire race. He had someone on him from the beginning to end, and his lap times stayed pretty consistent the entire time."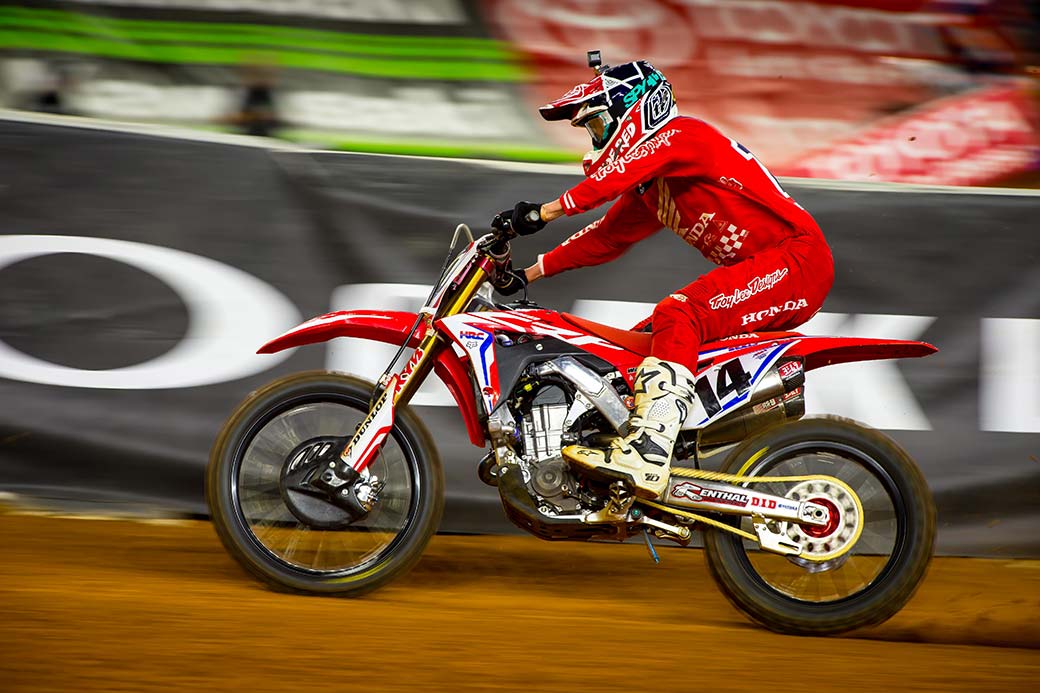 "I think Cole rode awesome tonight," said his mechanic, Rich Simmons. "He made some good passes in the beginning, and then he and Cooper pretty much raced the entire race. It's an improvement from last weekend, both race-wise and bike-wise. He thought the bike was a little better after some testing this week, so we'll just keep working in that direction."
On Friday, Ken Roczen underwent successful surgery at the Steadman Clinic in Vail, Colorado, for hand injuries sustained in a crash in San Diego the previous week.
Dr. Randy Viola cleaned up a chip at the base of the thumb and hook of hamate, repaired the fractured second metacarpal with a plate and screws, and also repaired torn ligaments. Roczen's initial prognosis is six-to-eight weeks, but he will be reevaluated throughout his recovery, and he plans to attend several races and dealer appearances. Everyone at Honda wishes Roczen a speedy recovery.
On the eve of race day, Team Honda HRC's Cole Seely joined GEICO Honda East Region riders Jeremy Martin, RJ Hampshire, and Cameron McAdoo at Al Lamb's Dallas Honda, where they spent time signing autographs and visiting with fans.
On race day, Team Honda HRC helped support the Road 2 Recovery Foundation by providing two of the Arlington auction winners and their families an inside look at the team's tech truck, along with a signed set of Cole Seely's Troy Lee Designs riding gear. "We had two packages this week in Arlington, and both sold for a total of $2,086, which is the highest for the year so far," explained Lori Amstutz, Road 2 Recovery's Director of Marketing and Public Relations. "With the support of the teams like Honda HRC, R2R is able to donate over $50,000 towards the Alpinestars Mobile Medical Unit this year. We really appreciate everyone's support."
Seely was slightly off the pace during the daytime qualifying practice, securing the eighth-fastest lap time at 49.330", posted in the second session. He was followed by MotoConcepts Honda's Justin Brayton, who was ninth with a 49.347" lap.
Slotted in 450SX heat 1, Seely got off the line to a top-five start but was caught behind a downed rider on the opening lap, sending him toward the back of the pack. Seely put together an impressive charge through the remainder of the six-minute-plus-one-lap race, making his way up to third by the end.
This weekend marked the kickoff of the 250SX East Region Championship series, and GEICO Honda's RJ Hampshire and Jeremy Martin had a relatively positive night, finishing 4-5 in a hectic main event. Hampshire grabbed the holeshot and early lead, riding up front for nearly the entire race. With five minutes remaining, Hampshire came under fire and was forced to relinquish the lead. He then made a mistake in the whoops and went down, losing a few more spots. Despite a crash in the first turn, Martin rode well, making his way up to fifth by lap 12. Meanwhile, after a first-lap crash, Cameron McAdoo rode the remainder of the race with a broken hand, crossing the finish line in 14th.
Directly following the Arlington Supercross, Seely made the move from his home in Costa Mesa, California, to Claremont, Florida, for the remainder of the AMA Supercross season. This is the second time that the Californian will be spending an extended period in the Sunshine State, as he trained at The Nest for most of last summer. "There are two supercross tracks at The Nest and the dirt is more like what we get at the Eastern rounds. I really enjoyed Florida last summer, so this will be my first time experiencing anything different during the supercross season. I'll be going out there for the summer too, probably after Colorado."
For the first time in over two decades, the AMA Supercross series will return to Tampa, Florida, on March 3, where Team Honda HRC will contest round seven at Raymond James Stadium. Although none of the current Red Riders have ever raced in the area, being back brings up fond memories for team manager Erik Kehoe.
"I always really enjoyed racing in Tampa, so it's exciting that the series is going back," he said. "It's been a long time, but I feel like the dirt and tracks were always pretty good. My favourite memory from Tampa is from 1987, when I won my heat race and got sixth in the main event. Florida has pretty nice weather, but there's always the chance of rain, so hopefully we don't end up with a mud race next week."