Ronnie Tate, who passed peacefully away in his sleep recently aged 86, was one of my original racing heroes who survived older brother Maurice by just four months.
They raced together and resided in the same Yarm nursing home together. A farmer from Picton in North Yorkshire, Ron raced a 250 Dot with effervescent elan and cut a dashing figure around the paddock.
I saw him at the first motorcycle scramble I ever attended – an ITV 'World of Sport' event at Ripon in May 1963 – where he finished top three, beating national stars like Joe Johnson, Alan Lampkin and Dick Clayton in four hard-fought finals.
Born in Swainby in January 1933, one of seven children, Ronnie went to Chorlton school in Swainby where his best pal was another eminent Yorkshire scrambling star, the late Dickie Preston – a race winner during that glorious day at Ripon.
Leaving school at 14, Ron went and 'lived in' on a farm at Scugdale, earning a pound a week! It took him four years to save up the money for a rigid-framed B32 BSA on which he started riding trials before moving on to motocrossing on first a Greeves and then a Francis Barnett.
A pair of Gold Star BSAs that he and Maurice bought from Tom Ellis in Ripon followed before the move on to Dots.
Ronnie, crouched, stylish and fast, quickly earned factory help from the Manchester factory – 50 per cent off bikes and spares. He regularly took on and beat the works riders of his era like Alan Clough and Pat Lamper, excelling at nadgery Derbyshire venues like Matlock and Kniveton.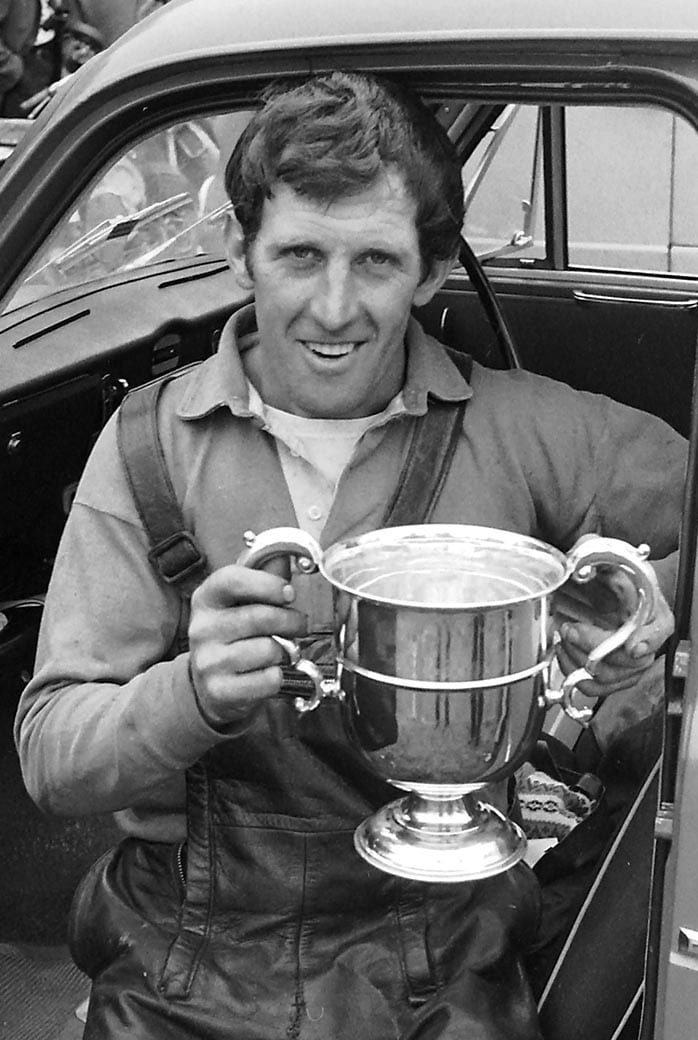 "If it was a wet day he could beat the factory lads," says younger brother and mechanic Cecil. "Ronnie always excelled in mud. He'd leave here with Ernie Lark, his tuner from Bedale, saying 'I'm off to get 20 quid – I'm skint'!"
Most famously, he squared up to future 500 world champion Jeff Smith in a 250 national championship round at Boltby, atop the North Yorks Moors, in 1962. Smith was racing a works BSA in the 250 world championship that year and finished second overall behind Torsten Hallman and won three grands prix.
"It was a nail-biter," remembers Cec. "Jeff beat him every lap down the rough jumps then Ronnie would always get him back up the bank from the bog. "Eight thousand people watching. It was fantastic."
And it went to the wire, with Tate triumphant!
Ronnie competed until the end of the '60s when, handicapped by a knee injury he stubbornly refused to have checked out, he packed in. He then officiated for four decades at Cleveland Speedway Stadium in Middlesbrough, he and Maurice manning the starting gate.
They also took the Northallerton and Middlesbrough clubs' metal motocross starting gate across the country (in a truck borrowed from Dickie Preston's haulage firm!) to British championship rounds at Bootle in Cumbria where I would regularly catch up with them.
I last saw Ronnie when I called at his farm a few summers ago. Only the white hair had changed. Still a bundle of energy, he rushed off on his tractor to prepare a local field for the weekend's annual Picton Show.
Our condolences go to his wife Betty, their children David and Sandra and their grandkids. RIP Ronnie.
[more-from heading="Latest News" category="news"]