With the 2018 season done and dusted it's time for REVO Husqvarna UK to reflect on a very successful year but, more importantly, sharpen its focus on its ambitious plans for 2019.
In just its second full season the team has taken the overall win three times in the Maxxis ACU British MX2 Motocross Championship with Martin Barr winning at round three at Blaxhall and Mel Pocock taking back-to-back victories at rounds six and seven at Duns and Hawkstone Park.
The pair ended the UK's most prestigious championship with Mel third and Martin fifth.
In the highly-competitive EMX250 championship both riders took turns leading the series with Mel eventually finishing second and Martin just missing out on an FIM bronze medal in fourth.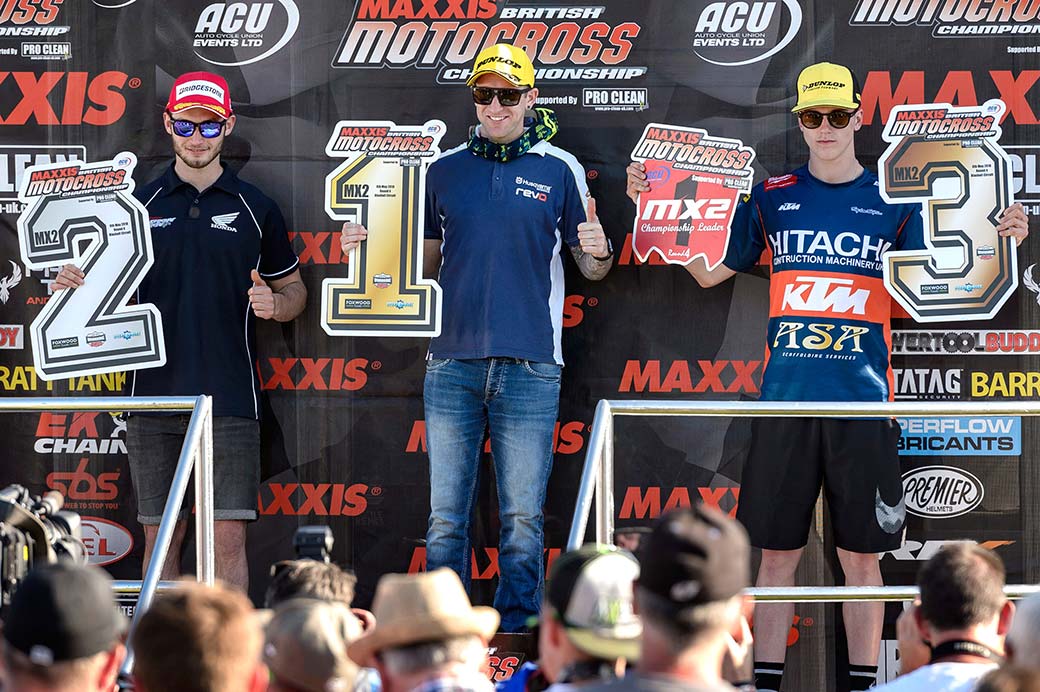 Next season the team – with official factory support from Husqvarna AG – will be focussed on the FIM Motocross World Championship MX2 class with new signings Dylan Walsh and Alvin Ostlund.
Dylan, who was born in England but raised in New Zealand, won two EMX250 races this year and in his debut for the team the 20-year-old was victorious in the opening moto at the final Maxxis round at Lyng.
At the age of 21, Alvin is already a veteran of three full years in MX2 GPs. The swift Swede posted a season-best moto finish of seventh in Portugal before an injury sidelined him.
He returned with a pair of strong performances at the final two GPs of the year before completing his comeback by representing his country at the Motocross of Nations in the USA.
The pair will also contest the 2019 Maxxis series with the realistic goal of winning the title.
Preparations get under way in earnest next month when the team tests in Spain with WP.
Team Principal, Mark Yates: "It's been a fantastic year for the team. Mel and Martin have been solid, Husqvarna UK and all our sponsors have given us incredible support and everyone involved has put in nothing short of 100 per cent which is reflected in the excellent results we've achieved.
"But we can't rest on our laurels and it's now time to implement the final stage of our three-year plan and switch our focus to the world stage.
"With Dylan and Alvin we have two very exciting young talents who I believe are both capable of winning the British title and pushing for top-five finishes – and potentially podiums – in the GPs.
"I've watched Dylan closely all year and liked what I saw – he's got something special. Alvin's had a tough season but he's shown great fortitude and when the chance came to sign him I jumped at it.
"After suspension testing in Spain next month we plan to spend a lot of time focussing on sand riding at our Lommel base and will come out swinging when the new season starts."
Dylan Walsh: "I am really happy to be signing my deal with the REVO Husqvarna team to be racing in the MX2 world championship and the British championship. REVO is an awesome set-up and it is great to be on a team that speaks English again!
"I'm happy to be making the step up to MX2 as I think the weekend programme works a lot better and the competition will really push me.
"Travelling the world to race motocross is a dream and it's awesome that I'm getting the opportunity to do it. It will be a bit of a learning curve for me but after two years in EMX250 I feel I'm ready for it."
Alvin Ostlund: "I have been with Yamaha for the past eight years so this is a big change for me.
"The Husqvarna FC 250 is totally different with the engine and suspension but as soon as I got on the bike I enjoyed riding it. It feels good – I can't wait!"
[more-from heading="Latest News" category="news"]