When you've had two former world champions, with one world championship crown apiece, as guests of honour at your annual event, how do you beat that? You invite a four-times champion of course!
Graham Noyce took to the stage of the Galloway MCC's inaugural 'Classic Grand National of Scotland' meeting in 2017 and old rival Brad Lackey was also a popular choice for meeting and greeting the riders and fans in 2018.
However, the club surpassed itself by bringing 'The Flying Finn' Heikki Mikkola and his family over to Drumlanrig Castle at the weekend for the third running of this now very popular event. The natural terrain suits the Classic and Twin-shock bikes and gives the spectators a clear view of the racing taking place.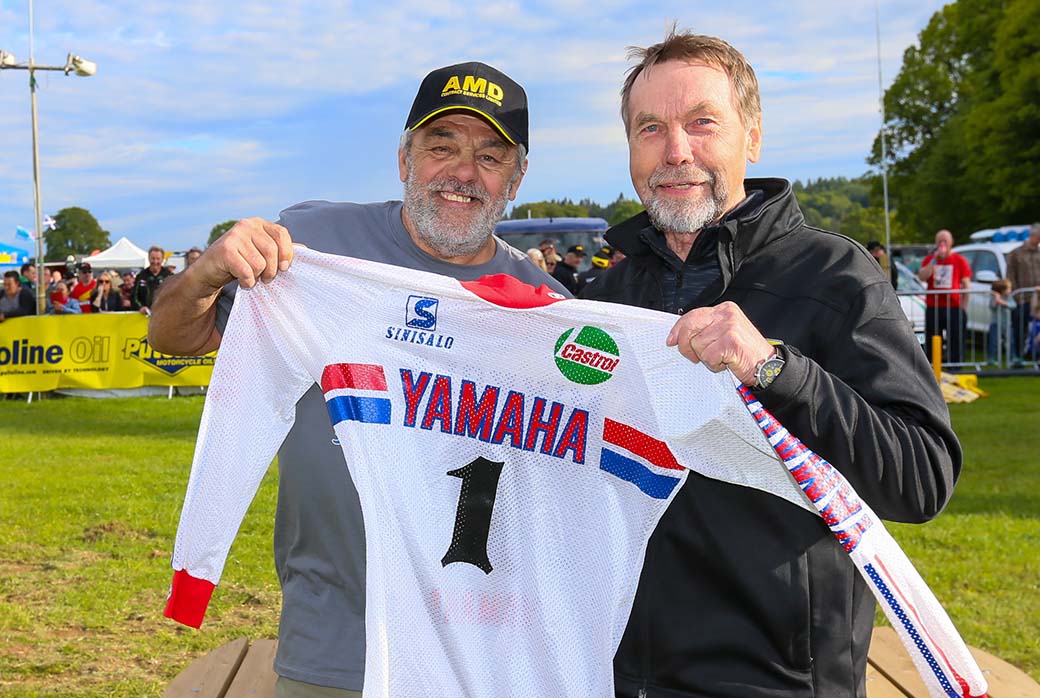 The opening ceremony saw the Dumfries Pipe Band march down from the castle to the spectator area to be greeted by Heikki Mikkola and some of the Galloway club members including Wullie Brown, who was instrumental in bringing Mikkola to the event.
After all the speeches and a quick 'hello' from Mikkola, it was down to the racing, which was mainly the Grasstrack competition on Friday night. Wayne Partington took the honours in the Classic A Final after fierce battles with Maurice Drennan and Harry Stitt, while Ian Robertson grabbed the glory in the Classic B Final from Andy Malloch and Steve Dent.
Davie Wilson saw off Pete Jerred and Tony reid in the Classic C Final before the 'Modern' bikes hit the oval. Alan Bott made the long trip north worth it on Friday by taking the Modern A class victory ahead of Irishman Willie Burgess and Graeme Farrish.
After Willie Simpson's fright over a fouled plug brought him to a standstill, Heikki Mikkola, the former GP rider and three-times Scottish champion went on to claim top spot in the Modern B class ahead of youngsters David Lawson and John Stokes.
The Modern C class results got a bit crushed in the heat of the event so, names are a bit confused and Dave C took the win from David Stanfield and a Bill B took third.
Onto the weekend's Classic Grand National with last year's (and this year's) man of the meeting Cumbrian Mark Fulton again showing that age is no barrier to success by holding off Willie Burgess by two points for the overall Twinshock Over 50 honours after three race victories and a last race second spot to eventual runner-up Willie Burgess who snatched the last race win ahead of Fulton after a dramatic climax.
Third spot on the podium went to the consistent John Crawford.
A mention has to go to former GP rider and Yamaha team-mate of Mikkola, Dave Watson, who took third spot in race one only to discover he had blown his bottom gasket on his nigh-on original 1980 RM Suzuki and during the second race the machine started to 'nip up' and so after a failed attempt at a rebuild himself, had to call it a weekend!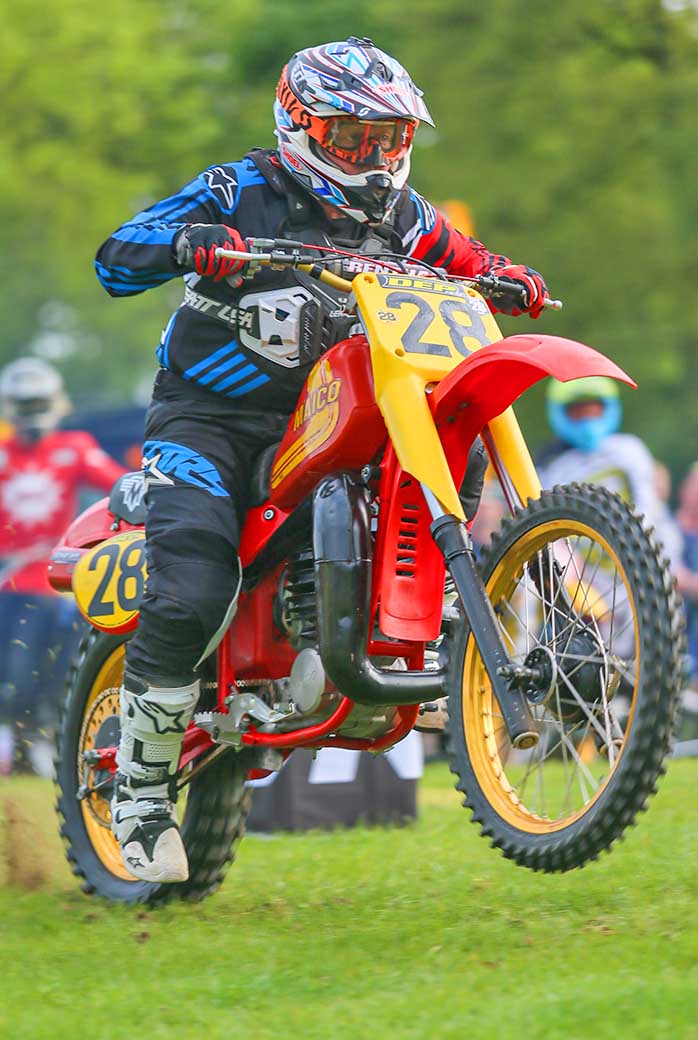 A maximum points haul for the stylish Paul Johnston saw him take top spot in the Twin-shock Under 50 class and the young man is destined for good things. Kristian Marshall had to concentrate in holding off David Alderton for his runner-up place.
The Clubman class is very competitive and the four races saw luck run out for some and take others to glory. Luck went to Davie Watson in top spot after good, consistent rides including a last race second place for the overall honours by one point over the luckless Martin Stokes, who had a nightmare first race finishing 12th. Kev Bratt came home overall third.
James Thompson nearly took a maximum points haul but an issue on Sunday in the last race saw him in second place, but 99 points took him to top spot in the Pre-68 Unlimited class ahead of John Griffiths and Tim Dallaway.
Kris Winder did take a maximum haul in the Pre 75 Unlimited class ahead of Ray McKinney and Ian Buchanan in runner-up and third places respectively.
In the Pre 78 Unlimited class, ISDE Gold medal winner, Kevin Murray, didn't need his enduro skills to take top spot after three wins out of four – but he had to come back from a first lap slip to take an eventual third spot at the flag behind race winner Scot Sam Sibbald and the unlucky James Mclean.
Eventual runner-up spot went to Sibbald and Chris Woodstock grabbed third on the podium. The big money races – the Grand Nationals – saw Cumbrian Mark Fulton take the Twin-shock class' cheque from 'Derval Dervish' Tom Grant and the charismatic Pete Mathia.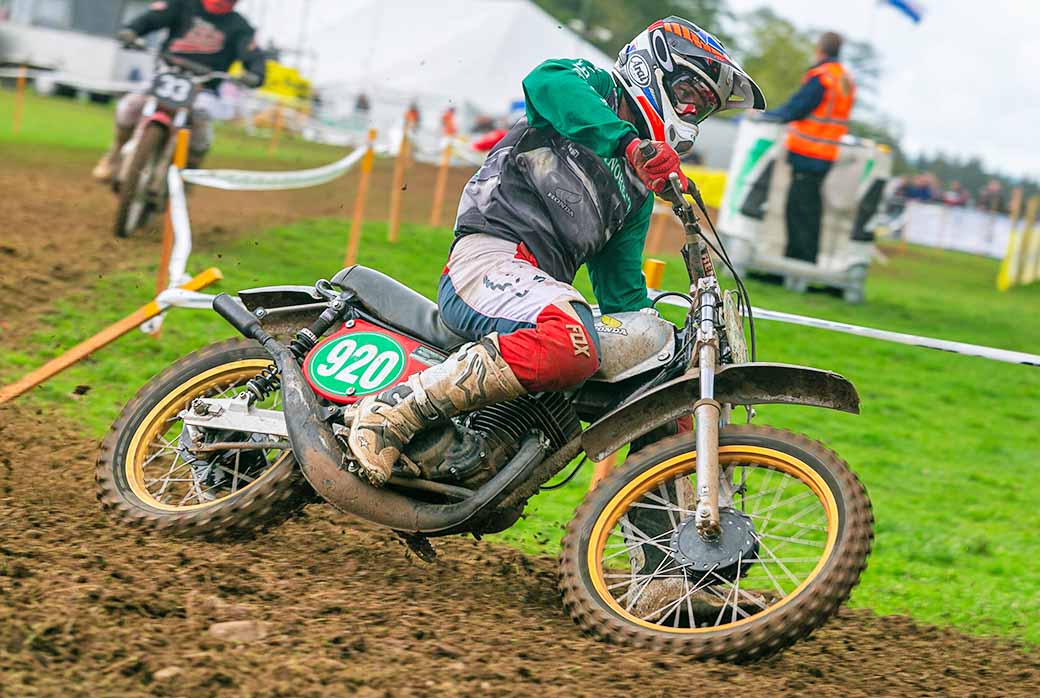 While in the Classic class, Kris Winder wound up the winner ahead of Tim Dallaway and John Griffiths. Andy Long took the overall win in the Twin-shock Support races as Findlay White snatched the top spot in the Classic Support class.
To finish a fabulous weekend of racing, the Team races saw A and B class riders join forces and an Irish/ Scottish amalgamation in 'Murphy's Marauders' headed by Irishman Willie Burgess.
They took the Twinshock Team honours ahead of 'The Flying Fifers' and the pre-event favourites the 'Kings of the Castle', Mark Fulton, David Lawson and the Houston brothers having to be content with third place.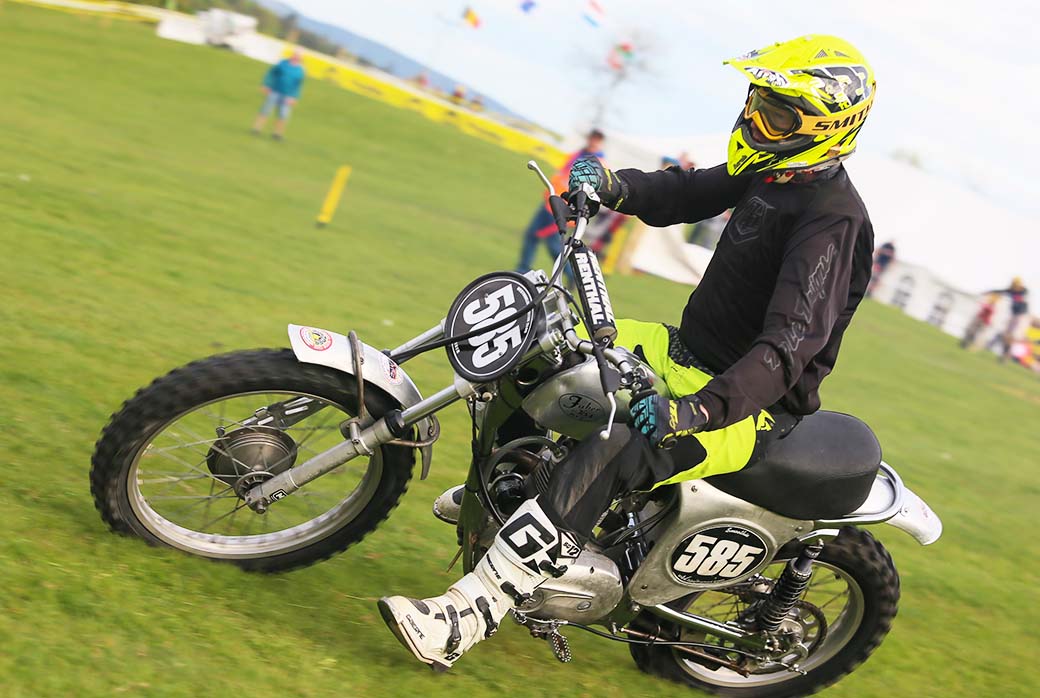 Irish contingent 'Capital Glazing' swept all before them in the Classic Team event as the 'Westmorland MC' with the Hinchcliffe brothers and pre-race favourites Steve Dent and Kris Winder took the runner-up spot ahead of the team that was 'Taylor Made' for the event in third.
Results
Twinshock Over 50: 1 Mark Fulton 99 points, 2 Willie Burgess 97, 3 John Crawford 89, 4 Craig Smith 72, 5 Nick Selwyn 65, 6 Masimo Signorin.
Twinshock Under 50: 1 Paul Johnston 100 points, 2 Kristian Marshall 92, 3 David Alderton, 4 Tom Grant 79, 5 David Houston 77, 6 RoyWells 73.
Clubman: 1 Davie Watson 87 points, 2 Martin Stokes 86, 3 Kev Bratt 84, 4 Wesley Stockdale 81, 5 Ian Clark 79, 6 Mike van de Merwe 78.
Pre 68 Unlimited: 1 James Thomson 99 points, 2 John Griffiths 94, 3 Tim Dallaway 90, 4 Harry Stitt 90, 5 Adrian Lappin 85, 6 Steve Dent 80.
Pre 75 Unlimited: 1 Kris Winder 100 points, 2 Raymond McKinney 85, 3 Ian Buchanan 83, 4 Wayne Partington, 78, 5 Scott Maxwell 74, 6 Andy Hinchcliffe 72.
Pre 78 Unlimited: 1 Kevin Murray 97, 2 Sam Sibbald 96, 3 Chris Woodward 85, 4 Mircro Mistrorigo 83, 5 Bill Bruce 78, 6 Ian Robertson 73.
Twinshock Grand National: 1 Mark Fulton, 2 Tom Grant, 3 Pete Mathia, 4 Kristian Marshall, 5 John Crawford, 6 Ryan Ireland.
Twinshock Support Overall: 1 Andy Long 42 points, 2 Graeme Henry 41, 3 Graham Smith 40, 4 Ian Clark 31, 5 Ryan Ireland 25, 6 Richard Smith 25.
Classic Grand National: 1 Kris Winder, 2 Tim Dallaway, 3 John Griffiths, 4 Sam Sibbald, 5 Kevin Murray, 6 Wayne Partington.
Classic Support Overall: 1 Findlay White 49 points, 2 Mark Stamp 47, 3 Martin Stitt 45, 4 John Fullerton 42, 5 Ross Bauld 25, 6 Mitch Hughes 22.
Twinshock Team Race
1 Murphy's Marauders: Willie Burgess, Sean Murphy, 3 Tom Grant, Phil Malcolmson.
2 The Flying Fifers: Jim Grieve, Craig Smith, Mark Kenny, Barry Smith.
3 Kings of the Castle: David Houston, Richard Houston, Mark Fulton, David Lawson.
4 Gee Whizz Juniors: Graeme Farrish, Craig Farrish, Masimo Signorin, Graham Challis.
5 West Mids Evos: Jim Shand, Nick Selwyn, Jake Veitch, Nigel Green.
6 Simpson's Army: Willie Simpson, Jason Moir, William Pentland, Paul Chiappa.
Classic Team Race
1 Capital Glazing: Adrian Lappin, Harry Stitt, John Griffiths, James Thompson.
2 Westmorland Motor Club: Steve Dent, Kris Winder, Andy Hinchcliffe, Steve Hinchcliffe.
3 Taylor Made: Tim Dallaway, Greg Speed, Andy Stanton, Gary Green.
4 32 Racing CZ: Ryan McMaster, Pete Jerred, David Stockdale, Ian Buchanan.
5 Maxwell House: Scott Maxwell, Thom Anderson, Jonny Walker, Sam Sibbald.
6 Sandy's Boys: David Wilson, Kevin Murray, Tony Reid, Kenny Harper.
Grass Track (Friday Eve)
Classic A Final: 1 Wayne Partington, 2 Maurice Drennan, 3 Harry Stitt.
Classic B Final: 1 Ian Robertson, 2 Andy Malloch, 3 Steve Dent.
Classic C Final: 1 Davie Wilson, 2 Pete Jerrred, 3 Tony Reid.
Modern A Final: 1 Alan Bott, 2 Willie Burgess, 3 Graeme Farrish.
Modern B Final: 1 Willie Simpson, 2 David Lawson, 3 John Stokes.
Modern C Final: Davie C, 2 David Standford, 3 Bill Brew.
Words: Graham Milne