Red Bull KTM ruled supreme at the 2018 Hawkstone International yesterday with Jeffrey Herlings, Glenn Coldenhoff and Pauls Jonass all putting in excellent motos at the famous pre-season event.
The dark sand of Hawkstone Park was the site of the popular annual International race in the UK and drew a host of MXGP names to England. It was a satisfactory meeting for Red Bull KTM trio Jeffrey Herlings, Pauls Jonass and Glenn Coldenhoff.
Herlings ruled both MX1 motos and the Superfinal on his 450SX-F but had to catch and pass team-mate Coldenhoff who was quick and impressive on the rough terrain (taking three holeshots) despite the slight discomfort of his left hand injury – picked up before the opener of the Internazionali D'Italia in Sardinia over a week ago.
Jonass was the star of the MX2 class on his 250 SX-F. The world champion went 1-1 and pinched a top five classification against the larger 450s in the Superfinal.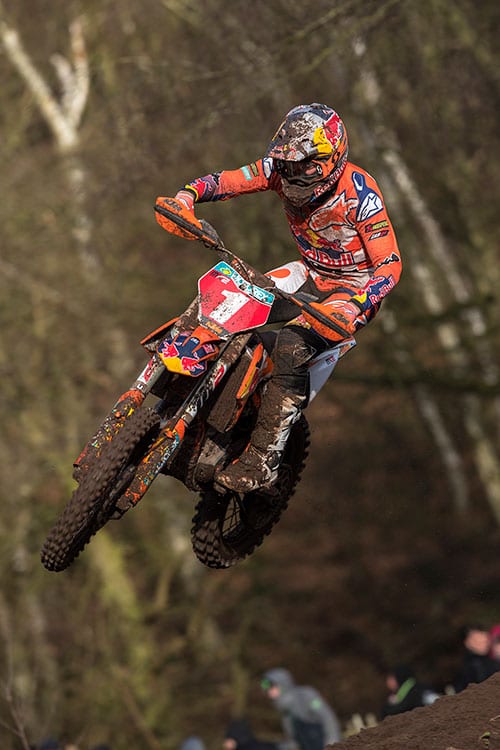 "It was a really good day," declared Herlings. "We were fastest in qualification in the morning so we had the best gate pick all day. I felt good on the track and the weather was a bit gnarly – there was rain and snow! I felt strong and good on the bike and the team did a great job.
"The conditions have not been easy and I think the club made some excellent work to get the track as rideable as it was. We'll have our last race before Argentina in France next weekend and I haven't ridden there for a long time so I'm looking forward to it."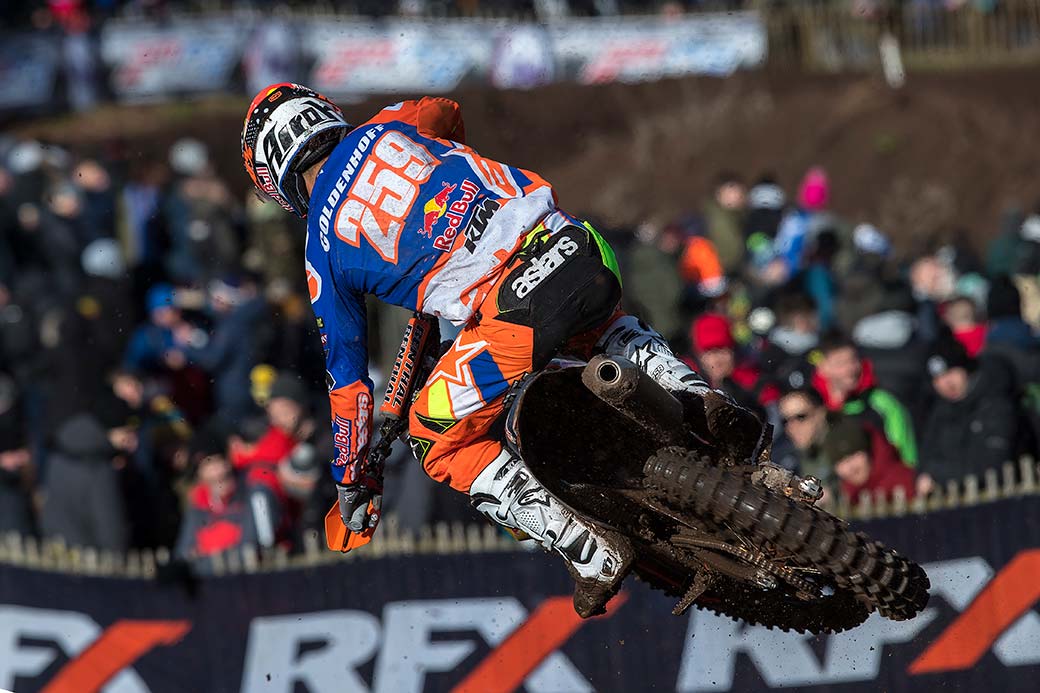 "The last two weeks haven't been the best so to be fourth in practice and then to have a good day was very positive," said Coldenhoff. "I love coming to Hawkstone, I always ride well here and get good results and it proved to be that way again: three holeshots and three times second place so I cannot complain. Pauls and Jeffrey won so I don't think it could be any better and this was perfect training for the upcoming GP series."
"I'm really happy. It was my second year at Hawkstone and there is a lot of racing in one day," said Jonass. "It is really good training, and the track is pretty tough, especially in the Superfinal when it was getting very rough and we're against the 450s. I took it easy in the Superfinal when the sun was low and it was tricky to see – I still think fourth place against the bigger bikes was pretty good."
Hawkstone Park International top five
MX1
Jeffrey Herlings, Red Bull KTM
Glenn Coldenhoff, Red Bull KTM
Gautier Paulin, Husqvarna
Tommy Searle, Kawasaki
Evgeny Bobryshev, Suzuki
MX2
Pauls Jonass, Red Bull KTM
Thomas Kjer Olsen, Husqvarna
Conrad Mewse, KTM
Adam Sterry, Kawasaki
Martin Barr, Husqvarna