The annual race, which is in its 36th year, will be another special weekend with numerous attractions and displays throughout the three days, to complement the incredible racing action on both Saturday and Sunday.
Well-known for being the maddest, baddest and toughest race on the off-road calendar, the Beach Race sees hundreds of competitors battle it out over a mammoth dune course and is the ultimate test for man and machine.
Lining up this year is back-to-back winner Todd Kellett, along with Billy Bolt, David Knight MBE, Robbie Maddison, Conrad Mewse, Mel Pocock Paul Bolton and Josh Gilbert to name a few.
Every year Weston's Beach undergoes a massive transformation. Giant mountains of sand are formed into a track of unbelievable difficulty. It's no wonder hundreds of thousands of visitors come to Weston each year to witness the spectacle.
Event organiser Gareth Hockey, Director of RHL Activities, is the man who in charge of this great event, Hockey talks about the event this year, why he loves it so much and planning for the future.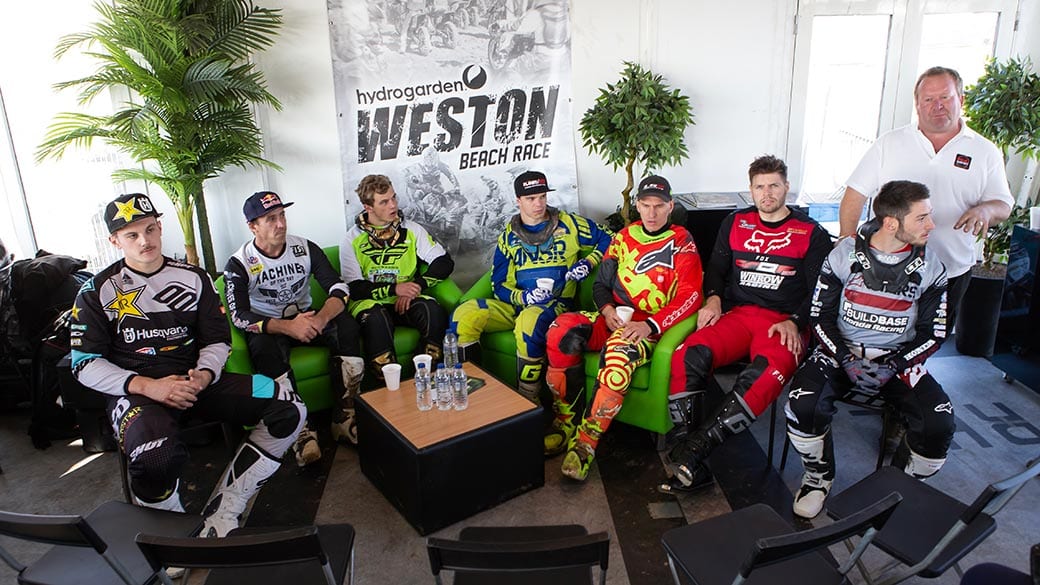 "It's the first time in the history of the event that I can ever remember the solo race being so full before we get there. Every other class has passed last year's entry – even the quads are up. I think we're hitting what we want to hit, and the increased involvement of major brands from both in and out of the industry has definitely made it go to the next level." Said Hockey.
"It's become the event of the year for many offroad and motorcycle companies. I think from a spectacle point of view people coming have awesome value for money. We have a quad stunt rider, Dougie Lampkin versus Danny with the Trials bike and Extreme MTB team – there's plenty to see and do. It will definitely be the best yet.
"It's a family day out for all, not just motorsport fans. It takes years to prepare for, weeks to construct and is three days of high-octane fun. RHL Activities are proud of their engagement with the local area, the growing nature and professionalism of the event."
For this year Hockey says that the extreme dune course with a longer lap than previously will be the most challenging yet.
"Our goal has always been to keep the event about what it was originally created for – an end of season fun bash for a bunch of dirtbike riders on a beach. It's amazing; we have over 400 people involved in this event for that one weekend. It's a huge figure, with huge man-hours.
The race started with a bunch of guys who came back from Le Touquet (a beach race in France) sat on the Sealink ferry if I remember correctly and a mad idea that we'd find a beach in the UK. 36 years later and that idea has become an iconic event, I'm still involved and RHL is already planning 2020. We have a lot of ideas for the future."
Of course one of the main attractions of Weston is that the amateur riders get to test their metal against some of the best off-road racers on the planet, which doesn't happen often enough.
Hot Toddy
Favourite for the overall win is the reigning champ and two-time winner, Todd Kellet. The local lad has made the event his own in recently and clearly loves the event and loves a win.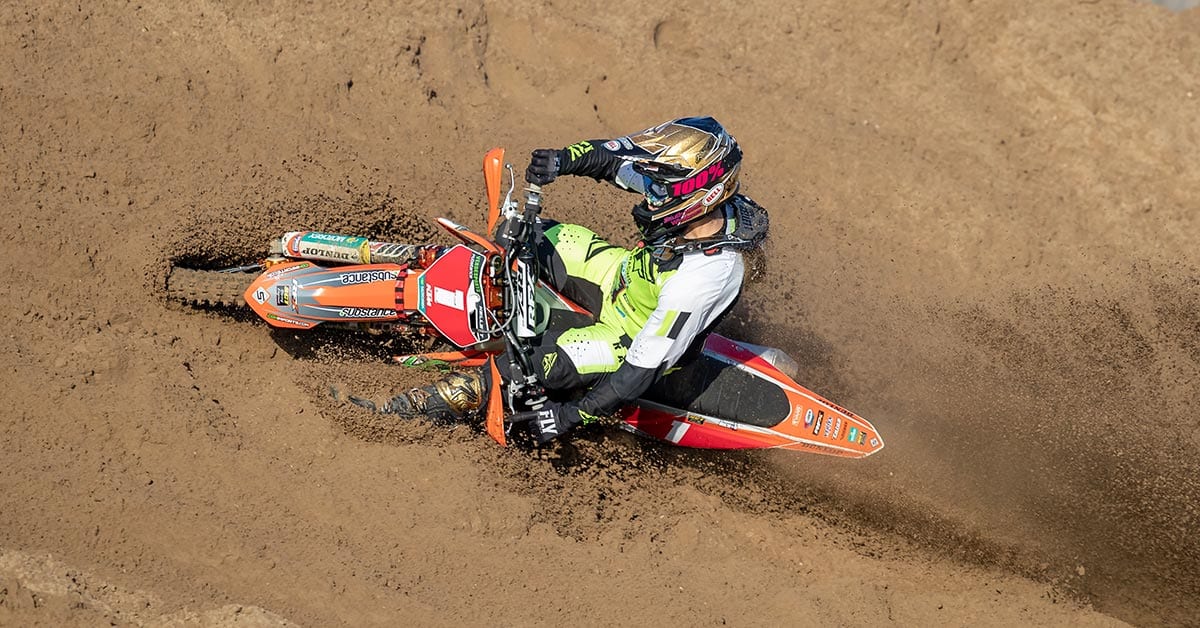 Revo revved up
Revo Husqvarna will be competing and Mel Pocock is excited to be making his beach race debut and is looking for a solid finish to his season.
"I've not done the race before, and I've really wanted to, but the situation has never fallen quite right," explained Pocock. With Revo Husqvarna we've got a good crew behind us and we'll be getting prepped up and having a go at trying to win it. There's such a wide range of riders and skilled riders with different parts of the sport they've come from – motocross, trials, enduro, hard enduro.
"The race is like a three-hour motocross race, so it's who can stay out of trouble and the water, have good pit stops and have a good team behind them that will succeed. Even though I have no experience with doing it, I feel like I have a good mindset towards it, especially with the team, we could be up there. We'll give it a good go."
Mel will be joined by brother Brett, who will also race with the Revo Husqvarna team. The 20-year-old competed at national level as a youngster and more recently has raced in some seriously tough events such as the Red Bull Romaniacs earlier this year.
Brett also makes his Weston debut this year, and with his enduro experience, he will be aiming for a strong result.
Billy Bolt Debut
Making his debut in the race this year will be Rockstar Energy Husqvarna's Billy Bolt. Competing in this year's World Enduro Super Series, the Newcastle native is excited to sample his first taste of beach racing at Weston-Super-Mare.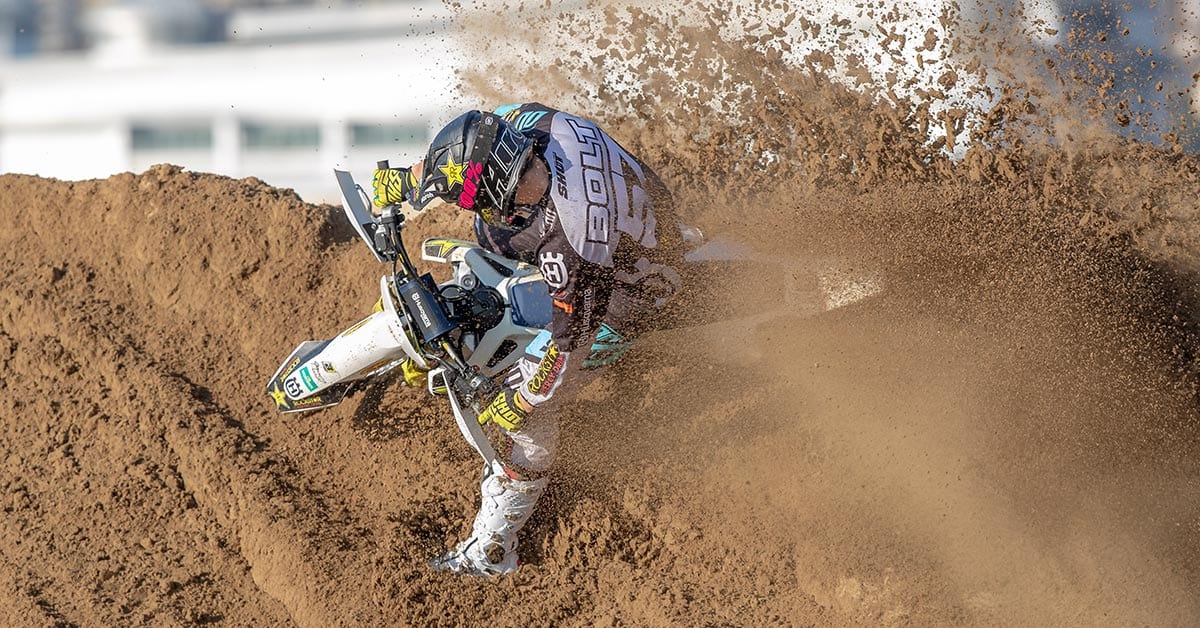 "I'm really looking forward to competing at the Weston Beach Race for the very first time." Said Bolt. "It's such an iconic event and one I grew up with, but never had the opportunity to race until now. If I can go there and give it my best shot, I'll be happy with the outcome."
Buildbase Honda hunting for glory
Josh Gilbert will be flying the flag for Buildbase Honda. Promoted from the satellite team following some excellent rides in the British Motocross Championship, Gilbert has impressed throughout the 2018.
No stranger to the Weston sand, Gilbert was running near the head of the field during the 2017 event and challenging for the podium. Unfortunately, a technical issue forced him to retire from the race with only a handful of laps to go.
Keen to make up for that disappointment, the 20-year-old former MXY2 champion will again line up on the beach to fight for his first Weston Beach Race win. Once again, Buildbase Honda will be fielding two teams, Josh on the Buildbase bike and Alex Snow and Luke Hawkins on the HydroGarden supported machines.
Win Robbie Maddison's KTM
Robbie Maddison, the Australian stunt rider, is making his way to the UK to compete in the HydroGarden Weston Beach Race for a second time. Maddison will line-up for a second time where he'll be wheelieing down the start straight aiming to improve on the 46th position he achieved on his debut in 2016.
Robbie will be racing orange this weekend and if YOU want to get your hands on Maddison's KTM 350 XC-F, the bike he's actually gonna be racing, just head to the KTM Village on the south end of the promenade or got to rhlactivities.com, fill in a few details and you could be the winner of this awesome prize, which will be announced on Sunday, October 21 after the main solo race.
Terms and conditions apply, you must be aged 18 or over, have a valid ticket to the 2018 HydroGarden Weston Beach Race and be in attendance when the prize draw takes place on 21/10/2018. Competition closes at 2pm on Sunday afternoon, good luck!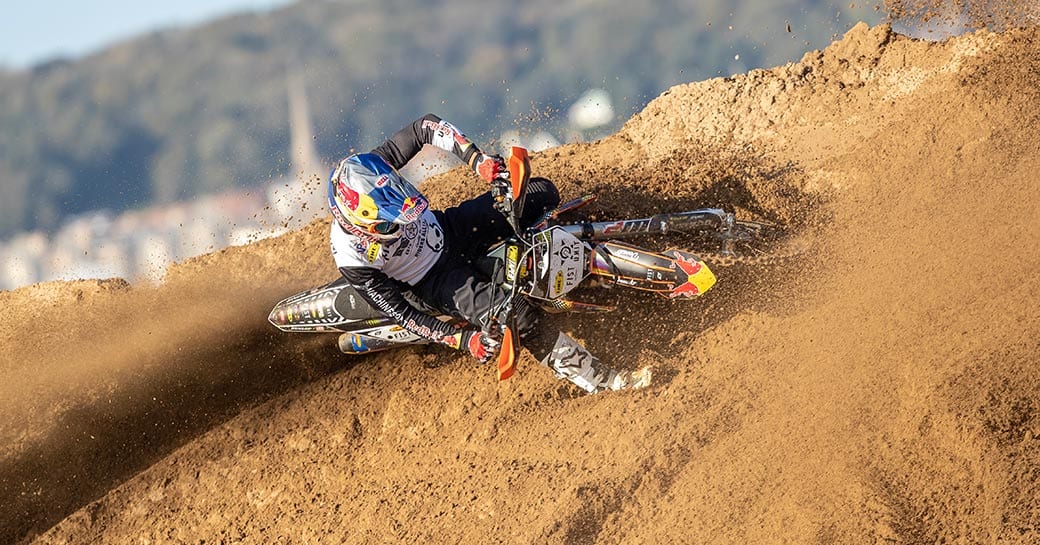 Murphy back
In the Quadzilla quad class, double quad race winner Stefan Murphy will be back this year. Murphy first raced on the sands of Weston back in 2005 and has since enjoyed a variety of results from DNF's to podium honours, to finally securing his first victory in 2016.
Goody Bags
This year at Weston goody bags that will be given to every competitor that signs on and is filled with masses of gifts from HydroGarden, suppliers of equipment to the Hydroponics and Horticultural industry, and title sponsor of the  Weston Beach Race. This exclusive bag also includes the current issue of TMX News, a hand towel, water bottle, cap, t-shirt, stickers and more.
Pricing
(Ticket prices on the day)
Adult Weekend Tickets – £40.00
Child (4-12 Years) Weekend Tickets – £10.00
Family Weekend Ticket (2 Adults & 2 Children 4-12 Years) – £120.00
Adult Day Ticket – £25.00
Child (4-12 Years) Day Ticket – £5.00
Family Day Ticket (2 Adults & 2 Children 4-12 Years) – £60.00
Timetable
Wednesday October 17
Schools Day
Thursday October 18
15.00 – 17.00 – Press Day
Friday October 19
9.00 – 18.00 – Rider Registration
10.30 – 13.00 – Academy Training – David Thorpe
Saturday October 20
09.30 – 11.00 – Youth 125/250 Race
11.00 – 11.30 – WD40 Trials Demo
11.30 – 12.45 – Kids 65cc Race
13.30 – 16.30 – Adult Quad & Sidecar Race
16.30 – 17.30 – KTM Filming
16.30 – 17.00 – WD40 Trials Demo
17.15 – Presentation for Saturday classes
18.30 – RHL Evening with the stars
Sunday October 21
10.30 – 12.00 – 85 SW/BW Race
12.00 – 12.30 – WD40 Trials Demo
12.30 – 13.00 – Kangaroo Kid
13.00 – 16.00 – Adult Solo Race
16.30 – 17.00 – WD40 Trails Demo
17.15 – Presentation for Sunday Classes
Please note the race schedule is subject to change (Times are weather and event dependant)