North West 200 winner James Hillier to compete at Weston Beach Race
RHL Activities revealed today that James Hillier will take on the Weston Beach Race for the first time. Known for his rapid pace on the black stuff, the North West 200 ace is looking forward to the brutal beach challenge on October 18-20.
Hillier, from Ringwood in Bournemouth, competes in extremely high-paced and adrenaline-fuelled, world-renowned road race events such as the North West 200 in Northern Ireland and the Isle of Man TT where speed, precision and endurance are certainly key. The Kawasaki racer, who has been road racing for over 12 years, was Man Of The Meeting at this year's NW200 having taken his debut win at the event in the Superstock race and wound up an impressive second in the famous IOM TT Supersport 600 event contributing to third overall in the rider standings.
"For a racer I guess I'm quite unique I don't compete in that many races – I did a few British Superbike rounds earlier in the year, but the North West and Isle of Man TT are my biggest events of the season. I've had a good year – I won the overall riders' championship at the North West and took my first race win. I was third overall with a best finish of second in the Supersport race in the Isle of Man, but my goal was to win – I have to be happy with my results, but I really want to get a big bike win there," said Hillier.
Taking on the Weston Beach Race will be a new challenge for Hillier, as the 34-year-old has not attended the event before and the Kawasaki road racing star is excited to take part having heard how spectacular the event is. Along with 1,000 other competitors in the main solo category Hillier will race his Kawasaki UK bike with a goal of completing the gruelling three-hour race over a mammoth dune course. Relishing in the opportunity to fly down the famous and incredibly long Weston Beach Race straight among his fellow racers, Hillier has begun his preparation for the event, which takes place in just under two month's time.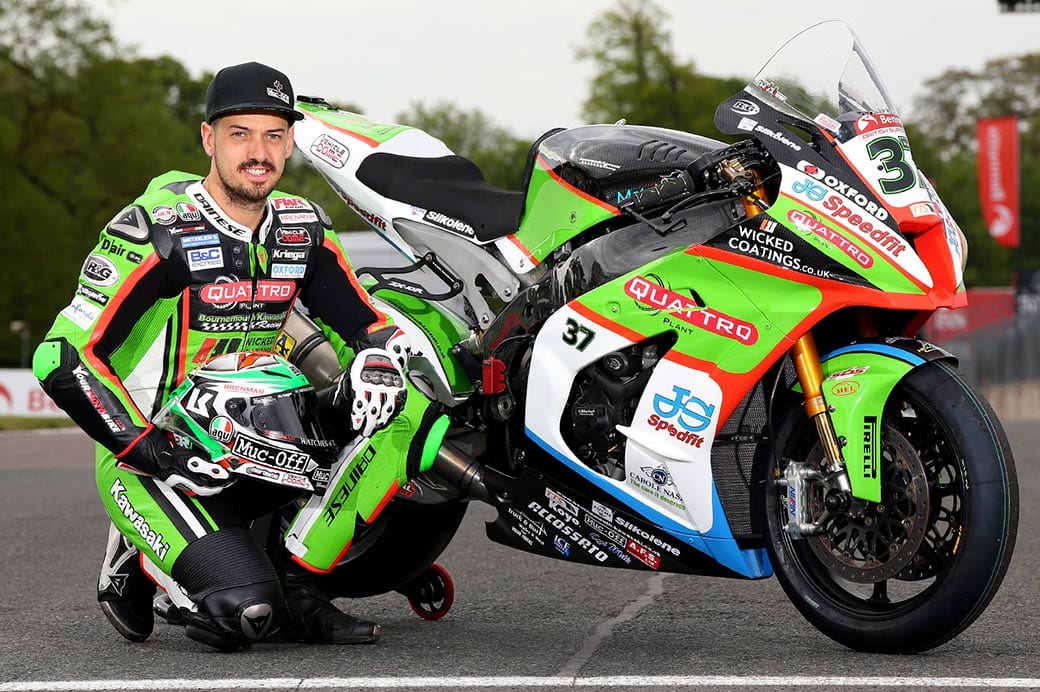 "When it comes to off-road I like enduro riding and I was brought up riding trials. Weston is something a lot of us chat about and Knighter (David Knight) has always been going on about it, so it's great to have the opportunity to experience it. I've watched YouTube videos of it, and I've been trying to get a bit fitter for picking the bike up and so on, which will be tough – I think I'll be okay with the three hours though," said Hillier.
"The goal ultimately is just to get to the end, but I'd have to have my eye on a top 200 finish really. I'm sure when the gates open I'll be getting the red mist and gunning for it, but I'm under no illusion that I'll be near the front! Kawasaki have helped me with a KX450, Metzeler have sorted me out some tyres, Muc-Off are also supporting me – there won't be any excuse to blame the bike *laughs*.
"To be honest it's probably best I don't find too much out (about the race) before-hand and learn as I go. We'll sort a plan out fuelling, the bike will be good, the speed element there will be good on the straight – hopefully for a rest from the other sections – and I'll have to figure out how to tackle the dunes; I'll try and learn from the riders around me. I can see the dunes are a bit mad, and there's some luck involved too – I can't wait," concluded the Kawasaki racer.
Director of RHL Activities Gareth Hockey: "We're pleased James will line-up at the Weston Beach Race – it's an iconic event and having racers from the road racing world is very special, as it's a complete contrast to what they do. The intensity and endurance of the Isle of Man TT along with the outright speed is so different, but the beach race is arguably as tough on man and machine in another kind of way, whilst being a lot of fun and a special achievement if you can reach the finish. We wish James the best of luck and we look forward to seeing him at the event."
[more-from heading="Latest News" category="news"]