Red Bull KTM Factory Racing's Nathan Watson has secured victory at round two of the CFS: Championnat de France des Sables at Loon-Plage with the win moving the defending French Beach Race Champion to the top of the provisional series standings.
Team-mate Camille Chapeliere delivered a much-improved performance over his round one result, taking a strong fourth.
After last week's opener in Berck, the CFS: Championnat de France des Sables moved north to Loon-Place, near Dunkirk, for round two. Returning to a traditional beach race format, the fight for victory was played out over a gruelling two-and-a-half-hour race.
Placing as runner-up at round one following a couple of mistakes, Nathan Watson was looking forward to the longer race distance and the chance to show both his pace and endurance. Starting 11th, during the opening six laps he calmly worked his way inside the top five while importantly maintaining sight of the leaders.
Taking the race lead on lap 17 of 25, Nathan then dropped to third following his final pit stop. Battling back to second and feeling strong while doing so, he again regained control of the race lead with two laps remaining. Upping his pace, with conditions at their worst he pulled clear of his rivals to secure a 26-second margin of victory.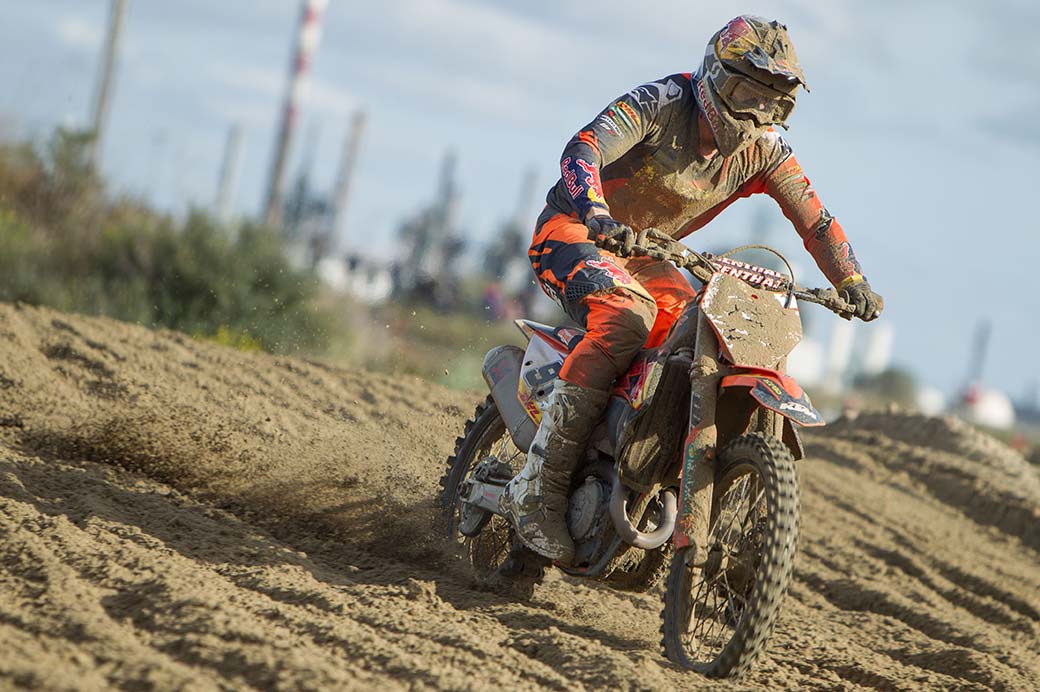 Nathan Watson: "Taking the win and with it the championship leader's red plate has made for a great day at Loon-Plage. I was looking forward to returning to the longer, more traditional style beach race after the shorter, multi-race format at round one. I feel that's where I'm best and can keep pushing throughout the race.
"Unfortunately, my start wasn't the best, but I knew if I kept the leaders in sight then the race would come to me.
"The sunshine actually made things tricky with shadows on the bumps and holes, so I tried to settle into the first hour and then work my way forward. With two laps to go I felt strong and attacked hard to put myself into the lead and pull clear for the win.
"Overall, I'm chuffed with that ride because my shoulder still isn't 100 per cent and there's a few more things we'd like to improve on the bike. I've got the final round of the World Enduro Super Series next weekend and after that, I'll fully concentrate on improving more."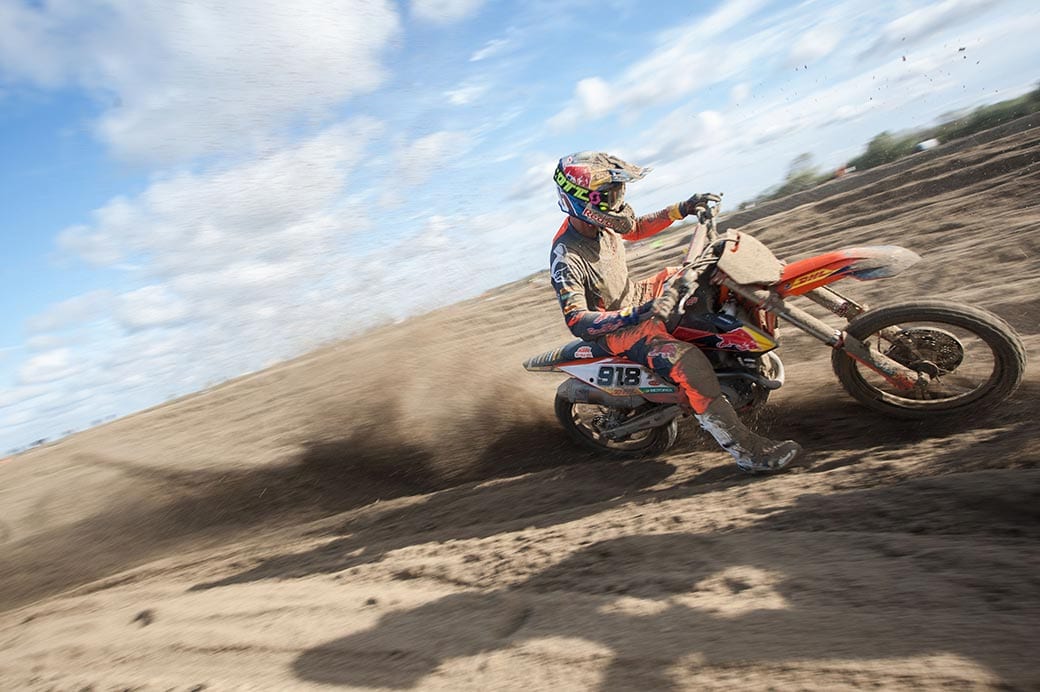 For Camille Chapeliere the focus at round two was executing a mistake-free race following a disappointing 15th at round one. Once again claiming the holeshot on his KTM 450 SX-F, he held the race lead during the opening two laps before slipping to third on lap four. Battling back and forth, Camille dropped to fourth on lap 11, but maintained a strong pace to hold his position for the remainder of the race, firmly putting his errors at round one behind him.
Camille Chapeliere: "I'm really happy with how I rode my race. After too many mistakes at round one I wanted to deliver a smart race and I feel like I achieved that today by finishing fourth. For the second week in a row I got the holeshot and focused on executing a clean opening lap. I did that and then rode the opening hour of the race with zero mistakes. I managed to ride without mistakes for the second hour too. During the last 30 minutes I was in a strong position and could push hard to take fourth. In one week I feel like I've put that 15th place at round one behind me and I'm motivated to keep improving and building towards round three in a couple of weeks' time."
The CFS: Championnat de France des Sables continues with round three at Magesq on November 16-17.
Loon-Plage Top Five Results – CFS: Championnat de France des Sables 2019/20
1. Nathan Watson (GBR), KTM, 25 laps 2:31:54.730
2. Jeffrey Dewulf (FRA), KTM, 25 laps 2:32:21.320 +26.590
3. Milko Potisek (FRA), Yamaha, 25 laps 2:32:39.880 +45.150
4. Camille Chapeliere (FRA), KTM, 25 laps 2:37:25.260 +5:30.530
5. Todd Kellett (GBR), Yamaha, 25 laps 2:37:57.710 +6:02.980
CFS: Championnat de France des Sables 2019/20 Standings (after Round 2)
1. Nathan Watson (GBR), KTM, 285pts
2. Jeffrey Dewulf (FRA), KTM, 260pts
3. Milko Potisek (FRA), Yamaha, 235pts
4. Todd Kellett (GBR), Yamaha, 225pts
5. Camille Chapeliere (FRA), KTM, 201pts
[more-from heading="More Enduro" category="enduro"]