Round three of the ScotMX Scottish Championship powered by Milwaukee headed to Doune MX last weekend, for a two day event held at the circuit.
Doune MX, which is run by Scott Gardner, a former British Motocross Championship rider and owner of Planet Advanced Racing Suspension hosted the two day event despite the super hot weather.
Day two concentrated on the Adult races, but Stuart Flockhart added a Super Mini Cup, based on a race format from the USA, for 85cc to 112cc bikes and riders being ten to fourteen years old. This gave the youths a great opportunity to race without the pressures of a championship and win some prize money courtesy of SS Plant Services.
The weather on Saturday was probably the hottest day of the year and meant the on site sprinkler system was used overnight and first thing to ensure the track was in prime condition and maintained throughout the day. Stuart Flockhart and his Team kept everything running cool which was just as well as the racing was blistering, just like the relentless sun.
Saturday's format was kicked off by the Vets. With the Over 40's, 50's and 60's all running in one race, there were 34 riders lined up for the first moto and it was bar to bar right from the start. Richard Miller was quickest off the start in Race one as he grabbed the first AMD Hole-shot prize, and did his best to keep the pack at bay but Barry Gray eased passed into the lead and stay there before Micky Graham moved up into the lead with two laps to go.
Graham managed to pass Lewis Farrow for the win in Race three as Lewis ran at the front until the last lap. Graham dived passed Farrow in a desperate attempt to get all three race wins. He had ridden through the field after a poor start but his efforts paid off. With Irishman, Paul Carey having a tough time of it dropping out of third and down the order, Mad Dog grabbed the final podium in race three.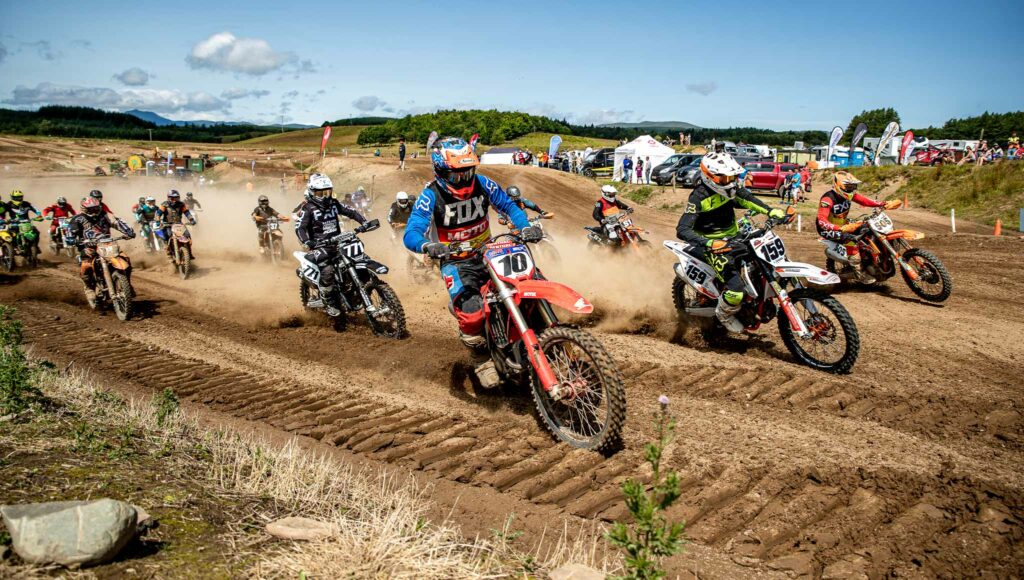 The entry may have been modest but that didn't reflect the fantastic quality of racing on show from the youths. With ages ranging from ten to fourteen years old, the race times were incredible. The lap times might even have been good enough to win in the Adult C and secure a top ten in the Adult B Class.
Rhys Whyment continued his racing recovery after missing the entire season up until last week and he showed he's on form. It would be Troy Flockhart's day as he made race one look easy with Rhys pushing him. Great show from the small wheel rider as he pushed his big wheel counterpart but Troy's eight wins showed he kept his cool all race. Malachi Allan got the final podium finishing just ahead of Jaden Anderson. Jaden would improve in race two by grabbing the AMD hole-shot and leading the race for a lap before Rhys Whyment would pass and do his utmost to stay in front of Troy Flockhart.
It would be Troy's day though as he shadowed Rhys lap by lap before a small mistake cost him the race and Troy got passed. Rhys had done enough to keep his place as Jaden Anderson managed to stay ahead of Malachi Allan in the final race to beat him on countback and finish third overall. The podium pals were rewarded for their efforts with some prize money courtesy of SS Plant Services as they proudly held up their trophies and their winnings for the proud families.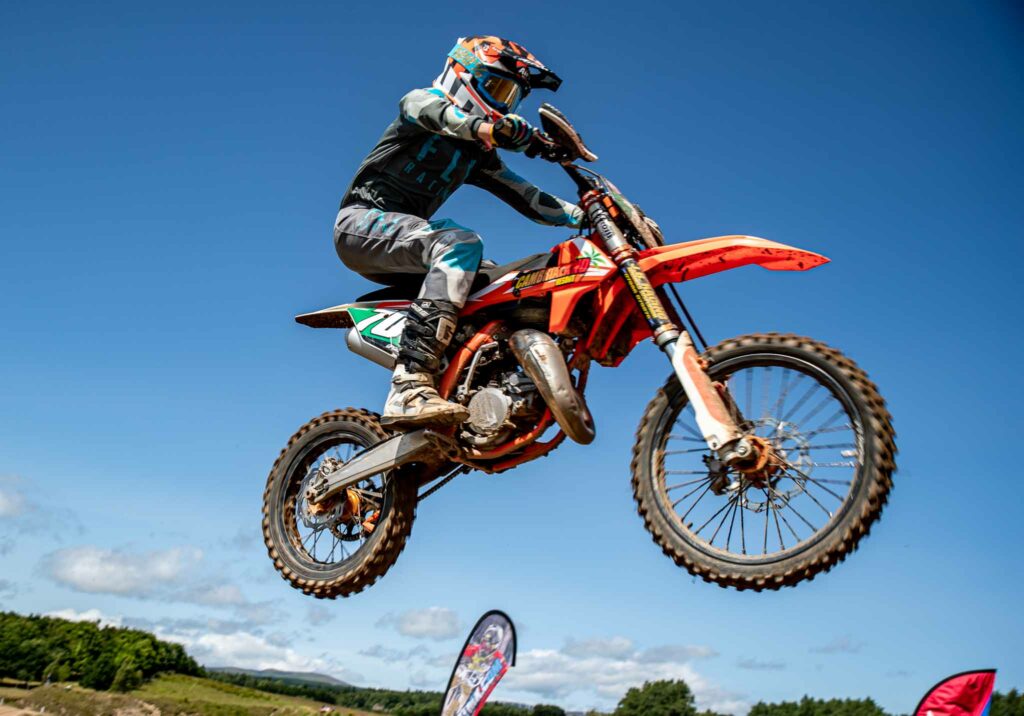 Tony Craig had the benefit of having raced Doune last week in the Adult support and made sure he was prepared for the MX1 class sponsored by Carnegie Fuels. He had to be, as the field was packed with experience and fast young riders. Qualifying showed his efforts last week had paid dividends as Martin Barr, coming back from injury, would push him all the way. George Simmutch, who had also raced last week and even beat Craig in one race, was third fastest, just under a second behind Barr. Four seconds would split the rest of the top 10 as the MX2 riders did their best to beat the bigger capacity bikes. Kyle McNicol had bragging rights over Ben Kennedy and Steven Craig but who would make up the podium in the MX2 sponsored by Safe Access.
Race one Ross Rutherford would have the fastest lap of the first race and push hard all the way but Tony Craig would lead the entire race and win by seconds. Martin Barr gained two places to round out the top three in MX1. Kyle McNicol was too busy racing against the MX1 riders to notice his fellow MX2 peers. He finished sixth in the first race way ahead of his nearest rival Steven Craig who got the second MX2 place, Logan Hendry bagged the final podium in race one.
Business as usual for Tony Craig in race two as he was beginning to make it look easy in the roasting sun. Martin Barr improved upon his third in race one to finish second as he continued his progress coming back from injury and ease past Gary Gibson who dropped back from running second to finish fifth . It was George Simmutch who would impress in the second race as he enjoyed some close racing with Ben Edwards and Gary Gibson on his way to third.
Rutherford and Ryan McLean were having a ding dong battle on lap one until Rutherford lost his front wheel in a corner clash with McLean. Ross then dropped down some places but even with a broken rib, after the clash with McLean, the adrenaline was enough coupled with determination and it got him a seventh. Ryan McLean would go on to have a more serious clash mid track with another rider and come off worst ending his day.
It was another hard fought race for Kyle McNicol in MX2 as he mixed it with the bigger bikes, as Ben Kennedy got the better of Steven Craig as he made up for a poor first race. The final race saw another win for Tony Craig and a closer second place for Martin Barr. Barr had to pass Ross and Gary Gibson but did so mid race and tried hard to catch Craig but was six seconds off the win. Gary Gibson had his best finish of the day with the final race podium. Ben Edwards ran just behind the top three all day but it was enough for the overall third behind Craig and Barr and he retained the overall red plate as championship leader.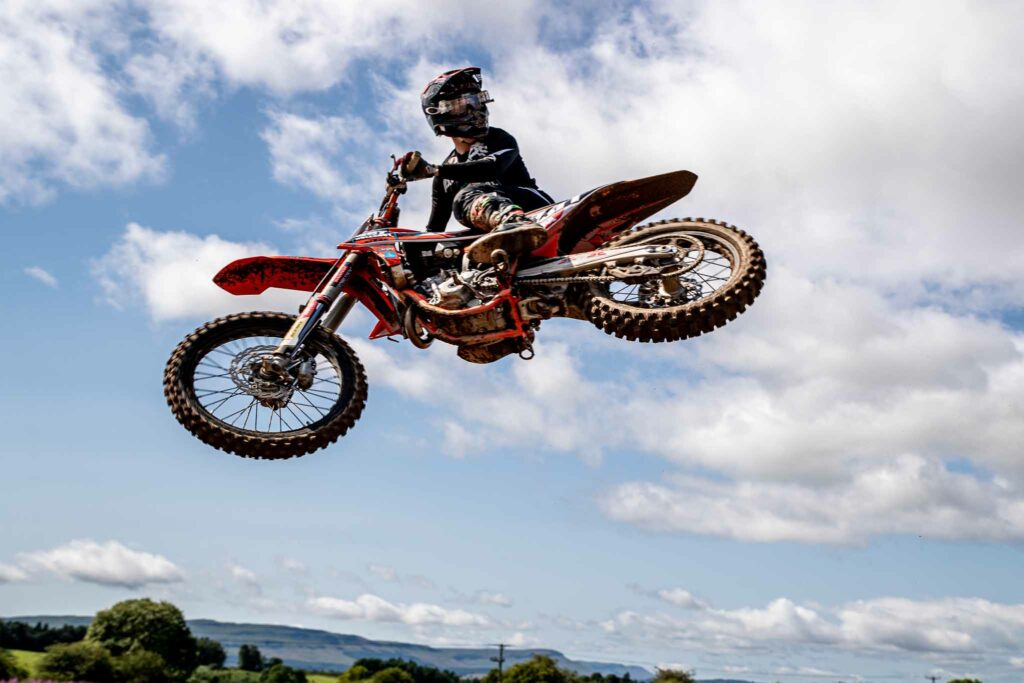 George Simmutch and Ross would finish on equal points as the veteran rider just failed to get the fourth by finishing behind the youngster in the last race. Herculean effort considering he was banged up in race two. Three easy race wins for Kyle McNicol as the GRT Holeshot KTM rider showed he's still the one to beat in this class. Steven Craig's second place was well clear of Logan Hendry, another lad riding injured but he managed to hold off Ben Kennedy for the final podium as the Irish rider had a poor first race.