Driving passed waterlogged fields on the way to the Eurocircuit in Valkenswaard through drizzly rain, you just know its going to be a challenging weekend for everyone – the organisers, marshals, riders and the poor mechanics.
Even the deep sand can only withstand so much water and with the track resembling a rice paddy in places on Friday it was time to get the wellies out.
Tommy Searle was looking at the track, so I asked him about having his passport stolen in Argentina. He said it caused a bit of expense and inconvenience, getting a temporary passport from the embassy so he could fly home then getting a new one re-issued.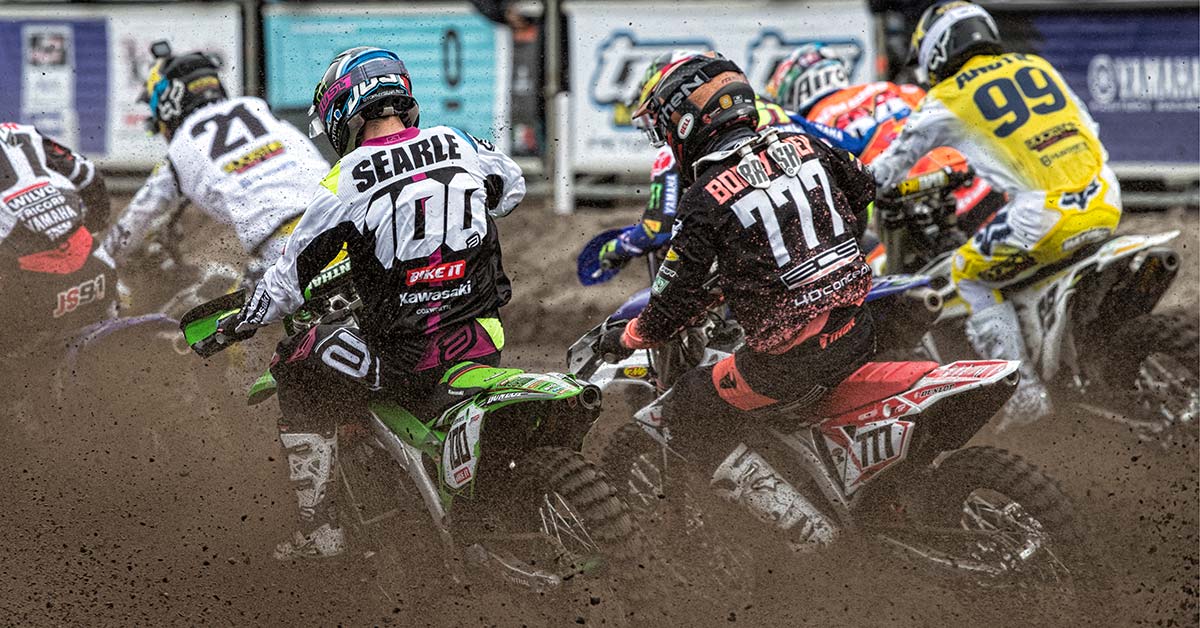 The EMX300 and EMX125 championships started this weekend and as usual they're out on track first. Waking up on Saturday there was a light dusting of snow and the thermometer said -4.
With the wind chill it felt colder, much colder!
The main issue faced by all the riders (besides the soft track) was how to keep warm. Ski wear and base layers seemed to be popular, along with a variety of body warmers and lightweight windcheaters.
Rob Holyoake's top tip of bin bags on your feet, keeps your feet lovely and warm – while Factory Phil Mercer said keeping his hands warm was the main issue.
MXGP
When free practice started the track was heavy and soft although the snow had stopped.
Herlings eventually topped the time sheet with Anstie third and Simpson fourth, separated by 100th of a second.
Graeme Irwin was 14th with Tommy Searle two 10ths behind. Jasikonis was the surprise of the session, leading for most of it before Herlings pushed him back to second at the end.
Simpson led timed practice for a while before Herlings put in a lap two seconds faster than anyone – he is amazing to watch in the sand. Cairoli slotted in behind Herlings but still 1.6 seconds away, Simpson would end the session fifth, Anstie eighth, Searle 12th and Irwin 21st.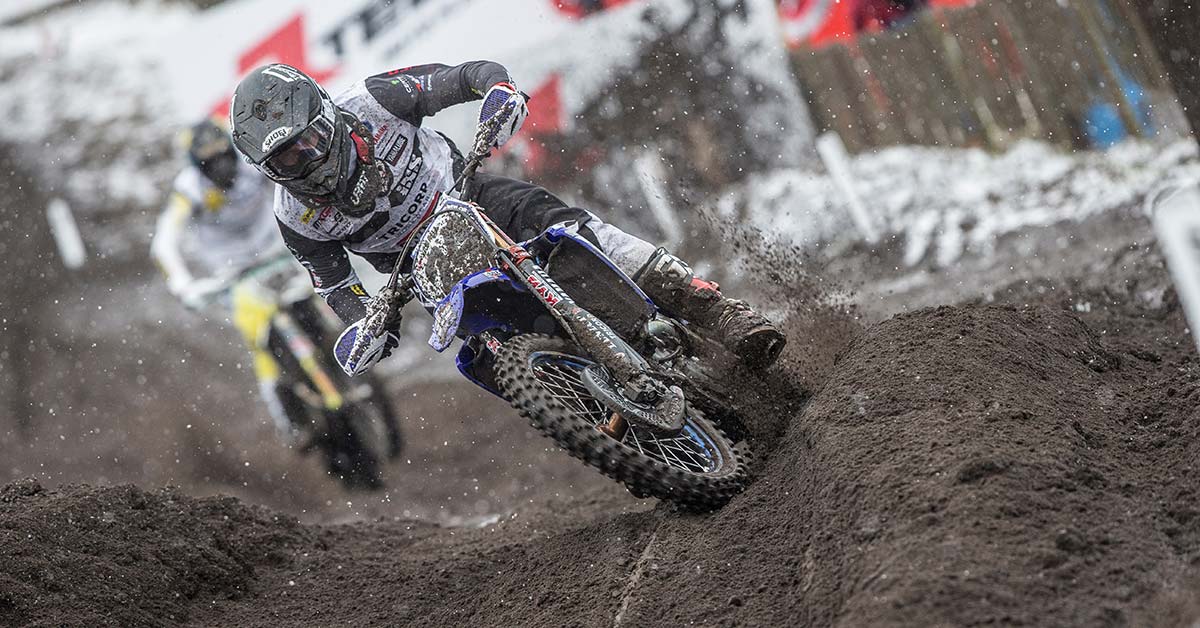 The qualifying race turned out to be quite eventful as van Horbeek took the win after Herlings crashed, then pitted with a front wheel issue before battling back to 19th. Searle was first Brit in ninth, Simpson was 13th after crashing out of sixth place, with Anstie on his tail and Irwin in 24th.
In Sunday warm-up Anstie was top Brit just four tenths of a second behind Herlings. Its always unwise to read too much into the warm-up times as some riders hide their true pace until the race but with the track looking in perfect condition the expectation was for another Herlings/Cairoli battle with hopefully Simpson and Anstie in the mix.
Race 1, and Cairoli took the lead, pulling away from Van Horbeek with Herlings in fifth. Luckless Tommy Searle went down in the first turn, breaking his collarbone. It was later confirmed that he would undergo surgery on Sunday evening to repair the break so hopefully he won't be out for long but with a GP in Spain next week and a British championship the week after it could be a costly time to be injured (update: Searle will be out for around four weeks).
A first lap crash dropped Simpson from sixth to around 20th, but he put on a charge and was making ground when he came together with Filip Bengtsson over the Monster Energy step up, causing Simpson to hit the ground.
He remounted but a couple of laps later on the same jump he crashed again when the rut took his feet off the pegs. It took two laps for his Yamaha to fire up, so his race was done. Meanwhile Anstie was charging, passing Gajser, Febvre and Coldenhoff to move into fourth place. Irwin also moved forward from a poor start to score two points for 19th place.
Race 2 was another Herlings masterclass, as he patiently worked his way into second place on lap 3, reeling in Cairoli and pouncing with three laps to go.
A good start for Simpson saw him in fifth place for 13 laps until Max Anstie got past after working his way up from ninth, but two laps later he threw all his hard work away, dropping back to ninth at the flag.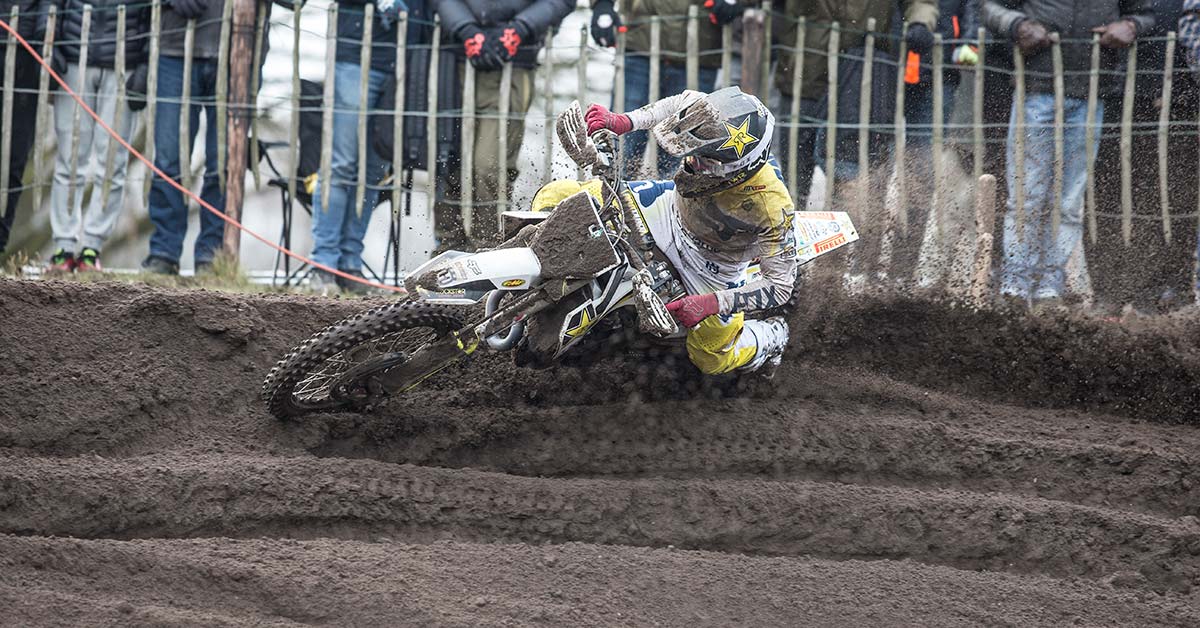 A pragmatic Anstie later said: "We had our ups and downs at Valkenswaard, but at least the speed was there. Looking forward to Redsand next week."
Simpson finished fifth after losing a place to Febvre with two laps to go and Irwin struggled to 21st place, telling the team he couldn't find the grip to push on. He lost his front mudguard during the race, which didn't make life any easier.
MX2
Free practice saw Conrad Mewse leading the British charge in fourth place with Ben Watson and Adam Sterry in 14th and 15th respectively.
Deep ruts and soft boggy parts of the track meant clearing some of the jumps that these boys usually sail over was sketchy to say the least, with many opting not to.
Pauls Jonass was over a second quicker than everyone else in timed practice. Mewse and Watson looked strong in eighth and ninth, with Sterry half a second behind in 11th. His nemesis Vlaanderen (they clashed at this race last year, the resulting injury put Sterry out for the season) in 10th.
In the qualifying race Mewse and Sterry were around 10th with Watson further back after hitting a boggy patch on the start straight that sapped the Yamaha's power and cost him places.
As they ended the first lap, Sterry ran wide as they re-joined the start, the Kawi visibly slowing on the same soft spot that claimed Watson as Olsen motored by on his inside. And that was the story around the track – move off line or run wide and the soft morass would cost you time and places.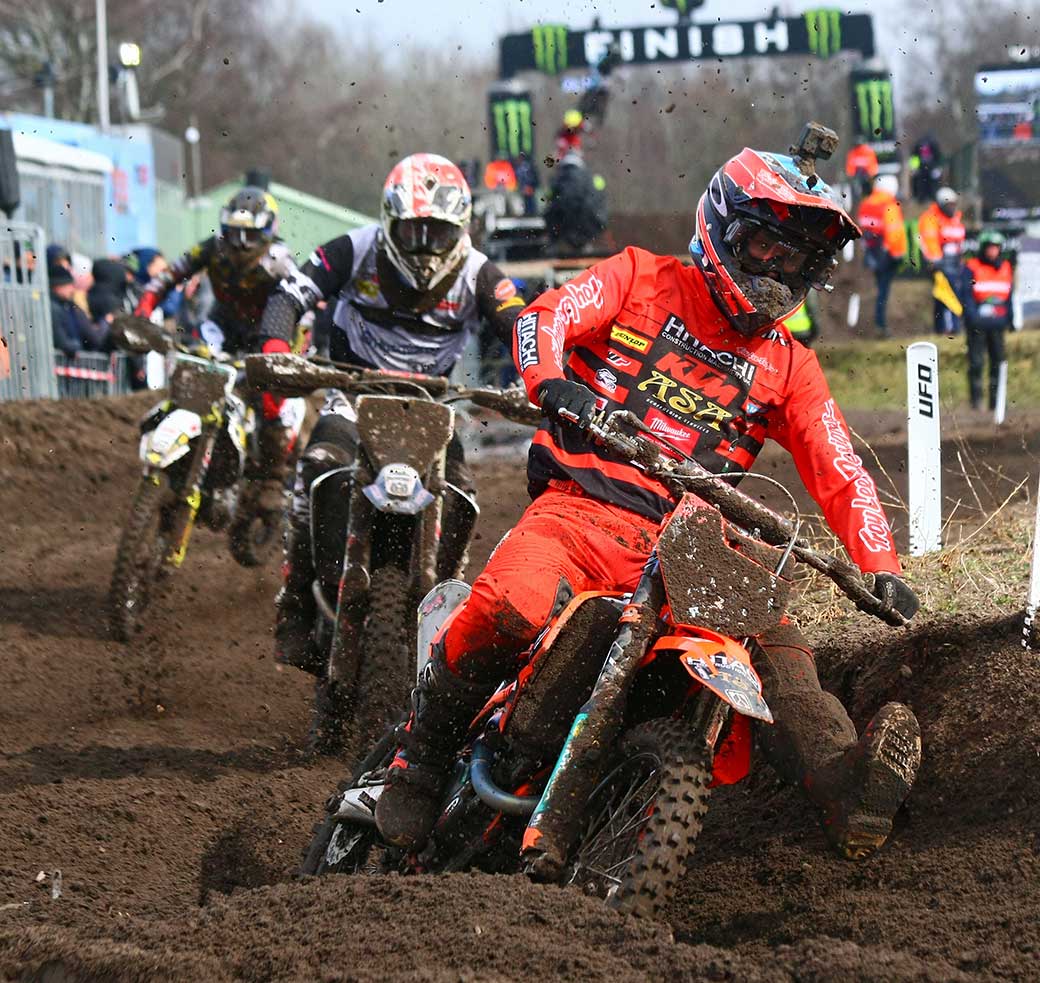 Mewse was seventh but crashed, then crashed again before pulling out holding his right hand. Giving his bent-up bike to his mechanic he walked away clutching his hand – it didn't look good. He had crashed on the downhill and his hand had gone into Brylyakov's wheel.
Sterry would finish eighth and Watson made difficult progress to 14th with two crashes. In the evening Mewse confirmed on social media that he was okay and backed that up on Sunday with the fastest time in warm-up. Sterry led the timing screen for a long time before being pushed back to third by Mewse and Jonass with Watson seventh fastest.
A lightening start in Race 1 saw Mewse in sixth. He passed Pootjes on lap 5 and started to make gains on the battle ahead between Olsen and Geerts when he lost the front end on the same down-hill section where he crashed the day before. He kept a cool head, pulled in the clutch and remounted without losing a place but the gap to Geerts was too big to close – he finished fifth.
Watson ended lap 1 in 20th but charged hard to end up in 10th place. Considering he was fourth in Argentina it shows how vital a good start is. Adam Sterry had an even worse start, down in 30th. He worked up to 16th but the gap to Vlaanderen at 20 seconds was too much to bridge.
Speaking with Mewse after he said he felt good and enjoyed the race despite falling. He said he felt he could have caught Olsen and Geerts if he hadn't fallen despite his hand being sore.
Race 2 and another great start for Mewse in sixth place again, with Watson 10th and Sterry 12th. Pootjes was first to crack in third place moving all the Brits up a place on lap 2.
For most of the race Mewse led a group of five that included Lawrence, Covington, Vlaanderen, Watson and Sterry. Vlaanderen cracked on lap 9 and Jacobi made a mistake in third place on the same lap, moving Mewse into fourth, with Watson up to seventh and Sterry eighth.
It looked settled but Mewse had other ideas and started to catch Olsen for third, crossing the line just two seconds back. The move to Hitachi/ASA seems to be working for Mewse as does the Kemea Yamaha for Watson, as Mewse claimed fourth overall, matching Watson's result in Argentina.
The three riders all posted comments on social media later, Mewse was "happy to be knocking on the door of that podium", while Sterry said: "Tough day today! Two crashes on lap 1 in Race 1 made it hard work. P-8 in moto 2 and 10th overall, we will keep getting better, man the finger didn't like the cold."
Watson said: "I had a tough weekend in Valkenswaaard. 10-7 not so happy with the results but I am quite happy with my riding again this weekend! Stay positive and head to Spain."
EMX300
First on track at 09:00 on Saturday, the track actually rode quite well considering the amount of rain in the week.
The session started with light snow but as the clock ticked round to the qualifying session the snowflakes intensified – not quite a blizzard but certainly not pleasant.
Mike Kras claimed pole with his last lap, Ando was second despite a crash over the bars that injured his neck muscles and riding most of the session without a helmet peak.
James Dunn (using this race as a wild-card entry), Rob Holyoake, Phil Mercer and John Robson all made it through.
Mercer blew up his 300 but managed to nurse it back to pit lane and go out on his spare bike, a 250.
Brad Wheeler narrowly missed the cut as did Henry Siddiqui, and Matt Moffat withdrew after crashing mid-week and injuring his knee.
Wheeler said he had been a bit overwhelmed by the pace. Having never raced here before, and with the horrible conditions he just couldn't get up to speed fast enough but was hopeful that Redsand would be better.
The first race was run at 3:25pm. By then the snow had stopped but it was bitterly cold.
Greg Smets took the lead after a battle with Mike Kras (who took the hole-shot) and never looked back.
James Dunn was third with Ando all over his back wheel for two laps before getting past, but by this time he had lost contact with Kras and rode to a safe third place with Dunn a safe distance back in fourth.
Rob Holyoake spent the race moving up and down, losing a few places then regaining them only to lose them again before finishing 18th. "I went wide at the back in one corner and lost three places – it's just so soft. The roost was frozen on my helmet and chest protector," he explained.
John Robson pulled out with a few laps to go, his KTM overheating and spewing water out of the radiator – ironic considering the freezing conditions. He too confirmed that roost was freezing on his goggles and helmet.
Factory Phil crashed back to 35th when he was rammed going into the last corner but motored back up to 25th. He wasn't happy about the incident afterwards!
Race 2 was out at 9:45 on Sunday. Amazingly the track was in prime condition with no soft, boggy areas like yesterday but the bitter wind-chill made it feel like -10.
It was the main players at the front again, Smets, Kras, Dunn, Ebben and Ando. Ebben seemed to be holding Ando up as the front three pulled away.
After about eight minutes, Kras moved into the lead and Ando had moved past Ebben and was catching Dunn.
Rob Holyoake was looking good in 11th with Factory Phil Mercer 20th. At the front, Smets repassed Kras but seemed uncertain of his pace and riding defensively it allowed Ando to start catching up. Kras stalked Smets as lappers came into play, but with a lap to go he dropped it on a hill allowing Ando to cruise by.
Dunn was a distant fourth so Kras only lost a single place to Ando but it cost him second overall.
Smets double victory gave him the overall much to his dad's (Joel Smets, five-time world champion) delight. Ando's 3-2 tied Kras' 2-3 on points but the better second moto result gave him the tie breaker.
It looks very much like a three-way battle for the championship, as the rest of the field were at least 40 seconds behind the winner.
James Dunn took two fourth-places but moves to EMX250 when that championship begins next week. He was happy with his weekend. "I was doing some good stuff but it just didn't really click this weekend, I needed to be more aggressive in places," he said.
Rob Holyoake finished 14th with Mercer 29th – "I binned it over the back, buried the front wheel then just couldn't get going," said Mercer. And John Robson retiring on lap nine said: "I think over heating it yesterday has done some damage. It was making some clunking noises and I didn't fancy it blowing up over one of those doubles so I pulled out."
After the race I spoke to Ando. "I had a good jump off the gate but Ebben came across me and I had to back off," he revealed. "I was screaming at him but lost the front boys."
I asked about later in the race. "I started closing but lost out in the lappers. I saw Mike on the floor, I was gifted second, I wouldn't have caught him. But the team said I was fastest in sector 1, it shows my speed is still there. This is my first race since last year. I'm happy with second."
And what about the competition? "I'm pleased for Smets but I'm more worried about Kras for the championship. It's their home race so they're both gonna go good here."
EMX125
Sam Nunn was the only British rider to qualify from Group 1, with none making it from Group 2.
In the LCQ only Dominic Lancett made it though. I said in the preview that this championship is brutal, and the task was only made harder by the conditions that punished the smallest mistake, the power-sapping sand killing momentum instantly. 18 riders qualify from each group with riders from 19th to 38th going to the LCQ so with 92 riders entered a good few won't even make the LCQ and a shot at the final four places. For Eddie Wade, Joel Rizzi, Adam Collings, Callum Gasson, Max Ingham, Sam Beresford, Ben White and Kyle McNicol it would be a long three weeks until Round 2 in Italy.
The 125s were last out at 17:55. By this time I was so cold I couldn't stand out and watch them any longer….sorry boys. Watching the live timing from my camper Sam Nunn was in 27th and Dominic Lancett were outside the top 30.
Race 2 on Sunday saw the boys race on a much better track, but the results were the same as Nunn was 27h again and Lancett retired after three laps. The boys deserve full credit for qualifying in very challenging circumstances and if they could shave a few seconds a lap they would be in the points, it's that tight.
The MXGP moves to Redsand in Spain this weekend, hopefully to warmer weather. The EMX250 championship kicks off with Round 2 of the EMX300. We'll bring you more news and reports from Spain so until then, adios amigos.