A long, 1,300 drive south-west across Italy, France, Spain and into Portugal this week for the truck drivers of the MXGP paddock, and for the Youthstream riggers who have to dismantle the whole show and re-assemble it ready for another race weekend. Rain across Europe had left the Agueda circuit looking a bit soggy during the week but rumours of the event getting cancelled were premature, as the show goes on.
Blue skies greeted us on Saturday morning to everyone's relief. The WMX and EMX250s would be the support races this week.
The track crew had worked miracles as the track was in prime condition but definitely soft in places, so ruts would develop quickly. Hundreds of tons of aggregate had been brought in to make the paddock as dry as possible and on the track tons of wet gloop had been dragged off, the track then rolled flat by the caterpillar tracks.
Battle of survival and damage limitation in MXGP
Max Anstie and Tommy Searle are both injured so it was just Shaun Simpson and Graeme Irwin in Portugal.
Simpson's shoulder injury from Trentino was healed, he assured me it was 'no problem' but after finishing 11th in the qualifying race he posted on Facebook saying that he enjoyed the technical track but 'P11 was all we could muster considering the shoulder situation', so perhaps it turned out to be more painful than anticipated.
Irwin was also feeling below par with some flu-like symptoms. During free practice his bike stopped in a deep rut, the sides of the rut grabbing his footrests and pitching him off. No harm done but this was their first session and already some ruts were deeper than the clutch cover. Timed practice ended with Simpson 11th and Irwin 25th.
Simpson told us last week that he's trying to save energy and stress on Saturday by taking qualifying a bit easier. He did that here, starting in 10th, losing places to Bobryshev and Jasikonis, getting one back when Leiber crashed for 11th. Irwin had a similar race further back. Feeling the effects of a cold he started 26th and worked up to 21st, battling with Portuguese favourite Rui Goncalves along the way.
Race 1 would be a battle of survival and damage limitation for the Brits that was only 50% successful. Simpson was in damage limitation mode with his shoulder, he would end in 11th place, but you could see he wasn't able to really push in conditions that he would usually favour. Irwin just wanted to survive as he was 'feeling as sick as a dog' before the race. After a decent start where he hung back off the gate and cut across to the inside he lost a handful of places on the first lap, and on lap nine pulled off, unable to hang on any longer.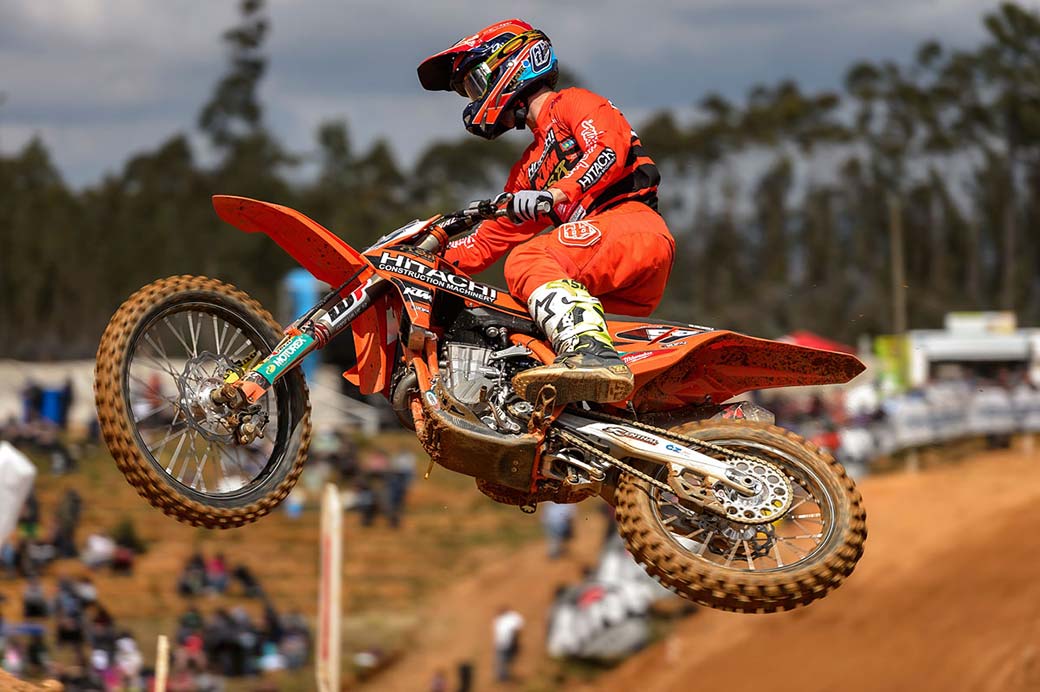 It was doubtful whether Irwin would line up for Race 2 but he did and employed the same tactics, hanging back as they launched then cutting to the inside. The tactic worked again but he hasn't yet mastered the intensity out of the gate (something he admits and is working on) and lost places.
By lap four he had knocked four seconds off his lap time, but the damage was done, and he couldn't get back in the points although he did race to the flag.
Simpson meanwhile grabbed the Fox Holeshot!
He lost a few places to the title favourites to end Lap 1 in fifth. It was then more damage limitation, with no strength in his right shoulder. He would end the race in 11th, jointly ninth overall with 20 points and happy to take them as "this time last week I thought I'd be watching the race from home".
Adam Sterry has the speed but is making things difficult for himself
I spoke to Adam Sterry as he was walking to the track. He had crashed heavily last week, landing on Bas Vassen's fallen Honda over a blind jump, sending Sterry over the bars and down the track. "Just a few bruises, nothing serious," was great news after what looked like a horrendous crash.
Free practice saw Watson as best Brit, just a 10th of a second behind first placed Prado in fifth, with Sterry 14th and Mewse 16th.
Timed practice was similar, the only incident being a small tip-over for Watson, proving how tricky the ruts were getting. He would finish in sixth with Sterry ninth and Mewse 13th.
In the qualifying race Sterry had a great start in about sixth but two crashes early on dropped him to 24th. He would battle back to 19th but he's making it so hard for himself with these sorts of crashes as he has the speed to be near the front. Watson was behind him off the start but benefitted from a couple of mistakes by others and was chasing Pauls Jonass across the line for fifth place. Mewse had a mediocre start and only moved to 18th because of others falling off.
Race 1, and as they qualified so they lined up from the inside. Sterry and Watson ended lap one in seventh and ninth respectively, Mewse at the back after a crash.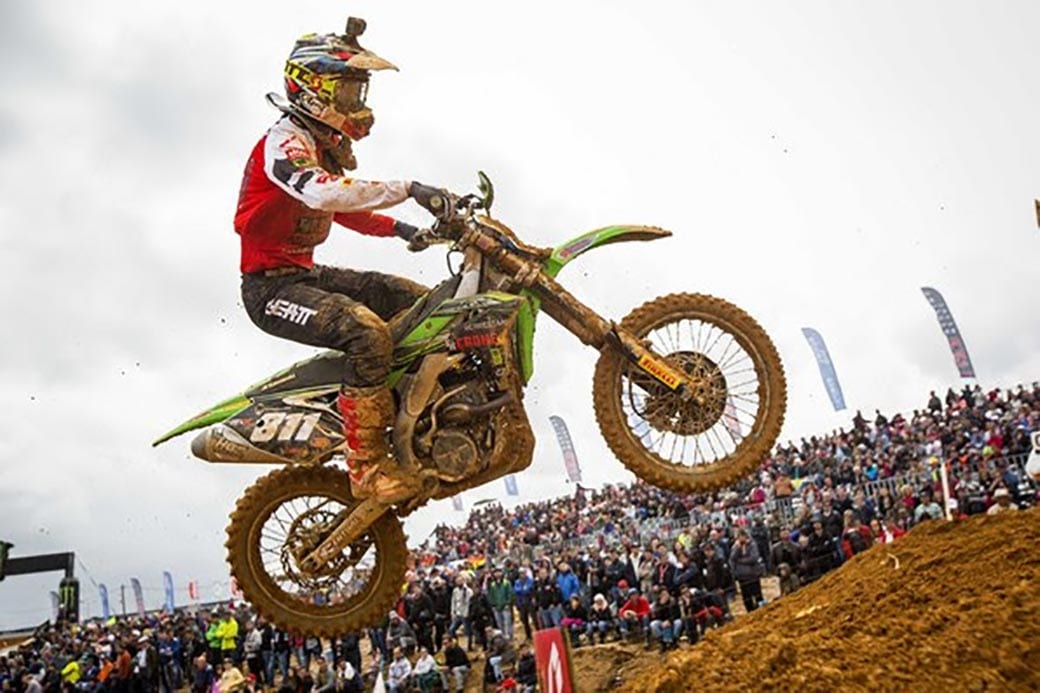 The third quarter of the race was pivotal for all three.
By lap eight of 17, Sterry was up to fifth with Watson on his rear but with a clear track ahead as the first four were gone. Mewse was struggling to make progress, pointing to the engine as he passed pit lane.
On lap 10 he pulled in but with nothing obviously broken he went to restart the bike, but it wouldn't start. The first lap crash had smashed the air filter off its mount and it had been sucking unfiltered air. An engine swap between races kept the mechanics busy.
A lap later and Sterry overshot the first corner as he had lost his back brake which allowed Watson past. With a 30-second gap to fourth Watson and Sterry would finish without any more drama in fifth and sixth.
Race 2 was almost a repeat of the first start, Watson sixth, Sterry 10th and Mewse in 28th.
Watson had the eye of the tiger, passing Brylyakov and Jonass on lap four, Beaton on lap eight and closing in on Olsen.
Losing a bit of momentum as lappers forced him to change lines, he was back on Olsen and passed him on the inside going into the last corner of the race for second. Unfortunately, Olsen railed the outside and as they crossed the line it was Olsen by 0.1 seconds. Fourth overall, he also stayed fourth in the championship but increased his buffer over fifth. He posted on Facebook later saying "What a day, so happy with the progress WE are making" then thanking the team.
Sterry was looking lively with some good overtaking including a very nice outside to inside move on Bernardini to finish ninth. His dad was overjoyed, it's Adam's best finish of the season and the first time he's had two top 10 scores this year after some bad luck and crashing.
For Mewse it was a disaster as he failed to score again and would drop to seventh in the championship, just unable to put it all together this weekend.
James Dunn left devastated
In EMX250, 64 riders would start which means two qualifying groups with 15 transferring directly and another 10 from the LCQ race. Group 1 included five Brits, James Dunn, Dylan Woodcock, Todd Kellett, Mel Pocock and Josh Spinks.
It was a bad day for the lads as only Pocock qualified in fifth spot. "If you thought Culham was rutted you haven't seen this place. I did one good lap, followed it up with another and that was enough," said Pocock afterwards.
"You needed to get a lap in early and I didn't," said a slightly deflated Kellett, and for Woodcock there were "no excuses".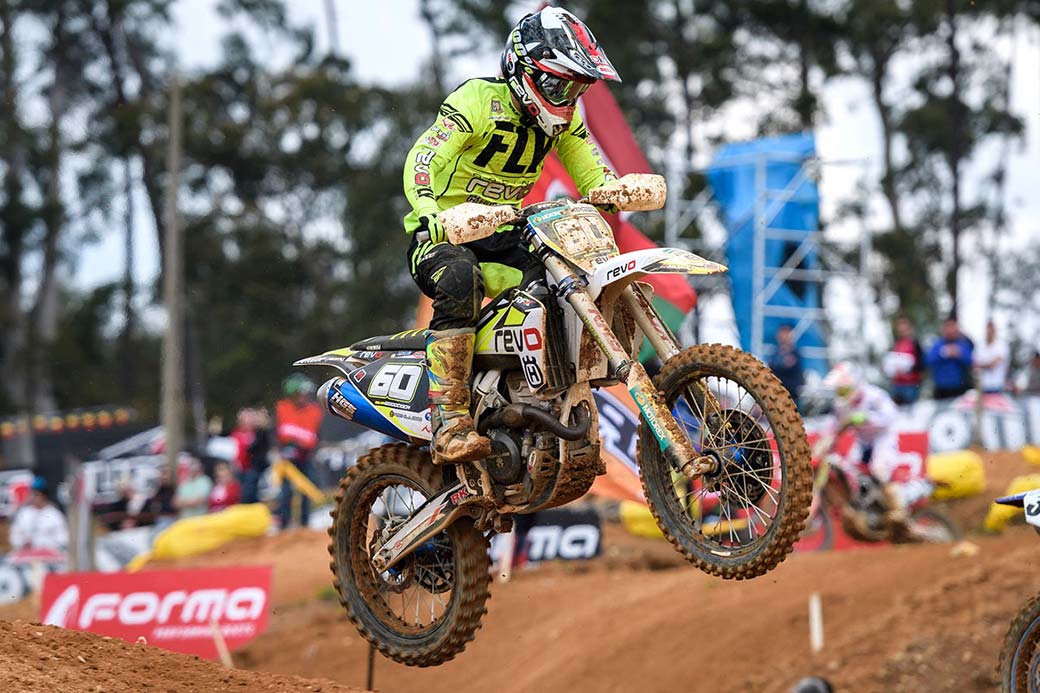 In Group 2 Martin Barr qualified easily in fifth. Steven Clarke missed the cut, making suspension adjustments during the free practice, he never got a quick lap in and Ashton Dickenson was in 27th.
The LCQ featured six Brits – to qualify they needed to get in the top 10. A great first lap ended with Spinks leading, Clarke fifth, Kellett seventh and Dickinson 10th. Dunn and Woodcock were together in 16th and 17th. Spinks put in the fastest lap of the race and by the third lap had an eight-second lead, with Clarke up to third.
Mistakes on lap seven saw Spinks' lead drop to a couple of seconds and Kellett dropped back to ninth. At the flag it was Spinks in front, Clarke third, Kellett ninth, Dickinson had dropped back to 12th with Woodcock and Dunn in 18th and 21st respectively.
Spinks said: "I was happy with timed practice, no mistakes on my lap but a few people got better laps in and I couldn't better it. In the LCQ I was about seventh but had a good line and passed a few on the second corner then got the other two in the next corner. I had a couple of good laps and just controlled the race."
Kellett was a relieved man. "Progress. Its not amazing but its progress," he told me. "I had a couple of scares and didn't want to throw away a qualifying position. I was using ruts that weren't the best, but I knew what was there." His dad Nibs was last seen muttering that his life shouldn't be this stressful at his age. Oh the joys of being a parent.
Ashton Dickinson had a great ride at Culham a couple of weeks ago for fifth overall, but this is a learning year for the young Leeds man. "I've never rode a track like it, the ruts are massive," he said afterwards.
James Dunn was devastated. His GL12 boss Bob Buchannan summed it up: "Nobody is harder on James than he is on himself, he doesn't need anyone to tell him how bad he rode."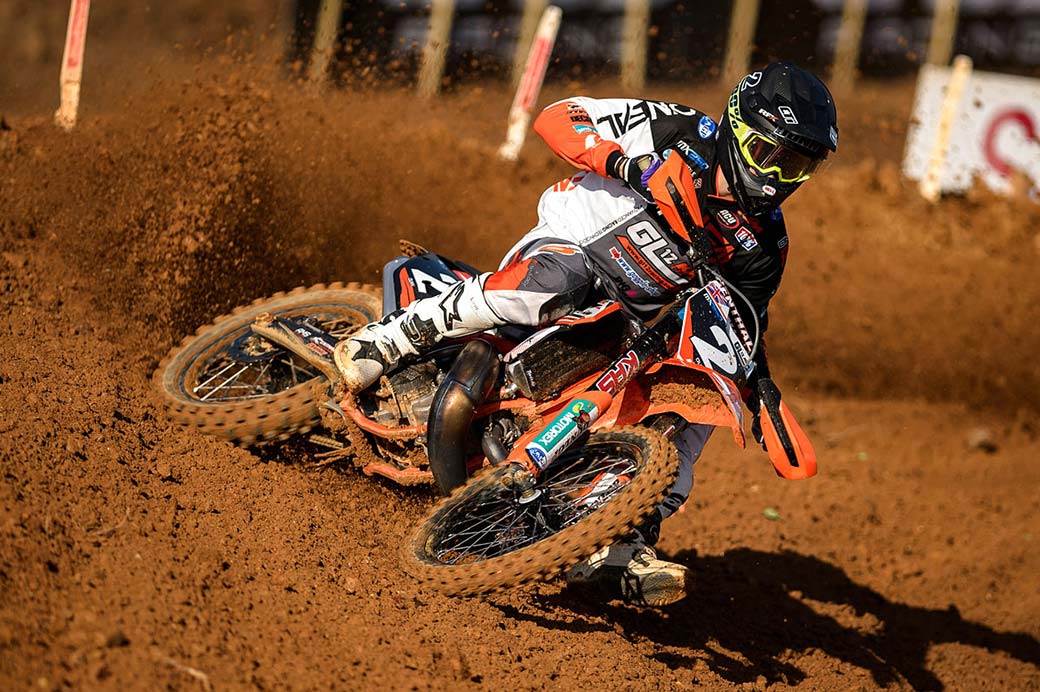 Race 1 was last thing on Saturday, the temperature dropping as the sun started to set. From 39th gate pick, Kellett hung back and cut across to the inside, gaining a bunch of places. Pocock had a flier in second with Barr seventh.
By half distance the race had settled down, the rutted track offered plenty of lines but also plenty of opportunity for mistakes.
Pocock would lose a couple of places. "I had a good start but there were two difficult corners and the bunch caught me," he explained to me afterwards. "Little things make a huge difference in the ruts, I did the splits about 15 times."
Team-mate Barr finished ninth after gaining and losing two places as he struggled with the injured thumb from Culham. "I struggled with the track being so rough and rutted, it was hard to hang on," he said. "I landed short on a jump and jerked my thumb, I was just riding around for the last couple of laps."
Josh Spinks also lost and gained places – 20th on the first few corners. "It was difficult from the outside," he said. "I picked a few off but made a mistake near the end."
That mistake cost him time, but he held off the challengers as they crossed the line wheel-to-wheel with Spinks 15th. Steven Clarke used his experience to methodically pass 16 riders from a poor start to end up in 19th with Todd Kellett passing about 10 en route to 25th.
Race 2 on Sunday with the track soft and wet, Pocock elected to miss warm up (which is run immediately before they race) to keep bike and tyres clean with twenty-one tear-offs stacked on his goggles.
A great start put him in third place although it nearly ended in tears a couple of laps later as he came up short on the ipone table top but managed to hang on. With a lap to go he went for second but crashed and lost a place, still two fourth places were enough for second overall. "I'm not he fastest but I'm consistent," he said. "It was a tough track and it's a long season, I got good starts which is the main thing."
He was being unduly modest as he is now the red plate holder, leading the championship.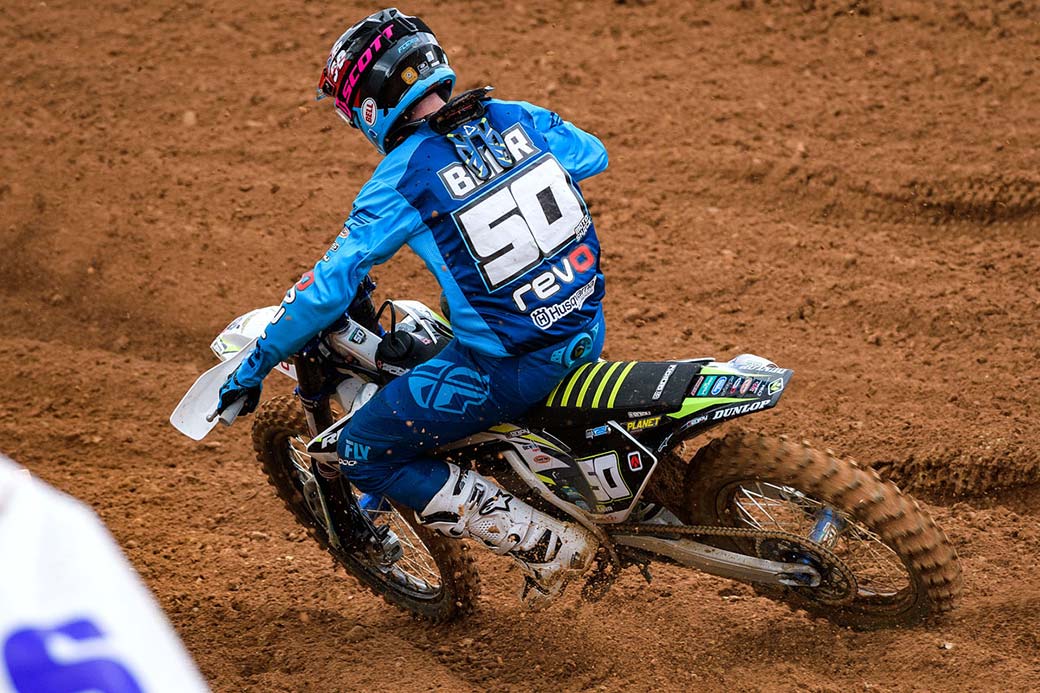 His Revo Husqvarna team-mate Martin Barr described his weekend: "Not overly bad but frustrating. I was fourth at the start but tucked the front end and went down, but there's still 18 races and I'm fourth in the championship." He would finish the race in seventh for sixth overall.
Spinks, Clarke and Kellett all started in the mid-pack but would all DNF.
Spinks was battling with Lawrence for 14th when he hit a soft patch and flew over the bars, fortunately uninjured. According to his team he remounted and continued to the flag but he was classified as 37th, so it could have been a damaged transponder.
Clarke crashed on the first lap, worked his way back up. He said post-race: "I was back up to about 14th and I collided with another rider in the air. We landed together, and it snapped the chain." As he walked back to the paddock he was stopped by a young fan and happily posed for photos and a chat with the young lad. He didn't know I was watching but I thought it was very professional as most riders would be stomping back and unapproachable, so well-done Mr. Clarke – real class.
WMX
Round 2 for the women this week with Stacey Fisher, Natalie Kane and Kathryn Booth representing Britain and Ireland, Beth Farmer too battered from Trentino to make it. 36 women entered so no qualifying this week just timed practice for gate pick. Veteran Kane was best placed in 10th with Fisher 26th and Booth 28th. After a difficult year in 2016 Kane said she's still struggling to get back on the pace mentally, in timed practice she wasn't doing all the jumps and was uncomfortable in the ruts. "I'm happy but know I can do better," she said after.
Booth had a busy week, returning home after Trentino, she brought her own suspension back to Portugal, the shock in her suitcase and the forks in an Ohlins case.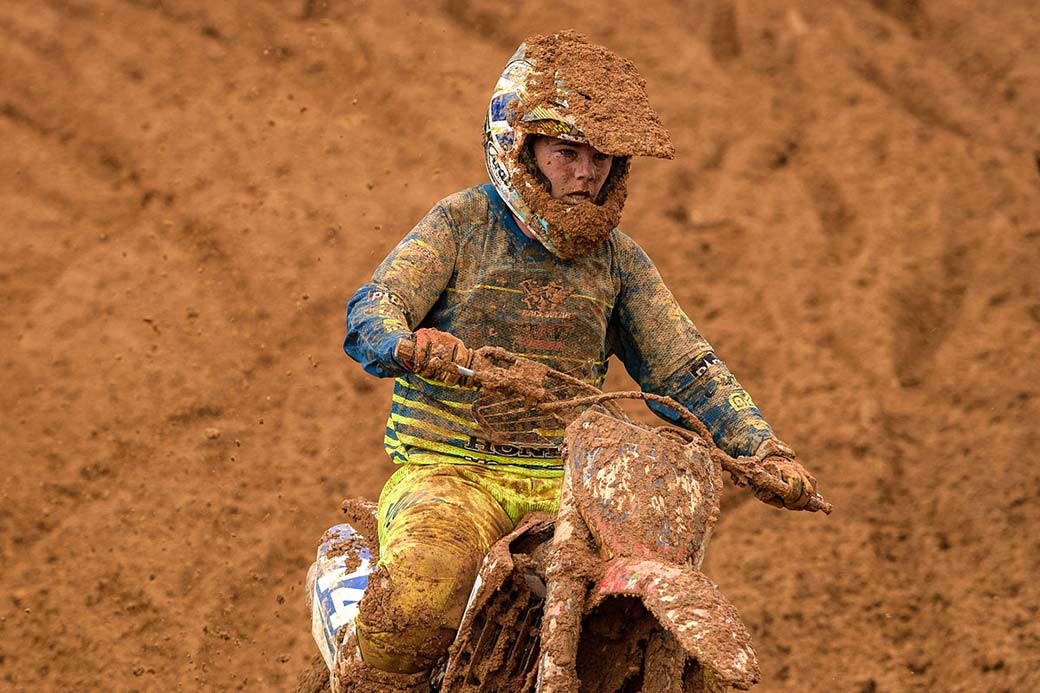 In Race 1 Kane would use her race craft to good effect. "I got caught up in the first turn, made some good passes [from about 10th] up to sixth when Kiara crashed, and I got fifth, but the first group had gone."
Stacey Fisher was 25th and said: "There was more of the unknown than usual. I felt that if I changed my lines it could catch me out, so was using the same ruts in the turns even when they deteriorated, but I went two seconds faster than my quali lap so I'm happy with that." Booth would DNF when she crashed with three laps to go, smashing her left radiator.
Race 2 for the women was first thing on Sunday, the track in remarkable condition considering all the overnight rain but very soft. Kane would be 16th on the first lap, working her way to 11th but after tossing her goggle on the fourth lap it was impossible to make anymore passes. Fisher was embroiled in a battle of the 125s and would end a creditable 17th.
Booth would DNF on the first lap, her clutch burnt out. Speaking to her parents afterwards they said just being here is a bonus after breaking her ankle at Hawkstone. She's got five weeks until the next WMX round in Germany so hopefully her bike fitness will be better.
Tough weekend for Youthstream and crew but they did a cracking job
It was a challenging and eventful weekend all around. Full credit to Youthstream for holding their nerve and not cancelling and to the crew for making the paddock passable and the track technical but nearly perfect after an incredible amount of rain.
What's next for MXGP?
In two weeks the MXGP travels to Russia for the MXGP of Russia at Orlyonok on April 30/May 1 (Monday and Tuesday). EMX250 will be in action again and will be joined by EMX300, so see you then.
[table "21" not found /]