The MXGP of Great Britain is one of the jewels in the FIM Motocross World Championship calendar – a great track, always a fantastic atmosphere and this year perfect summer weather.
With memories of our brilliant podium finish at the MXoN last October there was a feeling of anticipation as the MXGP series hit round nine at the Matterley Basin circuit.
The weather leading up to event chose to make life difficult for the organisers as torrential rain storms lashed the south of the country, but these had abated by the weekend, leaving the track in prime condition and needing watering throughout the weekend.
With all the British MXGP riders (finally) fit, a wildcard in the MX2 class and 37 Brits spread across EMX250, EMX300 and Veterans races there was plenty to keep the home fans cheering.
I usually try to grab a word with all the British riders but with so many this week that was an impossible task and the Brit report would've been 10,000 words but hopefully I've captured the essence of the weekend and a few of the notable reactions.
MXGP
The season has given each of the Brits some challenges they would rather not have to deal with but at long last, all four are on track.
Shaun Simpson returned after his big crash in Russia, and Graeme Irwin returns after missing two rounds with serious burns sustained at Blaxhall. Max Anstie and Tommy Searle were looking to continue rebuilding momentum after their respective injuries – Anstie's concussion in Spain and Searle's collarbone in Valkenswaard.
Searle set his marker in free practice by going second quickest then backing that up with seventh in the qualifying race. He said after that he's feeling better after being back on the bike for a few weeks.
The quali race was eventful for the other three Brits as they all started well but lost places through small mistakes. Anstie dropped from fifth to ninth, Simpson spun out exiting the whoops then dropped it later in the race, "I just grabbed too much brake where they'd watered it," he said. That lost him more places and Irwin lost places at the start but did well to battle with Jasikonis at the end – Simpson 17th and Irwin 18th.
Anstie and Searle were in the press conference and Anstie was predictably asked about coming back after the 'nations. "Everyone says do the same as at the nations but it's hard, I set the bar high," Anstie said. They both said how hard it is to come back after injury and Searle reiterated: "It gets harder every time to come back. It's not fun riding around but I felt more confident, but just tightened up towards the end. I don't want to be rolling around in 20th like I was in Germany."
Race one had Searle running as top Brit in seventh. He had a good battle to hold of Van Horbeek for a few laps and lost another place late in the race but looked good with some creative wide lines. He was also going double-triple-double through the whoops, a combination only he and Cairoli had picked up.
Irwin had a great start and looked strong for 25 minutes. He has been struggling with the intensity of the first few laps but seemed to have that sorted out. Unfortunately, he lost a bunch of places on the last three laps to finish 19th – not reflective of how he rode the first three-quarters of the race.
Anstie worked steadily up to 13th from outside the points while Simpson went the other way after a series of early mistakes.
The finale was a stormer with three of the Brits evenly matched. Searle, Simpson and Anstie would finish line astern in 10th, 11th and 12th. Most of the riders had picked up on Searle's double-triple-double through the whoops so that advantage was gone. Simpson looked more racy, battling with Nagl and Jasikonis while Anstie made solid progress from a poor start. Irwin had a good weekend, narrowly missing points in 21st but happy to be back after his injury. "I felt like I rode really well, we made some changes to the bike since I've started riding again which worked well. I just need to get bike fitness back now," said Irwin.
Chatting to Simpson later he chronicled the events. "In race one Paulin crashed in front of me and I seat bounced his bike then went off track, the Lupino went down and I t-boned him. Then I crashed myself, and finally, when Paulin was coming through he took us both down. Each time I lost time and places and just couldn't get going. I thought race two would be a disaster but I pushed and always had someone for company, I was tired at the end, but it felt good."
MX2
Ben Watson is enjoying the season of his life – sitting fourth in the championship coming into Matterley, while his young compatriot Conrad Mewse has endured a more turbulent time recently. But said he'd had a good week and was 'up for it'. Adam Sterry was back after missing a few races with a damaged ankle. After free practice on Saturday, he told me: "I rode on Wednesday and it felt okay. I've got it strapped up and braced so I can't bend it much. I only felt it when I over jumped or landed short." The lads were joined by wildcard Josh Gilbert, keen to test his speed against the best 250 riders in the world after taking his first British championship win.
In timed practice, Gilbert impressed with 17th quickest, ahead of some decent MX2 regulars and reinforced that with 14th in the quali race. He gated 11th and only lost places to Mewse, Sanayei and Covington, so no shame there. Mewse moved forward from 13th to 11th, Sterry crashed out of fifth on the first lap to finish 25th, so an expensive mistake. "A solid day going well until I slipped…tomorrow's what counts – going to give it my all for the fans!"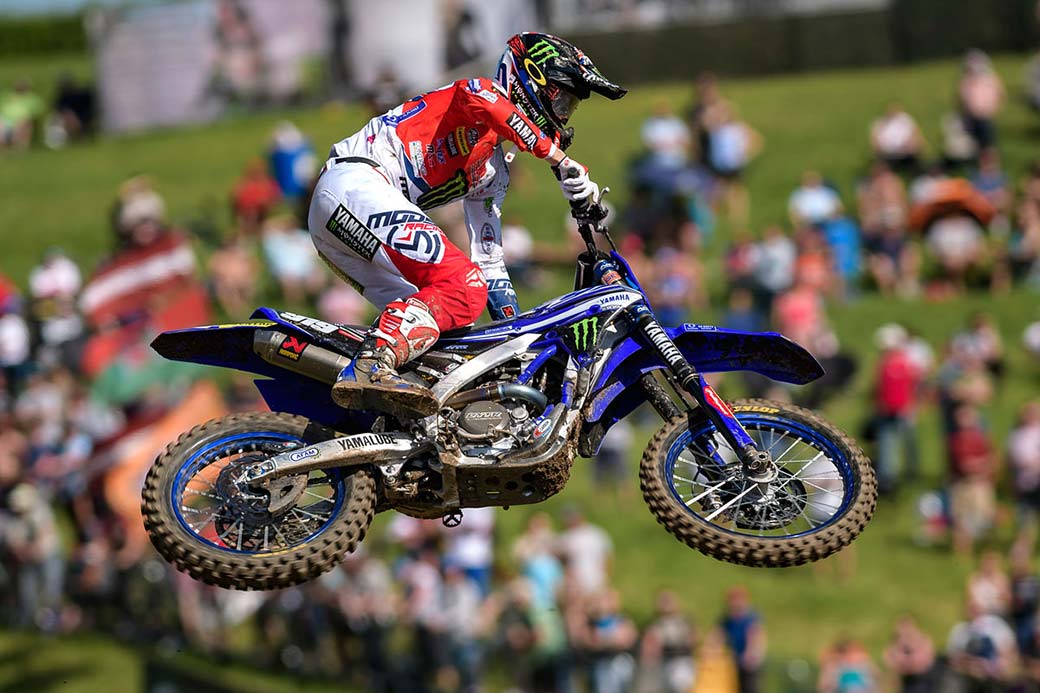 Watson was solid in fourth: "Happy with fourth gate pick, just trying to treat it like any other GP and not putting pressure on myself because it's the home GP. The goal is podiums as always."
Blue skies and 24 degrees sounds perfect, but it would prove too much for Sterry in race one. A decent start had him in eighth on the first lap but as the race wore on he lost a couple of places and started to mistime some of the jumps. His dad said he could tell something wasn't right. At the flag he was 12th but as his bike was being noise tested he collapsed. Taken to the medical centre by ambulance, he was diagnosed with a heat-induced illness and given an intravenous drip, automatically ruling him out of race two. "I didn't know where I was, then I just collapsed," he said as he recovered outside his camper. "I couldn't go out in the next race if I wanted to."
Watson had a bad start around 20th but made six places on the first lap and continued onwards to sixth, his radiator shroud flapping which must have been distracting.
Moving through he put a classic move on Fernandez, up the inside, clutch in and full revs. Good to know that trick still works at this level.
Mewse also had a bad start, missing the jump meant he was a bike length behind after about 10 metres. He tried to cut inside but it didn't work and put him at the back. Putting in his best lap on lap eight, he worked up to 14th.
Gilbert started and finished in 17th, but it was more eventful than that sounds as he lost a couple of places but inherited others and held his own, certainly on the pace and deserving of the points.
Race two was a repeat of the first. A poor start for Watson was followed by a charge up to fourth as he chased Vlaanderen across the line. Even if he had passed him it wouldn't have mattered, as he was fourth overall – another narrowly missed podium.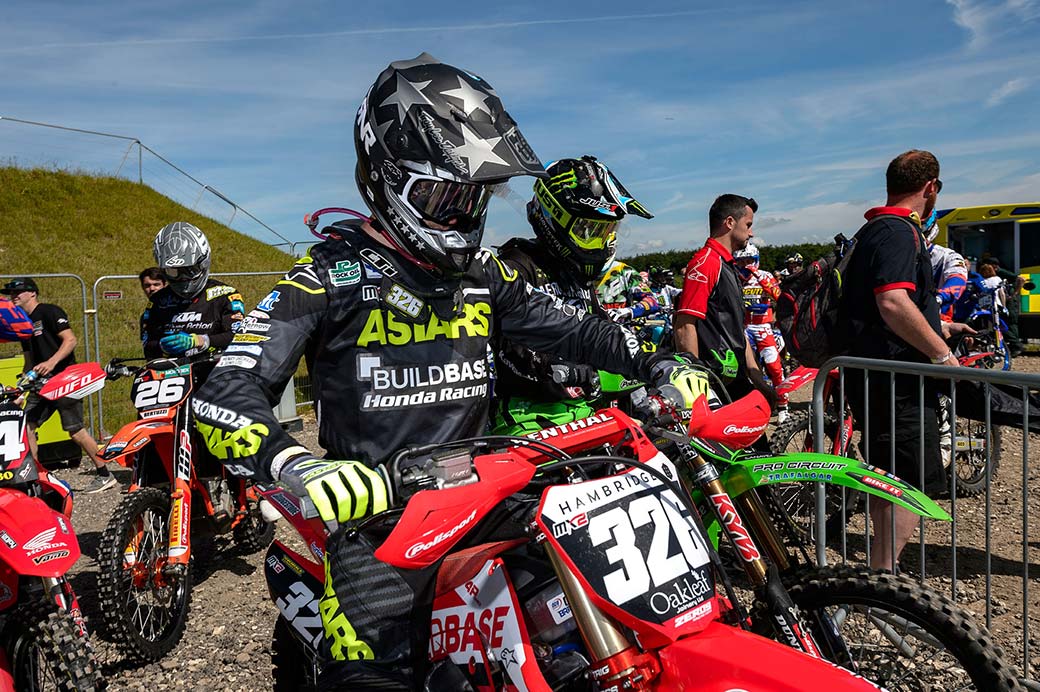 Gilbert had a strong race, battling some GP regulars to finish 19th while Mewse was struggling all race and would end up 22nd. He was delighted when we spoke after, you can read a full interview with him on dirtbikerider.com later today.
EMX250
73 riders had signed up and 18 were Brits! What a fantastic testament to British MX that so many want to try their luck at their home GP.
Two qualifying sessions took 15 from each group with the rest going to the LCQ where a further 10 would go through. Group one saw points leader Martin Barr, plus James Dunn, Josh Spinks, Lewis Tombs and Todd Kellet through, and group two put Steven Clarke and Mel Pocock through.
In the LCQ Liam Knight had a great race in second place, Brad Todd returned from a long injury lay-off in sixth and I was pleased for Dylan Woodcock who grabbed a solid fifth after trying at previous rounds. "I was a bit disappointed not to qualify straight through, but I enjoyed the LCQ, it gave me more time on track and boosted my confidence," he told me. "It feels like a weight has been lifted – when I was on 85s I was 'that kid' that could just come from a bad start but in the pros it's different, everyone is 'that kid', they're all fast. When you're doing all the travelling and not qualifying it messes with your head."
Their first race was off the gate at 6:45 in the evening so it was a long day but worth it for the Brits. Steven Clarke started sixth then worked his way steadily forward, grabbing the lead on the final lap to take victory where he had previously won in 2014. "Over the moon," was his reaction, "I was only going to be satisfied with a win here. I had a good start and picked them off. On the last lap I put a wheel inside Vialle and just stood him up a bit, that was enough gap to get through."
Spinks had a great start in third, lost a place to Clarke as he moved up but moved back into a solid third at the finish with Pocock and red plate holder Barr locked in a duel for sixth and seventh. Dunn was eighth, Tombs 14th, Kellett 15th, Knight 19th and Todd 20th making it nine Brits in the points.
Race two on Sunday was on a track that was now hard-packed and dry. Clarke got another good start and was in second place by the end of the first lap. The REVO Husqvarna boys, Pocock and Barr are hard to separate and were together in seventh and eighth, Spinks was in fifth, Dunn and Tombs also around 10th. At half distance, Clarke was in front while Sander was riding dangerously trying to hold Pocock behind, cross jumping after the finish. When Pocock got by he gave him a good staring at, but it had allowed Barr even closer. It looked set for Pocock to then get Goupillon but as he went outside he was baulked allowing Barr to slip inside.
Haarup overtook Clarke with three laps to go, and after a brief fight Clarke backed off, his second place enough for the overall. You can read a full interview with Clarkey here.
Barr and Pocock finished together in fourth and fifth, Spinks held eighth, and that was enough for second overall, a fantastic result for the young Brit. Dunn was ninth with Lewis Tombs the final Brit to score points in 14th.
After the race a tired but elated Spinks said: "I had an intense battle at the start and made a few mistakes, then it took me a while to find my rhythm and I could hear Dunn. I thought after the race I might be fourth overall and went to ride back to the truck. I was told to go to the podium but didn't know I was second until I was waiting to go on. It's been one of my goals but it's beyond my dreams to do it here."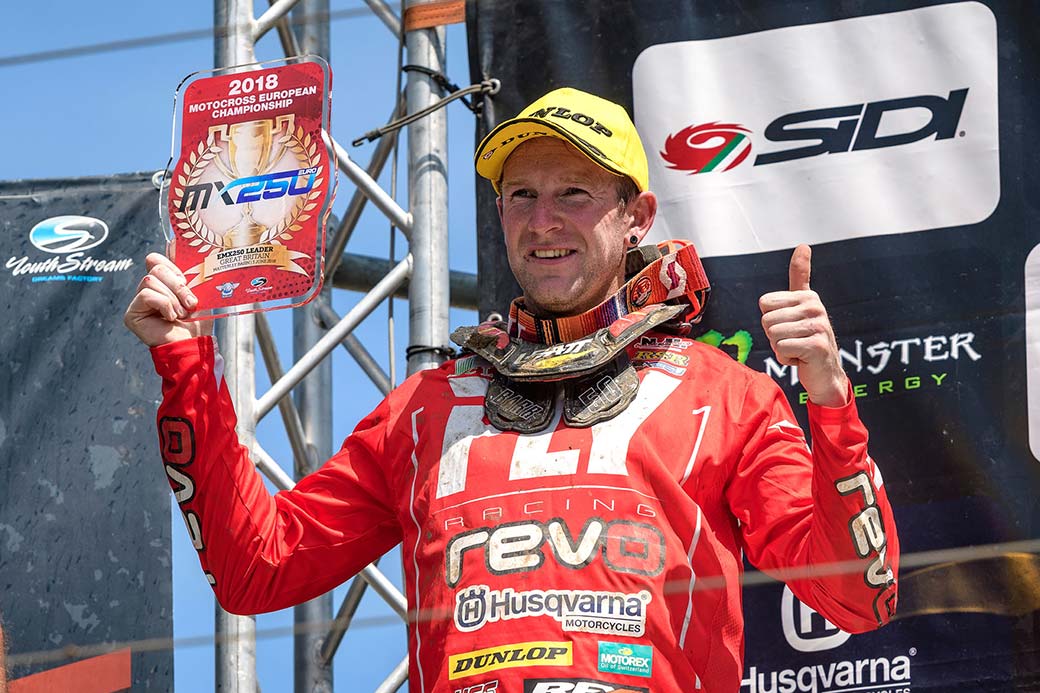 Despite missing the podium, Barr still leads the championship with just three points between him and Pocock. Speaking afterwards – both covered in bruises from the roost – they said they're loving the battle and keeping it on the track.
EMX300
This is the big one for the two-stroke fans, with the evergreen Brad Anderson part of the 13-man British contingent. Ando is the reigning champion but was eight points down on his nemesis Mike Kras coming into Matterley, which was the mid-point of the seven-round series. Ando was third fastest in timed practice but only put in two laps. The back end slid out on his second lap, twisting his knee – it looked like he could be out! Ashley Wilde was next best Brit in sixth.
Lining up for race one, Ando had his knee strapped up, a dab on the sighting lap convinced him that he couldn't ride as the sharp pain was intense. Back on the gate his dad told him, "just go off the gate and pull in." Instead, he grabbed the holeshot and led from start to finish. He told me after: "I was taking it steady, trying to keep my feet up but I was only 50 per cent." His main rival Kras was on his tail but Ando held strong, then Kras' bike stopped! The DNF gifting Ando the points lead.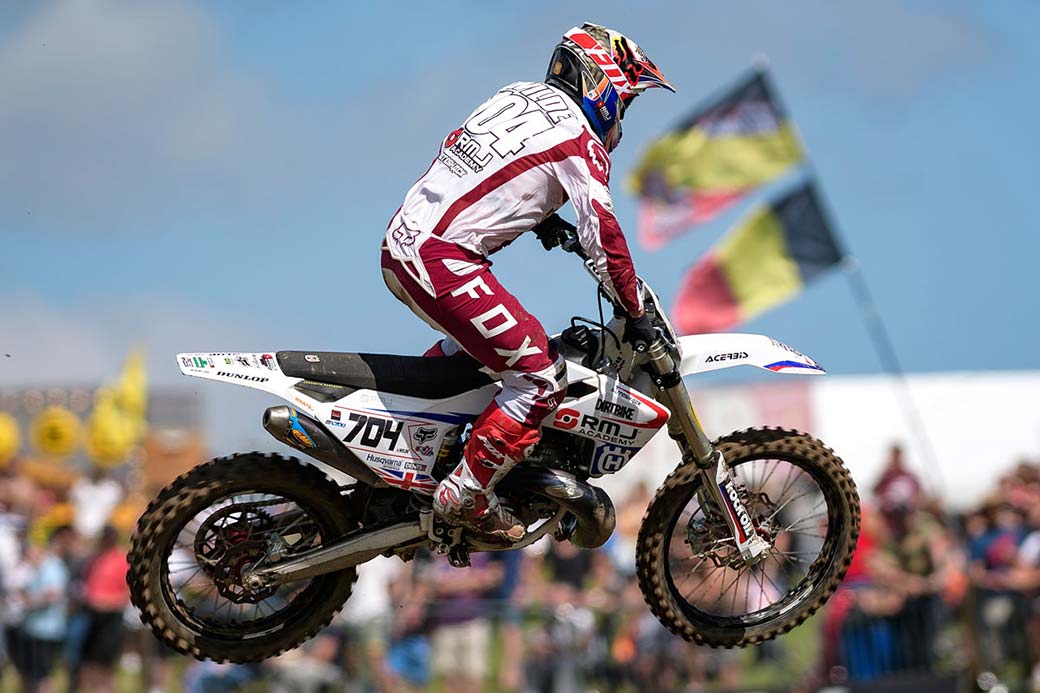 Wilde was a strong third saying after: "I felt good for the first 10 minutes but got a bit of arm pump and just rode it home safe. I don't really race much now, just the British two-stroke championship, so it was probably a bit of race rust and nerves."
After a night's rest Ando was again unsure if he could race, his knee had stiffened up but as race two went off the gate he was in sixth with Ashley Greedy eighth and Wilde back in 15th. The track had been groomed and watered overnight, making it slippery in places. The first three spread out quickly but events quickly unfolded. First, Kras stopped again on lap two, the leader pulled into the pits on lap four with a wheel breaking up. Ando was making passes and by mid-race was in third, locked in a four-way battle for second. With two laps to go Ando was second when Kovar dived inside. With his knee damaged the sensible thing would be to accept third, still enough for the overall but Ando wants to win every race and quickly retaliated, holding off the challenges to take second in the race, the overall and championship lead. The guy is a beast!
Wilde put on a methodical charge up to fifth from a poor start. "I mistimed the start and was 18th on the first lap. It's probably the best I've ridden this year and the result doesn't show that. I just missed the podium, which would've been good. I'd love to do the whole series but we don't have the finances but hopefully I can do another one this year."
With Greedy seventh, Ben Putnam eighth, Corey Hockey 11th, Henry Siddiqui 14th, Charlie Putnam 16th, Oli Benton 18th and Jamie Skuse 19th there were nine Brits in the points.
VMX
The Veteran's World Cup is a single race championship, and what better place to hold it than Matterley. There were a few notable Brits signed up – former GP stars Brian Wheeler and Max Anstie were joined by Factory Phil Mercer who was foregoing his regular EMX300 place for a shot at the world cup. Tony Tunnel completed the four-man British roster.
Factory Phil Mercer was top Brit in timed practice in fourth but was probably the most frustrated man at the track after his first race. "I got cut off at the start so started about 10th," he said. "I got up to fifth, but it was so hard to pass, I was held up everywhere. It looks like there's lots of lines but it's so fast that it's hard to make ground. Third was so close." The competitive flame still burns bright!
GP veteran Swervin' Mervin Anstie was having a good race until a big crash on the finish line jump saw him stretchered off, while Brian Wheeler would finish seventh.
The vets don't have the resilience they once had (apparently) as only 26 lined up on Sunday, Anstie on the 'missing in action' list but unhurt in his first race crash according to reports.
Tunnel rode around at the back while Mercer was again battling at the front. He got a flying start in second, but it was short-lived, four corners to be exact. "I thought, 'yes, this is the start I need' then Pichon came across me on the jump so I had to go inside, and I lost the front where they had watered." Covered in mud he restarted around 18th, stalled the bike again later in the race but maintained his lap times and passed two riders on the last lap for sixth, he returns to the EMX300 class for the next round.
Wheeler's race only lasted one corner as a bunch of riders tangled going past pit lane, the resulting pileup taking three out. Wheeler was holding his ribs when he told me: "I got hit from behind, I thought I'd got past them, then bang! I thought I rode well yesterday and I was all fired up for it, but it was like someone sucked all the air out. I thought they might red flag it so I pulled in the pits, but it was all twisted and the clutch lever snapped off… that was it."
What's next for MXGP?
It was a great weekend for motocross with two British winners, Brits leading both EMX championships and fantastic action in MX2 and MXGP. The tour heads south to Saint Jean d' Angely this week so check hear next time for all the news on all the Brits in action.