For many people the French MXGP at Saint Jean d' Angely is their favourite track of the year. The hard-packed and stony track swoops up and down one side of the valley with the spectators on the other side, the layout has remained the same for years with small tweaks here and there. If you like 'old-school' French tracks, this is for you.
Support races featured the EMX125 and 250s with plenty of Brits in each class, and a full set of healthy Brits in MXGP plus in MX2 Josh Gilbert entered as a wildcard again after his impressive debut at Matterley. Sadly, Adam Sterry withdrew on medical advice, the late decision announced on Friday when his parents were already at the track (here's the latest on Sterry).
MXGP
Tommy Searle looked much more like his old self in Matterley and told me here that his confidence has come back and he was feeling good on a track that he's had good results at previously.
His confidence showed with fifth fastest in free and timed practice. Shaun Simpson is known as more of a sand rider so wasn't expecting too much from this track, 20th and 18th in the first sessions indicative of this while Max Anstie split them with 20th each time. Irwin was in the mid-20s.
Their qualifying race late Saturday saw the track at its worst condition all day as 'concrete' ruts had formed in places with dust and stones making conditions 'sketchy' at best. Consequently, there wasn't much passing as the riders settled into a rhythm with three Brits coming home together, Anstie ninth, Searle 10th, Simpson 11th with Irwin 20th.
It's all about this class and by the time they went to the line for race one the track was looking much better than earlier in the day. Rutted, slippery, hard and technical, but the claggy mud had dried and there were multiple lines to work with.
Simpson was behind Anstie in 12th but made a pass on the second lap while Searle toppled over in the deep ruts coming down the short hill behind the pit boxes and dropped to last place. Irwin was around 20th as the race settled down.
There's never a great deal of overtaking in this class but the tricky conditions were provoking a few mistakes. Simpson shines in rutted, technical conditions and moved past Jeremy van Horebeek. Anstie crashed mid race and lost five places. "I went to pass van Horebeek and he crashed and I just went into him," he said. "I didn't put myself in the best place off the start and lost places in the first corner." Irwin looked uncomfortable for most of the race but getting lapped near the end seemed to unsettle him further as he tried to keep out of the way.
The track was even more gnarly for race two, the start straight covered in heavy clods but the rest of the track dry, slippery, rocky and rough. Simpson had a terrible jump from the gate but somehow made places on the first lap to come around in 14th with Searle in 16th, Anstie 22nd and Irwin 27th.
On lap six Searle went passed Van Horebeek then got Simpson on the next lap, then gained two more places to finish 11th, looking strong on the last lap as he attacked 10th place but ran out of time. Simpson also passed Van Horebeek and would end up 10th overall, happy with his weekend after talking down his chances on Saturday.
Anstie got up to 16th and seemed a little detuned after. "It's not where I want to be. My start device didn't release until I went over the jump at the top of the first hill," Anstie revealed. "I was catching Strijbos and went off track, I lost time and just lost touch."
Irwin finished in 21st, narrowly missing a point. He hadn't seemed happy especially in the long ruts that formed past the pit lane. "Just a tough weekend," was how he summed it up.
MX2
Walking around the track I bumped into Josh Gilbert. "I didn't realise how steep it was," he said. 20th in timed practice was a good start for Gilbert with Watson taking fourth and Mewse looking strong in fifth.
The start straight is a long one at Saint Jean so the gate pick isn't as vital as at some tracks. Watson got tangled in the first corner, putting him in 21st. He put on a charge through the field catching Gilbert on lap 10 who was on 12th. That's where Watson ran out of time as Olsen also passed Gilbert pushing him back to 14th. Mewse had a good start but lost a handful of places around the sweeping up-hill second corner as his bike slid out. He regained those lost places on the first lap and moved forward grabbing a final pass for fifth on the last lap.
There was some controversy afterwards for Gilbert as his bike failed the 'random' post-race noise test at 118 db, five decibels louder than the test during technical control. His mechanic was fuming but Gilbert was penalised five places for the infringement. After making some modifications it was rechecked before Sunday warm up at 111 db.
With the track looking like a sticky mess on Sunday I was surprised how many riders ventured out. By the first race it had been cleaned up, a lot of muck being dragged off with bulldozers. A great start for Mewse and Watson was undone when they both got baulked on the hill into the second turn putting Mewse 14th and Watson near last, with Gilbert missing the melee in 11th. Watson looked aggressive, while Mewse looked methodical. As he caught Gilbert, Gilbert's Honda started to steam but Mewse was straight past in the rhythm section. Gilbert faded back as Watson also made short work of the pass, his GP experience showing. Gilbert retired on the next lap as his bike lost coolant.
Mewse was now up to eighth, chasing Cervellin when lappers held him up. It looked like he had lost the tow but on the last lap he pulled about four seconds and dive-bombed into a tight right handed to grab seventh. Watson was there too but ran out of time and finished ninth.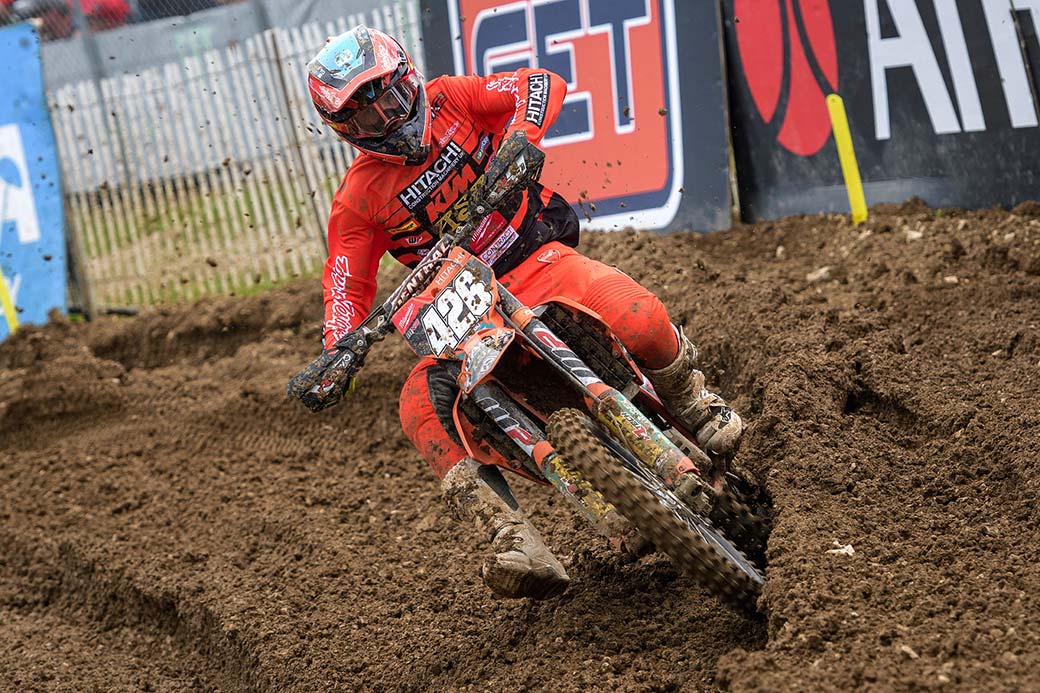 Gilbert went out on his practice bike for race two, completely stock with an exhaust. He would manage a valiant 16th but felt things just didn't go his way – he's still very motivated, which is great to see. "It was an uphill battle. I got a mega jump but as soon as we hit dirt I got swallowed up! I'm happy but luck wasn't on my side this weekend, I'd love to do more but it's the expense."
Mewse had a good start but was boxed on the inside through the second and third corners, which cost him 10 or more places. He would start passing riders and by the last lap he was up to ninth just half a second behind Cervellin and putting in his fastest lap of the race. Back at the team truck he seemed frustrated with losing so many places on the first lap. "I'm happy to be back up there. I came here not expecting too much but feel like we're back and heading in the right direction for a better second half of the season."
Watson also put on a charge from a mid-pack start, up to seventh, and sixth overall. He later wrote on Instagram that he was "disappointed with the result but happy with his riding". It was only the starts that let him down otherwise he would have been higher.
EMX250
13 Brits entered. In group one, Martin Barr, Josh Spinks and Todd Kellett qualified with Mel Pocock and Steven Clarke from group two. Kellett took the final qualifying spot but was surprised his time didn't deliver a better spot. "My quick lap felt really good and I thought it would be higher than 15th – it just shows how close it is."
The LCQ is always a bun fight but the top 10 would qualify so there was a reasonable chance, which Dylan Woodcock grabbed, leading at one stage but finishing third. "I was just thinking 'stay inside the top ten'," he told me.
James Dunn moved forward to grab second, explaining that the bike was far too rich in timed practice to get up the hills and the forks too soft coming down. After making some adjustments he looked like a different rider in the LCQ. Ashton Dickinson nabbed the final transfer spot in tenth, his pragmatic assessment – "I just need to grow a pair of balls", not fast enough in timed training but happy to make it via the LCQ.
Race one was dramatic. A first corner clash between Kellett and Jett Lawrence cost Kellett his good start, but a separate clash put Barr at the back. He had hit the fence, got stuck and ended up lifting his bike over the fence to free it before remounting.
Pocock was near the front but the loose, rocky surface isn't really his strong suit so he did well to maintain fifth place. James Dunn was extracting every bit of power the two-stroke had to give as roost was ricocheting off him down the pit straight, taking 10th place.
Spinks would lose a few places early in the race when he clashed with Horgmo, injuring his ankle but remounting to finish in a lonely 13th with Clarke moving up to 16th after crashing into a fallen rider in the first turn.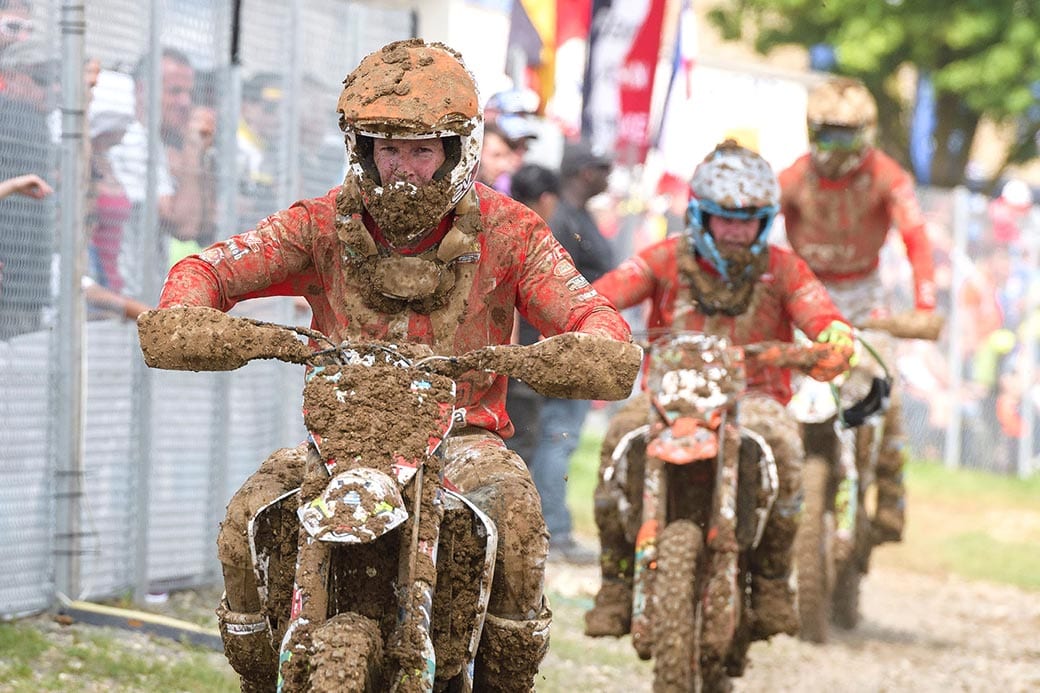 With two laps to go Barr snatched the last point from Kellett in 20th but the red plate had gone as title rival Boisrame took the win. Ashton Dickinson and Dylan Woodcock were outside the points.
Race two on Sunday was probably the worst conditions of the weekend as a dry-ish line was forming but it was very heavy going and the start straight resembled a ploughed field. How muddy was it, you ask? When Valentin Teillet came past the pit lane on lap one the mud stopped his bike dead and launched him over the bars.
Clarke took a good start, the only man using a paddle tire meant for sand. "Everyone said use a normal tire or you'll have no grip when it dries but I thought I'll be fine in the ruts but it'll be better in the soft stuff…and it worked," Clarke told me.
He was into second place by the end of lap one and chased Goupillon all the way, even showing him a wheel a couple of times but in the end settling for second and safe points as lappers became an issue, enough for fourth overall and consolidating his fourth place in the championship, with the fastest lap in race two just for good measure.
Josh Spinks was limping to the line, telling me: "My ankle feels better with boots on, I did some spin bike to loosen it up and took some pain killers so it'll be okay." Electing not to take the sighting lap and keep the bike clean and mud free didn't pay off as he ended lap one in 13th and couldn't get into the points.
Barr, Kellett and Pocock all found each other at the end in 10th, 11th and 12th. Barr coming from a bad start explained to me later: "I had a good jump [but] the guy in front braked too early and I lost places."
Kellett having his best ride of the season coming from 22nd to 11th and Pocock coming from a second turn pile up that also took his team-mate Dylan Woodcock down. Kellett had gone down in the first turn, the crash moving his throttle round over the electric start button. When he stalled later in the race as Barr was behind he couldn't get his thumb on the button and had to find neutral then use his left index finger to press the button.
Dunn was unable to get in the points but his GL12 sponsor Bob Buchanan was philosophical. "The aim is top 10 in the championship and there's still plenty of races."
The Revo boys are still second (Pocock) and third (Barr) in the championship and Barr was pragmatic about losing the red plate. "There's a long way to go and every point counts. I never give up but the last couple of tracks haven't been my type of surface, I'm looking forward to getting back on sand."
EMX125
Eddie Wade was walking the track on Friday with his parents, looking forward to the race. Was he concerned about the heavy rain that was forecast? "I like the track, I'm not bothered if it rains, I usually go alright in the mud," he declared. Wade and Adam Collings transferred directly from timed training, while Dominic Lancett made it via the LCQ. Joel Rizzi found timed training heavy going but when his front brake calliper was ripped off by a foot rest in a first lap LCQ crash, also bending the disc, his weekend was over by 11 on Saturday morning.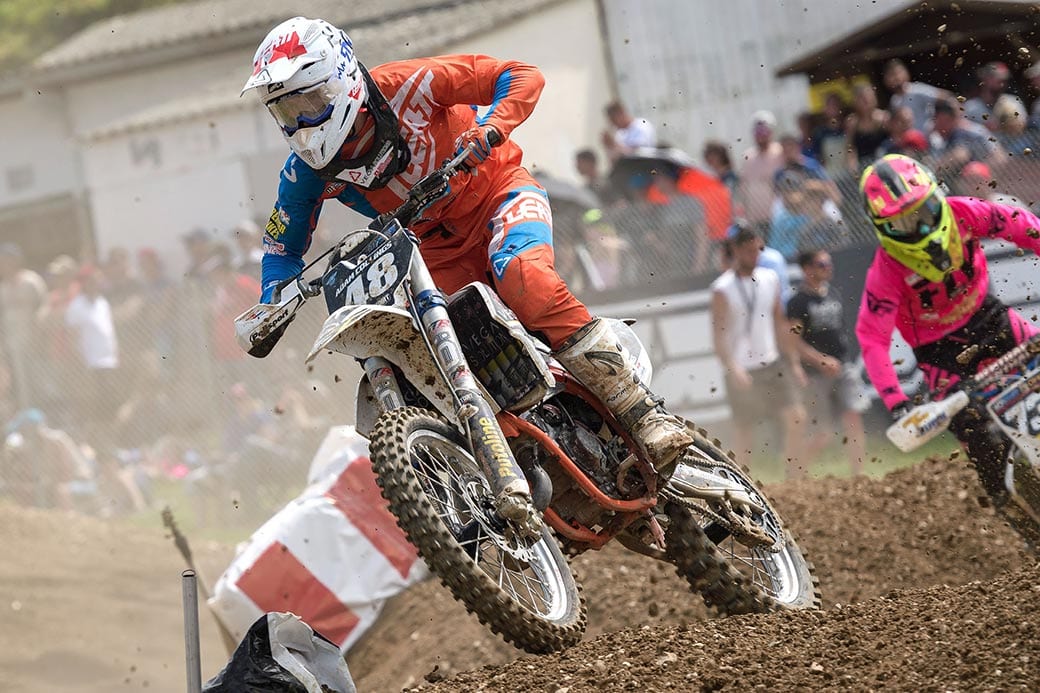 In race one, Collings ended up on the floor. "I was squeezed out in the first turn and knocked down," he said after, looking very miserable. Wade had a terrible start, caught behind the Collings crash and could only come through to 16th place and Lancett had the best start in 14th but faded out of the points. His dad said: "He just needs more bike time but he's doing exams and I'm working so what can you do?"
After a night of thunderstorms, the 125s were first out for race two on Sunday morning. Predictably it was a mud fest, the clay soil heavy and slippery. Many riders could no longer clear the jumps and on the far hill there was soon six or seven riders stuck, making navigation even more difficult.
It was impossible to identify most of the riders after a few laps but the timing screen told me that none of the Brits were scoring points.
Lancett had been up to eighth but got stuck on a hill when someone fell off and blocked his line and Wade had an uncharacteristic DNF. "I tangled with someone going over the gate and crashed so I was covered in mud from the start," he said. "About half way into the race the bike didn't respond when I opened the throttle in the ruts so I pinned it up the hill but it had no power and just stopped!" Wade thought it had seized up but his mechanic later confirmed that the chain and back wheel was solid with mud, and when they cleaned it out the bike started and was ridden back to the pits.
So, a mixed bag of conditions and results at Saint Jean d' Angely. The show moves to Ottobiano in Northern Italy this weekend, for the MXGP of Lombardia where the WMX and EMX250 riders will be supporting at the sandy circuit. Follow dirtbikerider.com for all the news, results and updates.
Until then, au revoir from France.