"The road to perfection", could be the title of a self-improvement bestseller or the cry of a Reverend in search of parishioners, but it isn't. It is actually just a way of summarising Jorge Prado's 2019 season, which coincidentally speaks volumes about his whole career.
Since his father put him on a trials motorcycle at just three years of age (not that the kid didn't want to), the Lugo native has not put a foot wrong. As if it were a perfectly studied and programmed project, the Prado prophecy has come to fruition through each and every one of the necessary steps on his rise to glory. With relentless determination, the boy who most experts catalogued as the most talented rider in recent generations has already entered motocross's history books, after claiming his second MX2 crown in the Swedish town of Uddevalla.
Inside a Swedish quarry surrounded by lush forests which remind us that we are in Scandinavia, we sat down to chat with Jorge Prado, fresh off of the celebrations. His sister and his girlfriend wander around smiling, while his parents chat with Jorge's grandparents who did not want to miss such a special day.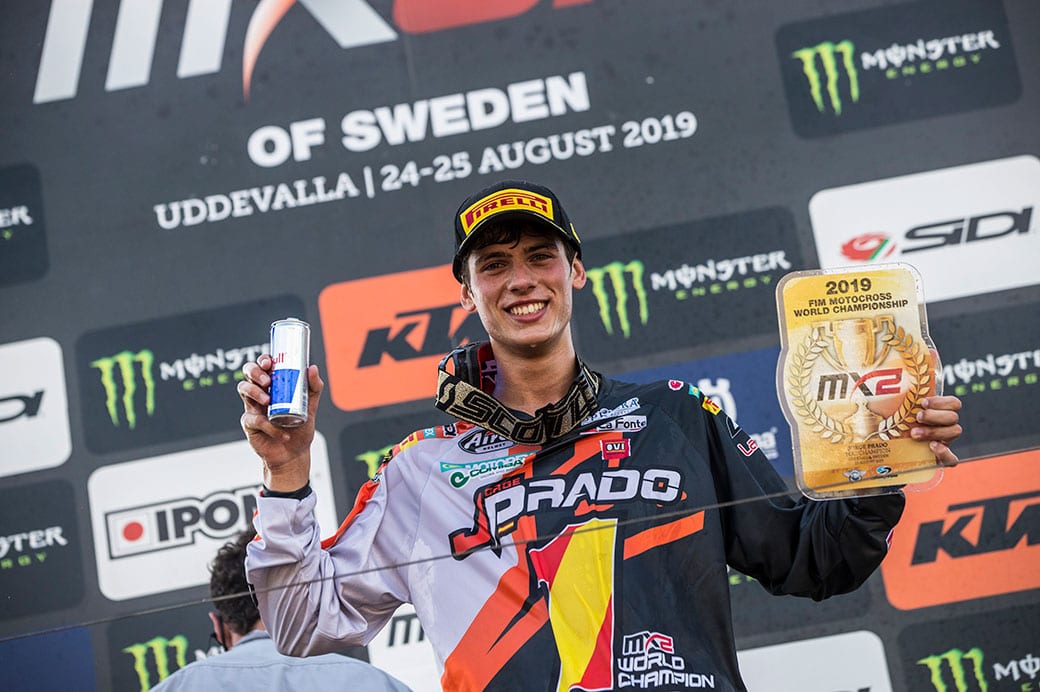 While it is true that last year's celebrations in Imola were much noisier due to the huge turnout of Spanish fans, it is understandable that this Swedish town is rather out of range for even the most radical supporters.
It is also true that Jorge's success this year was more expected, even taken for granted, but such an accomplishment has not come easily. "Not at all. Last year it was a different championship because it was a constant fight with many riders and one in particular, who pushed me to the edge trying to make up points without making mistakes.
"This year is different because I have made an improvement from last year and I can manage the races in another way. I am starting consistently well, which gives me the opportunity to push hard in the opening laps, and then my job is to stay focused and mistake-free until the end. This season I have made progress and I think you could say that the result has been a perfect season in MX2, with good timed sessions, good qualifyings, good starts, good race pace… a very good year."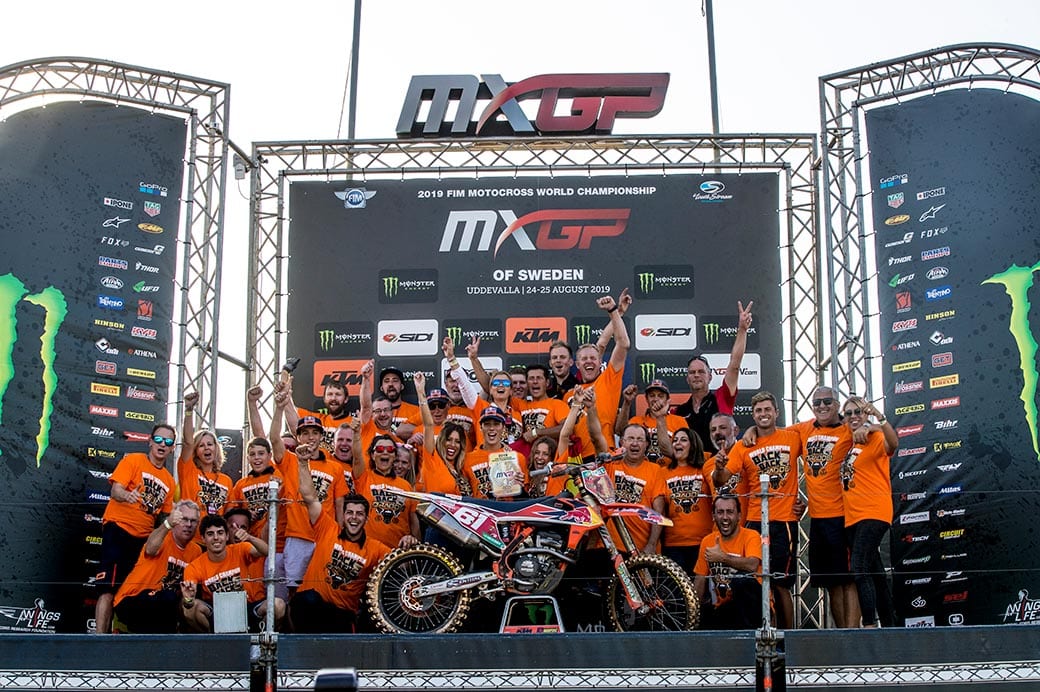 They say that the taste of a first title is unbeatable, but judging by the emotion of his celebration, the tears and the hugs, Jorge looked to be enjoying it just as much, or even more. "Every year is totally different and each success is enjoyed in a different way. Last year was a very complicated year because I had to be gaining ground from the beginning – this year I also had a small injury and I could not race the second GP, also forcing me to make a comeback towards the red plate, although on this occasion I recovered it quite soon.
"Let's say we had a perfect season, winning all the races in which I competed except this last one (laughs), barely making any mistakes, without crashing and I'm very happy. We have worked very hard during these two years in Italy with Team De Carli to get a good set-up on the bike and to find myself physically ready. Right now I feel better than ever, not only physically, but also with the team, the atmosphere… it was an important sacrifice for the family and the people around me, but I am very proud of how things are going and to finish the year with the title and also with a victory."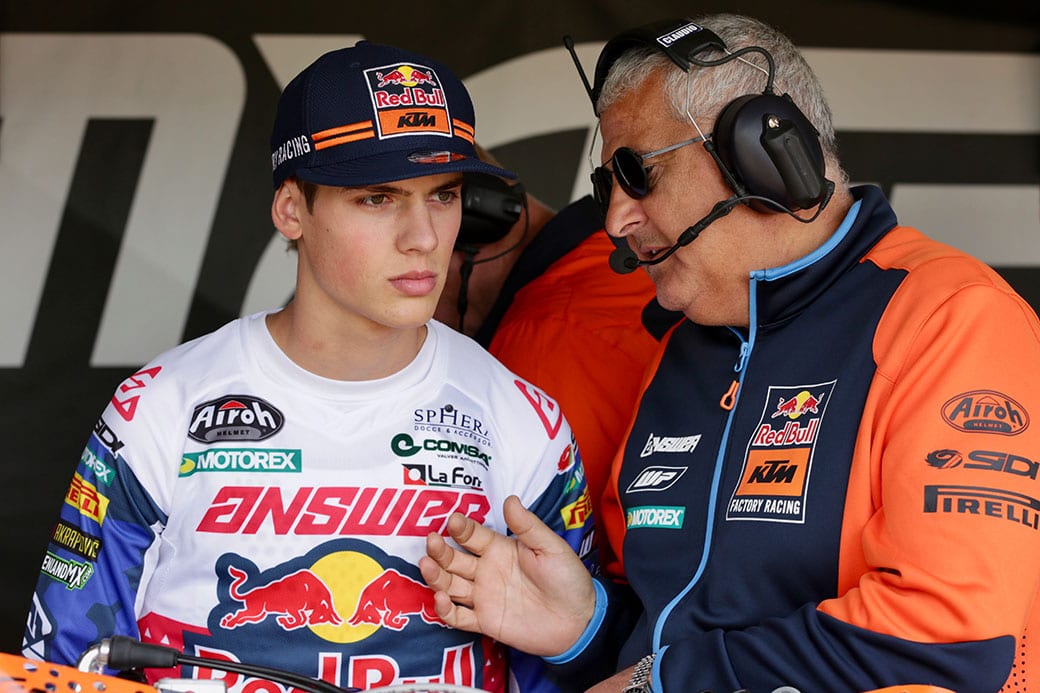 What have you learned from this season?
"My biggest lesson learned this year is how to compete against myself. There were situations when I had a big advantage and the only thing that could beat me was myself. Last year it was all closer, but this year I have almost always been slightly above my rivals, and that makes you change the way you race. I can still improve a lot, both physically and in my riding – I always look at the MXGP riders and I see that I can improve in many ways."
Have you been bored at any point during a race?
"I wouldn't say I can be bored while riding because I always try to ride my best and enjoy the motos. You think about staying focused and I am confident because I have never had any issues with this, I just focus on my work, I look at the board, I follow Bart's advice and I try to make my life easy.
"In some cases I have thought about MXGP during the race, thinking where they may be going faster, although I don't think it's good to overthink too much. I always look at their times and their race pace, and occassionally I have been thinking about it during the race. In Lommel, for example, I fell on the last lap because I wanted to increase the advantage I had when it was already 35 seconds. Even so, it is never a fair comparison because the track changes a lot between our races and theirs and because their more powerful motorcycles shape the lines differently."
The holeshot king
In motocross, as in almost all motorsports, the start has a lot of impact on the development of the race. Prado has been a specialist from a very young age, he has the reflexes and the technique to put himself in the lead at the end of the straight, even if the advantage of an earlier gate pick is usually not very noticeable.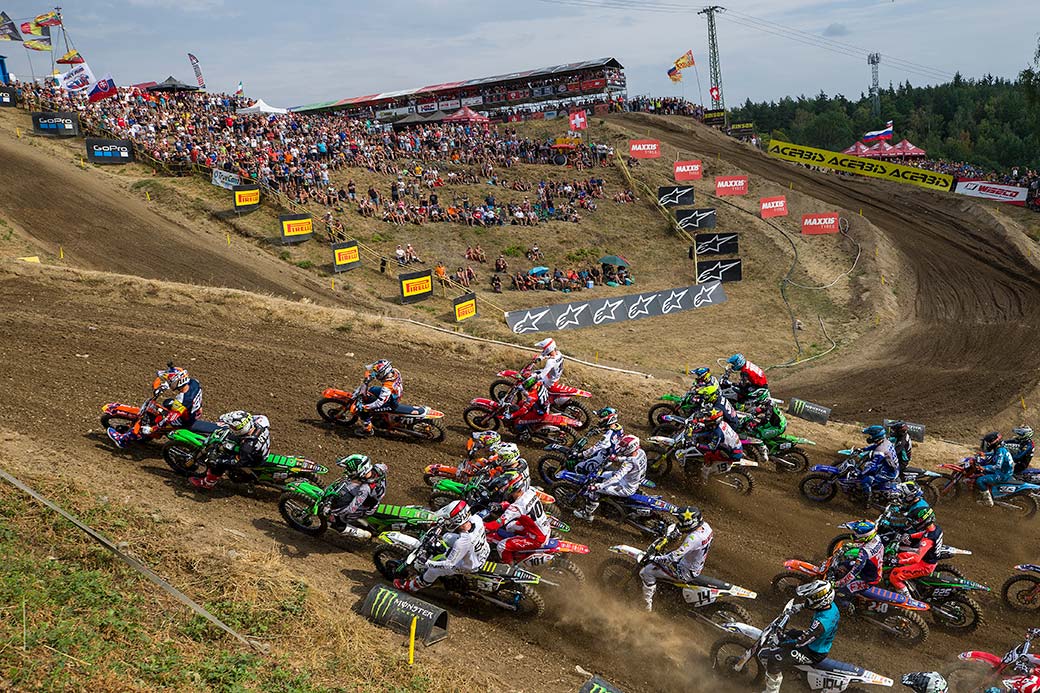 This year he has already achieved recognition as the best off the gate with more than 20 holeshots. This factor also determines the development of many of the motos – when the fastest rider on the track happens to start first, a good part of the emotion is lost. "I have always made very good starts, but in some cases like Russia where I didn't, I quickly managed to gain the positions back. I understand that for the spectators it is more interesting to have a closer race, but for me it is much more comfortable and safe to try to check out and avoid the risk of falls or collisions. Precisely the second moto in Sweden is a good example, where trying to recover the lead of the race I fell and then had to mount a charge with a twisted clutch lever."
Are you frustrated that you could not beat Herlings' record of consecutive victories?
"I am here to fulfil my objective and this year the objective was to be world champion. Any additional records are welcome, but they are not amongst my goals. I do not obsess on records, although when you look back it's nice to see what you've achieved, but when you compete you can't be thinking about those things, like age or statistics."
Now that we have brought it up, he has also broken the record of being the youngest two-time world champion, and next year he faces some more records, because at 19 years old he will already compete in motocross' highest category, the MXGP class and its 450cc motorcycles. "Gajser also moved up when he was very young. As for me, even if I didn't want to I have to move up due to having won my second title in MX2. It will be a great challenge, it will not be an easy season, but I will try to keep up, be very well prepared for the races and give it my all… Next year we will see how I can compete with the rivals of the top category."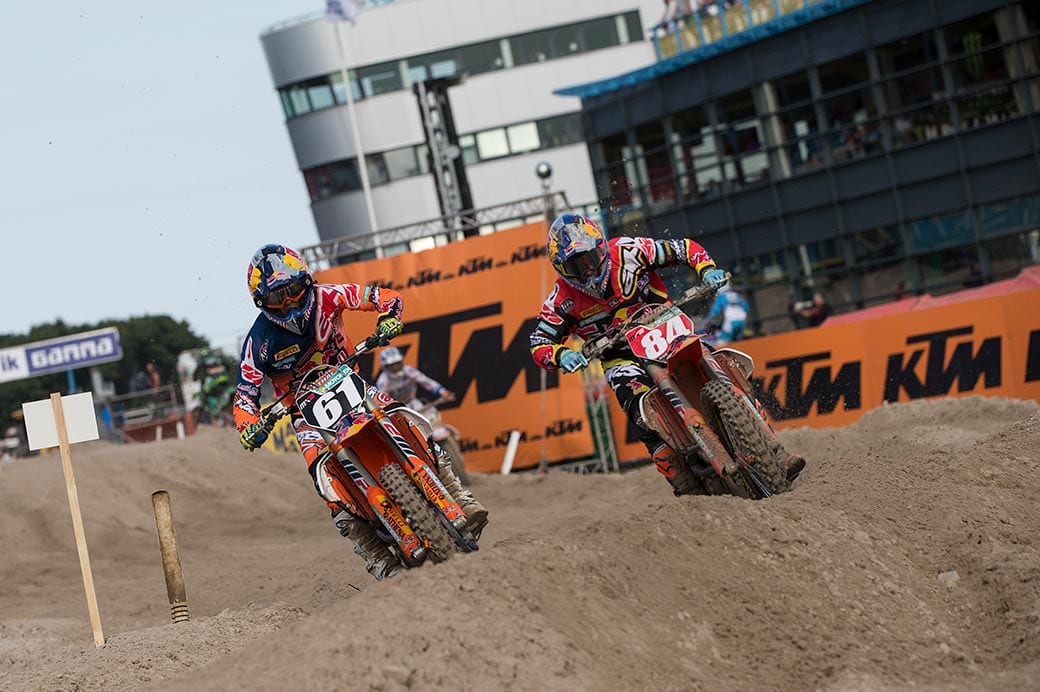 Isn't it scary to face names like Cairoli, Gajser or Herlings?
"They are just riders, very good riders, but motocross riders like everyone else and on the track you don't have to fear anyone, we are all going for victory."
Have you tried the big bike yet?
"No, I have not yet tested the 450cc, people say I have, but I have not done it, I would say it if I had. I will get on it this week to get a base set-up in Italy and then we will prepare in Belgium for the Motocross of Nations after the Chinese Grand Prix."
The return to Assen
The motocross season consists of 18 GPs worldwide, and it is capped off with the celebration of the Motocross of the Nations, a team event in which each country selects three riders, one per category (MX2, Open and MXGP), to compete in three mixed races.
Each rider races two of those motos and by adding their final moto results, a classification by countries is established. This event is the most anticipated of the year by the fans. Last year it was disputed in the United States, where Jorge Prado was one of the protagonists, because although Spain is still far from being able to fight for victory, the Galician rider was the fastest man in his category and also stood up to the main MXGP figures and even humiliated the high profile American stars.
This year the race will be celebrated on the sand track that is built every year at the TT Motodrom of Assen, where the captain of the Spanish team has good memories. It was in Assen where Jorge made his debut in the world championship and he did it by stepping on the podium after a memorable second moto battling Herlings. He has then gone on to win the last two GPs held there.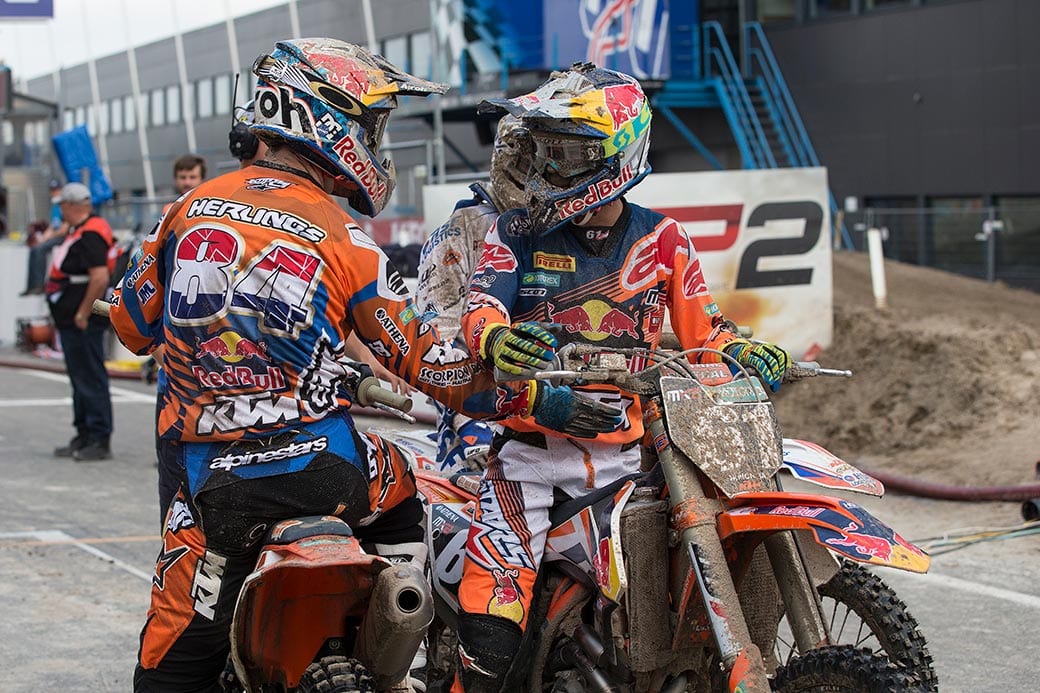 For this occasion, there will also be extra expectation because this will be Prado's first race on the 450cc. "Seeing that the season is over and that the last race is the Motocross of Nations, the team and I have decided to go to Assen with the 450 to try and prepare for next year, without any pressure, but to take advantage of the opportunity and get a feel for the race pace, see how I am able to compete on a four fifty… It is more a matter of feeling than results, although obviously we will try to do our best for Spain. It is another challenge for the season and an opportunity to have a reference and gain experience."
The expectations are high because of what you have achieved in the sand of Assen right?
"I have to admit that I feel good in Assen and the results show, I have won two GPs there, I have always had good races and I have fought with Herlings who is the supposed best sand rider in the world, so it is normal that the people want to see a new battle between us two."
What do you think about next year?
"In 2020 all I hope is to have good races, ride my motorcycle well and not injure myself, that's the main thing. It's another challenge, it's my first year in the top class, it's going to be a complicated year and I can't put a lot of pressure on myself because there are very good riders. Next year there will be seven world champions fighting in that category, it will be a very high-level championship. I have Toni Cairoli training with me so I have a good reference and I can know where I am and where I need to be."
There will be battles on the practice track, right?
"Battles? There are already plenty (laughs) training we always push each other wanting to improve. We are on the same team, with the same training program and we will continue the same, there is no problem. The one thing we could do is to have different schedules but I don't think it's necessary…"
The chat is coming to an end, but as in any interview with Prado, it is already a classic to ask him about the United States and his future, now that he has just renewed his contract with Red Bull-KTM. "I feel very good competing in the world championship, there is nowhere better for me to be, I have already adapted to a lifestyle in which I am comfortable and I am now happy here. I am confident that this championship has a higher level and that also motivates me, going to America would be like starting from scratch again and for now it is not the time. I am happy and that is the important thing, right?"
And what do you ask of the future?
"I would like to win the MXGP World Championship".
Finally we talk about motocross in Spain, the absence of a Grand Prix in the last calendar and the possibility that in 2020 this great "circus" will come back to Spanish lands: "It is very necessary that there is a Spanish Grand Prix, it was a shame not to have it this year and I hope that next year what is scheduled will be fulfilled, for justice for Spanish fans who want to see us on our home turf."
And finally, what do you have to say to that fan who has become accustomed to seeing you win easily and has higher expectations of you?
"Although it seems easy, racing is never easy, even if you win by many seconds. I swear, a small mistake is a fall and a fall takes away a victory, you saw it in Sweden… What is easy is to make a mistake, the complicated thing is to do everything right, to have no failures, staying focused through all the motos, every weekend and the whole season and if you are capable of this it is because you have done your job well, not because it is easy. I like to tell these people that there is plenty more Prado left for them to see… Hopefully!"
No one could have said it better, let everybody do their own statistics, studies or analyses, but those last words uttered by the champion are precisely the desire of his Spanish supporters, let the road to perfection continue.
[more-from heading="Also In MXGP" category="mxgp"]