There's been no shortage of snow and rain around the UK over the past month or so. It's meant a chaotic start to the British motocross schedule, to say the least.
Round one of the Maxxis ACU British Motocross Championship at Lyng had to be postponed to a later date and several other series have been hit too. Most recently the Michelin MX Nationals had to change their opening venue at the last minute – and a fantastic job they made of it too – when they had to switch to Preston Docks MX after flooding at Lyng.
And too much of the wet stuff hasn't been limited to good old Blighty with last weekend's Monster Energy round in Seattle being declared the craziest ever with mud that was more like treacle.
Now it's the turn of the FIM Motocross World Championship to suffer at the hands of the weather. They're in Agueda this weekend for the MXGP of Portugal and it's very wet.
It's raining in Agueda!
In fact, the area has seen plenty of rain recently and there is more on the way.
But this talk of the circuit being under water and cancellation is, at this stage, a massive exaggeration.
We already have our man, Andy Gee, at the circuit and although it's raining he says the track is in "remarkably good condition" at the moment. Yesterday there was plenty of plant working on it and this is what he had to say about the paddock: "It looks like it's been covered with a layer of recycled brick and stone, mixed with finer aggregate and they're parking the factory race trucks without any problem."
Another source at the circuit says "all is good to go". Adding that the track itself is okay but it is very muddy around it, which isn't surprising considering the amount of rain they've had.
There is more rain due today with a lesser amount expected tomorrow (Friday) – conditions at the track could get worse than what our exclusive gallery (above) shows.
What about the weekend?
Saturday is looking like it'll be free of rain although not especially warm. As for Sunday, expect more rain but not as heavy as this week has been.
Will it be cancelled?
Don't be surprised to see it become a mudfest, which means we could possibly see Brit Shaun Simpson benefit if he's recovered from his slight injury and heavy dose of flu. But as for cancelling it, I can't see that happening. If you think back to Indonesia last year, that circuit was new and the rain appeared to be much heavier. The riders had to really slug it out and some racing was hit but they didn't cancel the event and I can't see them doing that this time either.
There could be some scheduling changes.
What could Youthstream do?
The support races could get hit with EMX250/WMX missing out and perhaps timed practice instead of qualifying (possibly run on Sunday), but that's certainly not official – just some options that could be open to them.
Get ready for an interesting and fun (for the ones watching at home) mudder.
UPDATE: (13/04/2018) Things are looking up. It's been blue sky and sunshine at the track today. Greg Atkins, who is working on the track, says that the circuit has good drainage. He also said that the track is in perfect condition. Our man, Andy Gee, is on site. He sent us a picture (below) with a note saying that the road outside the circuit has been shut so they can use it for EMX and WMX riders.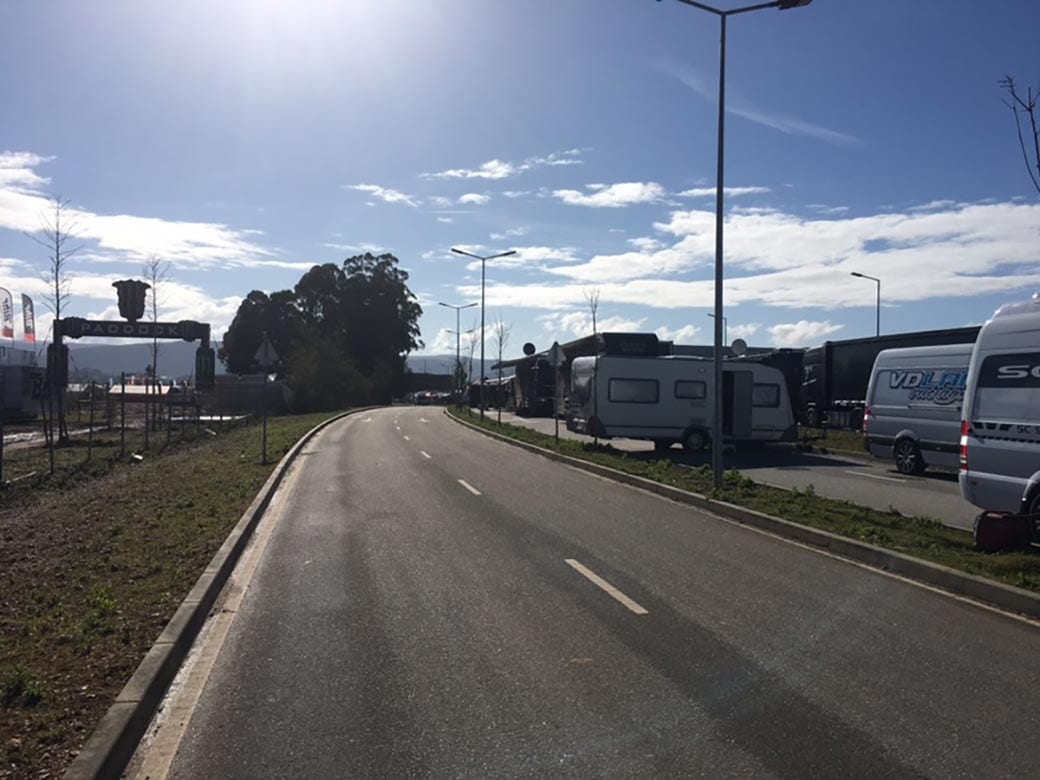 Lisa Leyland interviewed Assomotor Honda's Arminas Jasikonis on the track and conditions looked great. You can watch the interview below.