Round seven of the 2018 FIM Motocross World Championship at the fast Kegums circuit presented more trophy bounty for Red Bull KTM's Jeffrey Herlings with a fourth moto 'double' and fifth MXGP victory of the season. World Champion Tony Cairoli was runner-up.
A Grand Prix venue since 2009 and host of the Motocross of Nations in 2014 Kegums underwent some alterations and adjustments with a reversed layout to stage the seventh MXGP fixture of the year. Home to three MX2 wins for Jeffrey Herlings and also the Dutchman's first success on the 450SX-F last summer, the loose, sandy and bumpy Kegums soil was again ripe terrain for the current standings leader to increase his margin at the top of MXGP. Herlings had to work for his fifth win from seven rounds by cutting through from top ten starts – from Pole Position – and overhauling Tony Cairoli in both motos.
Herlings was the undisputed winner but Cairoli (on his 222nd Grand Prix appearance) pushed his teammate to new limits at Kegums. In the second moto the Sicilian was unlucky to run into backmarkers while Herlings was closing on his rear wheel and was powerless to respond when #84 surged ahead.
Glenn Coldenhoff was a solid seventh overall and figured prominently at the front of the second moto. The Dutchman recorded a 8-6 for 28 championship points and consolidated sixth position in the MXGP table. Herlings leads the way by 29 from Cairoli.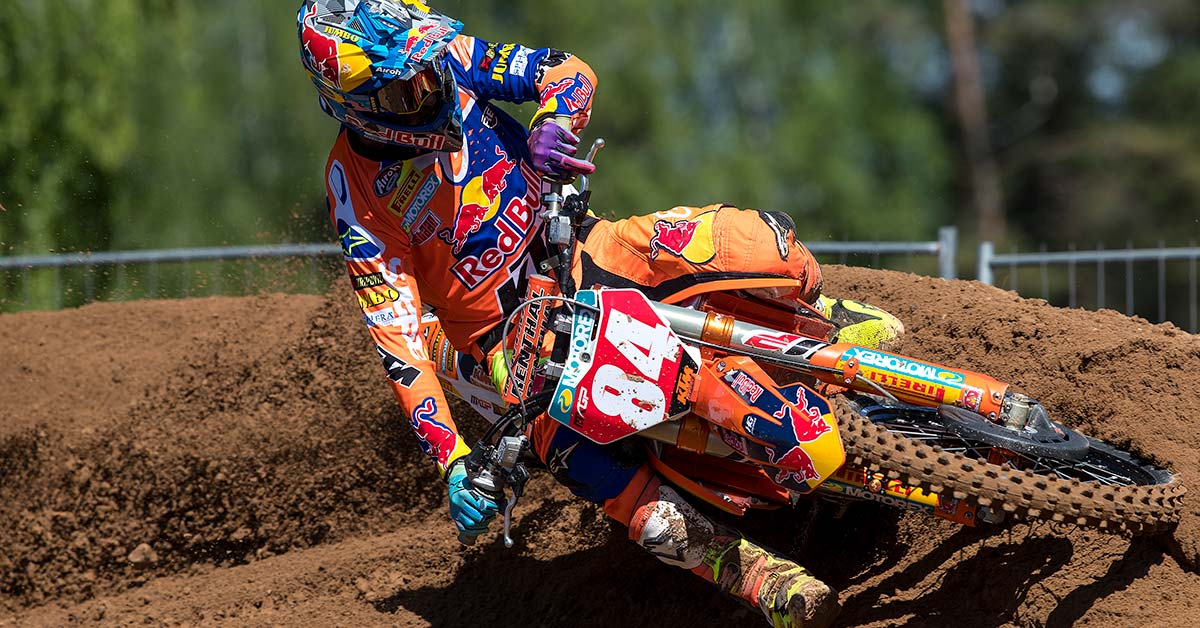 Herlings: "The starts weren't so great but to keep fighting back in both motos and even be able to build a little lead was a nice feeling. It wasn't about domination because Tony upped his game today and did a really good job. It is great to have KTM 1-2 again. Yesterday was easy-going for me but I had to fight for it today. It was a nice GP and I enjoyed the track. This place was a turning point for me last year but we are in much better shape now with a different momentum. I love this track and it was a pleasure to be here."
Cairoli: "I'm really happy because the speed was good and we are in one piece. The track was difficult and the rhythm was very fast. A little bit disappointed by the second moto because I wanted to fight a bit longer for the GP win but I almost crashed with a lapped rider and Jeffrey had the chance to pass me and I didn't get a chance to respond before he had the gap. The level [of MXGP] is high but I am happy with the results [so far] and we know the championship is long. Jeffrey was definitely the fastest here this weekend and I knew it would be really difficult…but I'm happy. It is important to always finish on the podium and when possible: try to win. This is how the championship grows."
Coldenhoff: "A mixed weekend: not that bad but not that great. I had a small issue in the first moto start and managed to come through pretty well. 8th was solid but we've been looking for more in the last few weeks. I almost had the holeshot in the second moto and led for one and a half laps and that was definitely a good feeling. I tried to push but my pace just a little off the top guys and sometimes you need to respect that. 6th was OK. We're definitely working for more."
MX2
Thomas Kjer Olsen owned the MX2 Grand Prix of Latvia for the second year in a row and beat both Jago Geerts and world champion Pauls Jonass; the Red Bull KTM man celebrating his fifth podium appearance of the season but unable to bring his home fans the spoils they craved. A poor day on Saturday with a Qualification Heat result of 12th did not assist No.1's plight for great starts. A getaway deep in the pack for the second moto forced a powerful comeback to log 5th position. Combined with 2nd place from the first race where he could not match the speed of Olsen it was enough for 3rd overall. Pole Position Jorge Prado was the winner of the second moto ahead of Olsen (although a crash while leading produced a nervy moment) but two tumbles in the first outing meant he could only score 10th place, and was 4th overall; it was the first time in six events that Prado did not uncork podium champagne. Jonass made a 2 point gain to sit 22 ahead of the Spaniard in the championship.
Jonass: "I was struggling a lot with the track and it was difficult to get a good start from the 12th gate pick. I had a really bad start in the second moto but my riding was the best it had been all weekend as I moved up from something like twentieth to fifth. I felt I was riding like myself only in the last fifteen minutes. Maybe a little bit of pressure didn't help. I didn't feel it… but I think it was in the back of my mind because home GPs are always a little bit more difficult. I'm thankful though. The fans really cheered every single pass and it helped a lot and pushed me forward. It is nice to see there are more and more spectators every year and motocross is growing here. I wanted to give them the win but things don't always go to plan. Overall I'm happy to leave here with a podium finish."
Prado: "Honestly, I am very happy. OK, I made some mistakes at the beginning of the first moto and had a big crash in the waves where I was lucky not to be hurt…but I kept positive and came back well today. I had nothing really to lose in the second moto although you always need to be careful on a track like this. I had the holeshot and a big lead and I'm not sure how I crashed but it meant I had to come back again and waited to push in the last two laps. I could see Olsen was finished and did what I had to do. That was the best result possible and it was good for my championship that Pauls only just made the top five in the second moto so he only gained two points. The weekend could have been way-better but I'm happy with what we leave with."
Red Bull KTM Factory Racing plough straight onto round eight of MXGP with the Grand Prix of Germany set to be hosted by the traditional venue of Talkessel in Teutschenthal (close to the city of Halle) next weekend.