The Galician, Jorge Prado, will race in the MXGP of La Comunitat Valenciana Redsand this weekend – his first Grand Prix in Spain as a World championship rider.
And the Red Bull KTM Factory rider rolls up to one of his favourite circuits in great shape.
Having just finished a hard day of training on the Lommel track, the cathedral of sand which saw him win last year and is ready to bite into a good "steak" with his family and friends. It is seven degrees, but after the cold and snow of the weekend, it seems pretty hot.
He still hasn't completely shaken the cold off his bones nor the anger from that bittersweet result. "I am still not sleeping right thinking about the victory that escaped me on Sunday, I should have won in Valkenswaard," says Prado.
It was in the second moto when everything was on the line with his team-mate Pauls Jonass and he had to settle for a brilliant second position after several unsuccessful attempts to overtake.
On one occasion it was Jonass who, in what Prado clearly felt was a questionable manoeuvre, cut into his line before the finish line jump and then it would be a lapped rider who spoiled his last attack in the final lap, all resulting in the first victory of the year just slipping through his fingers.
"I was very close, I should have pushed harder," said a frustrated Prado. "I was stronger and faster than him. I assure you that if I had another chance, I would not let it go."
[easy-tweet tweet="Jorge Prado – 'I'm still not getting any sleep thinking about the victory that I let get away in Holland'"]
On Friday he will travel to Castellón to be one of the main protagonists of the Gran Prix of Comunitat Valenciana which is held for the first time at the Redsand circuit.
He has already participated in other GP races in his country, but as a European Championship rider – since he debuted on the MX2 grid, he has not yet raced in front of his home fans. "I am very excited about this race, it's something very special," said Prado. "I know that a lot of people will come and that I will have a lot of support on the track. I am really excited about it."
The Villafamés circuit has always been one of his favourites. "I like Redsand very much, because of the terrain and the layout and I think it suits me pretty well, it's a track with many jumps in which it's not easy to make big differences so we will have to push every lap," Prado revealed.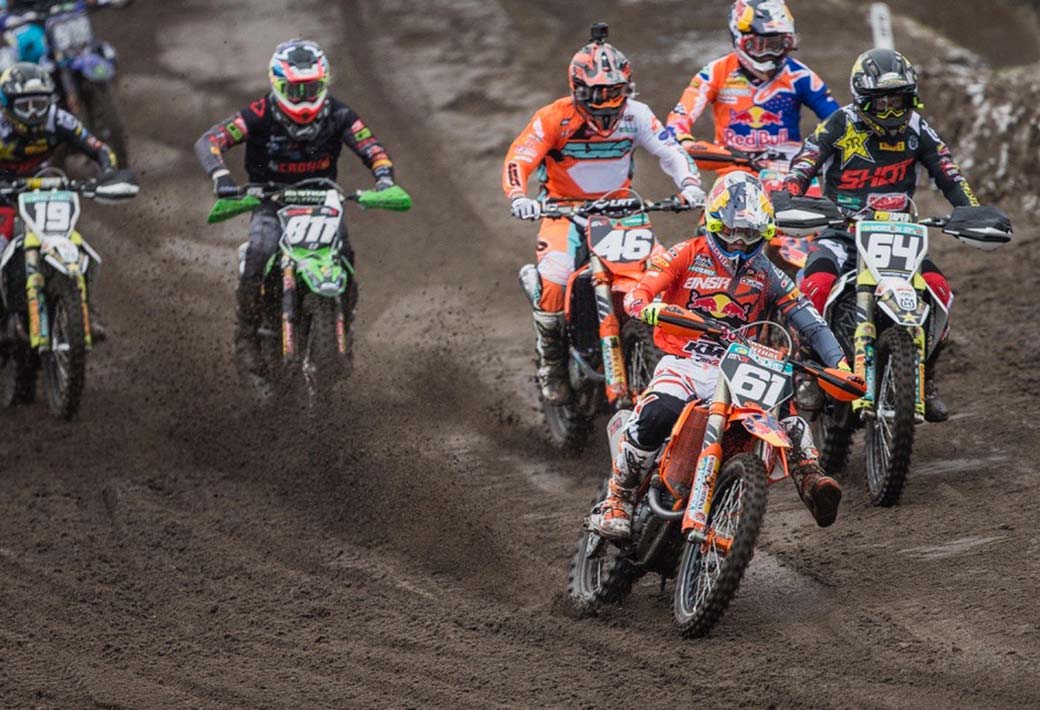 After his pre-season was interrupted by an elbow injury that forced him to stop for more than a month, Jorge has got back into racing shape very quickly and arrives at his home GP in perfect physical shape.
"I have very good feelings and I am ready to fight to the fullest. The injury forced me to stop, but we had already worked very hard on the cardio and the gym, so I recovered the form very quickly."
So much so that in Argentina he set the second fastest time and seemed to be the only one capable of keeping up with Jonass, but an untimely fall in the qualifying race held him back during the whole weekend. "I hurt myself again, we had to go to the hospital and, what is worse, I had to start from the 28th grid position." He still salvaged some points and quickly recovered to race in Holland, where he got his first podium of the year.
Preparation in Italy
The first five tracks of the year are to Jorge's liking in a special way – each one has an incentive for him. The two next tracks are even more different – Redsand for being his home race and Pietramurata for being the scene of his first victory in the World championship a year ago.
"There are two races that I am very eager to race, in two different types of terrain but with a special meaning for me. The start will be important in both of them, so I would like to get some holeshots."
But Prado has not yet achieved any in the four contested motos. "I am not worried because I have had very good starts, in the two qualifiers I got the holeshot and in the races I was always good, although in Argentina it was not easy with such a bad gate position. Maybe the one that went worse for me was the second one in Valkenswaard and I still came out second."
The Prado family emigrated from Lugo to Belgium more than five years ago, to be close to their Red Bull KTM team and to train on the best tracks in Europe and get used to the sand.
However, this year he has spent almost all his time in Italy, west of Rome, where Claudio de Carli's structure is located, giving support to none other than the nine-time World champion, Toni Cairoli. It was a consensus decision between KTM and the Prado family and today seems to be successful says Prado. "At the moment I am very comfortable in Italy, the Claudio's group is like a family, there is much more human cooperation, we train together, we work together and you always feel supported, even on off days we go have dinner together, pasta, always pasta! I'm happy."
What about Cairoli?
"We get along very well, he is nice and funny, we train together and he is really useful for me because besides being a great professional, he goes very fast and that forces me to try harder to try to follow him."
Travelling between Spain, Belgium and Italy, it has the potential to send you crazy, but it doesn't appear to affect Prado. "In these years I have learned to adapt well to different places. I am comfortable everywhere.
"Spain is my country and my people, but also in Belgium I have spent some good years and in Italy I feel very well now."
So much so that in this pre-season he has already been asked several times about his goal of trying his luck in the American Supercross, and at the moment Jorge is less worried about it than in previous occasions. "Now I am very comfortable where I am and I am not thinking about it. The World championship is now my main goal and I have always liked Supercross, so we will have to give it a try someday, but for the moment I am focused on this."
Right now, "this" stands for the Grand Prix this weekend in the red sands of Castellón, in front of his fans. "I hope you enjoy the show very much, this year there will be good battles and we hope to provide a good show."
The hard road continues for the 17-year-old motocross prodigy. Behind him are his 65cc World title, his 125cc European title, his record of age in getting a GP podium. Now it's time to aim for the top he says. "I would like to finish the World championship in the top five."
But you have the feeling he has much higher goals and he has shown he has the speed. He demands the best of himself, he will not conform, he feels he is as fast as anyone and very ambitious. Jorge Prado promises to put up a fight.
Diego Muñoz Avia was speaking to Jorge Prado.