The Hitachi ASA KTM UK motocross team had to dust themselves down again and nurse further injuries following Round 16 of the 2018 FIM Motocross World Championship in Switzerland.
The team was already down to one man as Conrad Mewse was absent from MX2 with a fractured finger. The youngster, who was looking certain to extend his British championship lead on his KTM 250 SX-F last time out at Hawkstone Park, suffered the injury in the second moto.
So it was down to Graeme Irwin to fly the flag for the team in MXGP.
Ahead of the Swiss round, Irwin had finished an heroic third overall at Hawkstone in the British championship, and that was despite suffering a bulging disc in his back.
Irwin was determined to make it to Switzerland and underwent extensive physio in order to make the trip to the unique Schweizer Zucker circuit in Frauenfeld.
Despite making steady progress on his KTM 450 SX-F from Saturday's free practice to Sunday's warm-up, the luckless #55 suffered more agony on the first lap of the first moto when he was smashed in the face by a rock flicked up by another bike.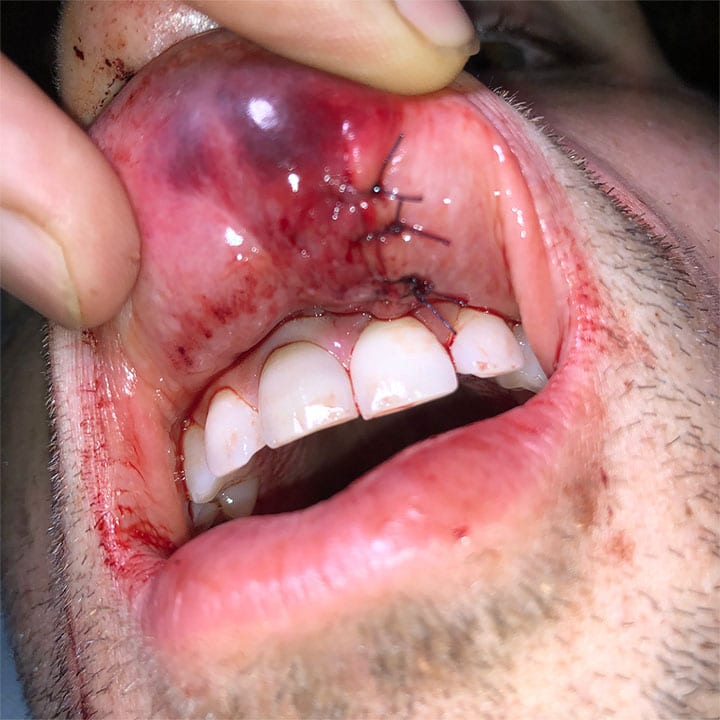 No stranger to riding through the pain barrier, even this was too much for the Carrickfergus rider who could not continue. The injury was severe enough to push Irwin's front two teeth back and cut him all the way though the lip and into the gum. All stitched up and with heavily swollen lips, the British champion was soon making fun of his newly acquired 'trout pout'.
Team manager Roger Magee: "Who says lightning doesn't strike in the same place twice?! We had the same thing happen last year with Josiah Natzke but not as bad as this with Graeme.
"We were already down to one man after Conrad's hand injury at Hawkstone and Graeme arrived in Switzerland with his back injury that wasn't totally recovered, despite intensive physio.
[more-from heading="More From MXGP of Switzerland" tag="frauenfeld"]
"So following this latest injury setback we are just going to let both riders sit out for a few of weeks and return for the Dutch MXGP in Assen, hopefully fully healed up.
"We've had a lot of bad luck, so we want to finish the season strong. Conrad has the British MX2 championship to win and Graeme has a mathematical chance of retaining his MX1 title and both have a point to prove on the world stage."
Graeme Irwin: "I don't think anyone wants to get on the same plane with me with this run of bad luck! It's just one of those things, I guess, and it only makes me more determined to come back stronger and show my ability. I've got time now to get fully fit and back to my beautiful best!"