Red Bull KTM picked up trophies across the board in front of an eager crowd packed into the small Pietramurata facility in northern Italy. Tony Cairoli finished as runner-up after a spectacular contest with Tim Gajser while Jorge Prado won for the third time in MX2 and team-mate Tom Vialle scored third place at the fourth round of 18 in the 2019 FIM MXGP Motocross World Championship.
MXGP was in action for the third week in a row and after the speed and jumps of Matterley Basin and the sand of Valkenswaard the FIM World Championship visited the Italian hard-pack of Arco di Trento for the Grand Prix of Trentino. The picturesque and compact circuit had been hit by rainfall in the days leading up to the race so the ground was rough, rutty and technical, demanding close throttle control and varying levels of grip.
MXGP
Tony Cairoli was the centre of attention for what was the first of three home Grands Prix on the 2019 schedule. #222 had won the event in 2016 and 2017 and took a third place in 2018. After a close and exciting run with Tim Gajser in the Qualification Heat, the nine-times world champion took to the gate in second spot with his KTM 450 SX-F. The first moto delivered another tense and exciting chase between the two protagonists as they pulled away from the rest of the pack and Gajser grabbed the chequered flag with only three laps remaining. Tony set the fastest lap of the race on the final circulation as he charged after the Slovenian and just one second split the pair.
In the second outing Cairoli stalked Gajser and the lead changed several times in a riveting game of cat-and-mouse. Ultimately the day was decided when Tony lost traction and crashed with just over two laps to run. With the large group of Gajser fans and all the local support for Cairoli the grand prix was easily the most electric and entertaining in the 2019 campaign so far.
Cairoli leads Gajser by 16 points in the championship standings.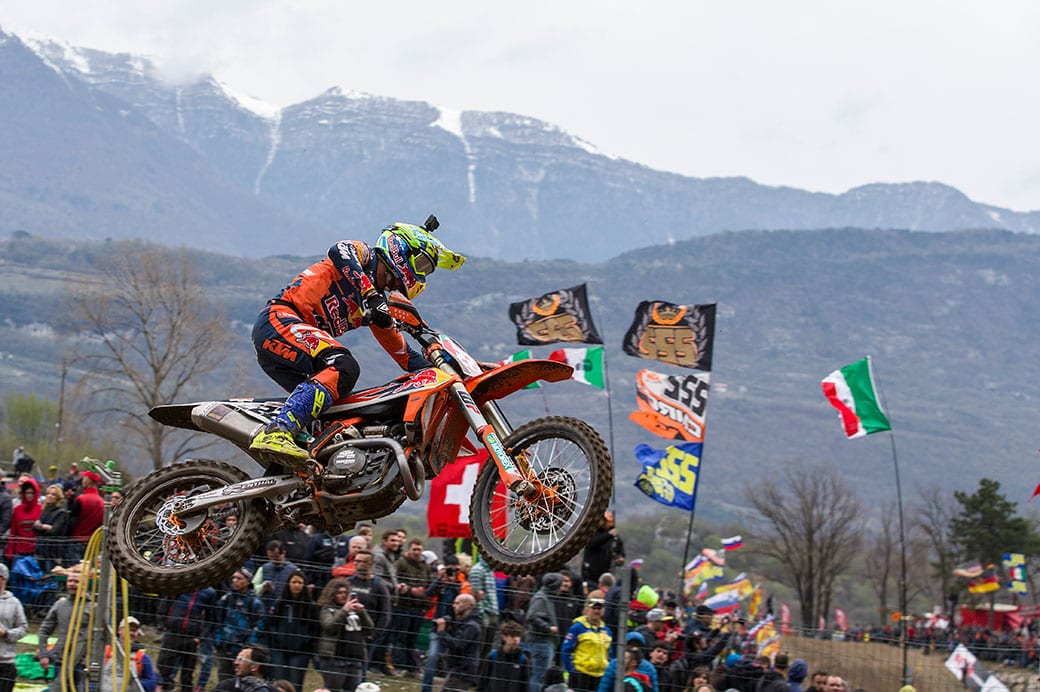 Tony Cairoli: "It is a positive weekend overall but I'm not happy with my second moto because I took a risk and crashed when I should have had the GP. A crash is always possible in motocross but we should take care not to get injured and it was close today. I'm disappointed by that but I'm happy to make the podium again – that's four this season with three wins and a second place so it is difficult to be negative about how it has gone."
MX2
A decent qualification race on Saturday saw Jorge Prado take his third victory and Pole Position of the season (from three appearances) and Tom Vialle score a very decent (and personal best) 3rd position. The two KTM 250 SX-F riders benefited from their strong launch potential and excellent engine power to slot at the front of the pack for both 30 minute and two lap motos on Sunday. Prado has now logged six holeshots from six starts in 2019.
The Spaniard was untouchable at the venue, leading every lap where he celebrated his very first GP victory in 2017 and where he was also successful twelve months ago. His dominant 1-1 not only completed his hatrick at Pietramurata but also for 2019 so far – he is now unbeaten with nine for nine in terms of motos and wins.
Tom Vialle's 3-6 on his first taste of the Trentino fixture was good enough for the rookie's second podium walk this season. The Frenchman lost four positions in the latter half of the second moto but profited from the final race order to be able to tread the third step of the rostrum.
Prado and Vialle hold second and sixth respectively in the MX2 points table. The world champion is just 20 away from the red plate held by Thomas Kjer Olsen despite missing the British Grand Prix (round two) due to a left shoulder injury.
Jorge Prado: "Three years racing in MX2 here and three victories – there must be something at this track for me! I felt comfortable and we have been training hard after the time-off with the injury and a bit more riding time. I was happy coming here. The qualification heat gave me confidence and two very good starts today was really important on this track because it is tough to pass. Good riding and a good result. I'll just try to keep on doing what I'm doing and avoid the mistakes."
Tom Vialle: "A second podium in four GPs is unbelievable. When they called me to come in after the finish line I thought they had made a mistake! I was a bit disappointed a few moments before because I thought I'd lost it. I was so happy to learn I was third and was actually happy with my riding the whole weekend considering this was my first visit to this circuit. I love trying new tracks and new ground and it played into my favour today."
Claudio De Carli, MXGP Team Manager: "It was a really nice GP and a special one. Jorge did very well and those 50 points helped him to close to gap to [Thomas Kjer] Olsen. He showed he is back on the right path and the shoulder was not bothering him too much.
"Tony made an unforgettable race. What a battle with [Tim] Gajser and unfortunately we found an opponent today that was very well prepared and not making many mistakes. It was a great race for the fans but a tense one for us! Overall we go home very happy with these results."
After a busy month MXGP now has a long break of four weekends before gathering again in Italy but this time in the sand of Mantova in early May for round five. The 2019 competition has been trimmed to 18 dates after the cancellation of the season-ending Grand Prix of Hong Kong.
[more-from heading="Also In MXGP" category="mxgp"]