Fast-starting Dylan Walsh raced to a career-best eighth overall in MX2 at round two of the FIM Motocross World Championship – the MXGP of Great Britain – at Matterley Basin on Sunday.
His team-mate Alvin Ostlund had a tougher time but, despite suffering from a sickness bug, still scored solid points in both races for 17th overall – just seven points shy of a top-10 finish – to put the seal on a successful weekend for the REVO Husqvarna UK team.
The keys to Dylan's success were his starts. After qualifying in 11th on Saturday the 21-year-old Kiwi gated second in both of Sunday's 30-minute plus two lap points-paying motos. Running at the front greatly increased the pressure in just his third world championship event but, battling with much more experienced riders, he soaked it up and his 10-10 scorecard was a great result following his 15th overall at the opening round in Argentina at the start of the month.
Following the qualification race Alvin went to the line in 14th in both races and the Swede couldn't match his team-mate's speed out of the gate.
Although freely admitting that he isn't a fan of the hard-pack Hampshire track, he fought hard in both races and his efforts were rewarded with 15-14 finishes.
The team now heads to the deep sand of Valkenswaard in Holland next weekend with Dylan lying 13th in the championship table, two places above Alvin.
Team principal Mark Yates: "Dylan's starts have been amazing today, I just think the intensity of the battle at such an early stage in his GP career really took a toll on him.
"He was under immense pressure for the full race duration of both motos and as a result he suffered from a bit of arm-pump which he hasn't had for a long time but he definitely held his own. He's got his starts dialled and he's not scared to have a go, no matter who he's fighting with.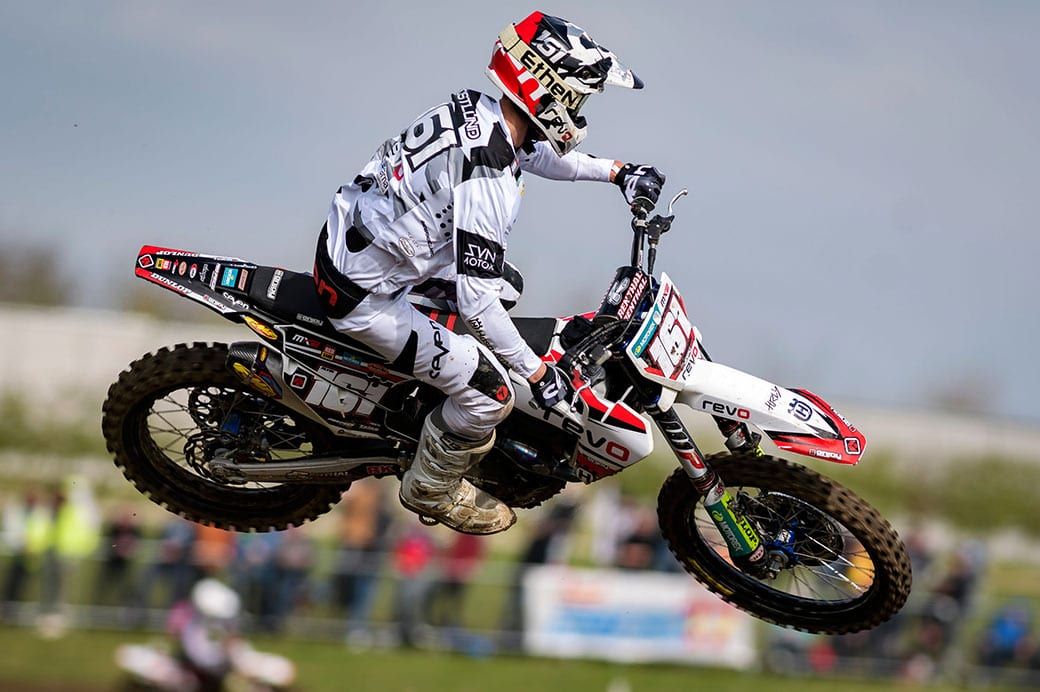 "Alvin was throwing up on Friday and he's been under the weather all weekend so he tried to keep a bit in reserve on Saturday so considering this and given the fact he's not a huge fan of the circuit he hasn't had a bad weekend.
"It's been a real good weekend and I'm really pleased for the team – both bikes have been amazing and everyone has worked hard."
Dylan Walsh: "I'm happy. It's been a pretty positive weekend. I had two good starts and in the first moto ran up front so it was a case of learning to be up there with the top guys and taking it all in. In the second race I got another good start and just did the same thing but was up there for longer and I'm happy with eighth overall.
"There was a lot of pressure – it's a much faster pace and the intensity is a lot higher. Now I'm excited for Valkenswaard – I enjoy the sand so it should be a good weekend."
Alvin Ostlund: "It was quite tough with many ruts so it was a difficult track and my results have been so-so. I always struggle on this track so I wasn't really looking forward to this round and I also got a little bit sick on Friday so overall it's not too bad.
"I was hoping for better but this sort of circuit is a little bit of a weakness for me but the feeling was good on the bike which is the important thing and now I'm really looking forward to some sand next weekend at Valkenswaard."
[more-from heading="Also In MXGP" category="mxgp"]