The MXGP of La Comunitat Valenciana is Round 3 of the MXGP tour, held this weekend at Redsand MX Park.
It's about 20 miles inland from the Mediterranean coast midway between Barcelona and Alicante. The name describes the place perfectly as the ground is a red, powdery, sandy soil, although it's actually quite hard-packed underneath although the track was deeply ripped on Friday and well-watered.
The layout is the same as it was in January when half the GP paddock spent time here doing their winter training whilst northern Europe was still freezing.
Friday night echoed to the sound of chainsaws in the public camping area until well after midnight.
The Spanish apparently like to have a good time, and nothing says 'party hard' like a chainsaw engine revving flat out at 1am! Fortunately, it poured with rain, ending their shenanigans for the night, much to pretty much everyone's relief.
Saturday dawned with blue skies but a stiff breeze making it feel quite chilly, but the track looked absolutely prime, and the fast, flowing layout with spectacular jumps offered plenty of spectator viewing.
Walking around the track, it looked like it would offer plenty of lines and options, with dirt mounds to split the corners. In reality, it was so fast that it didn't get very rough and there was nothing very technical to separate the riders as they were all doing the same things, and even the different lines didn't provide as much overtaking opportunities as you would hope.
MXGP
The MXGP free practice starts at midday with the track looking prime after the other groups have established some lines. The three Brits, Max Anstie, Shaun Simpson and Graeme Irwin all looked smooth and fast with no real drama to report.
The qualifying race was a little bit of a freight train if I'm honest as everyone was doing the same thing. Although there are plenty of lines and different corner options, it was actually quite even and with nothing technical to separate the riders it became a procession, until lap eight when Simpson's Yamaha started to misfire and lose power.
Visibly slower, he kept going but was getting picked off, eventually dropping from ninth to 12th. It was a sensor failure he said afterwards.
He later posted on Facebook that the track was faster and less technical than expected but that he felt comfy. Anstie was an uneventful seventh and Irwin 17th. Anstie was featured on the MXGP tv studio show this week and talked about his amazing win at the MXON at Matterley Basin last October and good winter preparing for the season.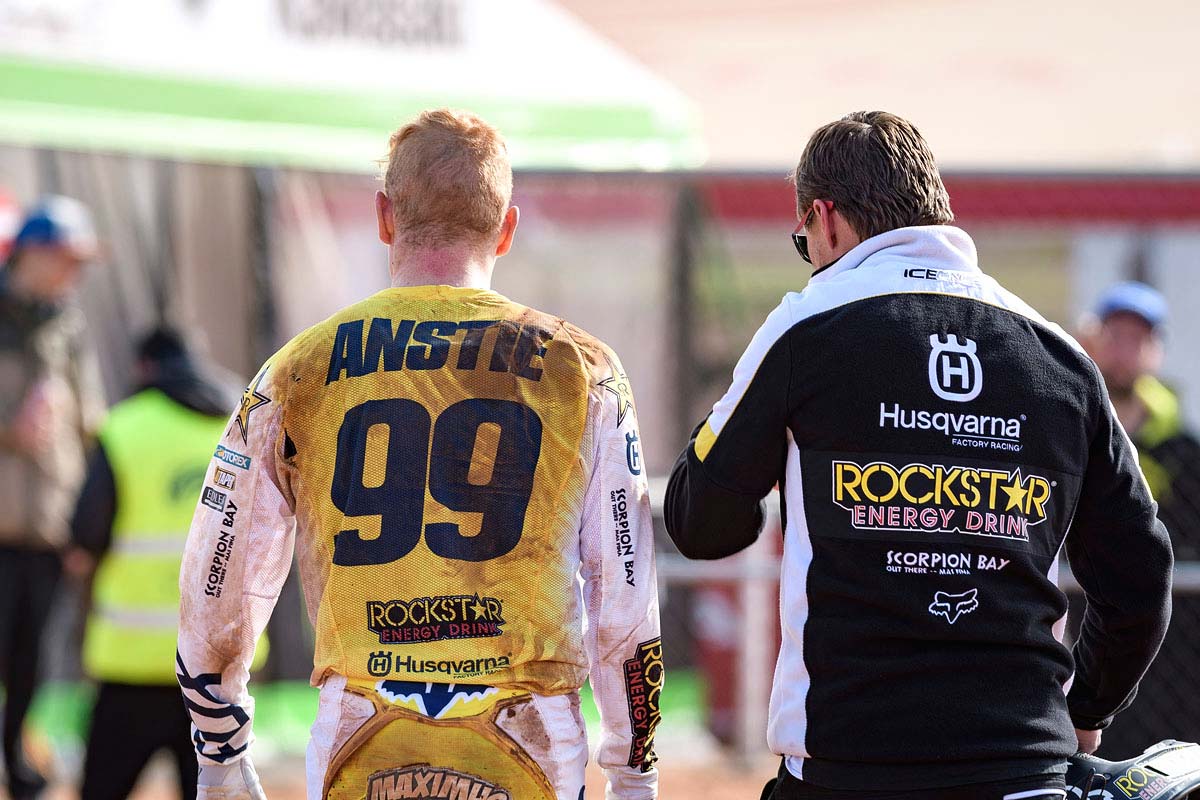 Unfortunately, his weekend came to halt on lap one of Sunday warm-up when he hit a neutral over one of the big Monster Energy table tops, crashed heavily and was unable to continue. Wisely, he decided to withdraw from the race and allow himself to recover properly.
Race 1 saw Graeme Irwin get a good start in 12th, holding station for the first half of the race and looking strong with good lap times, especially the first sector. A mistake on lap six let Bobryshev and Coldenhoff past, and he would lose a further three places as the race wound down ending in 16th. Simpson had a bad start in mid-pack, lost places to an early crash but was battling back when his bike developed the same problem as in qualifying, (albeit a different sensor) coughing and popping while losing power.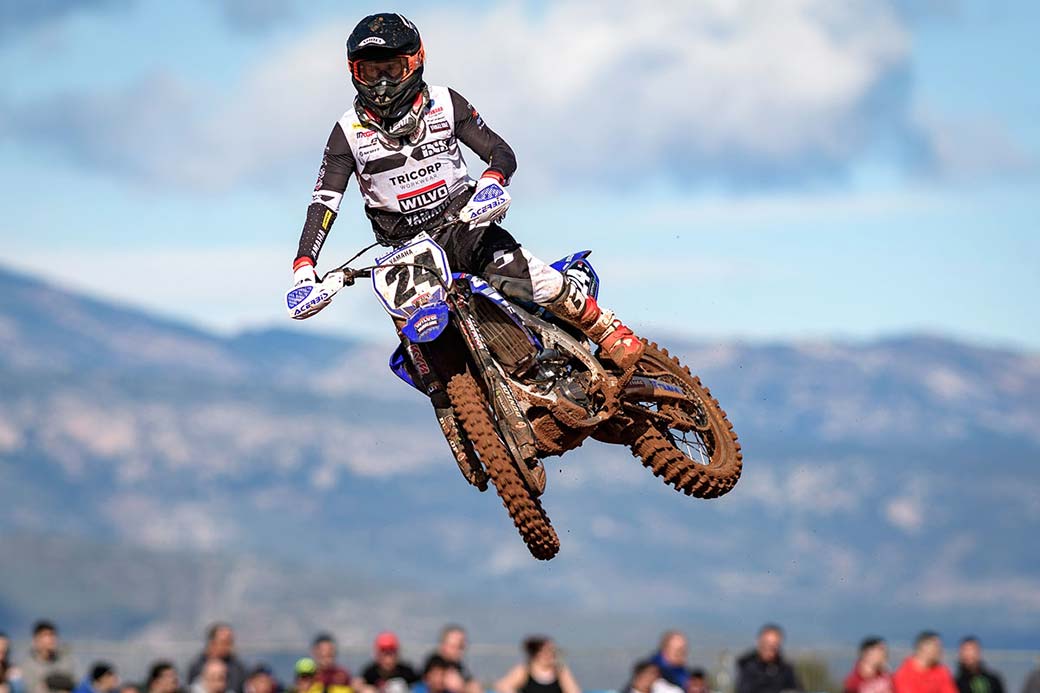 He retired after 18 minutes, obviously frustrated as he handed the bike to his mechanic and walked back to the paddock.
Race 2 saw Irwin get a terrible start, pinched off going down the straight, then Bobryshev fell in front of him, putting him at the back of the pack.
Simpson had a similarly bad start, compounded by a fall that put him back in 28th.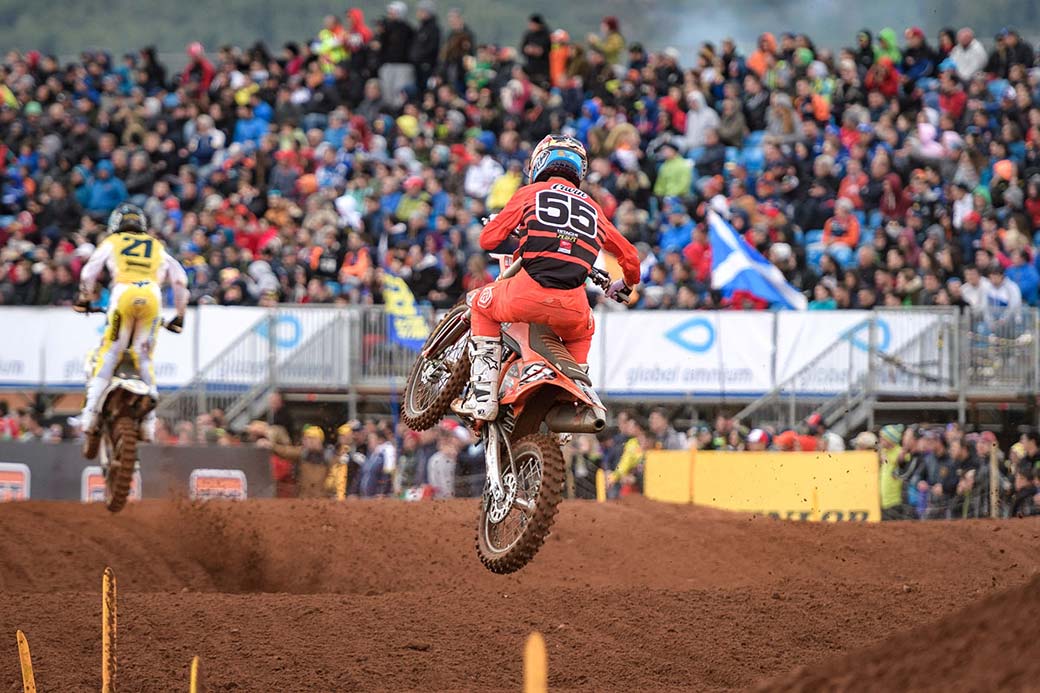 Irwin managed to get to 24th place at the finish, while Simpson made it to 14th. He said afterwards that as the track developed it became hard-packed under the sand and he had lost his front wheel in both races on a hard patch. He was frustrated with his riding more than anything else.
Irwin and his Hitachi ASA KTM team were taking the positives from the weekend as he has scored points at every round so far.
MX2
There's a nice little Battle of the Brits in MX2 with Conrad Mewse, Ben Watson and Adam Sterry looking quite evenly matched.
They're all on good teams with good bikes and it shows as they finished with Mewse sixth, Watson seventh and Sterry ninth in timed practice.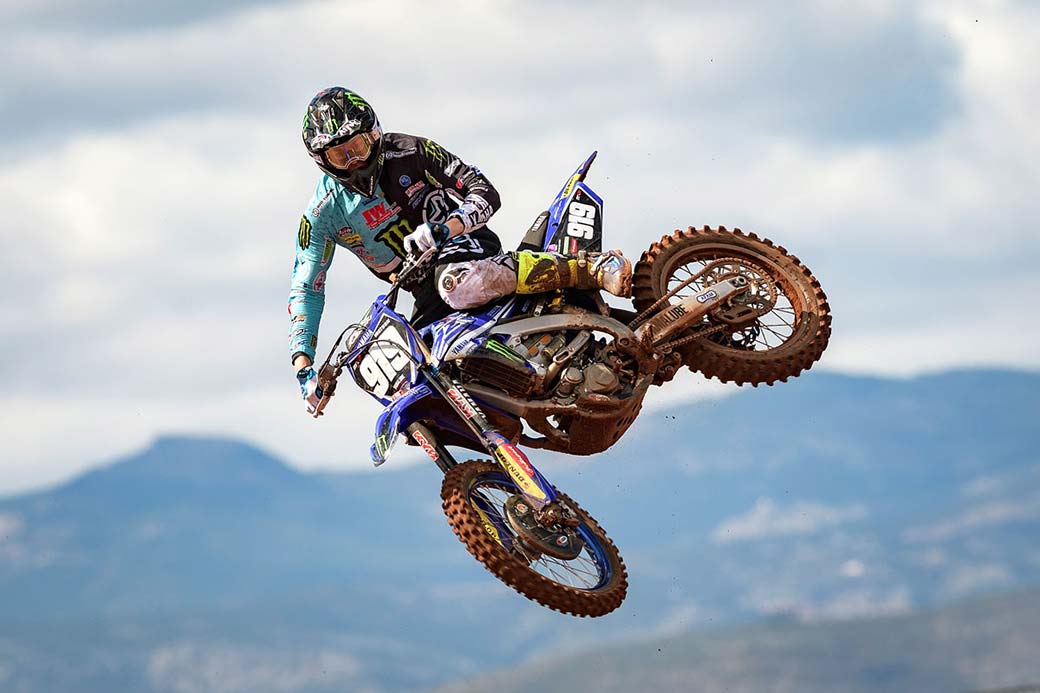 In the qualifying race, Watson and Sterry finished sixth and eighth respectively, both losing places to Olsen as he came through, with Mewse in 15th, unable to make any progress as everyone seemed to be going at the same speed. He joined Anstie in the MXGP tv show and sounded very positive about his new home at Hitachi ASA KTM and his season so far.
After his mediocre qualifying race, Mewse surprised everyone by narrowly missing the holeshot in the opening race. "I nearly had it, but Henry Jacobi hit me," he said afterwards. He lost a place to Jonass but passed Jacobi and stayed on Jonass' wheel, soon becoming the filling in a Factory KTM sandwich as Prado was behind.
Slowly Prado closed the gap, the difference between a full factory engine and Mewse's semi-factory engine giving him the edge.
Mewse held Prado at bay until he hit a kicker that threw him sideways at the end of the wave section, allowing Prado and Olsen to slip by.
The Brit finished fourth and was happy with his speed, the one small mistake making the difference.
Sterry had a terrible start but pushed through on a track that was quite difficult to make ground up, passing about 20 riders to finish 10th. Watson had a similar race, getting up to 14th.
Race 2 saw Mewse and Sterry get great starts in fourth and fifth around the first corner with Watson in 13th.
A clash with Lawrence half way round the lap put Sterry on the floor and back in 27th place, while Mewse succumbed to Lawrence and Jed Beaton.
Mewse held seventh place for 10 laps and looked comfortable but with Vlaanderen pushing him, he seemed to run out of steam, losing two places to Vlaanderen and Watson who had steadily worked up to eighth place, with Sterry up to 14th. Mewse's team think he just needs to get used to running at the leader's pace for the whole race as his fitness is good. When the points were added, Mewse had moved to fifth place in the championship with Watson sixth, tied on 81 points. Watson described it as "Not a great day racing but I have to stay happy and look at the positives".
Sterry sits in 14th but was also happy with his riding if not the result. He said later: "We made it hard work today. Happy with my riding on a tough track to pass on."
EMX300
The EMX300 riders had the second round this weekend in very different conditions to the Baltic-feeling Valkenswaard.
With only 39 riders entered this week everyone was guaranteed to qualify so that took the pressure off a little, but for the record Ando was second fastest, Holyoake 15th, Charlie Putnam 21st, Factory Phil Mercer 24th, Brad Wheeler 25th and Henry Siddiqui was 31st.
Race 1 would be eventful, mostly for the wrong reasons.
The wind had picked up quite significantly and was whipping up the dusty sand from the spectator areas.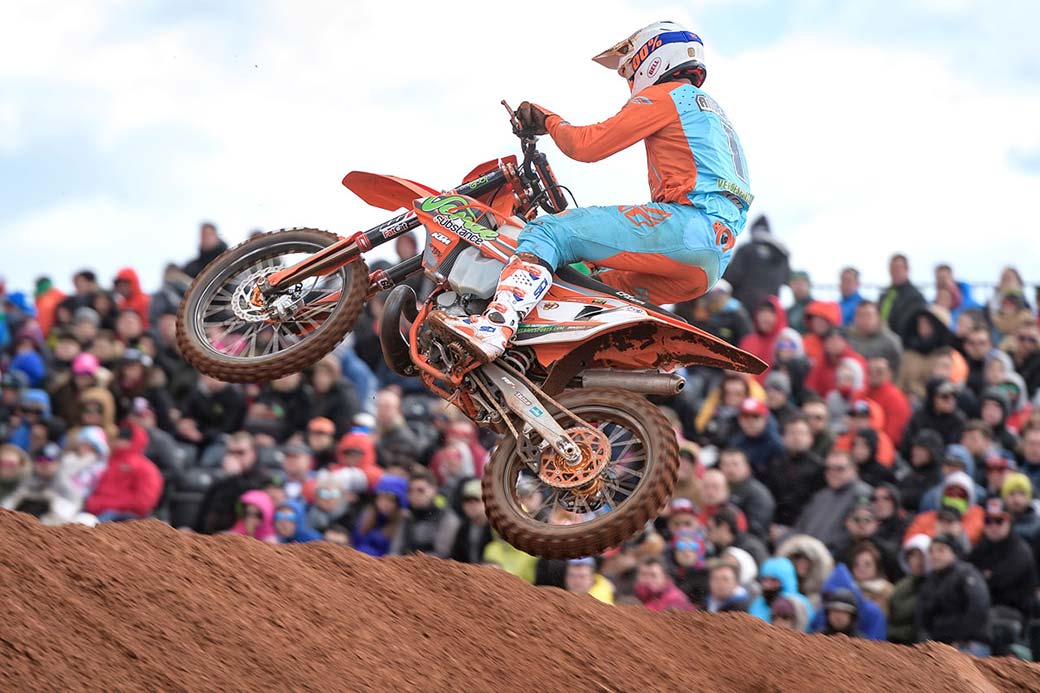 While Ando grabbed the lead on Lap 1, Factory Phil crashed by himself in the second corner, catching an edge and high-siding into the next jump face. His right shoulder took the full force and was unable to continue.
Further round the lap, a gust of wind took Rob Holyoake across the track as he jumped the Monster Energy table-top and into the path of Charlie Putnam. The crash took both riders down and broke Holyoake's right hand. "The wind just took me into Putnam's path, it was totally my fault. He landed on me and I was trapped under the bike until he lifted it off," he explained.
A trip to the medical centre confirmed two broken metacarpals although the large swelling indicated it was broken.
At the front Ando was looking good but Mike Kras was catching up after a sixth-place start. By lap three he was on Ando's rear wheel and made a move inside as Ando railed the outside berm.
Their paths merged as Ando cut down in the corner, and Ando was left on the floor. Ando saw it as a take-out move, Kras saw it as a pass and Ando should have shut off and avoided contact.
Either way, Ando was back to sixth place and fuming!
I didn't bother asking him for a quote.
The remaining Brits, Brad Wheeler and Henry Siddiqui were outside the points.
That evening a very subdued Factory Phil was in a lot of pain. He had been checked over at the medical centre and there was nothing broken. "I'll try to go out tomorrow, hopefully when the adrenalin kicks in it won't hurt so much."
Much to my surprise, he did make the gate on Sunday, pulling faces as he stretched and warmed up.
Race two started with Ando in third place, Mercer 20th and Wheeler, Putnam and Siddiqui outside the points with neither of them able to move into the points.
Mercer would crash on Lap 10 jumping over the 'dragon's back', adding more pain to his already sore wing.
As he sat outside his camper afterwards, obviously in a lot of pain his main concern was: "No points again. They were there for the taking!".
Ando would also crash, but re-mount and regained the lost place to finish third. "I thought I'd saved it, but my front wheel just slipped out," he explained. "It was hard to get going again – it's a disappointing weekend. I'll have my strong meetings, this is just a bad day. I'm disappointed that I didn't get my lad a trophy, he didn't like the one last week."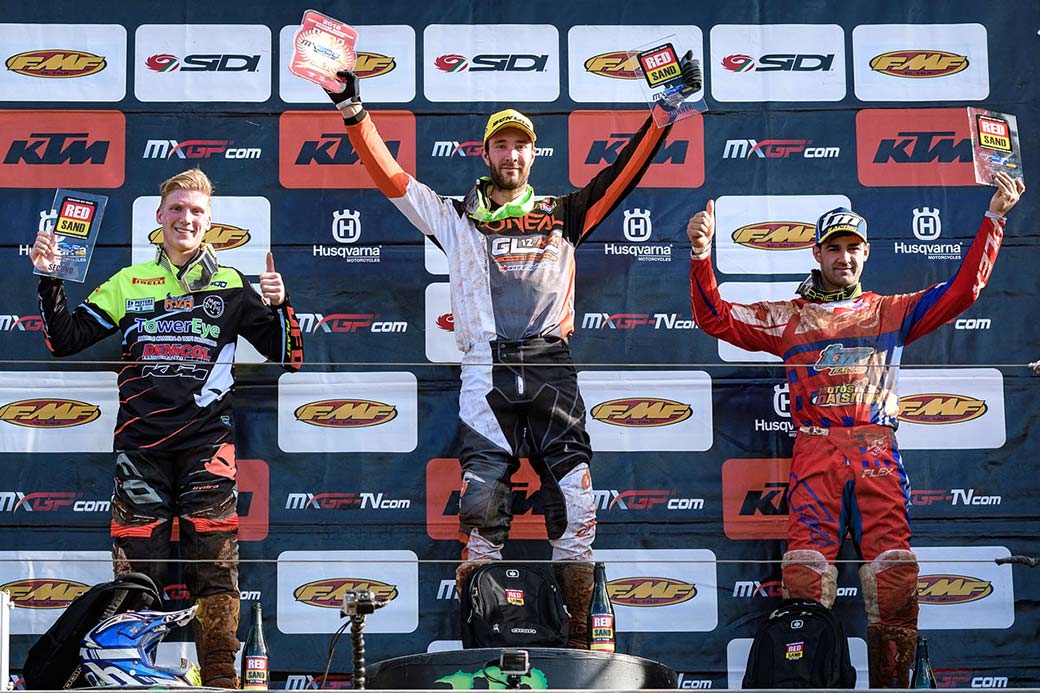 EMX250
The EMX250s started their championship with a huge entry that included 12 Brits.
With five Brits in group one, only Steven Clarke qualified, claiming the final quali spot in 18th. Group two saw Martin Barr claim a stunning pole position with James Dunn on his two-stroke and Mel Pocock also qualifying. Pocock said: "I'm happy to be through. I broke a rib four weeks ago in Lommel and I've only ridden once since then, so I felt a bit rusty."
The LCQ had eight Brits with only the top four going through – there was bound to be disappointment in the Brit camp. Josh Spinks pulled off a great victory. "In timed qualification I followed Moreau and thought it was a pretty good lap, but it was only 19th, then I just couldn't get a clean lap," he said. "In the LCQ I got a great start, I was second going around the first bend, passed Liam Knight and felt better at the end of the race than at the beginning."
Liam Knight raced to a safe second place, but it was disappointment for the rest of the Brits.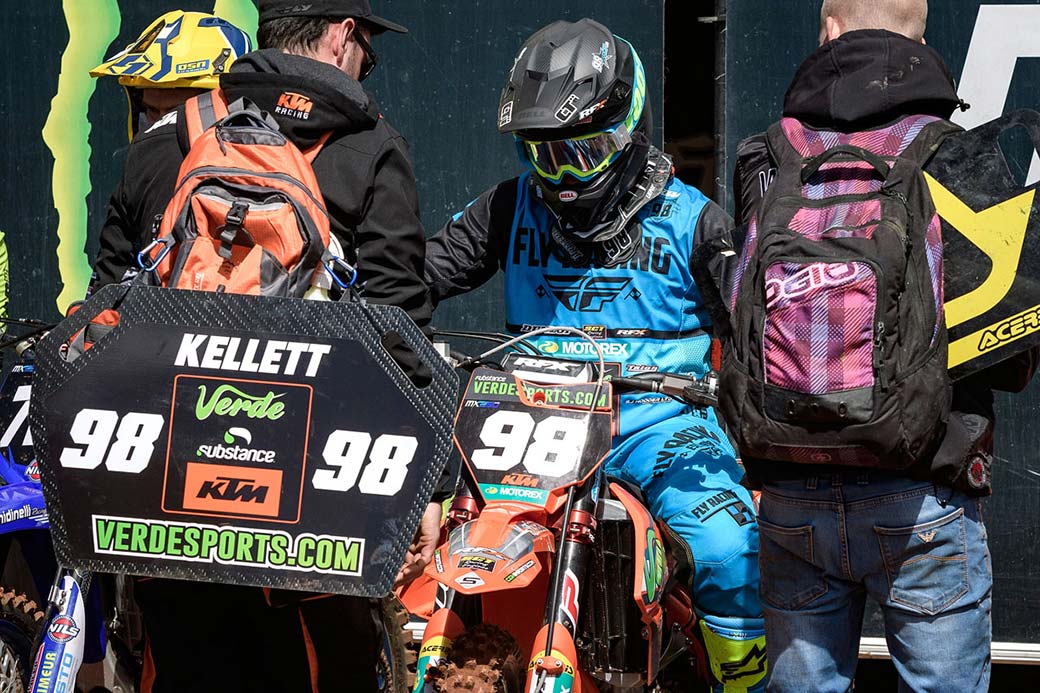 Dylan Woodcock started in fifth but lost places, a loose side panel flapping about and distracting him, while Todd Kellett had a nightmare. "I got boxed in then fell on Lap 3," he said afterwards.
"It's my first start since Foxhill last year and the intensity got me. I'm obviously disappointed but there's a long way to go."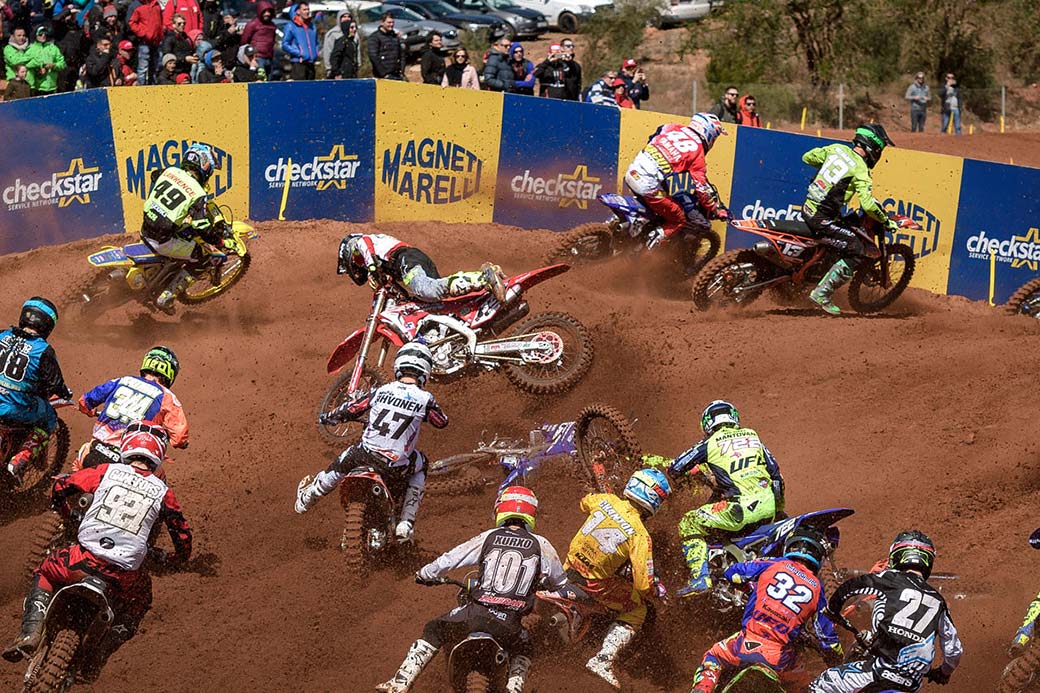 For the remaining Brits, Chris Mills, Jamie Carpenter, Ashton Dickinson, Taylor Hammal and Josh Gilbert it was a disappointing end to their weekend.
Race1 was last thing on Saturday, going off the line at 5:55pm. It was a case of mixed fortunes for the Brits.
James Dunn's race ended on the gate, a mechanical problem meant he didn't even leave the line.
That may be a blessing in disguise although he didn't see it that way, visibly frustrated as the race went on.
Martin Barr tangled with another rider as they left the gate and crashed going down the straight but there was carnage at the front as Josiah Natzke holeshotted but tucked the front end going into the first turn and cartwheeled across the track, the resulting crash claiming eight riders.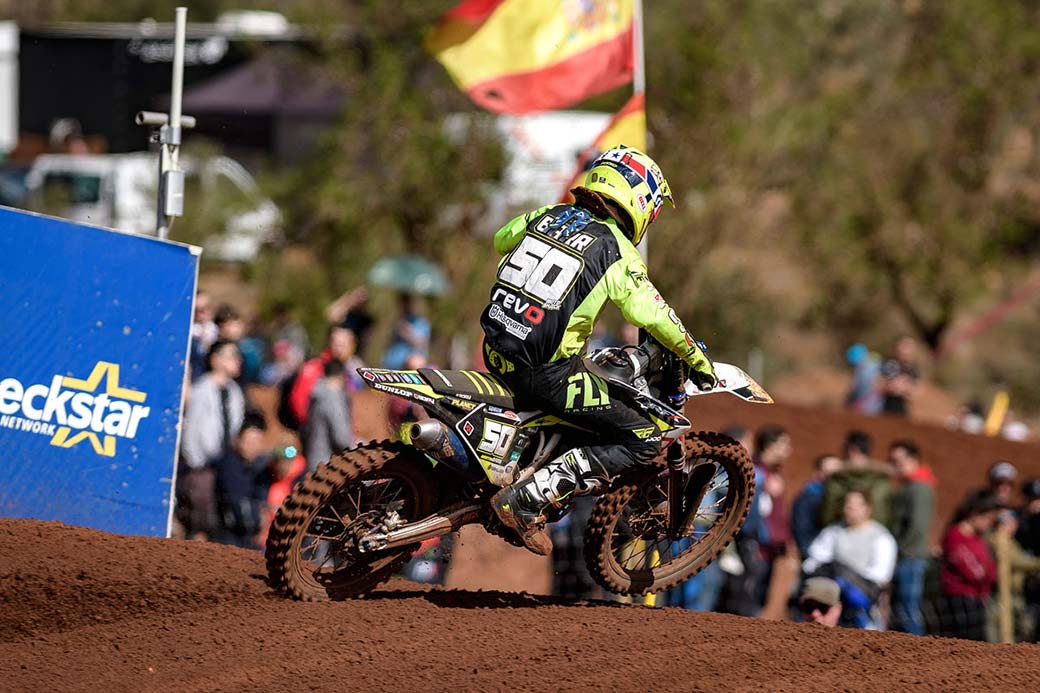 With Natzke being treated mid-track, the first lap proceeded under waved yellow flags around the outside of the stricken kiwi/honorary Brit with Mel Pocock in third, Spinks seventh, Knight 16th and Barr already up to 18th.
Back at the front and Pocock steadily worked his way to first place on Lap 7 and controlling the race until the flag for a great win.
Steven Clarke would work his way forward from 10th to fourth place.
Martin Barr charged back from his start-straight crash to grab 10th place from Josh Spinks who dropped to 11th and Liam Knight finished 16th after making and losing a couple of places throughout the race.
After the race a jubilant and emotional Pocock was interviewed by Lisa Leyland for MXGP TV, saying the feeling was indescribable.
While the race was going on, Natzke had been taken to hospital amid fears of internal injuries. He was kept in overnight but thankfully the reports on Sunday said that he was badly bruised but no life-threatening injuries.
Race 2 was another great win for the Brits albeit a different winner.
Martin Barr had a much better start in fifth, calmly worked his way into second and grabbed the lead with three laps to go.
His team-mate and winner of race one, Mel Pocock, had a terrible start but made quick progress in Lap 1 to 13th. Battling with Steven Clarke, the two moved forward together to finish eighth (Clarke) and ninth, enough to give Pocock third overall with Barr in fourth and Clarke sixth.
You can read an exclusive interview with both Revo team-mates here.
James Dunn would start 17th and finish two places better. "I was riding my practice bike which isn't as fast as my race bike, and you really need a start in this class," he explained. I've got a few things to work on, and I need bike time."
I asked his mechanic, Ade Phelpstead about the DNF in moto one. "We think it was just a freak mechanical, it's the same spec we used last year without any problems.
"I've got the engine out, so we'll have a proper look in the week."
LCQ winner Josh Spinks would score three more points for 18th while Knight was in 29th.
Overall it was a weekend of mixed fortunes for the British teams and riders. The MXGP series moves on to Trentino in Italy in two weeks time, with the EMX125 and WMX championship in support.
Until then, adios from Redsand.