The MXGP of Lombardia in Ottobiano is round 11 of the 20-round series, so we're into the second half. With the collarbone injury to Herlings last week it feels like the championship has been reset, as what seemed like an unassailable lead has been dramatically slashed.
Last year 43-degree temperatures had riders collapsing as they came off the track, and if you survived the heat, the mosquitos would eat you alive.
This year the mossies are still here but the thermometer showed a much more pleasant 30 celsius.
The four Brits in MXGP – that's Tommy Searle, Max Anstie, Shaun Simpson and Graeme Irwin – all arrived with mixed memories. Anstie was on the podium here last year while Simpson broke his arm. Irwin loves the place having practiced and raced here before and Searle missed the race last year.
What they all shared is races missed this year through injury and all looking for a better second half to their season.
In MX2, Ben Watson and Conrad Mewse were joined again by Adam Sterry after missing France on medical advice. Nine Brits are in the EMX250 class and just two ladies in the WMX.
MXGP
Irwin had been out with WP in the week and said he felt much more comfortable after finding some better settings. Ottobiano is a track he knows well so there was plenty of optimism as he arrived on Friday. In free practice he looked much more confident than last week in France with a lovely technique wheelieing into the jump face past pit lane.
Anstie topped the times for a while with Searle and Simpson just a 10th of a second apart. In timed practice Searle, Simmo and Anstie were separated by four-10ths in 12th, 13th and 14th with Irwin a second back 20th. The first turn here is a 180-degree left hander so an inside gate pick is a much bigger advantage than at some other tracks.
The turn bit Tim Gajser in qualification with Tony Cairoli also crashing on the first lap. I only mention them in the Brit report because it did make the quali race very interesting as the two world champions worked through the pack.
Anstie had a lonely ride in fifth once he passed Kevin Strijbos, as the first group were spread apart by about a second each. Searle was a little way behind in seventh then Irwin and Simpson. Irwin had been battling with Bobryshev and would end up losing a few places, and as the Gajser/Cairoli train came through it cost two more spots to finish 16th.
At this point it looked like the charge from the back was over as Gajser caught Simpson in 12th, but Cairoli was charging and passed both. Simmo would stay ahead of Gajser for 13th. On the last lap Cairoli passed three riders – Nagl, Van Horbeek and Searle. His lap time was six seconds quicker than Searle who was completely unaware of the threat and cruising to the chequers. The pass demoted Searle to eighth.
Disaster hit Searle on the line as his bike stopped when the five-second board turned. I asked his mechanic later what the problem was, and he helpful said "something broke". To be fair, I did ask before he'd had time to look at the issue.
Anstie and Irwin exited the first turn together, Anstie in fourth and Irwin just behind but the first lap intensity saw him lose eight places. Simpson was further back, crashed on lap two losing a further eight places before retiring after 20 minutes with the front end of his bike twisted.
Irwin settled into the pace and looked comfortable for most of the race, but as in France the last five minutes was costly, losing places to end 18th.
Anstie was our bright light, passing Febvre for third then chasing Desalle all the way to the last lap when he tried to force a move and dropped it. Still, he finished in third place.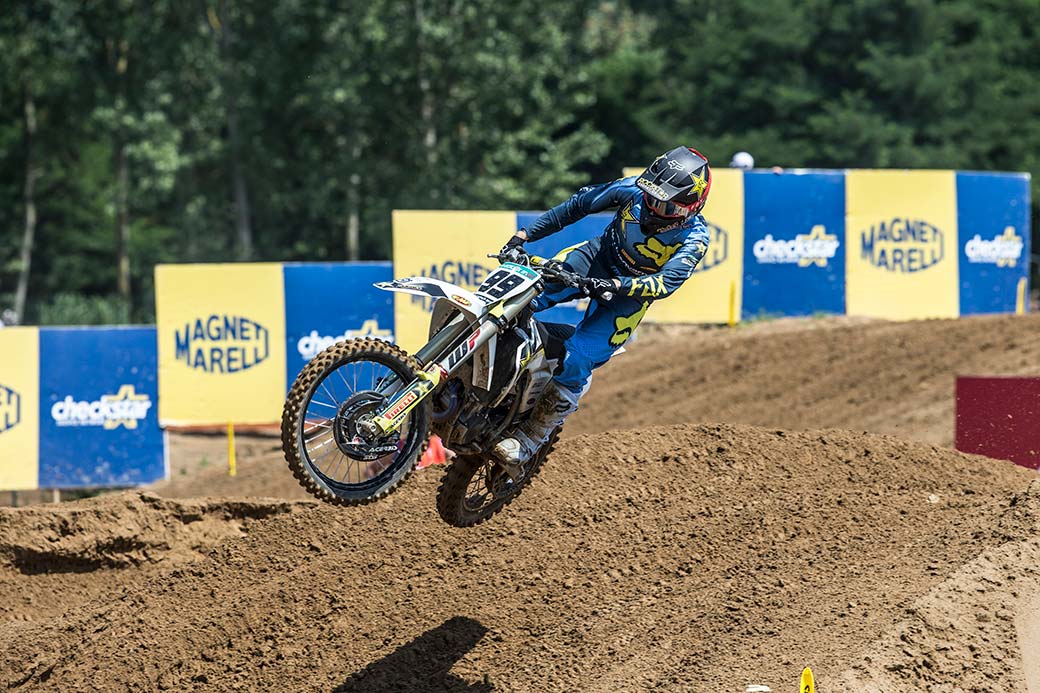 Race two started with a rare Kevin Strijbos holeshot. Anstie didn't get such a good start but by mid-race was up to fifth and soon past Febvre for fourth.
Seewer had followed him through and it looked like Anstie might succumb to the Swiss rider but he pulled a gap and set about catching his team-mate Paulin. They were tied on points but Anstie would lose out on the tie break. It ended with Anstie fourth but also on the podium in third place. "It feels great to be back, I've had a terrible first half of the year and its nice to get it done [a podium] and turn a page," said Anstie. "I was pleased with my riding on a track that was fast and intense."
Searle had a very uneventful race, moving up to 16th by mid-race and staying in a lonely gap. Irwin started and finished 16th, losing and gaining a couple of places en route. He was happy after and pleased to score points in both races for only the second time this year.
Simpson endured a torrid time to finish 19th. He was picked for random doping control and I spoke to him while he was waiting to be tested. "I thought we had made progress but the weekend didn't go to plan, I was struggling with set-up all weekend. Hopefully Indonesia will be better."
MX2
Adam Sterry announced in the week that he had split from long-time trainer Richard-Mike Jones, to live in Holland and work with the team's trainer Marc de Reuver. Could this be the move that takes Sterry to the next level just as Watson has done this year?
Conrad Mewse was feeling good as he loaded 21 laminates on his goggles. "Are you expecting a mud race," I asked, "I always use 21, 14 aren't enough and they come in packs of 7," he replied.
He came out firing in free practice with third fastest time, dropping to sixth in the timed session.
Ben Watson was quickest for much of the session until dropping to second at the end, while Sterry was 15th but losing most of his time in the first sector.
The first corner again proved to be problematic as a few riders went down in the qualification race. Watson missed the trouble and was away in sixth while Mewse cut inside after a poor jump out of the gate – Sterry tucked in front of Mewse in 12th.
Watson slipped past the faster starting Pootjes and inherited another spot when Jonass crashed. He would finish fourth. Mewse also moved forward by seven places, while Sterry would finish where he started. After overheating at Matterley he was trying to stay cool in the Italian sun, later cooling down in a paddling pool behind the team truck.
The heat on Sunday was intense and would get to Sterry in the first race. He was around 12th but by mid-race he had a queue of seven riders behind him. When they all passed him in one lap it was obvious he was in trouble as he toured round again as if it were a sighting lap before pulling out.
Watson had a flier, third off the start, he lost a place to Jonass on lap three, but made him work hard to get it, and work even harder to keep it as he was never more than a few seconds back and crossed the line in fourth.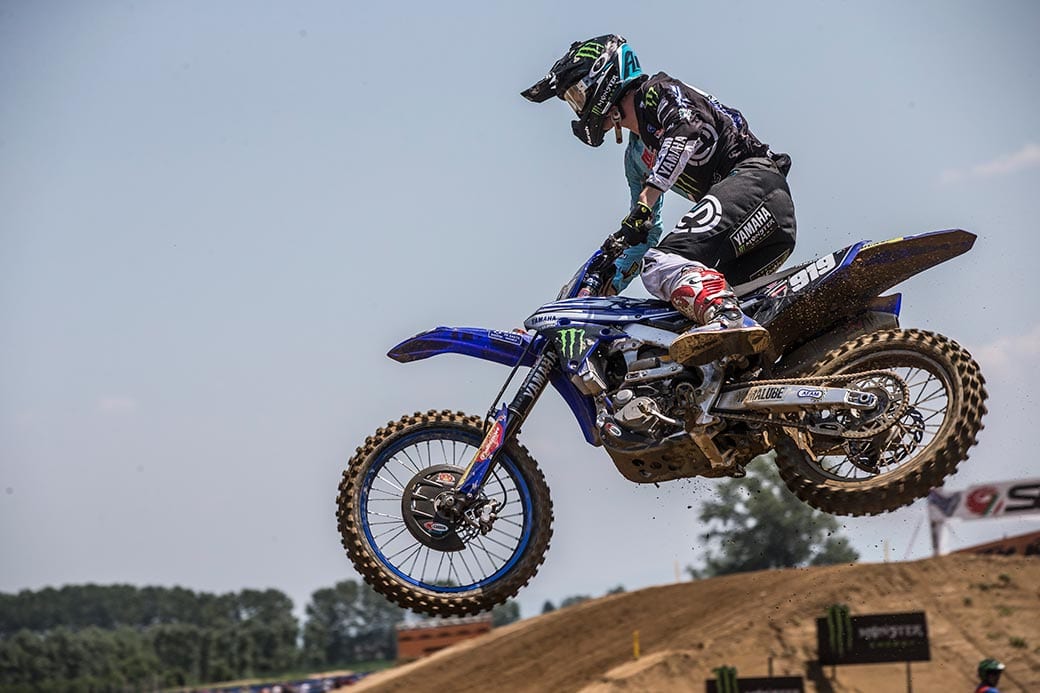 Mewse had a terrible start but checked up early and hugged the inside. At the end of lap one he was 12th and would work his way to eighth, passing some fast riders and catching seventh when time ran out.
If Watson could get his starts more consistent he would be on the podium every week. Coming from 10th on lap one, he worked up to fifth, my favourite move was a perfectly executed sling-shot around the outside of turn two that saw him out drag Vlaanderen on the HRC Honda for fifth place.
By then the leading bunch had gapped him although he was catching them at the end – nothing wrong with his fitness or the Kemea Yamaha's engine.
Sterry and Mewse had problems, causing both to DNF. Sterry again affected by the heat and forced to retire, Mewse very unfortunate when he was looking very strong in eighth but his rear subframe came loose. With the whole back end flapping he was forced into the pits and out of the race. obviously disappointed he was still happy with his riding after a few 'off' weekends.
EMX250
Nine Brits would try to qualify, with 15 riders going forward from each group and another 10 from the LCQ race. In group 1 Martin Barr was top Brit in ninth with Josh Spinks 10th. Todd Kellett narrowly missed out in 20th. 'How close was it?' you ask. One second separated Spinks ("I got a lap in early before it got rough") and Kellett, ("I was slow in the wave section").
In group 2, Mel Pocock and Steven Clarke went through in 11th and 12th but James Dunn was back in 25th.
In the LCQ Kellett sneaked around the inside of turn one as the pack pushed wide and as they passed pit lane for the first time Kellett was third with Dunn fifth and Carpenter ninth. Dylan Woodcock and Lewis Hall were inside the top 20 but never able to advance to a quali spot. Kellett was riding with some of his old confidence as he took the lead on lap five, through the waves that had been his bogey sector earlier with the fastest lap of the race and never looked back. "It's good to take the chequered flag even if it is the LCQ," he told me after.
Dunn moved up to second near the end and unfortunately James Carpenter lost the final transfer with half a lap to go. He was philosophical afterwards, "I've just got to keep battling away, I was closer than last weekend. I'm first reserve so hopefully I'll get one race."
Race one went off the gate at 17:55 on Saturday. Barr had been feeling sick all day but grabbed a good start in ninth and would work his way up to sixth in an uneventful race. Pocock did likewise from a mid-pack start, moving up to ninth with the fastest lap on the last lap. He said later: "I just got a bad start and all the riders just hold it on too long and run into the corner and push wide. There's not many calculated passes, it's just war."
Kellett and Spinks continued their on-track bromance, separated on lap 11 by just 0.02 seconds in 15th and 16th. Spinks said: "I got a good jump but lost a lot of places in the first corner with a bad line choice. I tried to follow Pocock but had a few bad laps and lost the tow but managed to pick it up at the end. I felt the heat out there." A bad start and a crash meant Clarke would end in 15th. "I made it hard, a bad start, three good laps then I crashed and had to do it again, he explained."
Race two was on Sunday morning, and even hotter. There was controversy on and off the track involving the Brits. Clarke almost mistimed the gate but somehow grabbed the holeshot, lost first place in the second corner but regained it by the end of the lap. It looked like victory was his but young Jett Lawrence got past on lap four and despite a late charge by Clarke, he would remain in second place.
"I could've tried to re-pass Lawrence but it might have put us both down. I followed him and caught him at the end but I hit lappers in the wrong place and that just gave him the second he needed," Clarkey told me.
While Clarkey was out front, Barr was coming through after a first turn crash that took Kellett down too. "I hit Barr in turn one, there was nowhere else to go," said Kellett after. 26th on lap one, Barr was moving forward but clashed with another rider on the third lap, taking the KTM rider down. He was being given first aid on the track under waved yellow flags and the red cross flags, meaning 'wheels on the ground and slow down'. In the next turn Barr's team-mate Pocock put an inside pass on red plate holder Boisrame, sending him to the ground. The Honda team cried 'fowl' and rumours of a protest started, meaning Pocock faced his second disqualification of the series if the protest was upheld, but it either didn't get made official or wasn't upheld.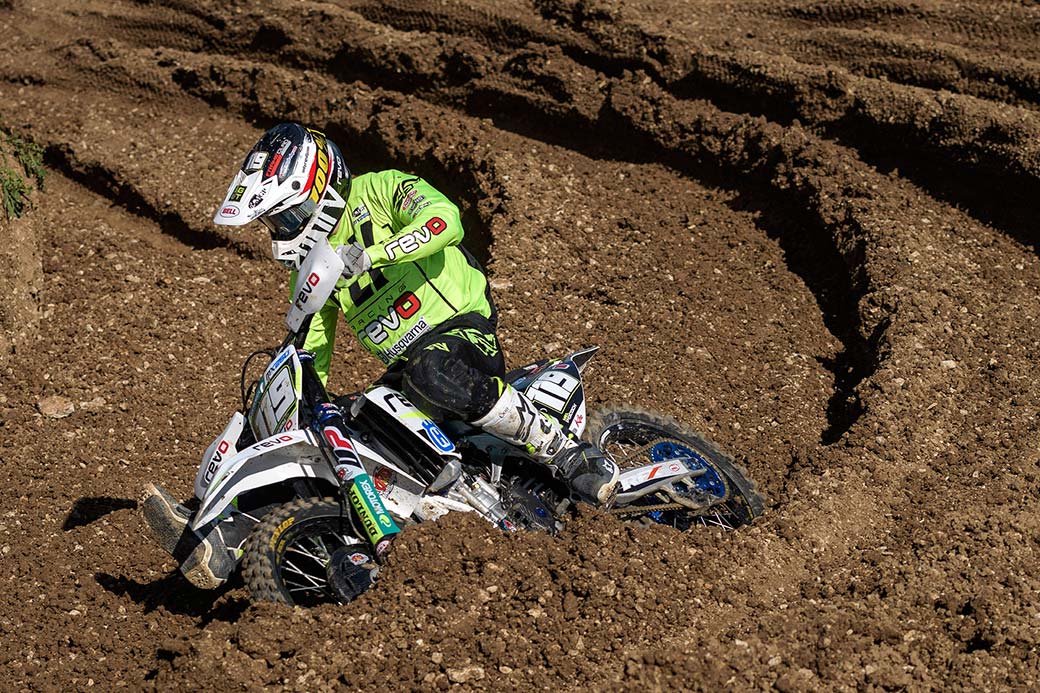 "It was nothing," Pocock insisted, "it was nothing, he left the door open. He would've done the same thing to me."
Pocock finished fifth, with Barr 12th, the net result is that they are still second and third in the championship with Clarke fourth, albeit with the points opened a little. Pocock added: "19 points back, its not ideal but still a long championship left."
Boisrame remounted after his collision with Pocock and as Boisrame later passed Spinks, he cross jumped, nearly taking them both out. Spinks gave him the benefit of the doubt: "I think he hit the ruts wrong. I was comfortable in front of him but I hit some soft stuff in the split lane and lost a couple of seconds that allowed him to get close. The heat was tough again."
Kellett would grab the last point in 20th. "I'm knackered," he admitted afterwards, "but it's the first EMX this year that I've scored points in both races so I'm really pleased with that."
This class is the most difficult to predict; another new winner this week as everyone seems to be inconsistent. With four rounds left 45 points cover the first four that include Pocock in second, Barr third 32 points behind first, and Clarke in fourth. I'm betting on a British champion, but I'm not saying which one.
WMX
With 40 riders entered there was no qualifying, just timed practice. Natalie Kane was eighth with Stacey Fisher in 26th or "my place" as she put it (she's usually mid-twenties). "I always do better in free practice, timed just goes to pot – I seem to lose my rhythm and forget my lines."
In their first race Kane was sixth as the first four got away leaving her to battle in the next group of four.
Fisher scored points in 17th, no mean feat in the deep sand on her 125.
Their second race was first thing Sunday morning, the track graded and watered overnight.
Fisher was outside the points but looked hot as she came off track, getting straight under the make-shift showers to cool down. Talking afterwards she said: "In the first race I felt like I was boiling from inside out. I was happy with 17th but the races need to be longer, I was passing them at the end. Today it was bumpy underneath and soft on top. The watering made it so slippery and I felt nervous. I was shouting at myself but couldn't shake it off."
Kane was 6-8 in the races. "I got a bad start and by the time I got to sixth there was a gap and I couldn't keep a good pace on my own," she told me. "I picked it up again when the KTM caught me. Today was the same – the top four girls always start at the front. I'm not saying I could win but I have the speed to go with them. I got an even worse start today and the track was easy so everyone was doing the same thing."
What's next for MXGP?
The MXGP circus moves to Indonesia in two weeks for a flyaway double-header. There are no support races at the flyaways so the EMX250s return in August at Lommel and the WMX next race at Assen in September, but the Brit report will be back at Loket with action from the EMX65, 85 and 300 championships.
Caio until then.