BOS GP owner, Olivier Bossard, and team manager, Jean-Jacques Luisetti, are delighted with their 2019 FIM Motocross World Championship rider line-up in Tommy Searle and Evgeny Bobryshev – speed, charisma and never say die attitude are the hallmarks of their signings say the team.
But it's been a mixed start to MXGP life for the team.
Evgeny Bobryshev has adjusted well to life outside a factory team and has shown he still has the speed to hold his own against the world's best. But the team have found out the hard way how difficult it can be in the premier class, and not just on the track.
A very public falling out with Benoit Paturel ahead of the season wasn't the best start for the rookie team, coupled with Jordi Tixier's injury woes and then just this week, his surprise exit from the team – it's been a bumpy ride that's tested the metal of the team owner.
What the French team needed was an old hand to help drive the project forward.
And new hire, Lusietti, who Bossard describes as the "missing link" appears to be the ideal fit. Years of experience disappeared from the paddock when he left the sport after his time with Kawasaki-CLS but he's been itching to return and feels BOS GP is a good fit. "This atmosphere is unique, and after so many years fighting for podiums, nothing can beat that feeling," he said. "I'm happy to be back to help this promising French structure."
It hasn't taken long for Lusietti to make his mark on the team, turning to a familiar face in the shape of Tommy Searle. "When I entered the French structure, I have two goals, working back with people I appreciate and being able to fight back for top five," said Luisetti in a press release. "With this in mind, I directly called Tommy and you can not imagine how happy I am to regroup with this charismatic and fast UK rider."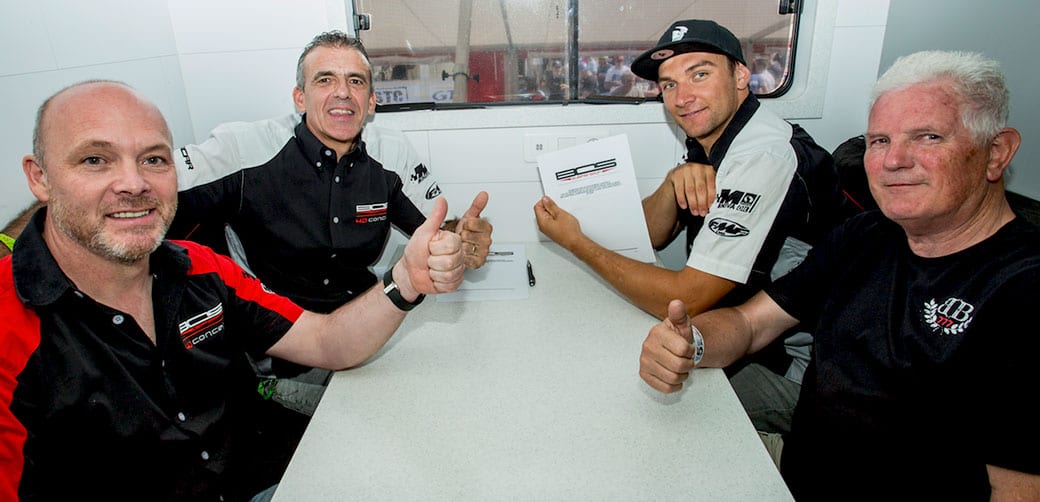 On the renewal of Bobryshev for 2019, Bossard never had a doubt the big Russian should be on the team. "I asked myself a hundred times how to improve the team, how to be more successful or sometimes if everything was worth it. But I can tell you one thing…I have been very lucky to get the chance to work with Evgeny," he said. "Humanly, sportively, he did hold the team with his positive character and never say die attitude. It was no question on my side regarding my 2019 rider choice, and I'm happy it's finally official."
BOS GP will enter the 2019 season with a strong team and many goals: results, product development and of course publicity for BOS SUSPENSION products.
BOS says the goal of the company is to equip satellite teams short-term and major brands with OEM products in the long-term – the French outfit feel that the signing of Searle and Bobryshev is the ideal platform to move the team forward and hit their goals.